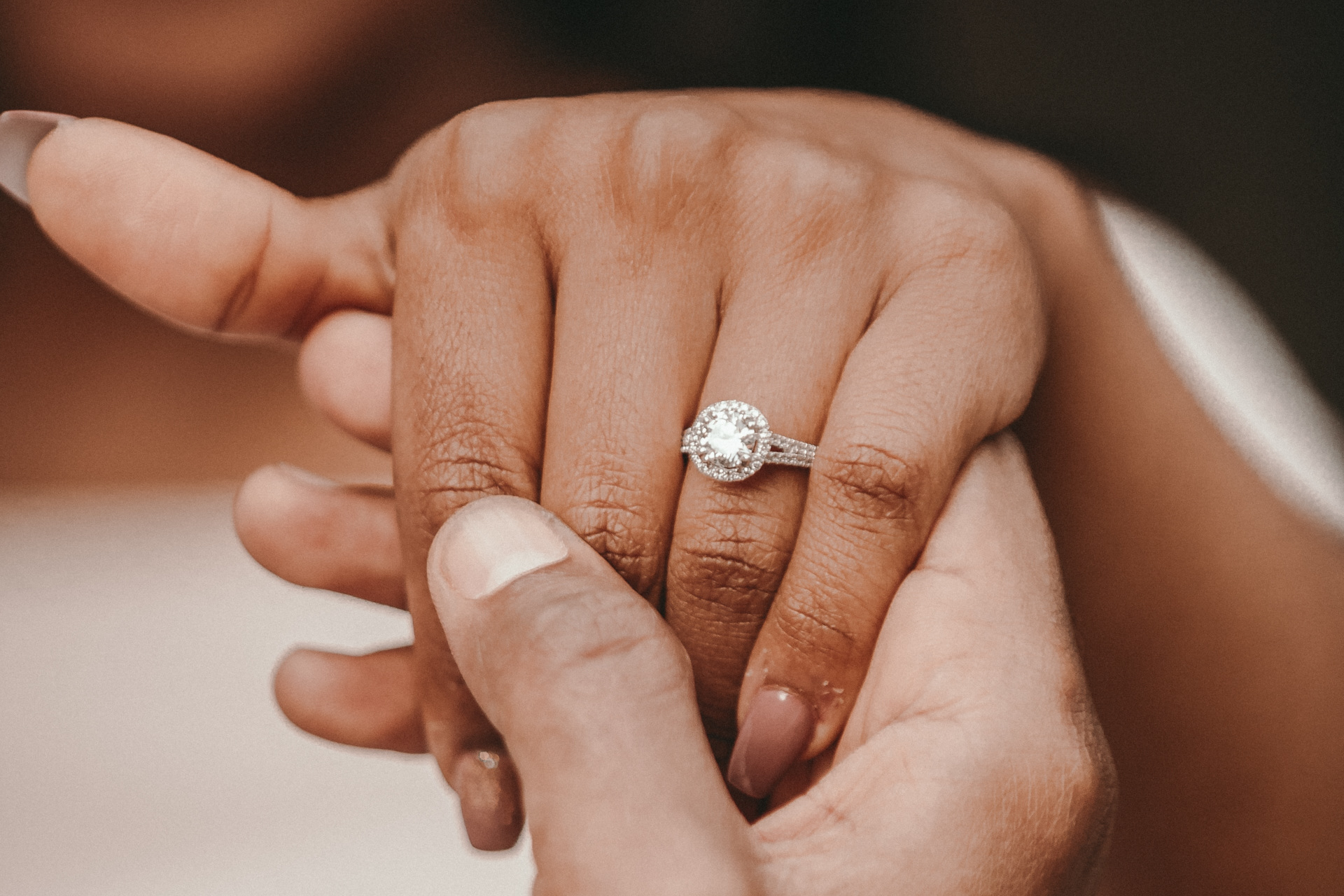 HOME
JEWELLERY & WATCHES
8 Engagement Ring Trends To Have On Your Radar In 2024
Say 'I do' to these trendy designs
If you're considering getting down on one knee in 2024, then you'll want to stop by here first to get an idea of your ring options. We've consulted some of our favourite brands and jewellery designers, who share what they think will be the biggest engagement ring trends of 2024 – so you can propose in style.
Looking For 2023 Trends? Click Here
Which Engagement Ring Trends Will Be Big In 2024?
Personalisation is the most prominent overarching theme next year, from colourful gems and bespoke layouts to hidden messages tucked away inside wedding bands. Read on for the biggest engagement ring trends of 2024:
Top Trends At A Glance
Colourful Sapphires
Modern Trilogy
Lab Grown
Asymmetry
Art Deco
Oval Diamonds
Toi-et-Moi
Hidden Touches
1. Colourful Sapphires
Say goodbye to clear gems and neutrals in 2024, as we hail the return of colour. 'A great way to express individuality within your ring is by injecting colour,' says Laura Kay, founder of Tomfoolery London.
'Coloured stones are being used more and more,' adds Jessie Thomas, founder of Jessie Thomas Jewellery. 'I honestly think this stems from people constantly wanting to move against a trend and push towards something different, so as to create a sense of individuality and this means constantly moving towards new trends.'
But where colour may have sat quite comfortably with diamonds in the past, it's sapphires that are forecasted to steal the show this time round. 'While diamonds are still incredibly popular, they aren't necessarily for everyone,' explains Laura. 'We have seen a huge demand from our customers for coloured sapphires, particularly in yellow and teal hues.'
'We are also really noticing an increase in clients wanting beautiful coloured sapphires set with diamonds,' adds Lucy Crowther, founder of Minka Jewels. 'Sapphires and other coloured gemstones make for such unique and statement engagement rings allowing the client's personality to shine through and a sense of individuality in the design.'
2. Modern Trilogy
One of the trendier designs of 2023, the trilogy ring, is expected to continue its popularity streak in 2024. A design comprised of a cluster of three stones set along the band, trilogy rings have long been a classic when it comes to popping the question. 'Trilogy rings have always been a popular choice for engagement rings, with each stone symbolising past, present and future,' says Laura. 'They are a great sentimental choice for those wanting something with a hint of tradition.'
Modern variations of the design, however, will bring asymmetrical and colourful stones to the fore.
3. Lab Grown
All hail the lab grown diamond. The lab grown industry has been growing significantly over the last few years, offering a more ethical alternative to traditionally mined gems (with the same high quality effect) – meaning it was only a matter of time before they became a popular choice for wedding jewellery.
'A lot of our customers have been opting for lab grown diamonds for their centre stones this past year, prioritising sustainable credentials,' recounts Laura. 'Lab grown diamonds have an identical chemical composition to earth mined diamonds but can offer complete reassurance when it comes to your carbon footprint. It's impossible to tell the difference without advanced technology and you can get a much larger centre diamond with better clarity, colour and cut for your budget.'
What's Next for Lab-Grown Diamonds?
4. Asymmetry
Another trend veering away from tradition, more people are looking to propose with asymmetrically designed rings. 'The idea of a "traditional diamond engagement ring" has been replaced with customers seeking unique rings that will reflect their personality,' adds Laura. 'People are buying more playful, less conventional designs and a great way of doing this is with an asymmetric ring as you can mix cuts and colours.'
5. Art Deco
Another engagement ring trend carrying over from 2023 is the Art Deco style, characterised by geometric shapes, sharp lines and rich colours. Laura tells us that these features will be more seamlessly blended into contemporary bands: 'A lot of our clients are opting for contemporary rings whilst incorporating Art Deco design motifs such as unusual diamond cuts or geometric patterns. A popular bridal set right now sees a delicate twist on a classic low-set with curved fit bands, as well as featuring central natural diamonds with soft yellow or champagne tones.'
6. Oval Diamonds
And when it comes to the shape of stones, oval continues to remain a favourite for 2024. 'This is the diamond cut of the moment,' says Eliza Walter, founder of LYLIE Jewellery. ' We think it might be because an oval cut gives a bigger spread for the same carat weight as other stones – in other words, your diamond looks bigger on your hand. We only offer lab grown oval-cut diamonds, as it's a relatively new cut, and this appeals to our younger Gen-Z couples.'
7. Toi-et-Moi
And the celebrity ring of the moment? For the third year in a row, it has to be the Toi-et-Moi. 'It might sound obvious, but celebrity rings do influence engagement ring trends,' highlights Rachel Boston, founder of Rachel Boston Jewellery. 'For example, after Emily Ratajkowski got engaged with a Toi-et-Moi style ring, demands for the style sky-rocketed. We had made Toi-et-Moi rings before that point, but not nearly as many as we make now.
'We generally stay away from trends in our designs as we aim to make pieces that are as timeless as possible, but we might occasionally create a bespoke piece guided by these trends if this is what our client wants,' she continues. 'If they like a particular celebrity's ring, we will always make some design suggestions so we're not creating an exact replica, but rather a piece that will feel unique to the person commissioning it.'
8. Hidden Touches
Speaking of, personalisation and bespoke designs – with an emphasis on conveying details about the couple – are also set to be a huge engagement ring trend in 2024. 'Storytelling is hugely important to our engagement rings, and adding hidden touches, like choosing the type of claw (talon versus round-ended, for example), and details, such as a complimentary inscription and stones set inside the ring band, makes a classic design totally unique,' says Eliza. 'Because we make every engagement ring as part of a custom order, it gives us the possibility to adjust and tweak these hidden details so it feels totally unique for the couple and their love story.'
Featured image: Alekon Pictures, Unsplash