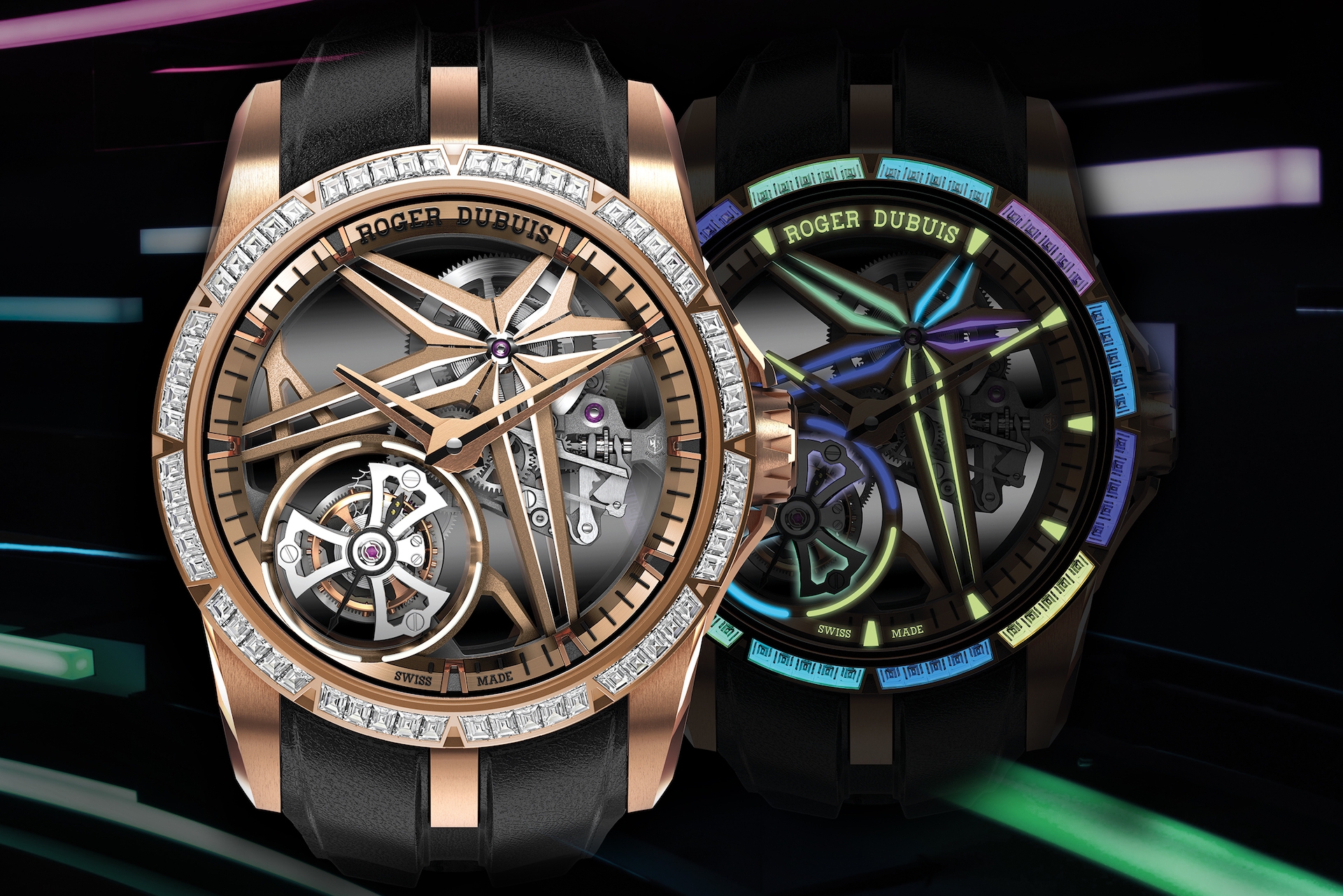 HOME
JEWELLERY & WATCHES
Extraordinary New Watches 2021
Watches that push the boundaries of what's possible
Watches 2021: the technical triumphs and horological innovations of the year so far. 
Main image: Roger Dubuis Excalibur Flying Tourbillon Glow Me Up
In Search of the Extraordinary
Acurate timekeeping has been a human obsession for millennia, stretching back to the ancient Egyptian shadow clocks of 1,500 BCE that were more precise than other sundials of the time. Subsequently, everything in trade, travel and warfare, by sea, sky or land, has relied on mastering time, and the competition for advances in horology is just as strong today. Despite an 18-month period of global uncertainty, 2021 has seen a surfeit of innovation, in technical and material development, and in sheer aesthetic brio.
Some of the most breathtaking launches wow simply by their mind-boggling audacity. To mark 90 years of production, Jaeger-LeCoultre introduced a world-first four-dialled watch to its celebrated flip-case Reverso collection, achievable thanks to a double-faced case and cradle. Six years in the making, the Reverso Hybris Mechanica incorporates 12 separate complications including a flying tourbillon, a perpetual calendar, a minute repeater and several astronomical displays.
Vacheron Constantin is also reaching for the stars with the unique Les Cabinotiers Armillary tourbillon perpetual calendar – Planetaria. For the first time, a watch combines retrograde calendar indications, a precision moonphase and 3Dm, real-time orbs of the Northern and Southern Hemispheres that act as day/night indications. Within the 46mm, pink-gold case is a 745-component movement with double-axis tourbillon (visible on the dial and case side) that took four years to develop.
The brand's director of style and heritage, Christian Selmoni, emphasises the difficulties of packing so much complexity into something so small, saying, 'our engineers and watchmakers had to deal with a restricted space on the watch face because of the three-dimensional construction of the tourbillon. The biggest challenge was to incorporate a legible perpetual calendar, and the retrograde indications provide an elegant and sophisticated technical solution.'
For Patek Philippe's deceptively simple Grand Complications 5236P-001, the inspiration was altogether more personal. The in-line perpetual calendar is a collaboration between CEO Thierry Stern and his father Philippe, who oversaw development of linear calendar pocket watches. The technology for a wristwatch version was not available then, but the supremely elegant 41.3mm model has achieved the impossible by presenting day, date and month plus moonphase, small seconds, leap year and day/night indications in probably the most legible format ever.
And it seems that Stern may not be quite finished, saying after the launch: 'When you have such a movement, you do not plan to use it in only one case. We will go further, and we will certainly design new pieces with this type of movement. I would love to make it even smaller, to create a beautiful ladies' watch. This will take some time but 20 years ago the current calibre was impossible, so maybe in five years I will be able to reduce it by another 20 per cent.'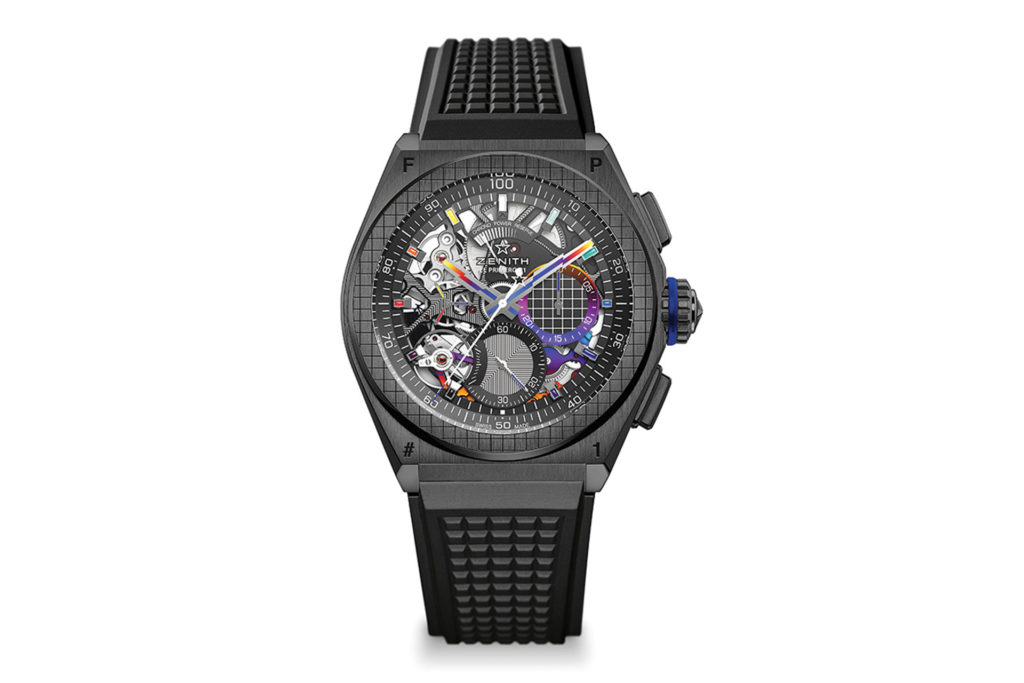 Bulgari continues its reign as the master of ultra-thin with its seventh record-breaking 'world's thinnest' watch. The 408-component, self-winding (via a micro-rotor) Octo Finissimo Perpetual Calendar is an unbelievable 5.8mm thick with a dial that is extremely legible thanks to the mix of retrograde indicators and sub-dials, adjusted via three correctors on the caseband.
As any mechanical watch owner knows, one of the biggest dangers to it is impact and copious research has been devoted to developing shock absorbing systems and materials. After eight years of research, IWC's revolutionary solution is the SPRIN-g PROTECT system in the Big Pilot's Watch Shock Absorber XPL. The movement is suspended by a cantilever spring made from strong, flexible bulk metallic glass, which cushions the calibre so it keeps moving independently of the case before bringing it to a gentle stop – it can withstand shocks of 30,000G.
In a year when colour rules, several brands have found ways to introduce rainbow hues into cases and movements. In collaboration with artist Felipe Pantone, Zenith has unveiled the DEFY 21 Felipe Pantone, using the skeletonised movement of the highest frequency chronograph in industrial production (1/100th of a second) as a canvas for a PVD slick representing every hue.
Montblanc, meanwhile, showcases a process of laser engraving and oxidisation that creates colour without applying any pigment, debuted on the caseback of the 1858 Geosphere Desert Limited Edition, which depicts a stylised image of the Gobi Desert's Flaming Cliffs.
Super-LumiNova (SLN), once a practical coating to help read a watch dial in the dark, has become an art material, finding its way into cases, bezels and straps, and appearing in a whole spectrum of colours. The jazziest execution yet is the Roger Dubuis Excalibur Flying Tourbillon Glow Me Up model, featuring grooved diamonds filled with SLN that, under UV lights, create a disco ball for the wrist. While the diamonds take centre stage, the coated sapphire-crystal bridges and tourbillon carriage provide full back-up lighting.
Watchmakers became alchemists during lockdown with new gold alloys joining the existing Honey (A. Lange & Söhne), Beige (Chanel) and Everose (Rolex). Montblanc introduced Lime Gold (a mix of gold, silver and iron) in the 1858 Split Second Chronograph Limited Edition 18, the case complementing the green dial accents, while Omega added to its range of proprietary metals with a new Bronze Gold. A composition of copper, gold, silver, palladium and gallium, this is a rich red that patinates slowly and in a more controlled manner than standard bronze alloys.
The prize for material experimentation, however, goes to Tudor. Usually associated with stainless-steel tool watches, between April and July the brand successively introduced watches in gold, bronze and ceramic (a piece that also contained an in-house movement with Master Chronometer certification from METAS). But its unexpected hit is the Black Bay Fifty-Eight 925 with a solid silver case. Once a staple of watchmaking, silver is rarely used today due to its softness (something Tudor has overcome through a secret pressing process) and its tendency to tarnish, so the rarity value – especially in a sports watch – has caused an ever-growing waiting list of keen collectors.
Eco-friendly horology is also flourishing. Following on from recycled rubber, plastic and fabric, IWC, Greubel Forsey, Maurice Lacroix and Tissot are leading the charge for 'vegan' straps made from paper, cork and plant-based products such as corn, pineapple and apple. Cartier goes further, with non-leather straps on certain models of the new Tank Must watches, including its first solar-powered watch. The light that powers the photovoltaic cells beneath the dial enters via perforations in the Roman numerals, and Cartier claims a running time of 16 years before servicing is required.Even the king of the disposable plastic watch, Swatch, has developed a brand-new Bioceramic made of plastic sourced from castor seeds and ceramic. The Big Bold model in it is robust, incredibly lightweight and adapts quickly to body temperature.
Finally, Panerai showcases the potential for sustainability with its Submersible eLAB-ID, which is 98.6 per cent recycled, from the titanium in the case, dial and bridges to the Super-LumiNova, silicon, sapphire crystal and strap. Describing it as a passion project, Alessandro Ficarelli, Panerai's product director, said, '[the watch is] a statement that we have to reduce our environmental impact and it represents the creation of a new standard.'
And a statement of intent that watchmaking will treat the need for sustainability as an opportunity for new adventures.
Best Sustainable Jewellery Brands