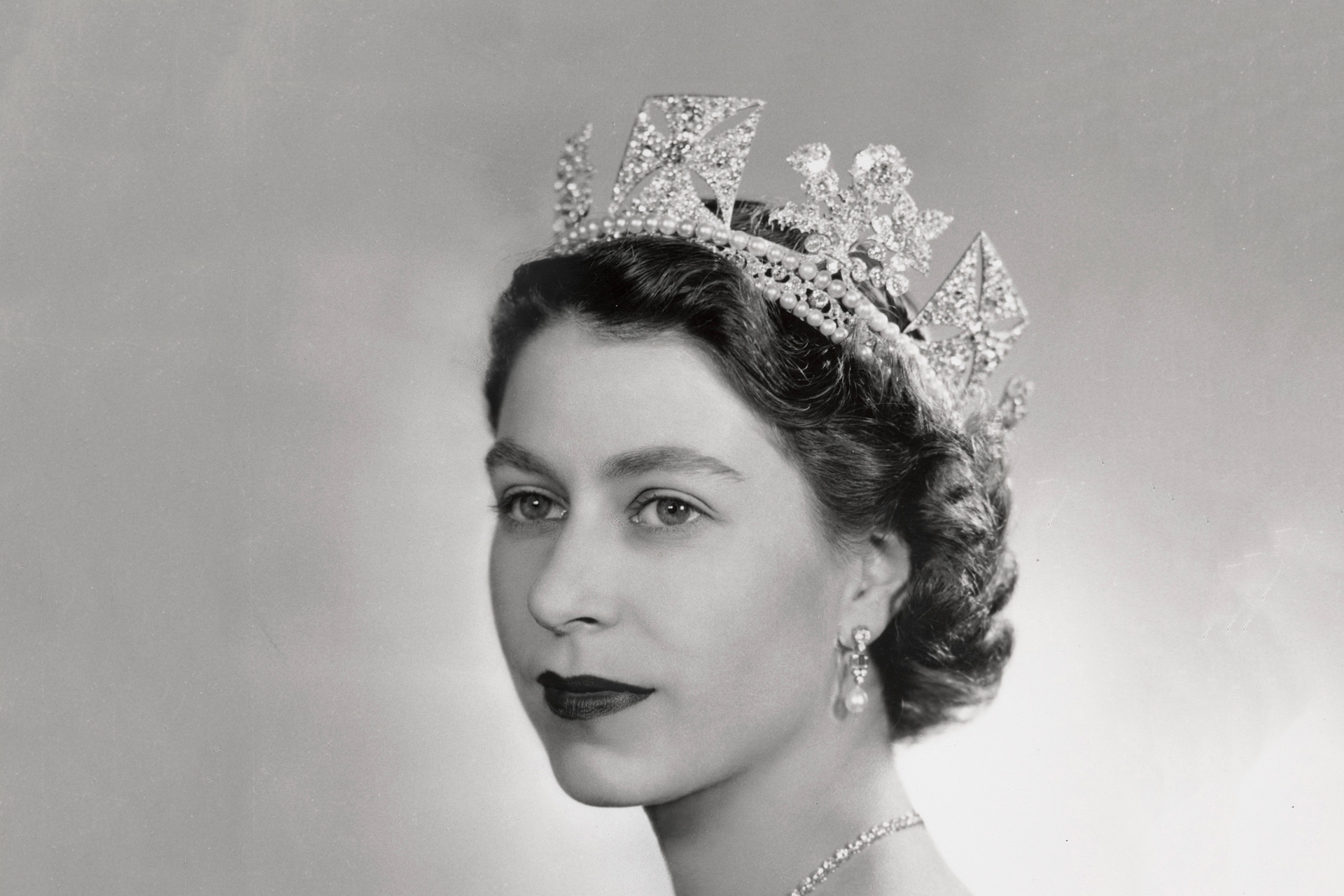 Jubilee Jewellery to Drool Over
---
Including a tiara that took 1,500 hours to make
From Boodles to Bulgari, these new jubilee jewellery collections, launched to celebrate Her Majesty The Queen's 70 years on the throne, have the wow-factor to live up to the historic occasion.
Jubilee Jewellery
Jewellery and royalty go hand-in-hand – just think of the immense Crown Jewels, held in state (and top-spec security) at the Tower of London.
So it's not surprising that several jewellery brands – both British and from overseas – are marking The Queen's historic Platinum Jubilee through the creation of several new, exquisite pieces.
And it's not just new gems that are marking the occasion. Magnificent pieces from the Queen's own jewellery box will also go on display this summer at Buckingham Palace, Windsor Castle and the Palace of Holyroodhouse in Edinburgh.
Each display will explore a historic occasion in Her Majesty's 70-year reign – the Accession, the Coronation and previous jubilees – through photographs, paintings, works of art, and items of The Queen's wardrobe and jewellery.
These will include pieces such as the Diamond Diadem (above), a crown that was made in 1820 for King George IV, and which the Queen wore for her Coronation, as well as for a series of now-iconic photos by Dorothy Wilding. rct.uk
Boodles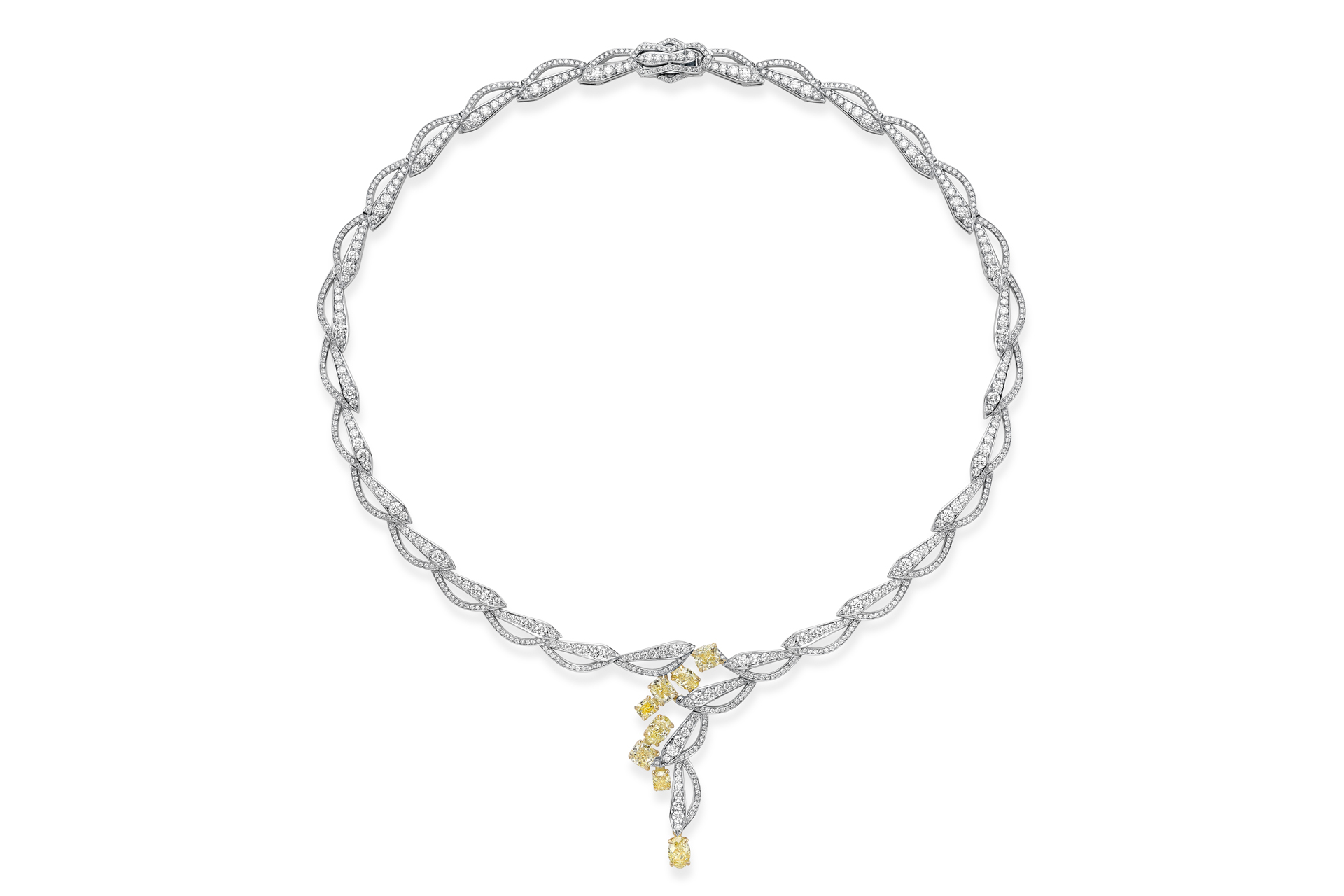 Boodles has just announced its Peace of Mined collection, created to mark the Platinum Jubilee. It uses diamonds chiefly sourced from the Cullinan Mine in South Africa, the very same that yielded Cullinan I and II – the 'Greater Stars of Africa' diamonds – in the Royal Sceptre and the Imperial State Crown, used in the coronation on 2 June 1953. For the new collection, Boodles' Head of Design, Rebecca Hawkins, took inspiration from the Queen Mary Fringe Tiara, which the then Princess Elizabeth wore on her wedding day. boodles.com
Bulgari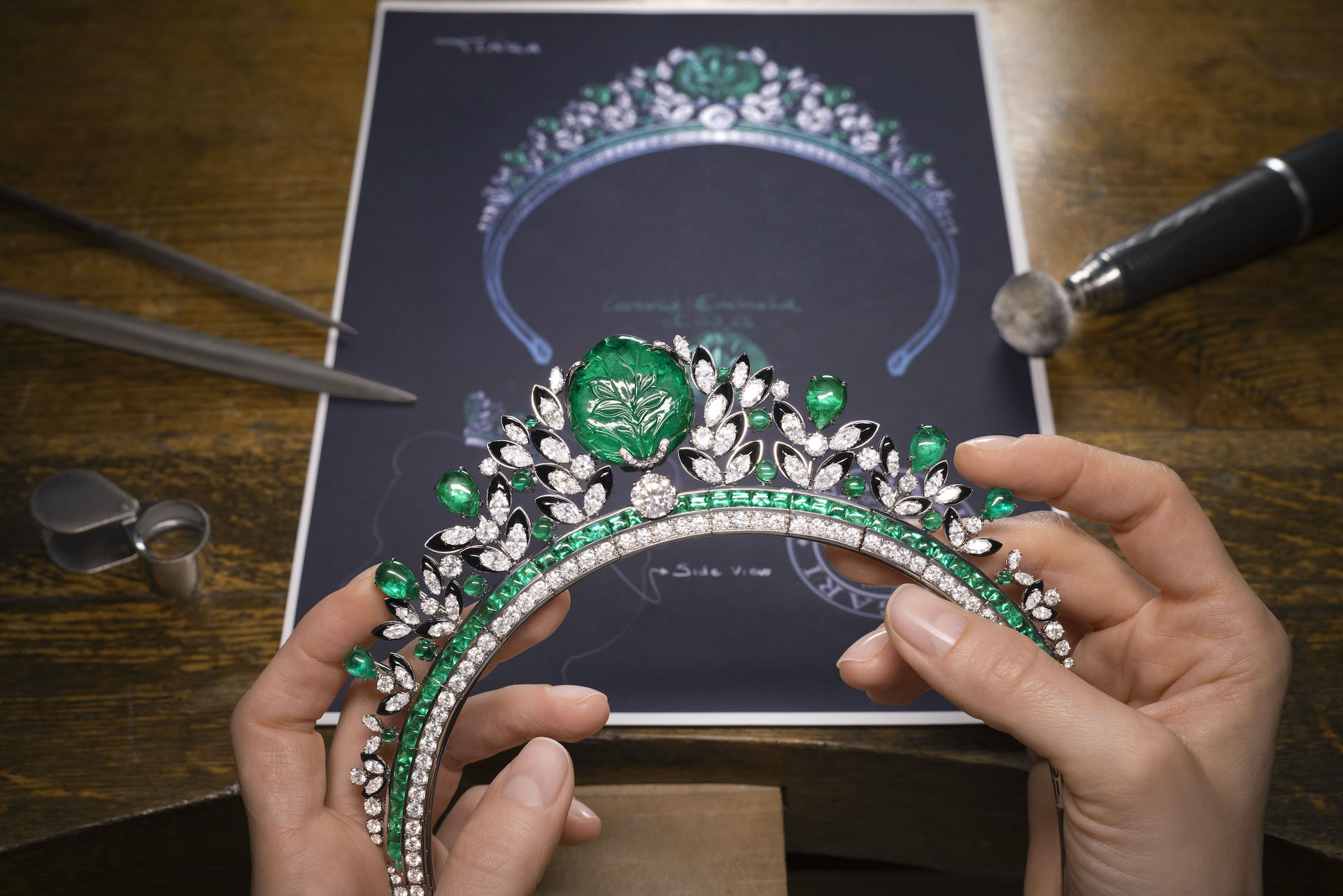 A suitably splendid parure for a historic regal occasion. To mark the Queen's 70-year reign, Bulgari has created the exquisite Jubilee Emerald Garden tiara and matching fine jewellery watch. The tiara took a team of five experts 1,500 hours to make and is crafted from diamonds and emeralds set in platinum, with the focal point being an incredible 63.44 carat Zambian emerald, carved with a lotus flower in full bloom. Incredibly, the tiara can also be converted into a necklace – a truly versatile piece, this.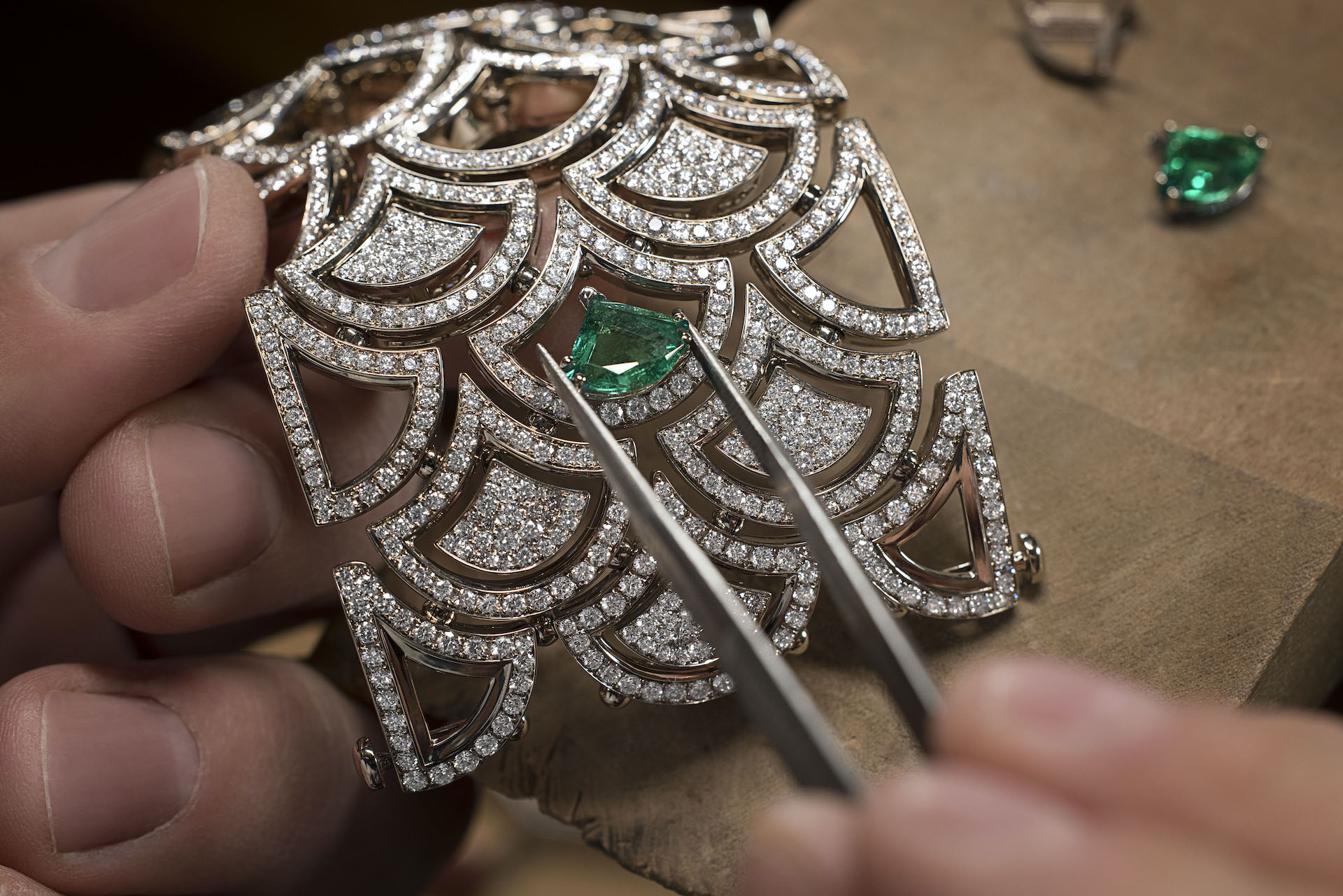 Accompanying it is a special-edition Divas Dream high jewellery watch, crafted in white gold set with eight Zambian emeralds and diamonds. The horological creation involved five craftsmen and 1,000 hours of work to complete. bulgari.com
Garrard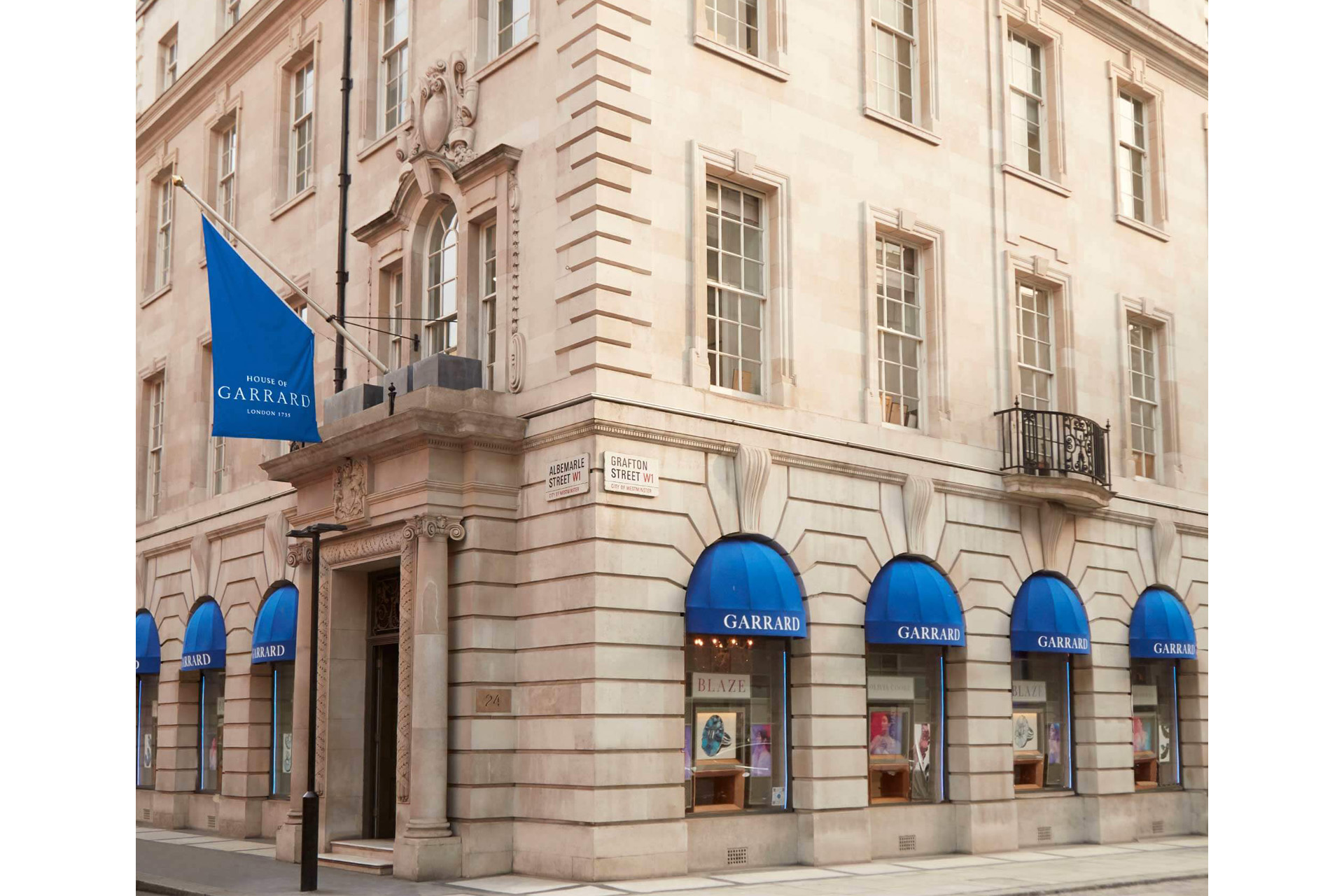 Appointed Crown Jeweller in 1843, Garrard has a historic association with the Royals. To mark the Platinum Jubilee, it's turned its flagship boutique in Mayfair royal blue for the occasion, and invited guests to the Queen Mary Suite, by appointment only, to discover its famous jewels, sparkling tiaras and royal ledger, alongside new pieces of jewellery created especially for the anniversary.
'For the jubilee, I wanted to create jewels that celebrated our incredible royal history and design,' explains the brand's creative Director, Sara Prentice. 'To do this, I revisited our iconic Sovereign motif, to create a selection of unexpected and limited edition pieces.'
 The Sovereign motif, which comes to life in a new pin, is inspired by the setting of one of the most legendary stones in the royal collection, the Cullinan I diamond, which Garrard placed on the Sovereign's Sceptre in 1910. Meanwhile, a new Aloria pendant in platinum with diamonds reimagines the motif with playful elegance and a contemporary twist.
'The clean curves and simplicity of design draw the eye to the rich, bold colour that we are all so excited about. In creating the perfect everyday piece, the pendant can be reversed to reveal a flash of white diamonds,' continues Prentice.
Vashi
To mark The Queen's 70 years on the throne, Vashi has curated a special range of its breathtaking platinum pieces. It features everything from exquisite diamond pendants to delicate sapphire drop earrings, plus a dreamy selection of eternity rings – just right for your own special anniversaries and occasions. vashi.com
Annoushka
Renowned for her delicate, quirky charms, it's no wonder British jeweller Annoushka Ducas has created a series of new designs in honour of the Platinum Jubilee.
Joining her usual collection are two commemorative limited-edition charms, one of a corgi (of course) and one of a pearl-and-diamond orb. There's also a super limited-edition version of her signature Crown ring – only seven will be made, one for each year of her reign – and for the first time ever a Crown bangle and hoop earrings. Every piece will bear the Platinum Jubilee Hallmark, making it a commemorative investment as well as a treasurable piece to wear and enjoy.
'Seventy years on the throne is an astonishing achievement, and I wanted to do something very special to celebrate it,' says Annoushka. 'I had a wonderful time designing these new pieces, and I think they sum up my approach to jewellery: they're feminine, wearable and playful. I hope you love them as much as I do.' annoushka.com
Clogau
Welsh jeweller Clogau, famous for its use of locally mined gold, is marking the Queen's milestone with a collection inspired by the Superbloom exhibition of wildflowers that are currently transforming the Tower of London's moat. These sterling silver and rose gold pieces contain rare Welsh gold and are set with a choice of the appropriately named London Blue topaz, amethyst, aventurine and garnet, and adorned with white topaz and pearl.
The link between the British Royal family and Welsh gold goes back to 1923, with generations of kings, queens, princes and princesses choosing the metal for their wedding rings. From £260, clogau.co.uk
Lucy Quartermain
Silver jeweller Lucy Quartermaine has also just launched a new collection called Royal Pearl in celebration of the Platinum Jubilee. Comprising ten pieces, Royal Pearl is peppered with symbolism, such as the use of seven pearls on the drop earrings, one for each decade the Queen has reigned. Lucy has also used a Lily of the Valley motif throughout, which is known to be the Queen's favourite flower. lucyqdesigns.co.uk
Halcyon Days
Finally, you're going to need somewhere to put all that new jewellery. Royal Warrant-holder Halcyon Days has just the thing, with its Platinum Jubilee enamel trinket box, adorned with Flowers of the Realm: roses for England, clovers for Northern Ireland, daffodils for Wales, and thistles for Scotland. Trinket box, £220. halcyondays.co.uk
Main image: Photograph by Dorothy Wilding / Royal Collection Trust