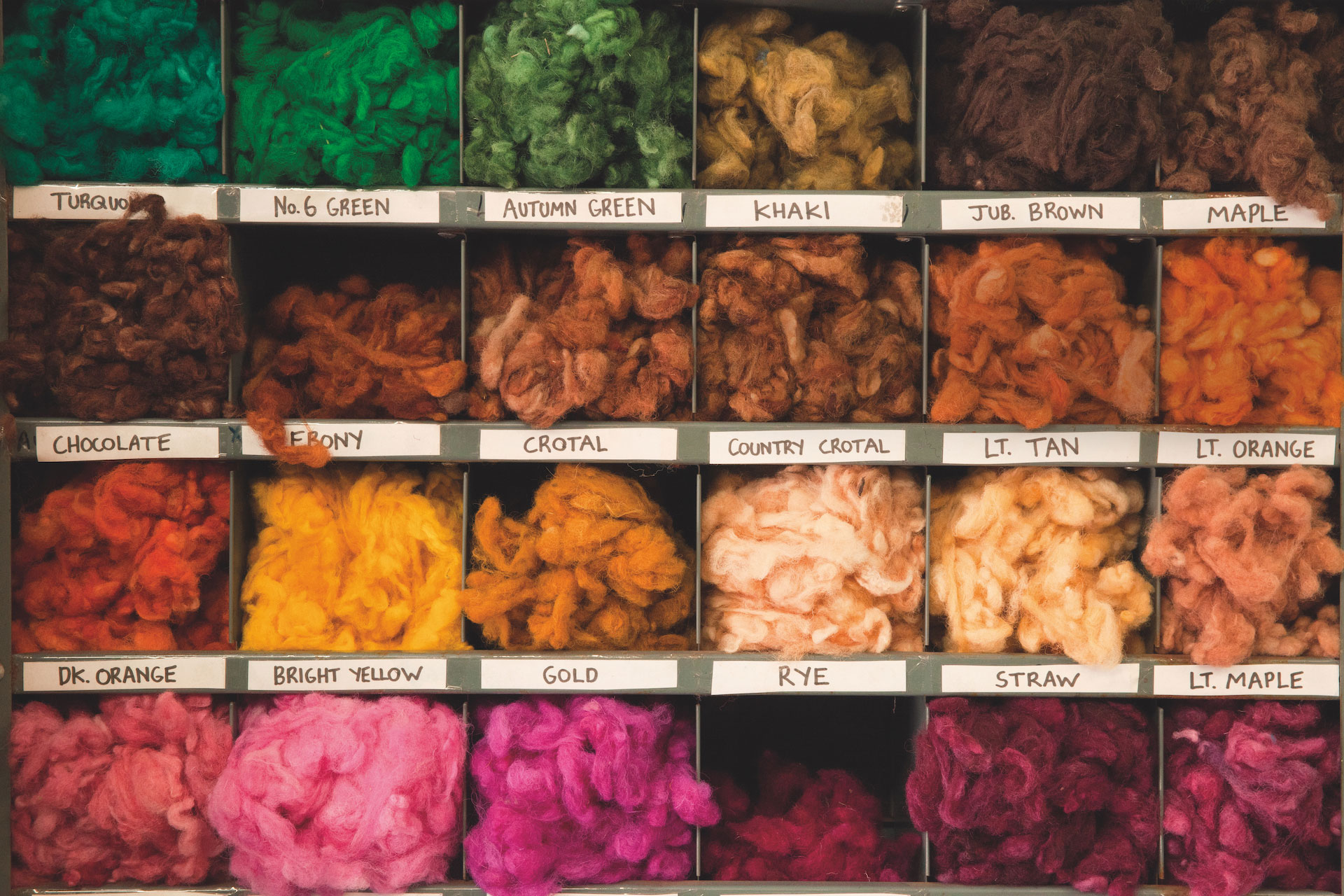 The Meaning of 'Made in Britain'
---
Celebrating our homespun heritage
The 'Made in Britain' label is a global guarantee of quality, rarity and craftsmanship, but unless we train up the next generation of craftspeople, we're in danger of throwing it all away, says Charlotte Metcalf.
Main image courtesy of Harris Tweed
The Meaning of 'Made in Britain'
Time was when the word 'homespun' would have conjured up a simple, rough garment that a character in Cold Comfort Farm might wear. Who'd have thought 'homespun' would become the lynchpin of luxury? But it has, with its origins in Harris Tweed, today one of Britain's proudest heritage exports. Few people know that the principles of making Harris Tweed are enshrined in a 1993 Act of Parliament, which ensures every metre is made from virgin wool in the weaver's home and only in the Outer Hebrides. Even the great industrialist Lord Leverhulme failed to prevail against the strict maxim of 'one weaver, one loom, one croft', when he tried to scale up the process. Harris Tweed, sought after globally for its – literally – homespun rarity, is made only to order by about 160 certified weavers, personifying slow fashion and the ultimate luxury.
British brands have experienced an extraordinary amount of widely documented recent upheaval, denting consumer confidence and spending power. Yet brands that have had to manufacture on a smaller scale closer to home are now standing to gain. Being quintessentially British is more of an asset than ever, witness the everlasting appeal of a Savile Row suit or a pair of gentlemen's shoes, renowned the world over for their robust reliability. Jonathan Jones of family-owned Crockett & Jones, which has made shoes in its Northampton factory since 1879, says, 'Englishness is our identity and our strength. It's no good following fashion because Italy always leads. Instead, we stand for the quality of our materials and construction. A pair of our classic Oxford-style shoes is as good today as it was over a decade ago and there's no point changing it. The more we build on that core strength, the more we stand out in the global market. People know what to expect from us and are prepared to pay handsomely for it.'
While Northampton is famous for its shoe factories, John Smedley is still manufacturing where it started in the world's oldest factory in Derbyshire. This continuity has served to underpin confidence and pride in the brand's mission, defined well over 200 years ago, to design and produce the world's finest knitwear. Managing Director Ian Maclean says, 'Generations of families around the world have shown our brand great loyalty – which is amazing and humbling at the same time. Our two Royal Warrants are the most visible symbol of this.'
No one knows the value of Britishness better than Carole Bamford, champion of organic farming and sustainability, and founder of Daylesford and Bamford, whose resolutely locally made products command high prices. 'The importance of valuing and supporting local industries and manufacturing were emphasised by compromised supply chains during the pandemic,' she says. 'The precarity of relying on imports threw a spotlight on British heritage and our wealth of skills – and the need to support them.' She sees her customers wanting to make informed, ethical choices so a product's provenance and supply chain must be visible. 'Eyes have been opened to the devastating effects of fast fashion,' she says, 'so a shorter, local supply chain makes verification of a garment's origin easier to trace. We're transparent with our stories and local and international customers like the brand's connection to nature and the fact that the whole process of designing and crafting the garments is so carefully considered, which comes through in the quality of the clothing. Our homegrown merino collection sold out last year so there's a tangible respect for UK-produced products.'
Anyone still in any doubt about the clout of a 'Made in Britain' label should talk to Tom Davies, maker of bespoke glasses and sunglasses. In 2017 he moved his manufacturing back from China to his Brentford factory and saw sales in China burgeon, proof that a British-made stamp represented guaranteed quality.
Charu Gandhi, founder of Elicyon, recalls a Chinese client who fell so in love with British design that when he moved back to Shanghai from the UK, he turned to Elicyon to create an authentically British home. 'We dry-fitted the entire apartment in our joinery workshop, then flat-packed it and air-freighted it to China,' says Charu. 'We had to modify certain things, like the very British open-plan kitchen that wasn't ideal for stir-fries, but he was so concerned with Britishness that we took everything from London, from paint to scissors.'
In 2014 Charu deliberately chose London, the 'epicentre of design', as her company base. 'Britain has a long history of honouring its professions, from joiners to its goldsmiths,' she says. 'Take the Master Guilds or the rigorous process that a master architect goes through to qualify or a brand to receive a Royal Warrant.  All these impose a certain calibre on the craftsmanship that plays such a role in how British design is perceived in the world.'
Anya Hindmarch was in Japan shortly after the Queen's funeral and says, 'We've had a huge amount of outpouring of love for the UK recently. Everywhere I went in Japan there'd be a hand on my arm and, "I'm so sorry about your Queen". The funeral really ignited a fascination with all our brilliant pomp and ceremony and all those British-made traditional uniforms and finery. Even in her death, the Queen did the most incredible job for Brand Britain.'
Young companies, like clothing brands Holland Cooper, whose tweed pieces are made in the UK, Edeline Lee and Herd, are increasingly seeing the benefit of manufacturing here, especially given the new generation's laudable preoccupation with reducing its carbon footprint. Laboni Saha, founder of L Saha, which specialises in hand-made women's eveningwear and jewellery, finds that manufacturing locally enhances her team's creativity. 'Much of our stuff is entirely hand-made by seamstresses within our atelier, and not having to send pieces abroad to be made up means we can experiment and play with things much more,' she says. 'But even with our ready-to-wear range, we're thinking about bringing our manufacturing back to Britain because the more local we are, the smaller our carbon footprint and that's so important.'
TROY London was founded by sisters Lucia Ruck Keene and Rosie van Cutsem in 2013 as a socially, environmentally and ethically conscious brand, specialising in outerwear. 'We're seeing customers making more considered decisions when looking for heritage garments and we wanted to get close to British craftspeople and learn about design and manufacture,' says Lucia. 'It was a fantastic opportunity to support a heritage industry which is in danger of dying out. For example, our highly skilled suede specialist is pretty much a one-man band, yet cuts and stitches suede in a way that ensures it stays strong and lasts for generations.'
Indeed, Carole Bamford warns we need to do far more to protect these vital skills if British manufacturing is to thrive. 'We need to encourage people to make it their trade,' she says, 'and we have to change younger people's perception and show that there is a future and prospects in these heritage crafts.'
We might have the oldest factory in the world, but if our manufacturing is to remain buoyant, we must instigate training and apprenticeship schemes to keep our valued craftship alive and ensure our 'Made in Britain' label continues to represent a global badge of excellence.