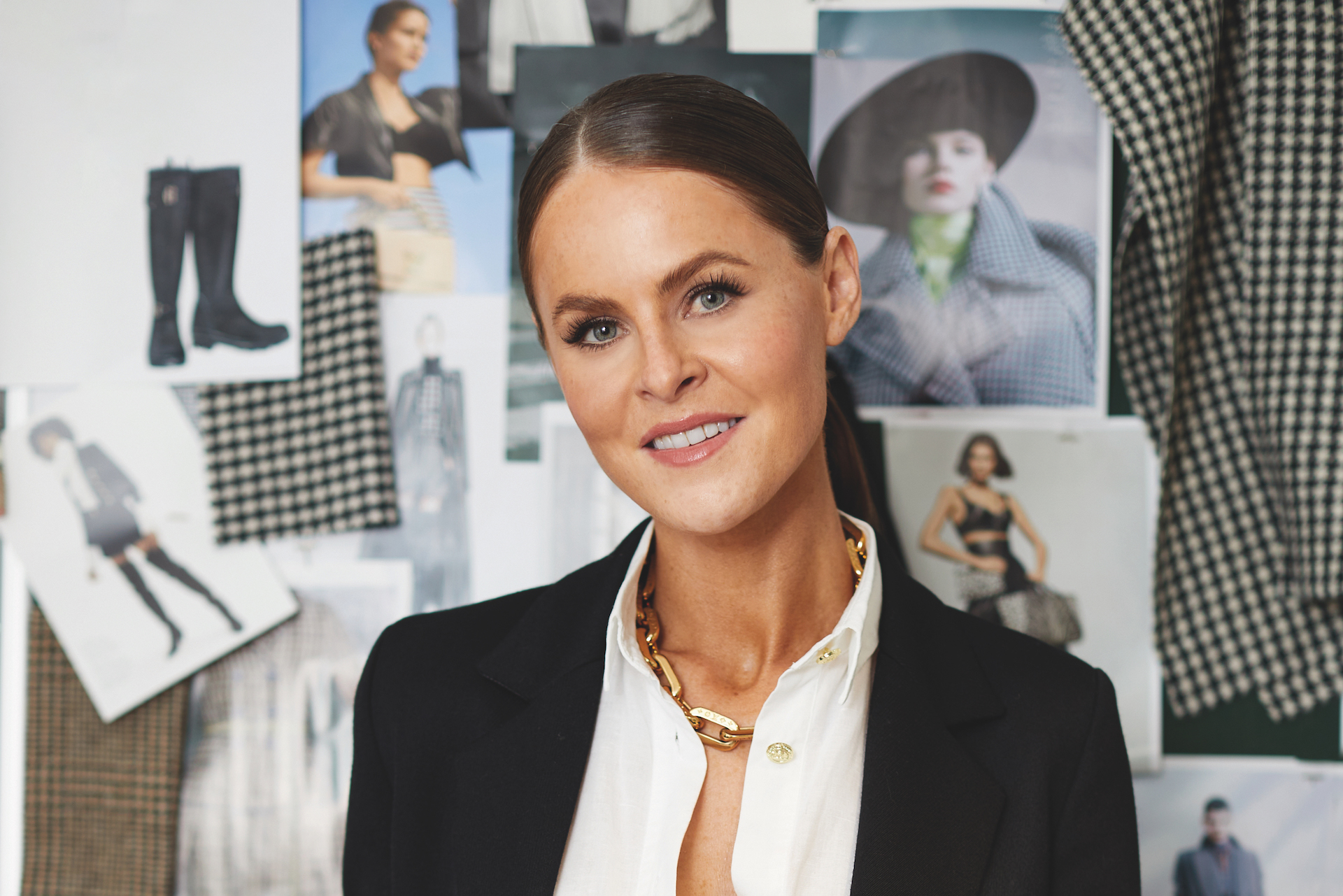 Meet The New Cotswolds Queen, Jade Holland Cooper
---
Talking fashion and food with the successful entrepreneur
Jade Holland Cooper's clothing brand is thriving, with sales soaring and new boutiques opening. As she sets her sights on hospitality, Amy Wakeham talks food, fashion and fortune with the ambitious entrepreneur.
Interview with Jade Holland Cooper
A merry swathe of daffodils lines the park opposite No.131 hotel on Cheltenham's handsome Regency Promenade, nodding their heads in the spring sunshine. It's a quintessentially English picture, but inside the building's grand façade it's a whole other story.
Here, decadent black panelling, decorated by Japanese artworks, is set off by a gold leaf vaulted ceiling and presided over by a glittering chandelier. On top of the bar Jade Holland Cooper is perched in a draped white Alexandre Vauthier gown, having her picture taken. It's the launch day of Yoku, the hotel's new Japanese-inspired restaurant and Jade's latest creative venture.
'I really wanted to create somewhere where you feel you can properly dress up,' she explains over green tea and Diet Coke once the photos are done. 'For women who have had that dress waiting in their wardrobe, which they previously couldn't wear until they went to London, now we have opened Yoku so they can wear it any night of the week.'
And it's not just the interiors that offer a wow-factor: the menu, stuffed with hand-rolled sushi, fresh sashimi from the south coast and crowd-pleasing favourites like miso black cod, is designed to share and presented with panache – here, you're very much encouraged to Instagram your dinner. 'Japanese food really lends itself to theatre. It's contemporary and chic,' explains Jade. 'We travel a lot, and we've eaten in a lot of Japanese restaurants, so we wanted to bring a bit of New York, Paris and London to Cheltenham.'
Yoku and No.131 are owned by Jade and her husband Julian, who also owns Superdry. Together, they make quite the Cotswolds power couple, with Jade's Holland Cooper brand beloved by the countryside cognoscenti for its contemporary classics.
It wasn't always like this. Jade started her eponymous fashion brand from scratch aged just 21, after a year at the Royal Agricultural College (RAC) – she turned down London College of Fashion to attend. Until the idea for Holland Cooper came to her, she was planning on returning to Suffolk to run the family farm.
'I'm so thankful I did [go to the RAC] because that's where I saw the vision for Holland Cooper,' says Jade. 'I think if I'd gone to fashion college, I would never have done this. If you want to succeed in retail you've got to find your niche. You've got to find something you can own and a reason for people to buy it.'
In person, Jade is tall and poised, with quiet grit and determination that bubbles under the surface of her bronzed skin. Her business acumen is clear: from a germ of an idea and skirts made by a local seamstress and sold at agricultural and country shows, she's built up a multi-million-pound retail company. She opened a new flagship boutique just outside Cheltenham in October 2021, and at the Cheltenham Festival in March this year the Holland Cooper stand was besieged by customers after the haute country look that Jade has bottled so cannily.
One of her fans is the Duchess of Cambridge, who sported a Holland Cooper Knightsbridge coat to a Six Nations match at Twickenham in February, and a Fair Isle jumper for her appearance on CBeebies in the same month.
'I think she's very authentic in what she wears,' considers Jade. 'The products get called in by her stylists and then I think she chooses what she would like to wear from a rail. We're proud to work with her and have her wearing the products. We're a heritage British brand and she is an icon – there is no better person.'
At the heart of Holland Cooper is its commitment to British craftsmanship, and its tailoring collection of finely cut coats, field jackets and shearling-trimmed capes all made in Britain.
'There are not that many brands that do all of their tailoring in the UK at this scale,' explains Jade. 'All of our tailoring, all of our tweed, is hand cut and made in the UK, and all the wool is from Scotland. Our fedora hats are made by Christys' in the Cotswolds in the old school way and our leatherware is made down in Somerset. We are championing a lot of UK factories.'
In her rare free moments when not working, Jade spends her time with her one-year-old daughter, Saphaïa, usually at the family's £50m country pile, which is just outside Cheltenham and around the corner from the Holland Cooper flagship boutique.
Why has Jade set her sights on this part of the world in particular? 'I think it's the perfect fusion of London and the countryside,' she explains. 'There's a real buzz and it's a fun crowd.'
And her and Julian's plans for the county are only just getting started. Next on the list is an 'amazing Cotswolds tasting restaurant' next to No.131 and Yoku, with the idea being that the hotel becomes a 'destination for food lovers'. For Holland Cooper, Jade's vision is that it becomes 'the British lifestyle brand', with a bigger international presence.
As we finish our drinks and before Jade moves onto the next appointment in her hectic schedule, I ask about the secrets to success that she wants to pass on her daughter. 'I want her to learn, like I learnt from my parents, that nothing comes for free,' Jade says. 'You've got to work for everything. It's really important, especially
if they're coming into a privileged environment, to give kids a sense of grounding and drive to achieve something. Because money on its own makes people miserable. A fulfilled life is a happy relationship and something to work for.'
Wise words to live by. Watch this space – the newly crowned Queen of the Cotswolds has grand ambitions up her British-made tweed sleeve. 
no131.com/yoku; hollandcooper.com
READ MORE