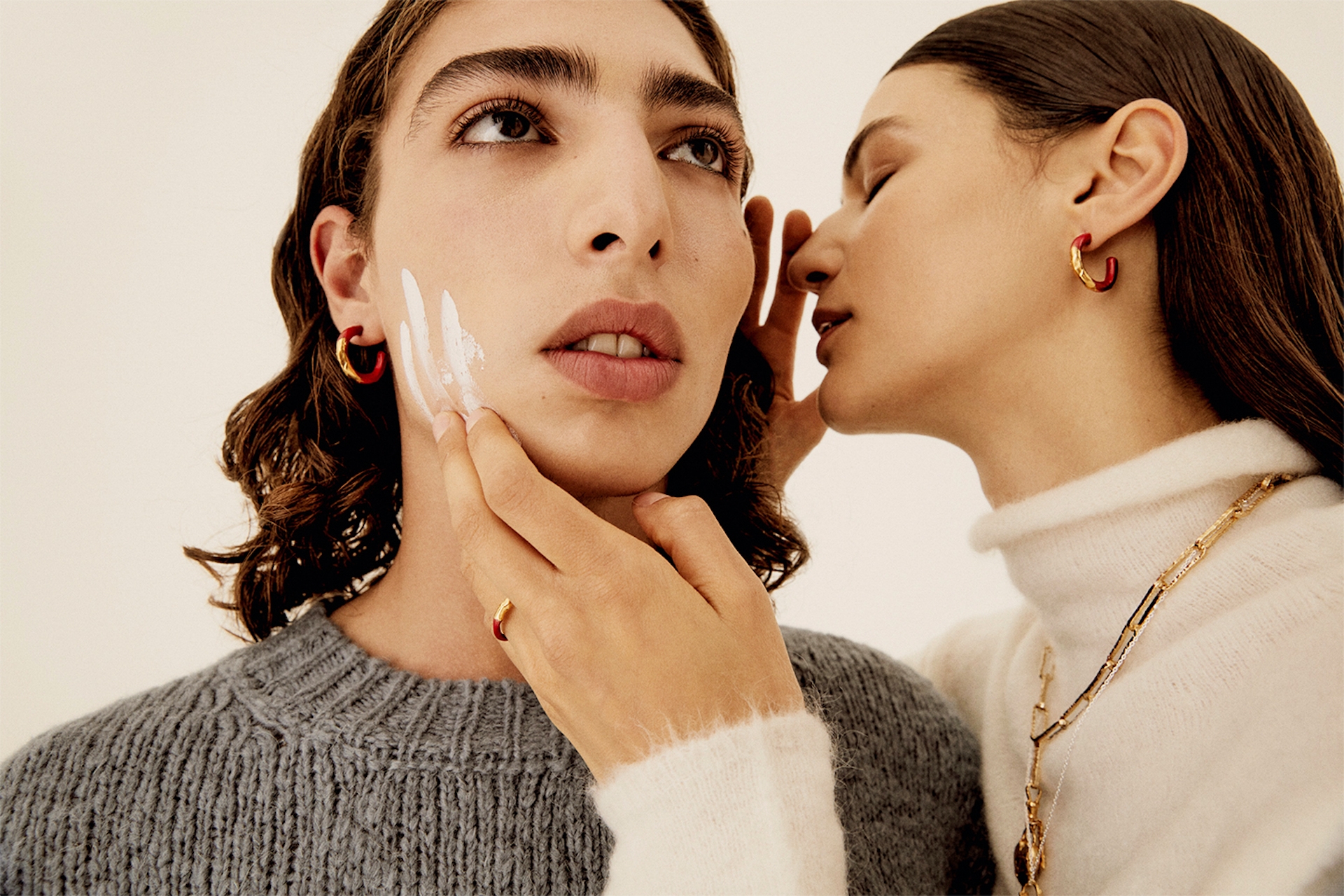 What's Trending in British Luxury? January 2022
---
Stay in the know with your favourite home-grown names
Stay in-the-know with the latest updates from the world of great British brands. Want more? Subscribe to the Great British Brands newsletter today.
The Best of British Style – Fashion, Beauty, Brands & More
British Luxury News January 2022
Lark & Berry Drops New Collection Eclipsis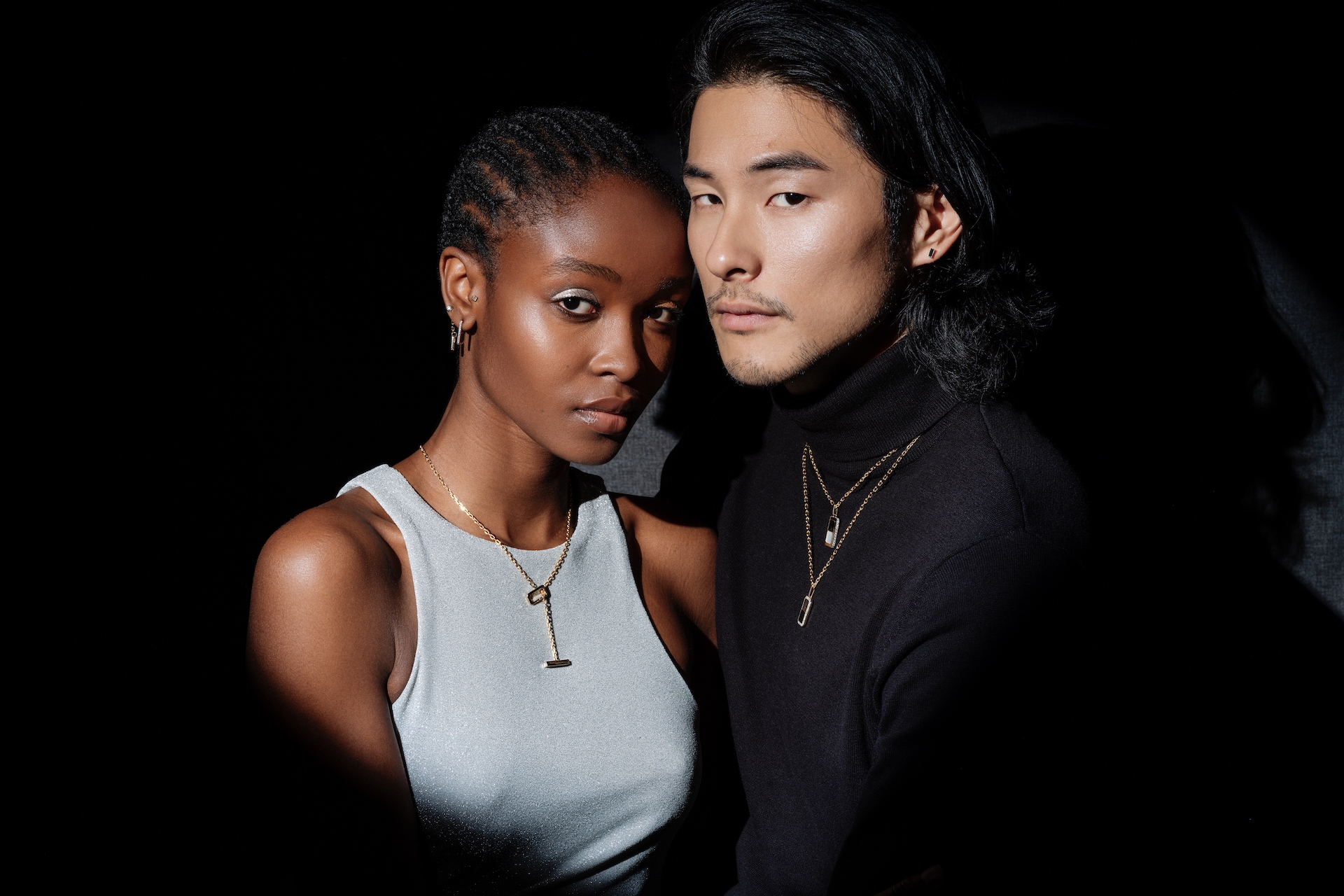 British fine jeweller Lark & Berry is kicking off 2022 with a brand relaunch, marked by the release of its latest collection, Eclipsis.
Made entirely from cultured (lab-grown) gemstones, the unisex range features high-jewellery necklaces, rings and bracelets made from 18ct yellow gold, diamonds, onyx and mother of pearl. Several pieces are reversible, with black onyx on one side and pearl on the other.
The name of the collection, 'Eclipsis', was chosen to represent how Lark & Berry's signature cultured stones shine a light on the dark side of the fine jewellery industry and set an example of adopting sustainable and ethical practices, without compromising design or craftsmanship.
Discover the collection at larkandberry.com
John Smedley Launches Merino Wool Base Layers Collection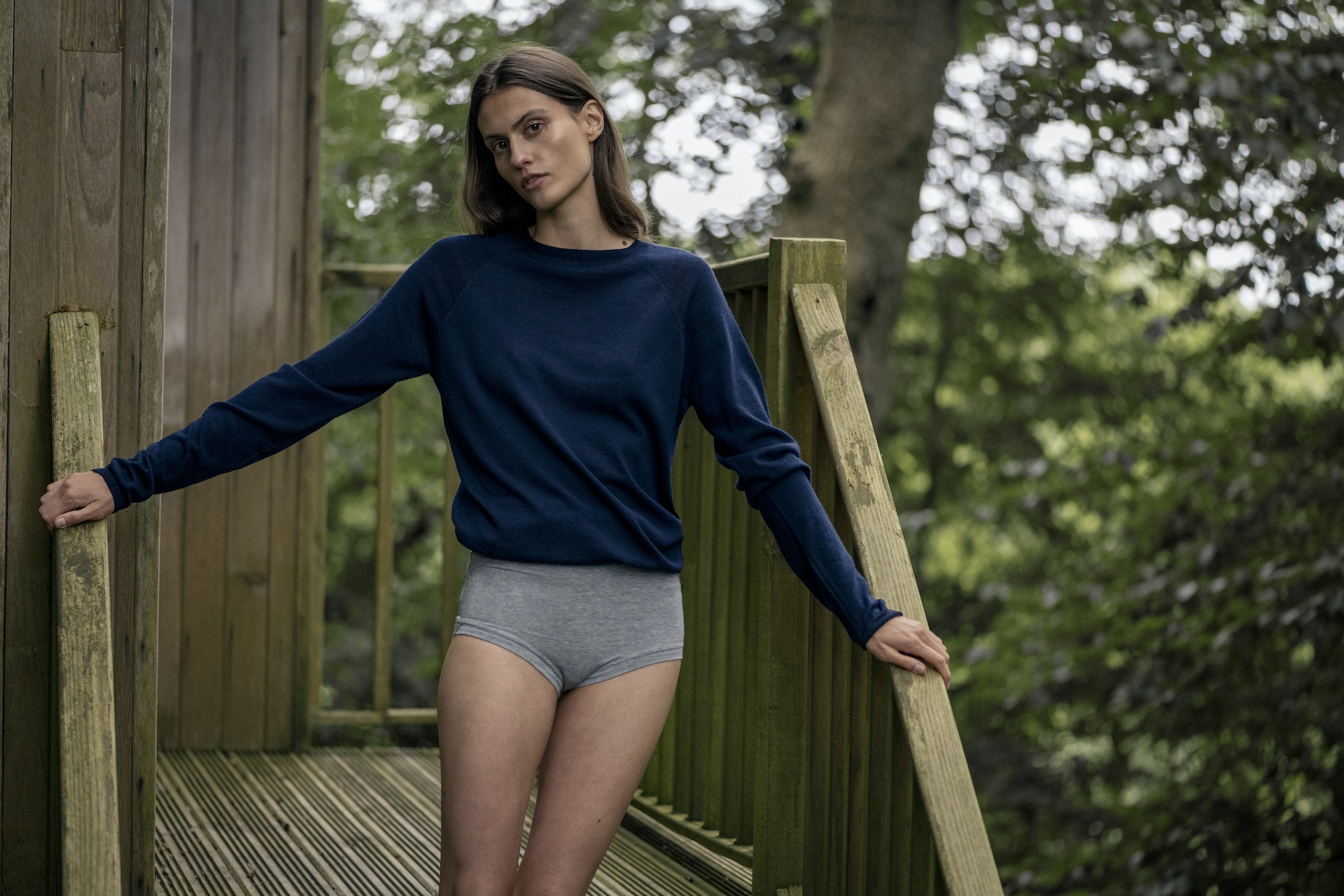 Just in time for this month's freezing temperatures, John Smedley has launched a pair of unisex merino wool long johns and a matching crew-neck top. The bottoms are inspired by a pair from the brand's archives, and the whole range is made in the UK from soft merino wool, known for its moisture-wicking and hypoallergenic qualities, in John Smedley's signature navy blue.
Shop the collection at johnsmedley.com
Alighieri Partners with Yoox on Exclusive Capsule Collection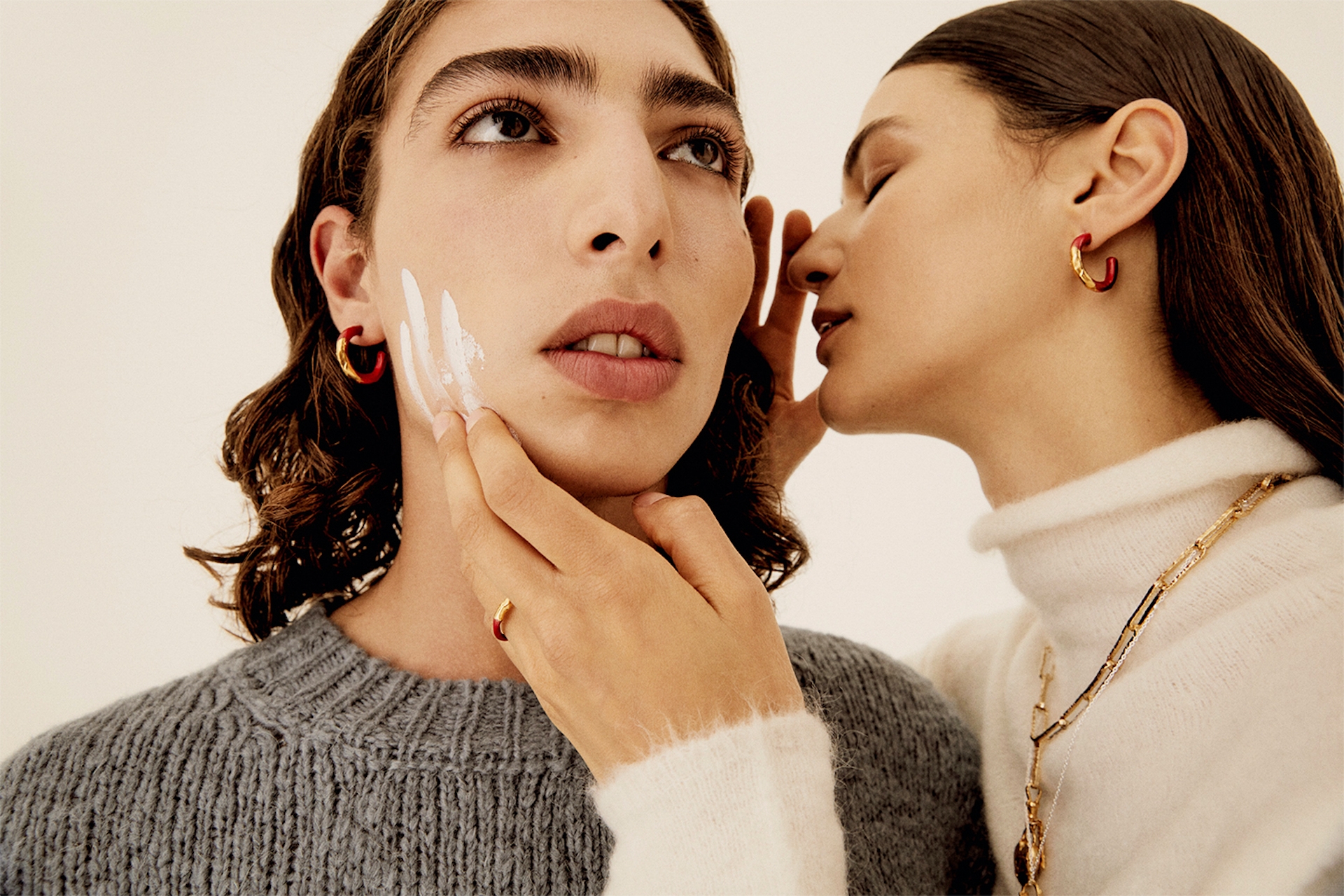 Breakout British jewellery brand Alighieri has switched its attention to Gen Z, with a capsule collection designed especially for them and inspired by the Nineties. Stocked exclusively at Yoox, the range includes three necklaces, a bracelet, two rings and two pairs of earrings, designed to celebrate love and friendship in all its forms.
The Alighieri x Yoox collection is handcrafted by the brand's founder Rosh Mahtani, using recycled materials with low environmental impact. Each piece is created through the process of lost-wax casting, which transforms wax into bronze. The heirloom pieces are then plated in 24k gold in the heart of London's jewellery district.
Discover the collection at yoox.com
Mulberry Collaborates with Nicholas Daley for Mulberry Editions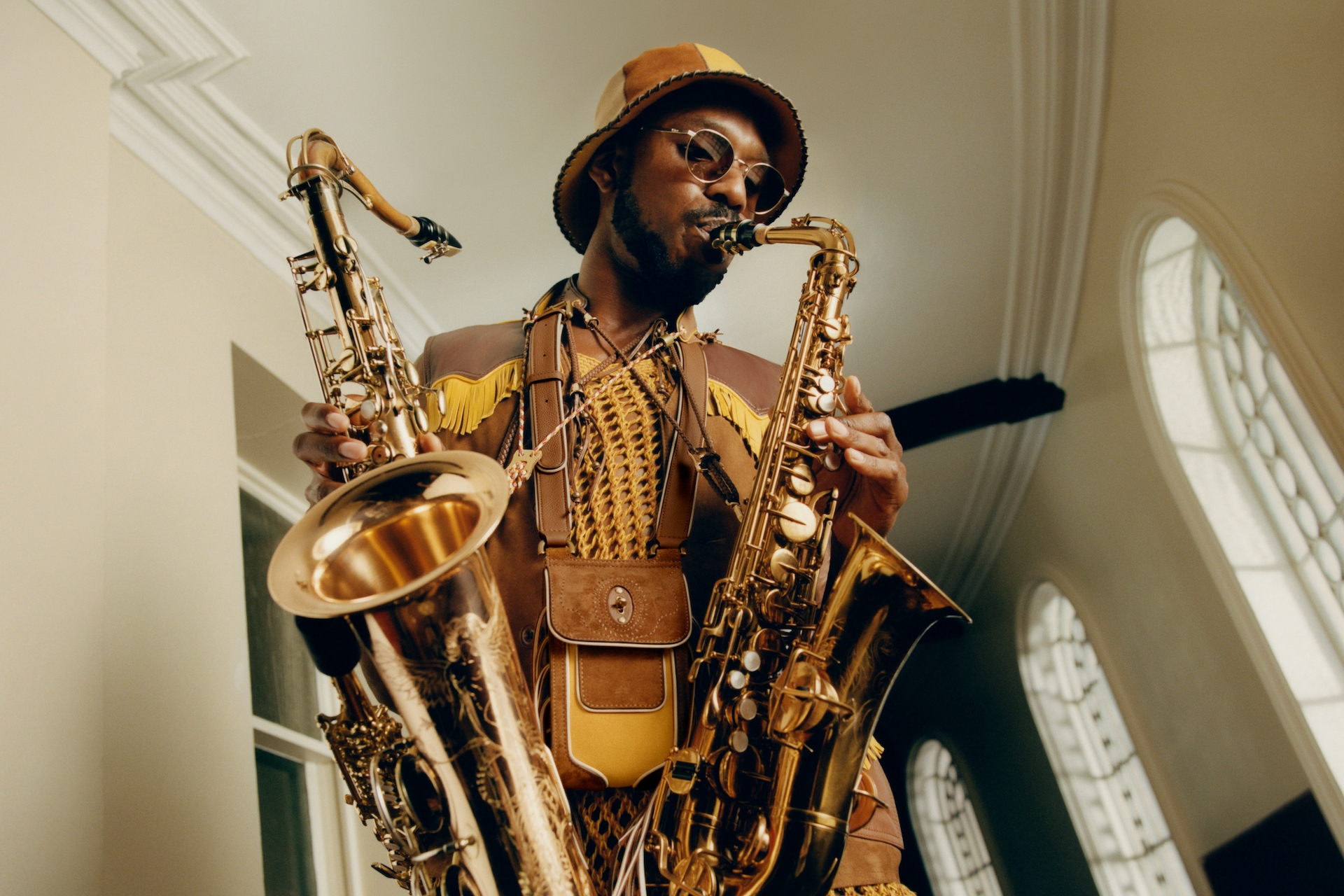 For the latest iteration of its Mulberry Editions collaboration series, the heritage British brand has worked with London-based menswear designer Nicholas Daley to reinterpret its Antony satchel.
The designer, who graduated from Central Saint Martins in 2013 and launched his eponymous label in 2015, was influenced by multi-cultural music history to recreate the unisex satchel in a range of sizes and Seventies-esque finishes, as well as a line of music-inspired accessories, such as fringed guitar and saxophone straps, and plectrum pouches.
The two fashion houses are well-matched, with Nicholas, like Mulberry, placing great significance on craftsmanship with his production within the UK and Japan, and working with artisans to create bespoke textiles and fabric finishes for his menswear collections.
For the last six seasons Nicholas has been supported by The British Fashion Council's NEWGEN designer programme, showcasing his collections during London Fashion Week Men's. He was also the recipient of the 2019 International Woolmark Prize Semi-Final Award and most recently an LVMH 2020 Prize finalist. He has previously collaborated with brands such as Adidas and Fred Perry.
Launched to mark Mulberry's 50th anniversary and as a celebration of craftsmanship and contemporary design, the Mulberry Editions series has invited some of the most original voices in fashion today to interpret Mulberry's timeless design heritage and DNA.
Walpole Names Anna Mason 'Tastemaker' and One of the 'Power 50' in the Walpole 2022 Power List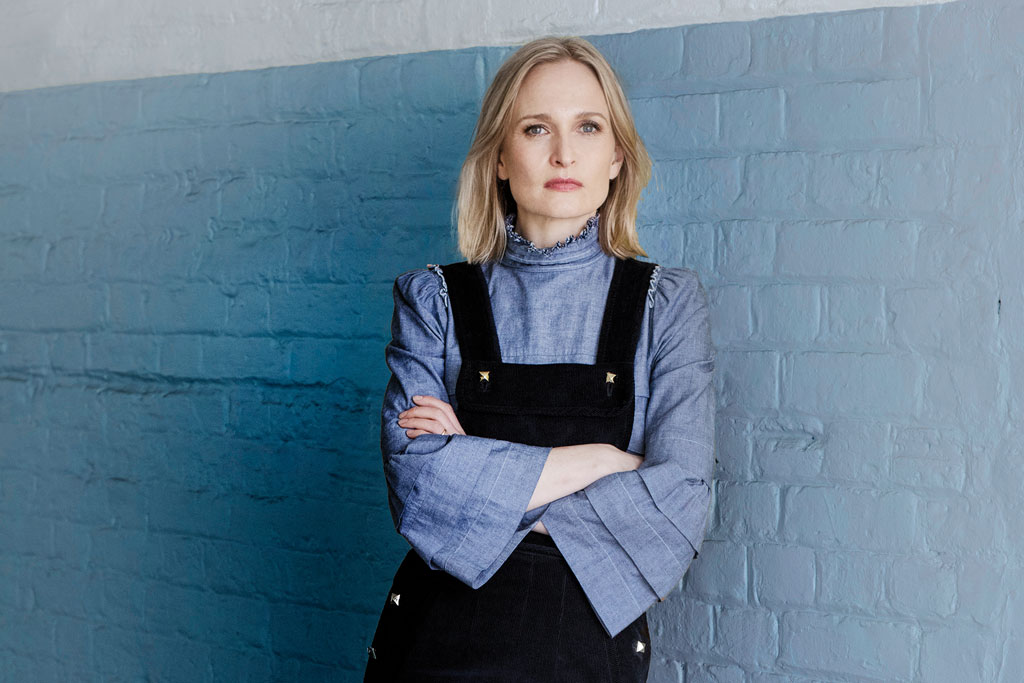 The 20th edition of the Walpole Power List has just been announced, featuring fashion designer Anna Mason, who has been named a Tastemaker and one of the 50 Most Influential People in British Luxury.
Anna was nominated by Alison Loehnis, President of Net-a-Porter, Mr Porter and The Outnet, who commented, 'Since the inception of her business, Anna has expressed a unique and consistent design vision, combining innate femininity, vintage references and a fresh approach that perfectly caters to the needs of the modern woman. Her pieces combine to form beautiful collections and their delicate balance of being trend sensitive while timeless means they can be mixed from season, serving as building blocks to the perfect wardrobe.'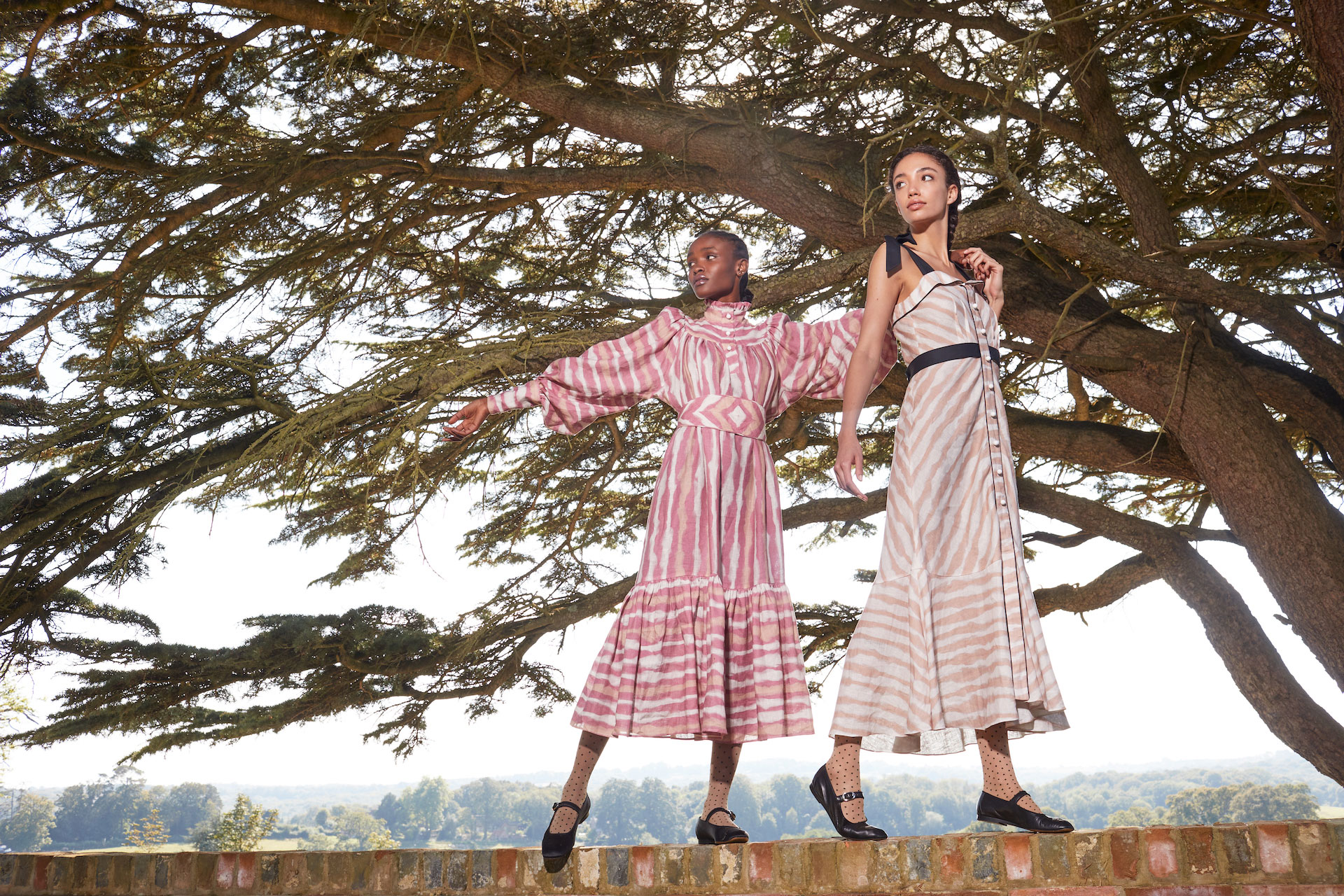 Walpole, the British luxury industry body, defines Tastemakers as 'Influencers with a great network who others look to for advice and inspiration.'
On being included, Anna Mason said: 'This award means a huge amount to me. It is affirmation of what I set out to do every single day as the founder and creative director of Anna Mason London. In Walpole my luxury womenswear business has found strength in community and I am delighted that through this platform I have the chance to represent the British fashion industry. 'Power' in its literal sense is about acting in a particular way to direct and influence others. That's a concept I shall hold onto as a voice for British luxury.'
You Can Wear Boodles' New Collection to the Beach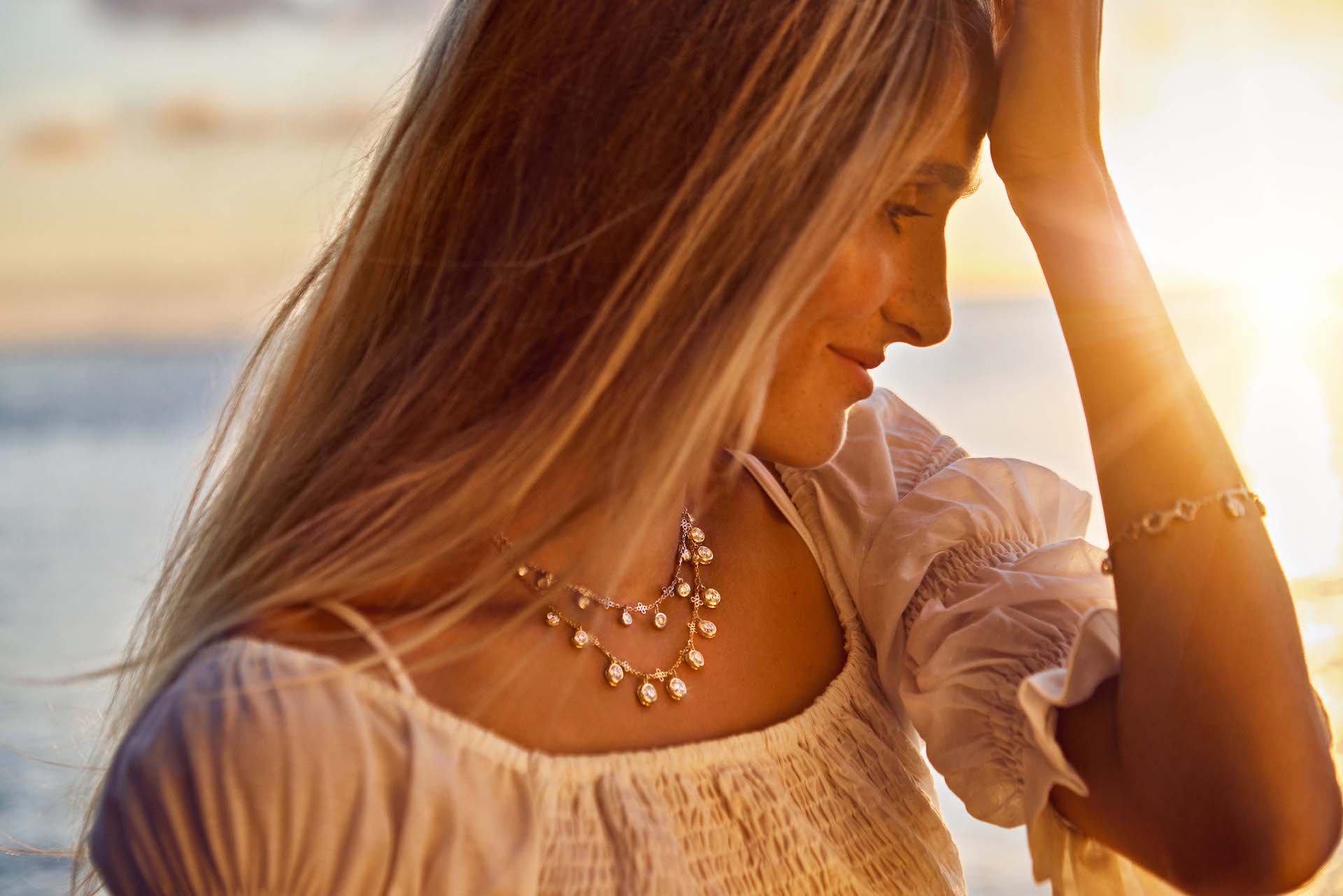 Diamonds are forever… and now that means for every occasion, too. Following the wider jewellery trend of not just saving your best gems for special occasions, Boodles' new BEACH collection is designed to be worn anywhere, anytime – even with your bikini and sarong, pina colada in hand.
During the first phase of lockdown, the Boodles designers were working from home and began to find inspiration from what they were missing the most. They started evolving ideas based on designs that bring joy and are life affirming but with a sense of escape, ultimately creating a collection with a more casual and relaxed feel. 'Wearable with a barefoot luxury vibe was the focus,' explains Rebecca Hawkins, Boodles' Head of Design.
The collection features chain necklaces, bracelets and anklets with secure rub-set diamonds, made from Single Mine Origin gold or platinum — meaning the sea won't stand a chance of tarnishing or staining it.
'I am so excited about BEACH, launching just in time for those lucky enough to get away for some winter sun,' says Honour Wainright, the 6th generation of Boodles family. 'It is such a wearable collection and looks just as beautiful dressed up as it does dressed down, with a nod to barefoot luxury.'
Barbour Introduces Plantable Swing Tags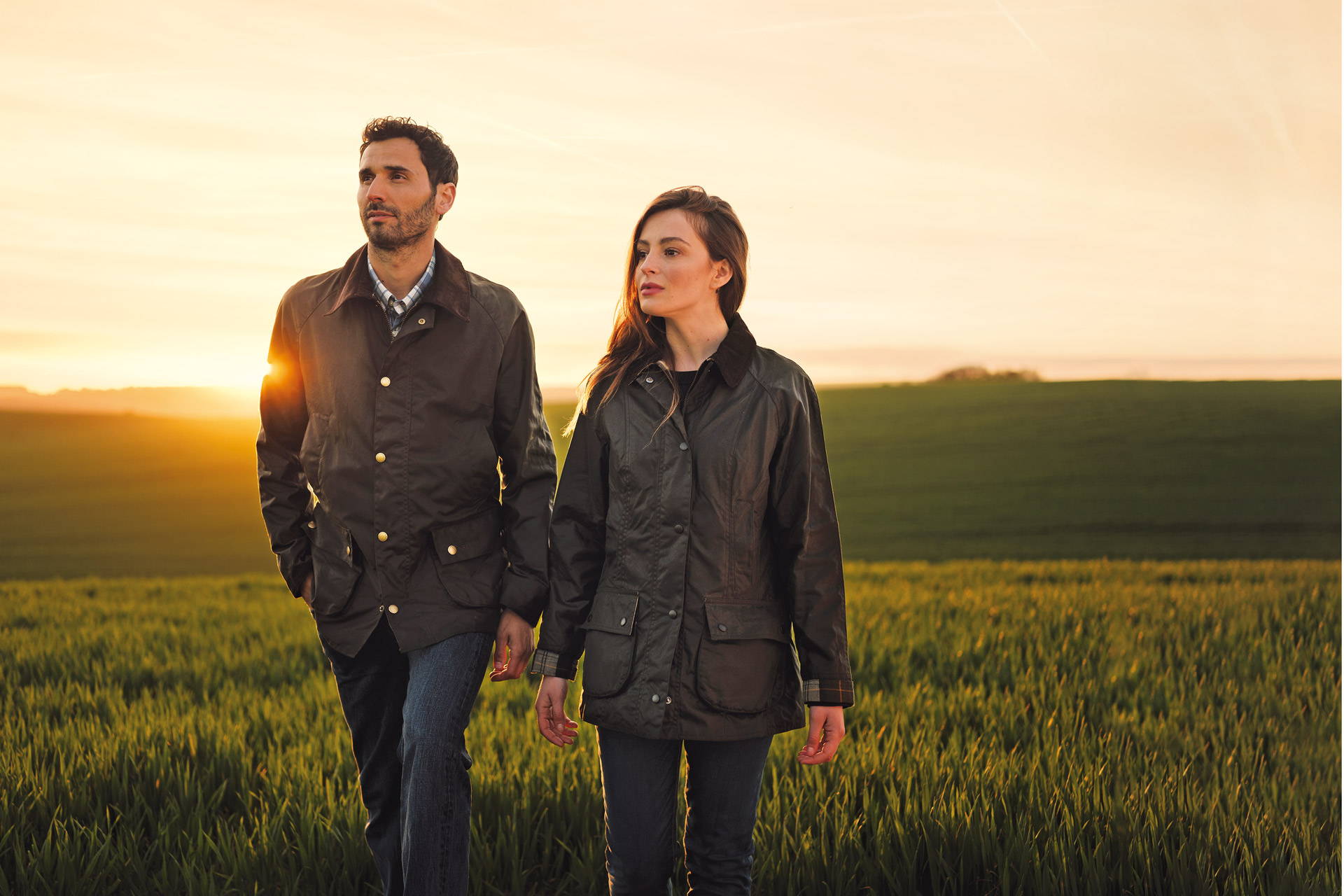 Barbour has recently introduced swing tags made from paper containing flower seeds, and encouraging customers to plant them.
'Use this swing tag to start your own urban garden,' says the paper. 'Packed with flower seeds, simply plant it under a thin layer of compost, indoors or outdoors, water it and watch it come to life while the paper biodegrades.'
Find out more at barbour.com
Nyetimber Collaborates With Lay London for Valentines's Day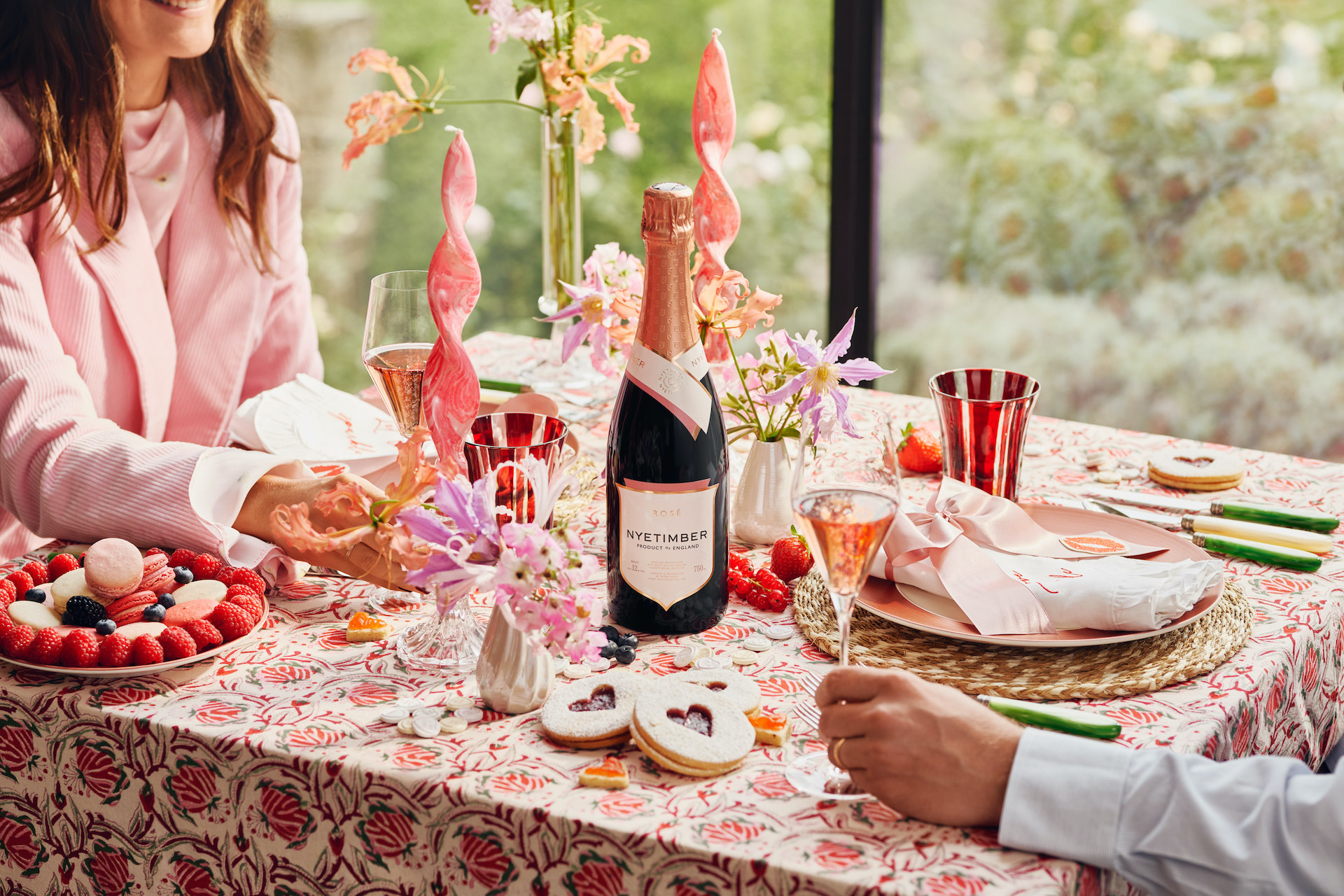 If you're looking to shake up your Valentine's Day set up this February, then look no further than Nyetimber's newest collaboration with tablescape expert Lay London, designed to set hearts aflutter.
The Let Love Sparkle gift set contains a bottle of Nyetimber's award-winning sparkling wine alongside two tall and glossy pink marbled table candles from Lay London, perfect for a romantic night in or a Valentine's gift.
The gift set starts from £70 at nyetimber.com
Bamford Launches Traceable Wellness Collection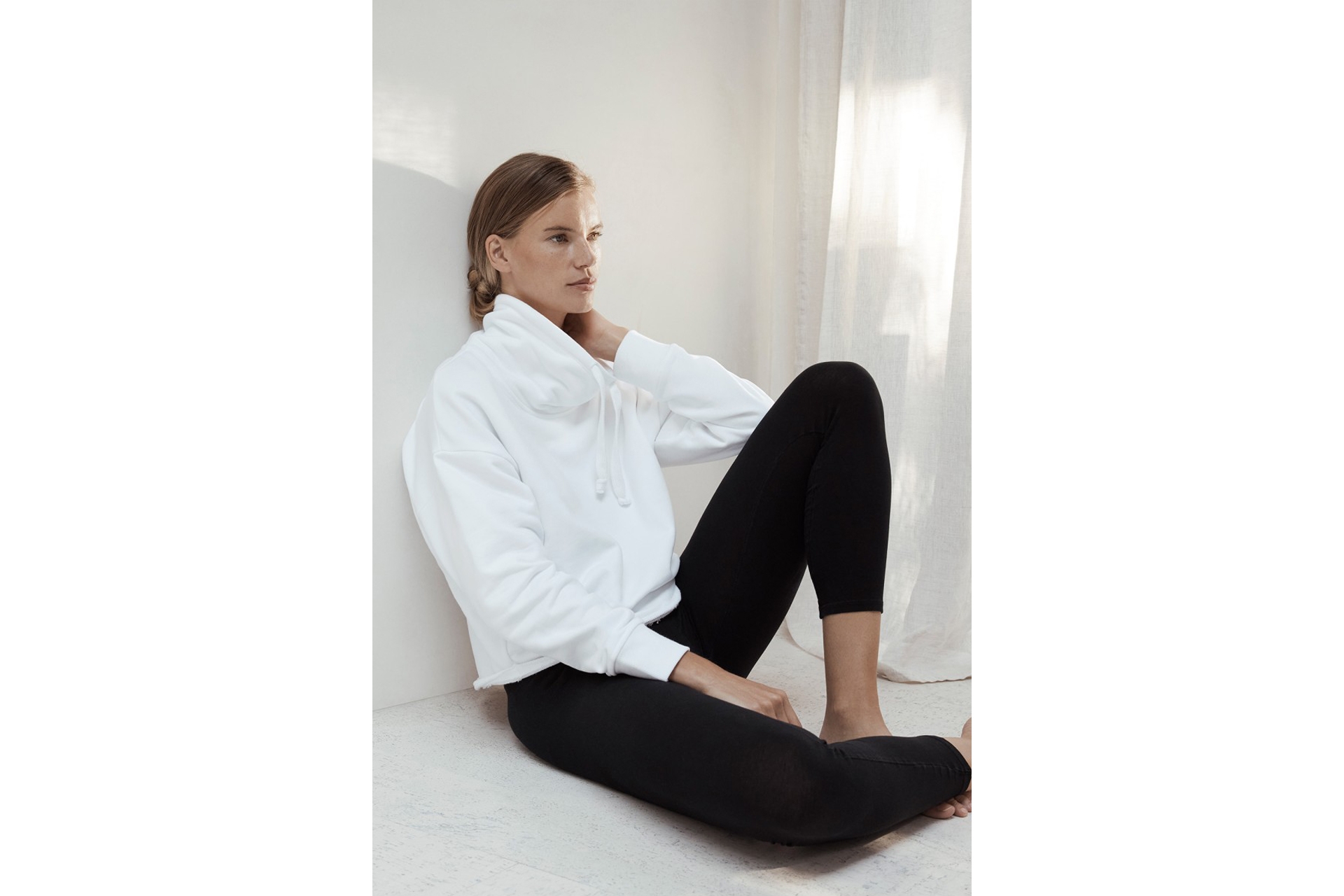 Leggings have become a normal part of our WFH-wardrobes – but now there's no need to feel (as) guilty for donning them for a day working from your kitchen table. Bamford has just launched a new wellness collection of traceable athleisure-inspired basics, including a funnel-neck hoodie, T-shirt, joggers, crop top, vest, and the aforementioned leggings.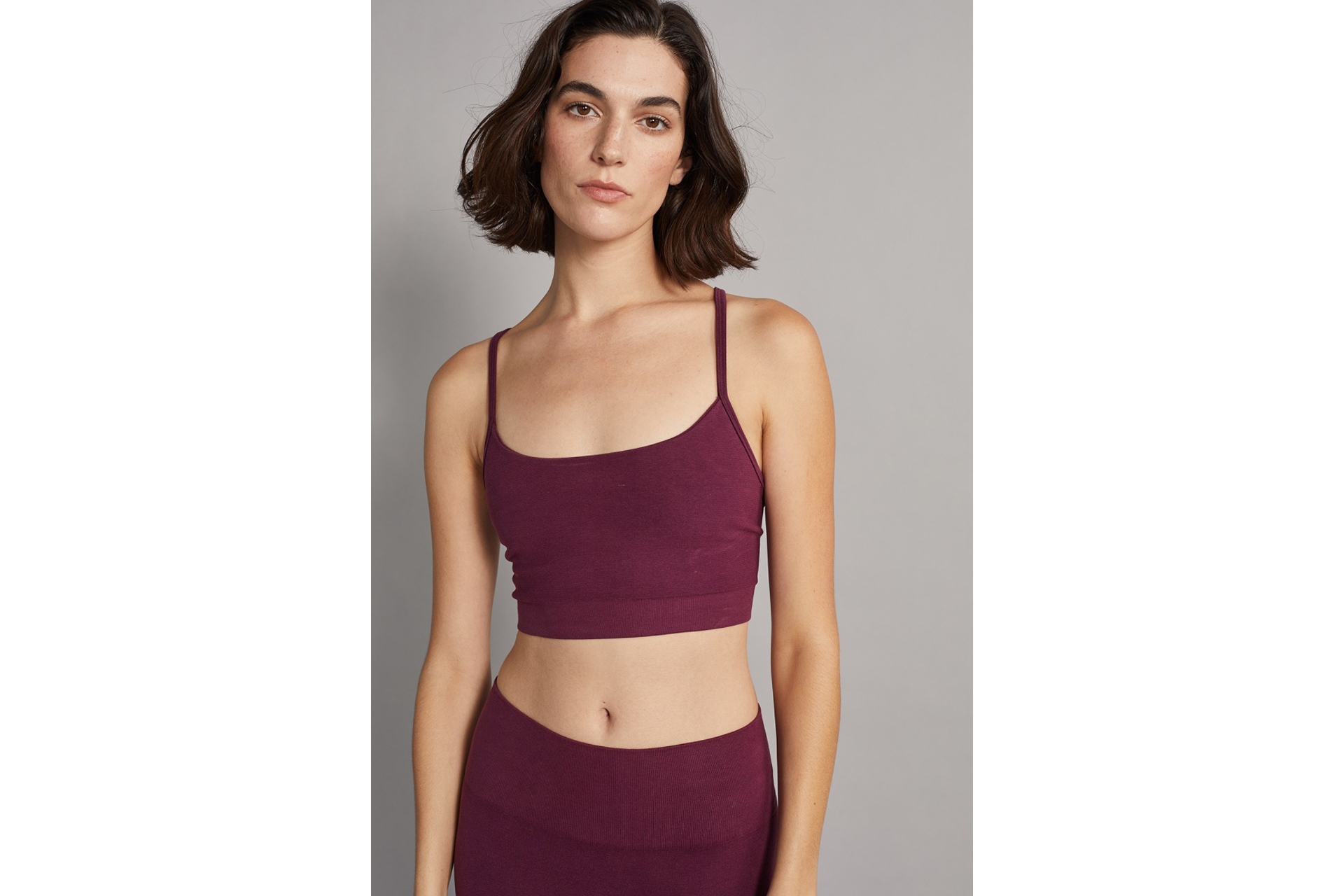 Like everything Bamford does, the collection is as planet-friendly as possible. Every process in the new wellness collection is certified by the Global Organic Textile Standard, from the 100% organic cotton fabric to the stitching and dyeing process. The fabrics were carefully developed to achieve the maximum of breathability and comfort, with recycled polyamide that reaches the Global Recycled Standard – an international, voluntary, full product standard that sets out requirements for 3rd party certification of recycled content, chain of custody, social and environmental practices and chemical restrictions.
From a morning yoga class to an afternoon at your desk, the collection is certainly setting a new standard for athleisure.
Halfpenny London Collaborates with Harrods on Exclusive Bridal Collection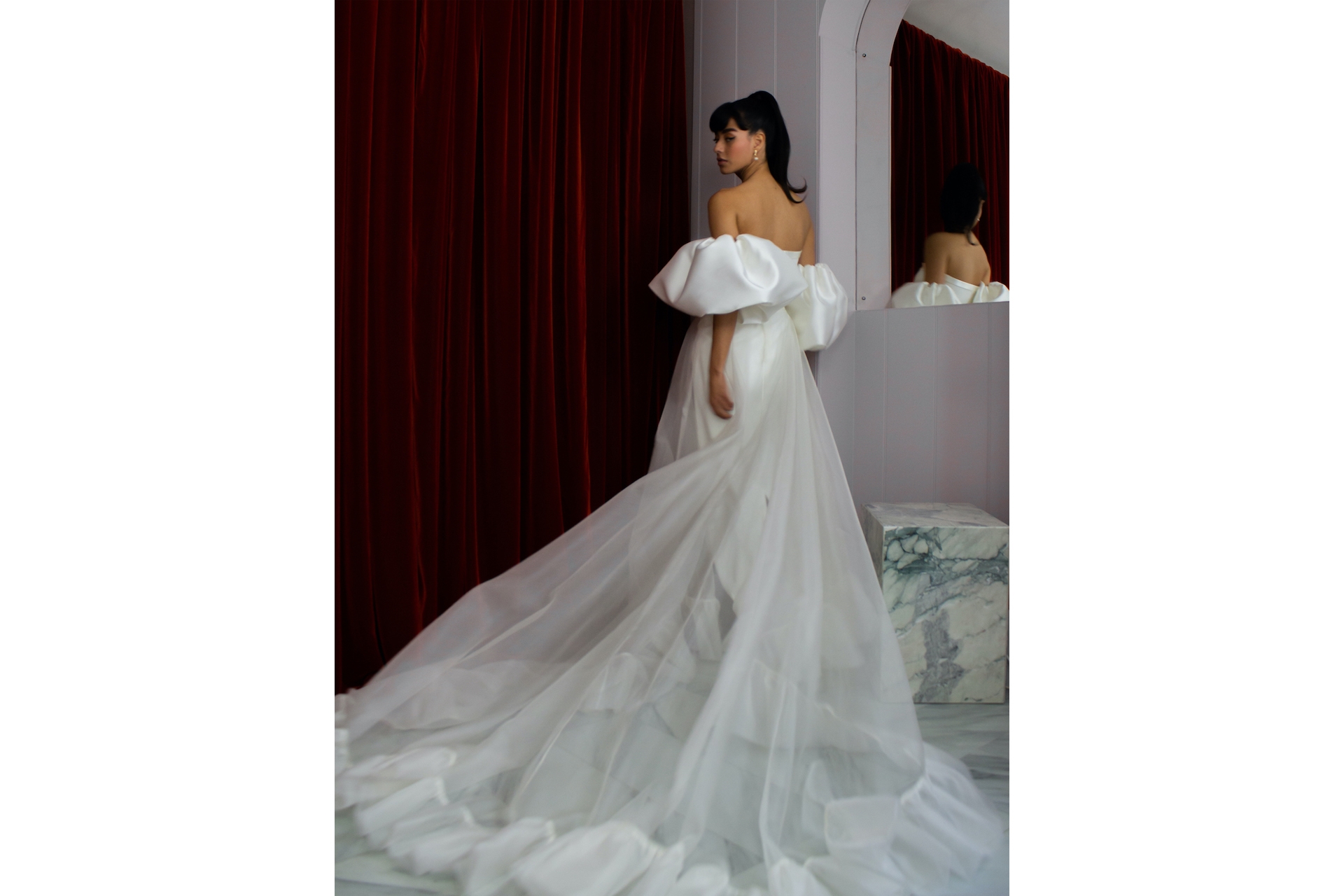 Brides-to-be have a new destination in their search for The Dress: Kate Halfpenny for Harrods, the exclusive new collection by Halfpenny London for the luxury department store.
Comprising 14 pieces, the collection also features the Love Dress, designed for Harrods by Kate Halfpenny.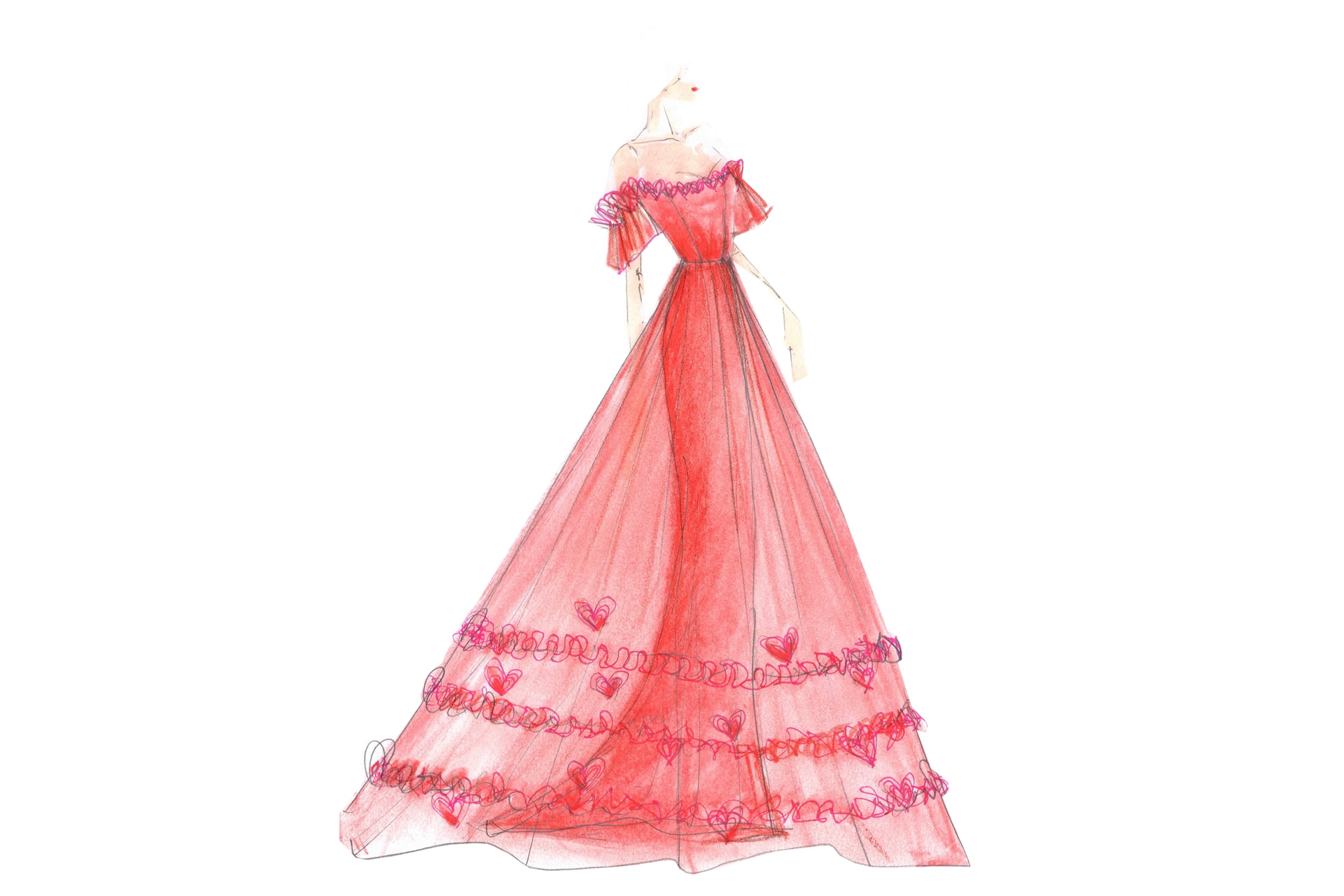 The Love dress is a silk organza dream with layered 3D hearts, gradually increasing in size to frame the neckline and sleeves. The hearts are cut using a couture technique and organically placed on the bodice and the frills of the skirt. The gown will be available to try on exclusively at Harrods in colours red and ivory.
'I am so excited to announce that we have launched an edit of stunning wedding dresses and separates available at the iconic Harrods department store,' says Kate. 'It's more than I could have imagined when I first put pencil to paper. From statement tiered tulle skirts, to frothy silk-organza ruffles, to the most delicious liquid silk, my favourite fabrics are showcased, and I've drawn on a few heritage designs, reimagining them exclusively for the Harrods client.'
Prices start from £850 for accessories and £2,600 for dresses, harrods.com
Clare Haggas Now Stocked At London's Beretta Gallery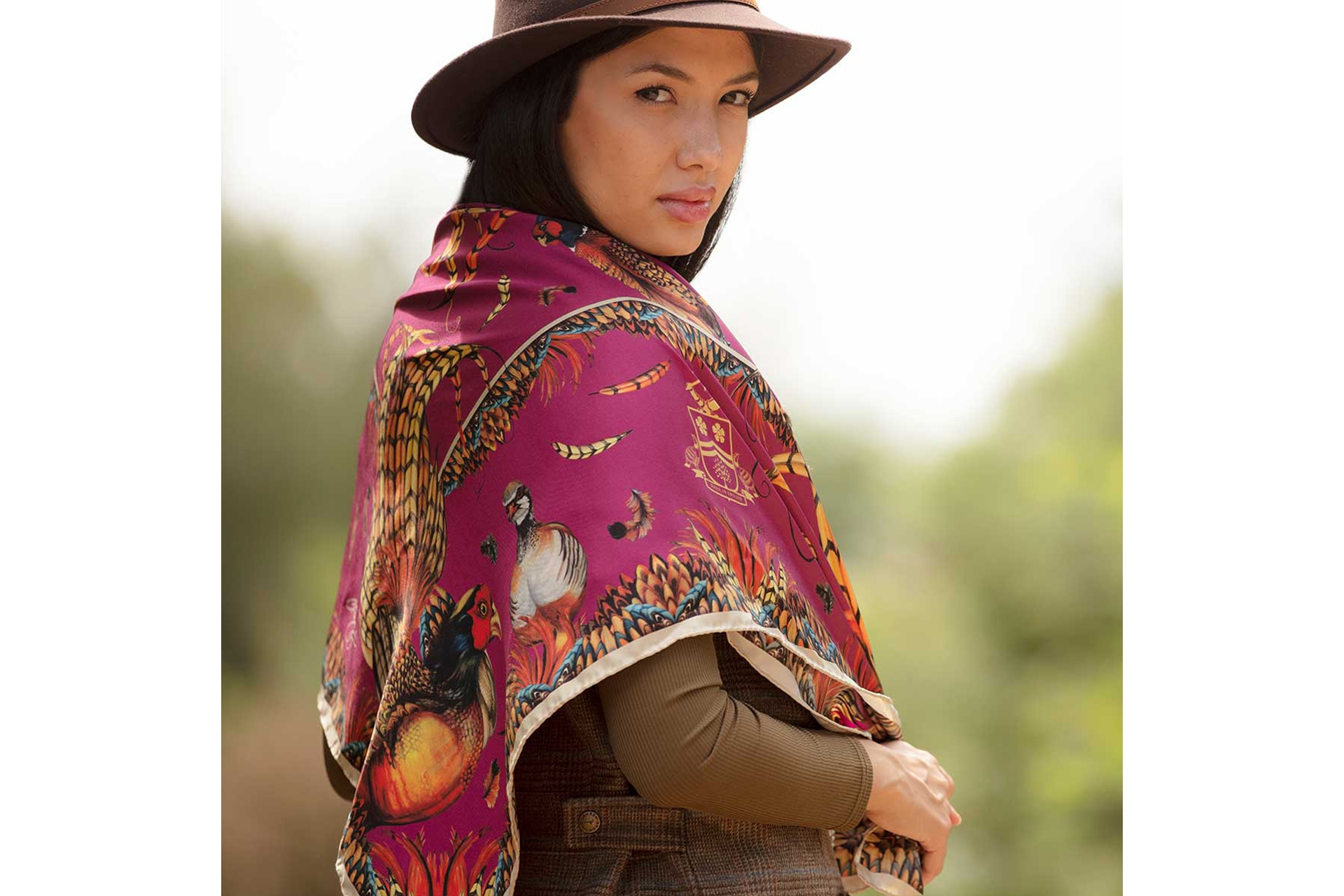 Luxury country accessories brand Clare Haggas will now be stocked in the Beretta Gallery in St James's, as well as in Harrods. Her collection of scarves, accessories and soft furnishings are crafted from fabrics like silk and velvet, and feature Clare's colourful original illustrations of game birds and wildlife.
See the collection at clarehaggas.com, berettagallery.com and harrods.com