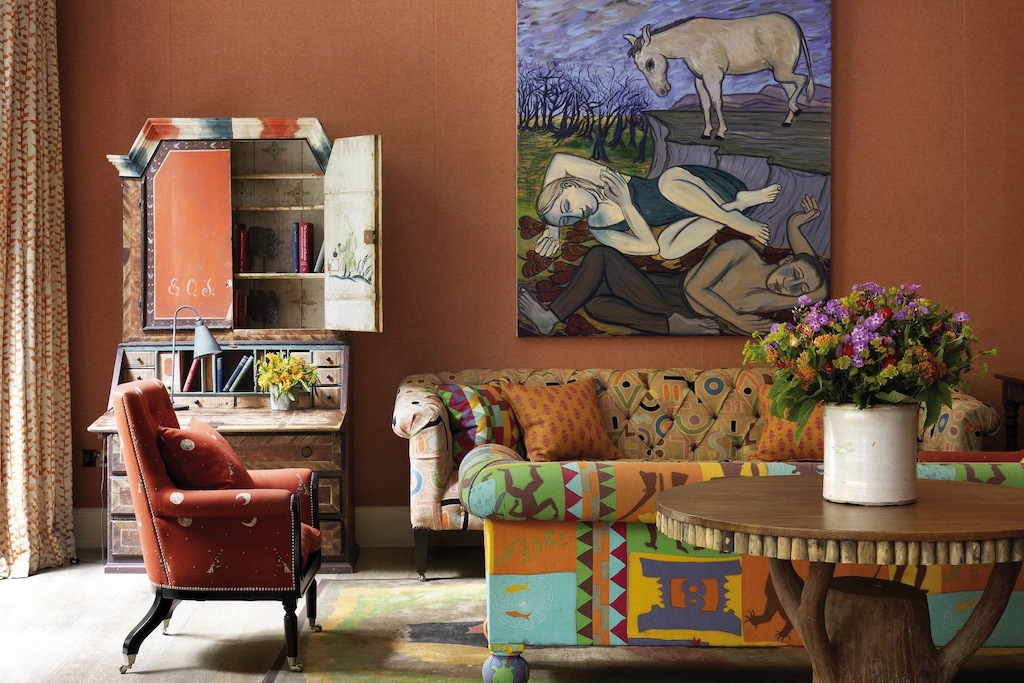 London's Best Eco-Friendly Hotels
Party in a treehouse? Yes please
The English capital is trying hard to be green: there are plenty of sustainable things to do, eco-initiatives in place, and a day-to-day consciousness of sustainability and that the planet is in need of our assistance. If you're planning a city staycation in London, then, you might want to make it a sustainable sojourn. Here's our guide to the best eco-friendly hotels in London. 
Read the C&TH Responsible Tourism Guide
Eco-Friendly Hotels in London: The Best Sustainable Staycations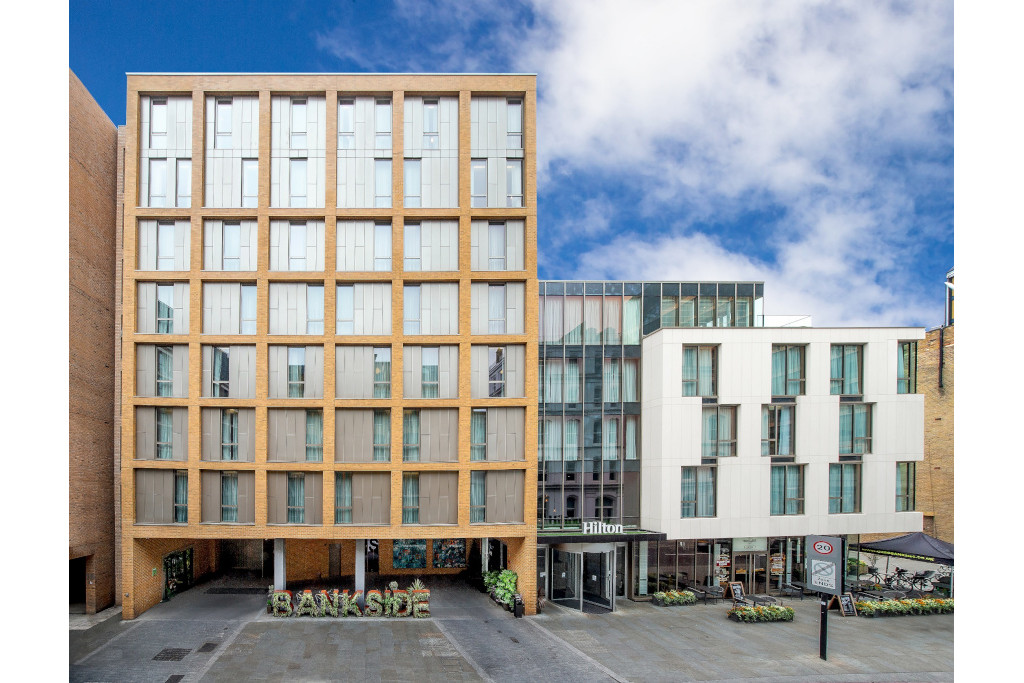 Hilton London Bankside
Tucked into the same area that houses Shakespeare's Globe, the Millennium Bridge, and the Tate Modern, Hilton London Bankside is a hub of activity for culture vultures and entertainment enthusiasts. Alongside their rooms, the hotel offers a heated indoor swimming pool and fitness centre, as well as famed bar The Distillery Bankside. The hotel's onsite restaurant, OXBO Bankside, is the place to go for grill classics, adventurous cuisine, and a cracking brunch.
What makes Hilton London Bankside a keep, however, is their commitment to sustainability. This design-led London hotel recently announced the launch of a Kitchen Garden as part of this pledge. Created to combat food waste, reduce the hotel's carbon footprint, and cut down food miles, the garden will sustainably enhance the hotel's current food and drink menu with homegrown vegetables and herbs. When heading down for breakfast, lunch, or dinner, guests will be able to find little cards that showcase the ingredients carefully handpicked from the garden by Executive Chef Ollie Couillaud and his team. hilton.com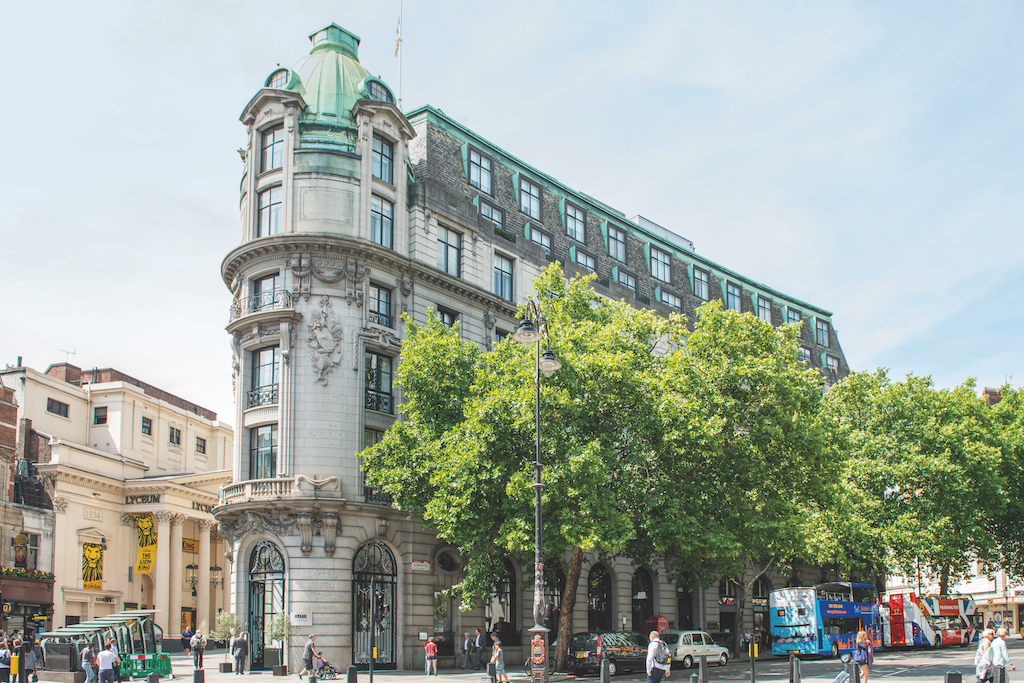 One Aldwych
An impressive Edwardian building situated in the heart of the West End, One Aldwych is an opulent family-friendly – and now dog-friendly – luxury hotel. Rooms and suites are sumptuously snug, featuring a series of plush furnishings and warm pastel tones. Meanwhile, there's plenty of dining options to choose from. Restaurant Indigo focuses on cooking up delicious dairy and gluten-free dishes, whilst Eneko Basque Kitchen & Bar serves up exceptional Basque cuisine. Note: the delightful Charlie & Chocolate Factory Afternoon Tea is an absolute must.
As for social responsibility, the hotel states that it has had "the environment and sustainability at its core" since its 1998 beginnings, and has since been awarded the Luxury Eco Certification Standard as well as the Green Tourism Business Scheme's gold accreditation. Effective measures include sustainable food sourcing, bio-degradable packaging for hotel room amenities, whilst food waste is composted on a farm in Kent – in fact, the same farm in which the hotel sources its own vegetables. The hotel even has its very own rooftop beehives and bee-friendly garden. onealdwych.com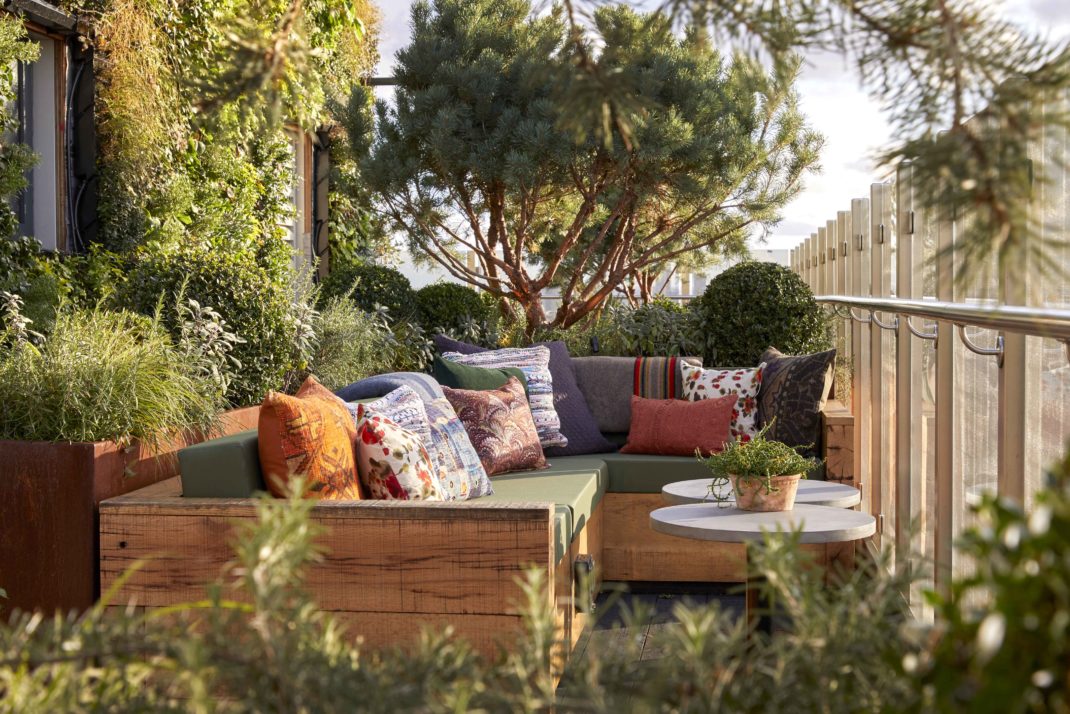 Treehouse Hotel London, Marylebone
As eco-friendly hotels in London go, Marylebone's Treehouse Hotel makes for a one-of-a-kind sojourn. One of London's quirkiest establishments, the eccentric five-floor hotel has been designed to resemble that of a rustic, childhood treehouse – but with a rooftop bar and terrace for the adults to enjoy, of course.
Sustainability plays a key part at this unconventional hotel, with eco-friendly practices intertwined throughout. Single-use plastics are out, whilst refillable amenities and water bottles are in, with numerous water stations dotted around the premises for ease. For an unforgettable stay with green living guaranteed, this whimsical hotel is your ticket. treehousehotels.com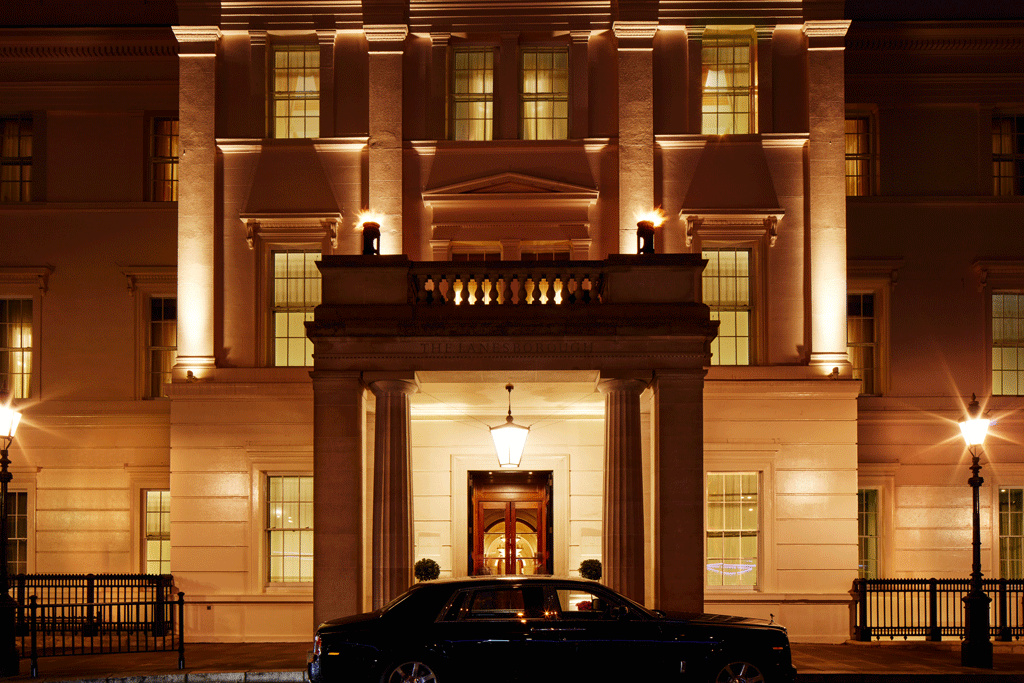 The Lanesborough, Hyde Park Corner
Boasting an enviable location (just minutes from Hyde Park) and the award-winning Lanesborough Club & Spa, this opulent hotel is one of London's finest. Also home to Michelin-starred restaurant Céleste, the hotel is a haven for discerning diners – think lobster ravioli and confit duck leg terrine – with emphasis placed on locally sourced ingredients.
But the hotel's eco-credentials extend outwards of the kitchen too. A dedicated corporate social responsibility team, 'The Green Pearl Team', maintains that the hotel is working to be as sustainable as possible. Positive changes have included the likes of plant-based menus, the use of hybrid cars, eco-friendly waste management and the introduction of Tata Harper products (100 per cent organic and biodegradable) to the spa. The hotel even offers a 'green stay' where guests can delight in a selection of sustainable amenities and their very own tree planted in Hyde Park. oetkercollection.com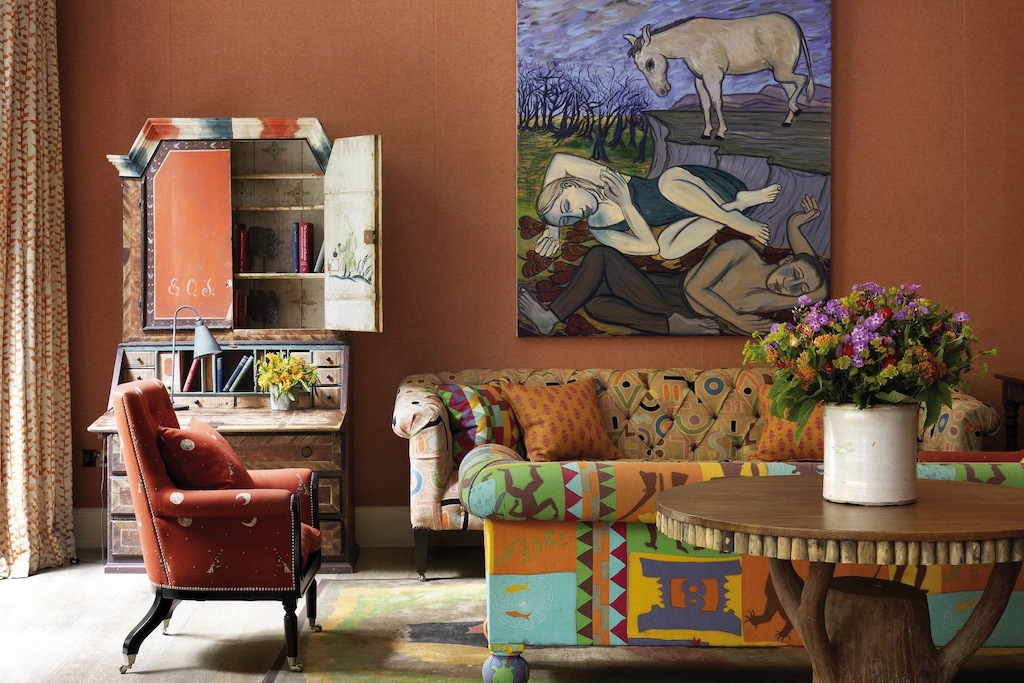 Ham Yard Hotel, Soho
Vibrant colour, mismatched patterns, quirky décor – this could only be the work of one designer: Kit Kemp, who owns the Firmdale hotel group alongside her husband Tim. Ham Yard is the collection's newest London offering – opened in 2014 – and hotel is an understatement. This is an urban village, complete with not just bedrooms but apartments, speciality stores, a rooftop bar, a spa, a bowling alley and a cinema.
Yet its size isn't the only impressive element of Ham Yard Hotel: its sustainability measures are also worth shouting about. A number of factors resulted in the hotel being awarded the BREEAM Excellent rating, a methodology used to assess the environmental performance of buildings. It uses CHP units and solar panels to generate electricity, and has its own living green roof as well as a roof terrace complete with beehives and a vegetable garden. And when it comes to interiors, Kit Kemp and her team are always looking for eco-friendly ways to make beautiful things – think coat hangers made from Norwegian reclaimed wood, bamboo toothbrushes and guest laundry bags made from recycled plastic bottles. By Ellie Smith; firmdalehotels.com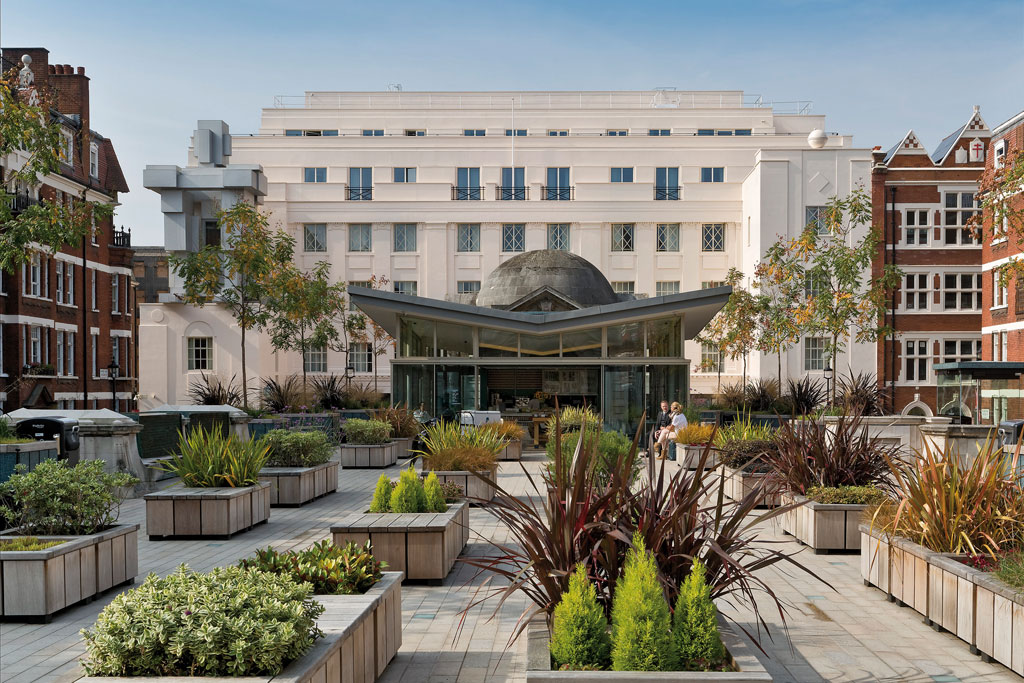 The Beaumont, Mayfair
From partnering with hotel soap and toiletry recycling charity Clean Conscience to sourcing local and seasonal produce, London's The Beaumont Hotel has put a number of sustainability efforts into practice. The reduction of single-use plastics (from stirrers to cotton buds) is of key importance, as is the minimising of food, energy and water waste. With this in mind, the hotel has employed LED lights throughout, has fitted solar film on all windows to lessen energy consumption, whilst hot water is generated by energy efficient CHPs. thebeaumont.com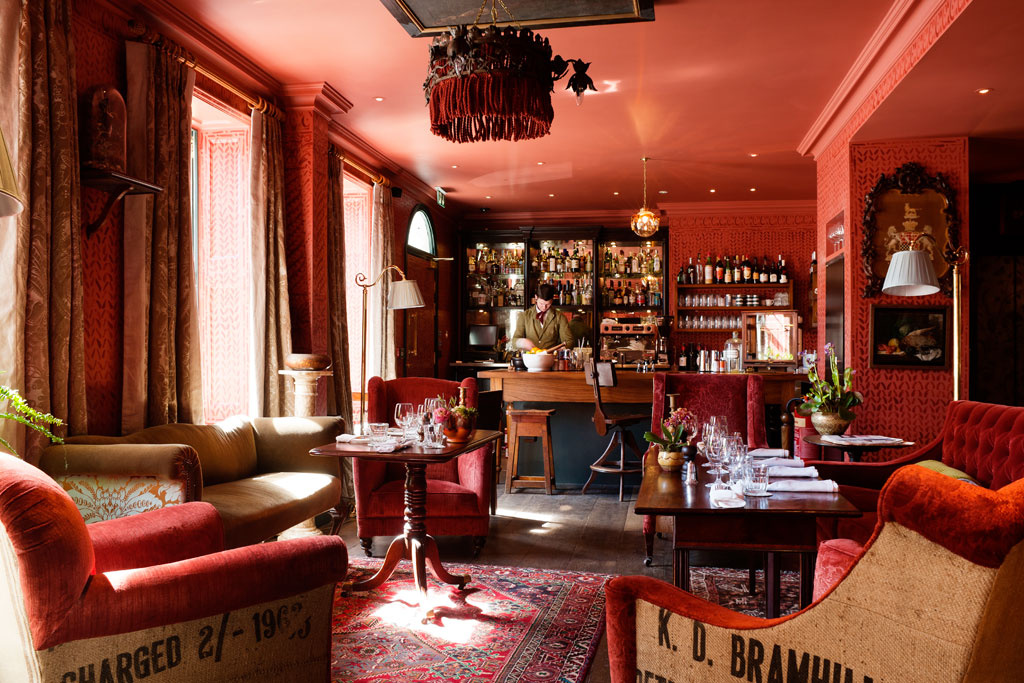 The Zetter Townhouse, Clerkenwell
There's much to love about this boutique Clerkenwell hotel, from its resplendent cocktail lounge to the lavish interiors designed by Russell Sage (see also The Goring and The Fife Arms). Featuring just 13 unique and elegantly decked out bedrooms, the townhouse – designed to feel like a ritzy 'home from home' –  is part of The Zetter group, an independent hotel and restaurant collection which champions sustainability.
The company – which states via its website that sustainability is 'the only way to operate' – is committed to reducing its environmental impact, championing local suppliers and partnering with those that share the same values, meanwhile understanding that there is always more that can be done: 'Never stop: Don't rest on your laurels. Keep questioning can we do better?' thezettertownhouse.com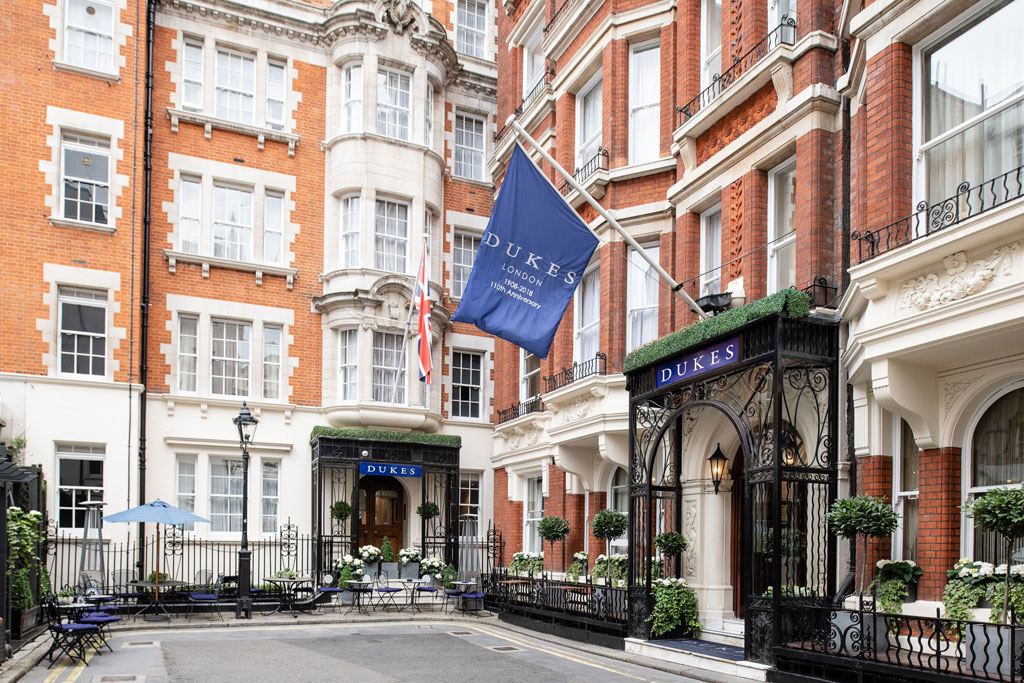 DUKES London, St. James's
Hidden within the grandeur of St James's Place is a beautiful hotel: DUKES is a quintessentially British luxury joint, renowned for its legendary martinis. The elegantly styled rooms and suites are just as exceptional, as is the food at GBR, the hotel's all day-dining restaurant which serves up "traditional British dishes with contemporary twists".
In terms of sustainability, the historic establishment has implemented numerous initiatives to protect the environment, from responsible, local and seasonal food sourcing to a comprehensive recycling scheme. The hotel also uses biodegradable cleaning products, energy efficient boilers, and has replaced travel-size amenities with eco-friendly dispenser bottles. You won't find any unwanted plastic in the hotel either; any disposable plastic has been removed and replaced with an eco-alternative, from drinking straws to recyclable glass bottles. dukeshotel.com
Featured Image: Ham Yard Hotel