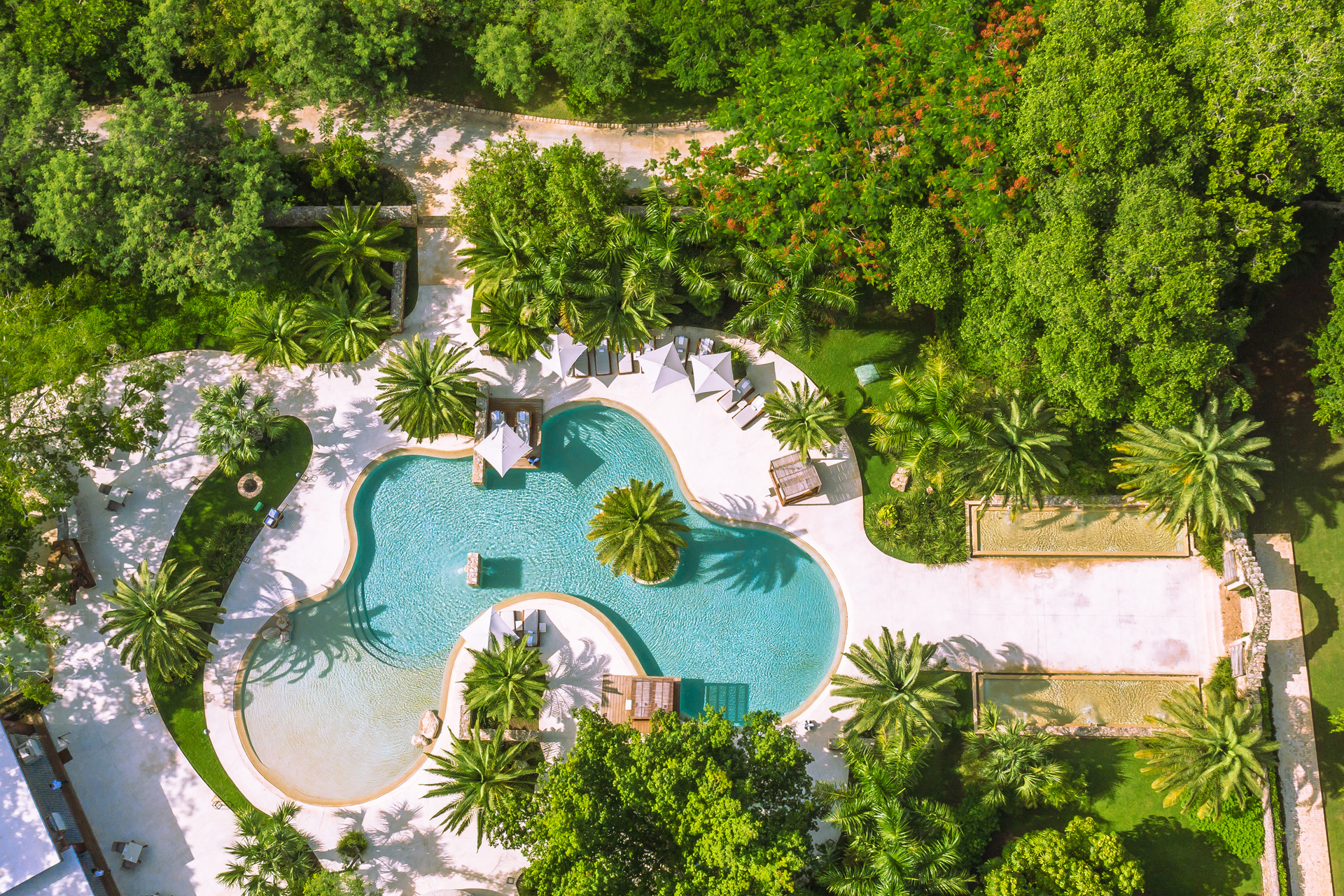 Mexico's Best Hotels: Eco Latin American Luxury
---
Latin America is having a moment, with beer, taco and mezcal tours spiking in popularity, and Mexican cities predicted to be some of 2023's most in-demand destinations. But where to start, and where to stay? Alanna Ospina rounds up Mexico's most heavenly stays, noting their eco-credentials, too.
Read the C&TH Responsible Tourism Guide
The Best Hotels in Mexico
Beach: Chablé Maroma
History: Pug Seal Oaxaca
Privacy: Rosewood Mayakoba
Design: La Valise Tulum
Romantics: Hotel Esencia
City Break: La Valise Mexico City 
Nature: Delek
Jungle: 

Chablé Yucatan

Intimate Grandeur: Orchid House 
Spa: Maroma, A Belmond Hotel
Best Beach Hotel: Chablé Maroma
Where? Quintana Roo
To get anywhere at this beachfront retreat half an hour from Cancun, you have to walk down paths lined with tall sweeping palms. The elephant ear leaves of marine lettuce plants that wave at you as they dance in the wind is the most ethereal greeting. Relaxation and restoration is the order of the day here. Rise with the sun for yoga on the beach, and dine on excellent Mexican cuisine at Kaban, the all-day dining restaurant. Breakfast is complimentary for guests with a delectable menu worth setting an alarm for, from coconut puree bowls topped with fresh fruits, chia seeds and coconut crunchy strips to huevos rancheros. Climb the stairs to Raw bar for a late lunch of fresh fish tacos or tostados (try the tuna with avocado purée and smoky chilli) and choose from the tantalising cocktail list to cool off from the Caribbean heat. Mayan tradition and heritage is celebrated throughout the hotel to honour the land it sits on. Each of the restaurants has been designed by Paula Morena. For an elevated dining experience, book an evening at Bu'ul (meaning bean in the Mayan language, the all-important ingredient of Mexican cuisine) to try the six-course Peninsular Tasting Menu. And be surprised with wine pairing that features impressive Mexican wines. The spa was the first element built at the hotel, with the hydrotherapy circuit taking centre stage in homage to the region's unique cenotes. Arrive with a Mayan blessing and leave floating on its journey after experiencing treatment. 
Eco-credentials: The hotel was built respecting the precious mangrove swamp and thriving ecosystem, incorporating the flora and fauna into the building, which also has its own water treatment plant to minimise water waste. The local community is employed by the hotel, with nearby artisans invited to sell their wares at monthly events to support fair trade. 
BOOK IT: Rates start from $850 (approx. £608) per night for a Villa with a private pool, including breakfast and taxes. chablehotels.com
Historical Hotel: Pug Seal Oaxaca
Where? Oaxaca
The design of Pug Seal Oaxaca City is a journey through and tribute to local Zapotec history, rich in cultural and gastronomic heritage. These Zapotec legends are told artistically and symbolically with dream-like murals by Rafael Uriegas, an installation and symbol of fertility by Sabino Guisú, and brass inlays with Zapotec motifs by Manuel Lozano. Each of the twenty rooms has a unique design full of Mexican inspiration each opening up to a bright and airy atrium. Its central location makes it a perfect launchpad for wandering around the UNESCO World Heritage city after a hearty breakfast. Snacks and an honesty bar are a welcome reprieve after a day of exploring.
Eco-credentials: There is no single use plastic – crystal bottles are placed in each room with access to water dispensers around the property. 
BOOK IT: Nightly rates at Pug Seal Oaxaca start from $250. pugseal.com
Best For Privacy: Rosewood Mayakoba
Where? Riviera Maya
Mayakoba translates into English from Mayan to 'village of lakes'; Rosewood Mayakoba is a luscious resort set in and around mangroves and the jungle. Guests are taken to their room by electric boat across the mangroves and then encouraged to take part in a boat eco-tour led by a resident naturist to learn the importance of the mangroves for the local eco-system and planet – in sequestering carbon, being home to hundreds of thousands of species of various wildlife and acting as a natural flood defence. Float by in wonder at nests filled with baby anhinga birds being fed by their mothers, neon-striped yellow-necked turtles bobbing up and down, cormorants with wings spread wide drying off, yellow necked orioles and more. And, although it looks oh so inviting to dip into, the crocodiles might have something to say about that. To cool off, hit the beach or your own private plunge pool. The water villas above the lagoon are particularly exquisite. The light here is magic – there's a special glow that resonates from every corner of this beautifully designed hotel. Rosewood Mayakoba uses predominantly local suppliers and farmers, and you can taste the freshness. With seven restaurants to choose from, from tequila bars to a gourmet chefs table and casual dining options too, there is nothing better than gorging on the juicy shrimp tacos with a cold beer at the beachside Aqí Me Quedo restaurant (Here I'll Stay) and really, you won't want to leave. 
Eco-credentials: Rosewood Mayakoba has been awarded the Rainforest Alliance Certification for its commitment to nature and conservation. Responsible culinary practices are used throughout the hotel ensuring sustainable food procurement and focusing on local suppliers. Water is sourced from their own well with all water from guest rooms and laundry recycled to irrigate the landscape.
BOOK IT: Nightly rates from $700. rosewoodhotels.com
Best Design Hotel: La Valise Tulum
Where? Tulum
To get a taste of the glory days of Tulum, head to La Valise, a beachfront retreat with 12 bedrooms built under straw roofs, all hidden behind chit-palm lined paths, a far cry away from the raucous beach bars and clubs. The design is pared back chic, with wooden and rattan furniture and playful animal accoutrements, from parrot lights in the bedroom to a jaguar bench outside. Walking barefoot is the only way to do it – and encouraged by the tin water buckets at the entrance of the rooms to rinse sandy feet and avoid crunchy sheets. Eight of the rooms are ground level, with the most highly sought after bedrooms located up separate stairways to heaven where, at the top, airy suites look out to birds eye views of the Caribbean Sea, cooled by the sea breeze. An open-aired atrium at the heart of the property is a chilled breakfast spot (the huevos rancheros are a must) or a place to just kick back and leaf through the design-led coffee books. Enjoy a spa treatment under the shade of the beach palapa, and make the most of the activities and dining options at the hotel sister's properties, from yoga at Radhoo or Nest to an atmospheric and delicious dinner under the stars at Nü, one of Tulum's hottest tables. To take the La Valise aesthetic home, pop into its boutique where iconic furniture, glam backgammon boards and Mexican designed textiles can be purchased. 
Eco-credentials: La Valise is part of the Namron Hospitality Group, which has launched the Tulum Pledge asking signatories to enforce and uphold local environmental laws to protect the nature of the area. This applies to the way hotels and hospitality businesses use water, dispose of their rubbish, power their energy and employ their staff. La Valise is exemplary in all of these areas. Forget about bringing your own toiletries, as the Mexican lime products here are sublime.
BOOK IT: Nightly rates from $465. lavalisetulum.com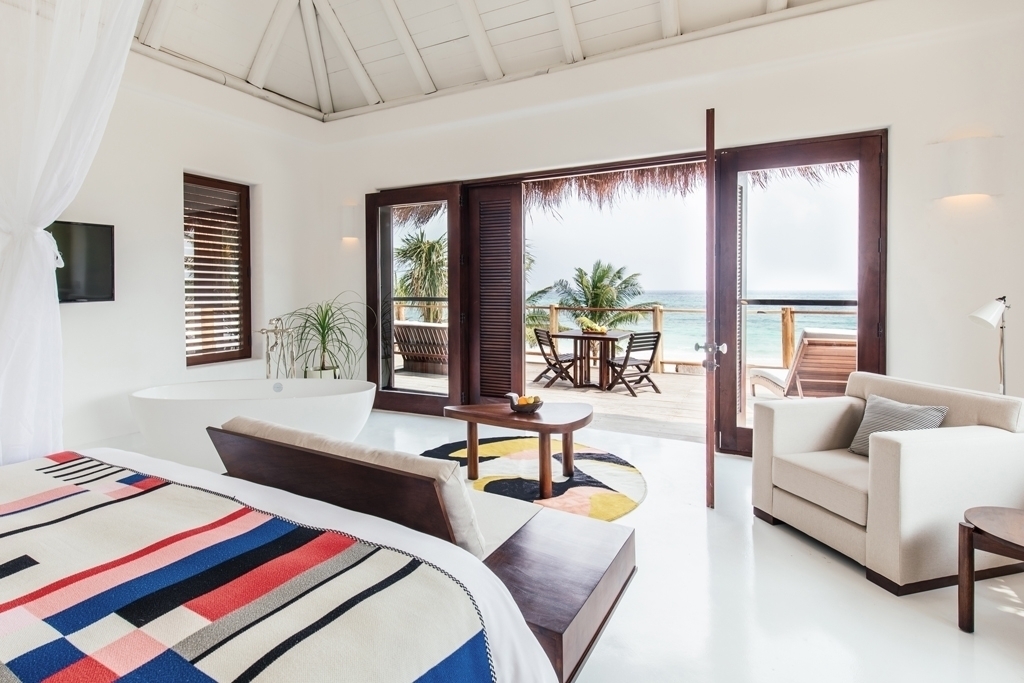 Best For Romantics: Hotel Esencia
Where? Tulum
This is the one for the cognoscenti. A gorgeous, off-the-radar, hideaway that doesn't even have its name on the entrance because those in the know just know. Originally built for an Italian Duchess, it sits on Xpu-Ha beach, considered the most beautiful stretch of this coastline with the world's second largest barrier reef just two minutes out into those diaphanous, turquoise waters. The hotel itself is effortlessly chic; the main house retains its private home feel under American owner, art collector Kevin Wendle, who has sprinkled art and antiques throughout. With 42 suites, three villas and the new Esencia Mansion offering chic privacy, the Mistura Restaurant curves out onto the beach under a domed thatched roof and features not-to-be-missed ceviche. There's also Riccardo Giraudi's internationally-acclaimed Beefbar and Japanese restaurant TAIYO, or head to the all-day Cafe Esencia for casual tacos. Paradise. By Mary Lussiana
BOOK IT: hotelesencia.com
Best City Break: La Valise Mexico City 
Where? Mexico City
In the uber cool neighbourhood of La Roma (immortalised in the Oscar-winning movie of the same name), La Valise is a three-key 1920's town-house hotel with three 1000 sq ft suites that are as unique as they are huge. Bold colour patterns and art deco tiles make way to wooden floorboards and period furniture flanked with a mixture of old paintings and bursts of ingenious contemporary features; an old TV satellite is repurposed as a room divider in La Luna. Breakfast is delivered to the room each morning, and for caffeine hits and small snacks there is a great café next door. For everything else, Roma is home to some of the hottest restaurants and bars in town so you won't go hungry. A neighbourhood that has seen many of modern culture's great creatives pass through it, La Valise Mexico City is a place to be inspired and enjoy the city's delights.
Eco-credentials: There is no single use plastic, and with only three rooms its carbon footprint remains light. 
BOOK IT: Nightly rates start at La Valise Mexico City start from 280 USD. lavalisecdmx.com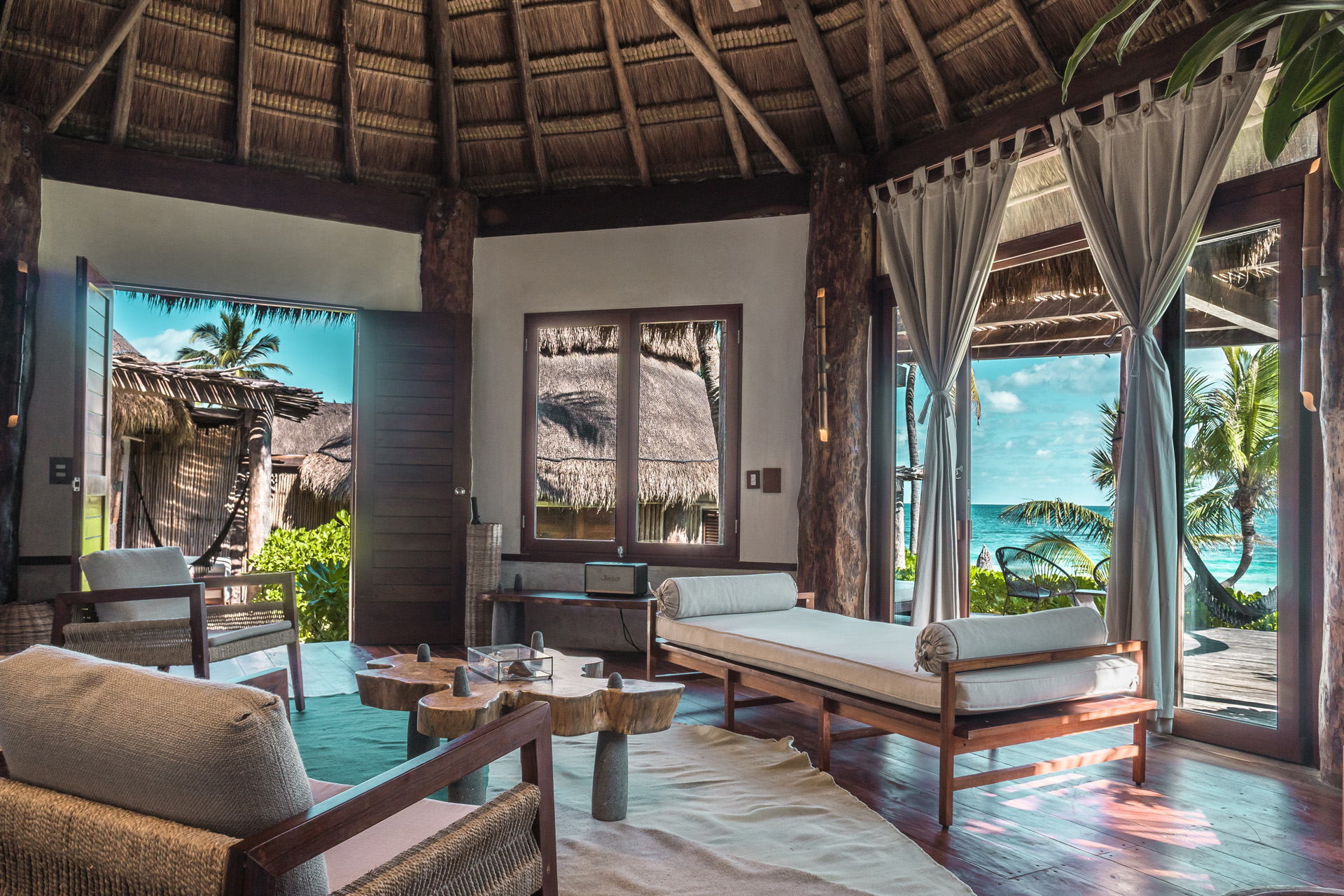 Best Nature Hotel: Delek
Where: Yucatan Peninsula
Tulum is located at the south of the Yucatan Peninsula, home to some of the finest Mayan ruins with 80 percent of the population made up of the Mayan community. A priority for Delek was to work with the local indigenous community to both build and run the hotel while making sure Mayan culture is celebrated as part of the experience here. Sacred geometry has informed the design, and altars can be found in each of the rooms to invite guests to be present and grateful in this beautiful beachside space. There are 21 rooms, with the bathrooms being a particular highlight: giant tubs sit under panes of glass on the ceiling to quite literally lie back and watch the world go by. The hotel has its own shaman who offers treatments and gratitude rituals, and is also responsible for the wellbeing of the staff. Take part in an ancient Temazcal ceremony – a sweat lodge treatment to purify body and soul – and make sure to be here for the weekend hippy market where local artisans sell their wares. If Delek is your vibe, make sure to check out the art centre, Azulik, which is based in the jungle an hour outside of town and combines architecture, nature and spirituality to the most dramatic effect. Built by designer ROTH, who had no previous architecture background or even a blueprint for the centre's design, Azulik is a moving testament to human creativity, the power of working with local products, and the beauty of nature's intrinsic design.
Eco-credentials: Fair governance is at the heart of all that Delek does while upholding indigenous communities and traditions, meaning you will be looked after by locally employed staff during a stay here and made to feel like part of the family. Organic products by local brand Portento include essential oils of kiwi, sweet almonds and eucalyptus.
BOOK IT: Nightly rates from $279 per night. delektulum.com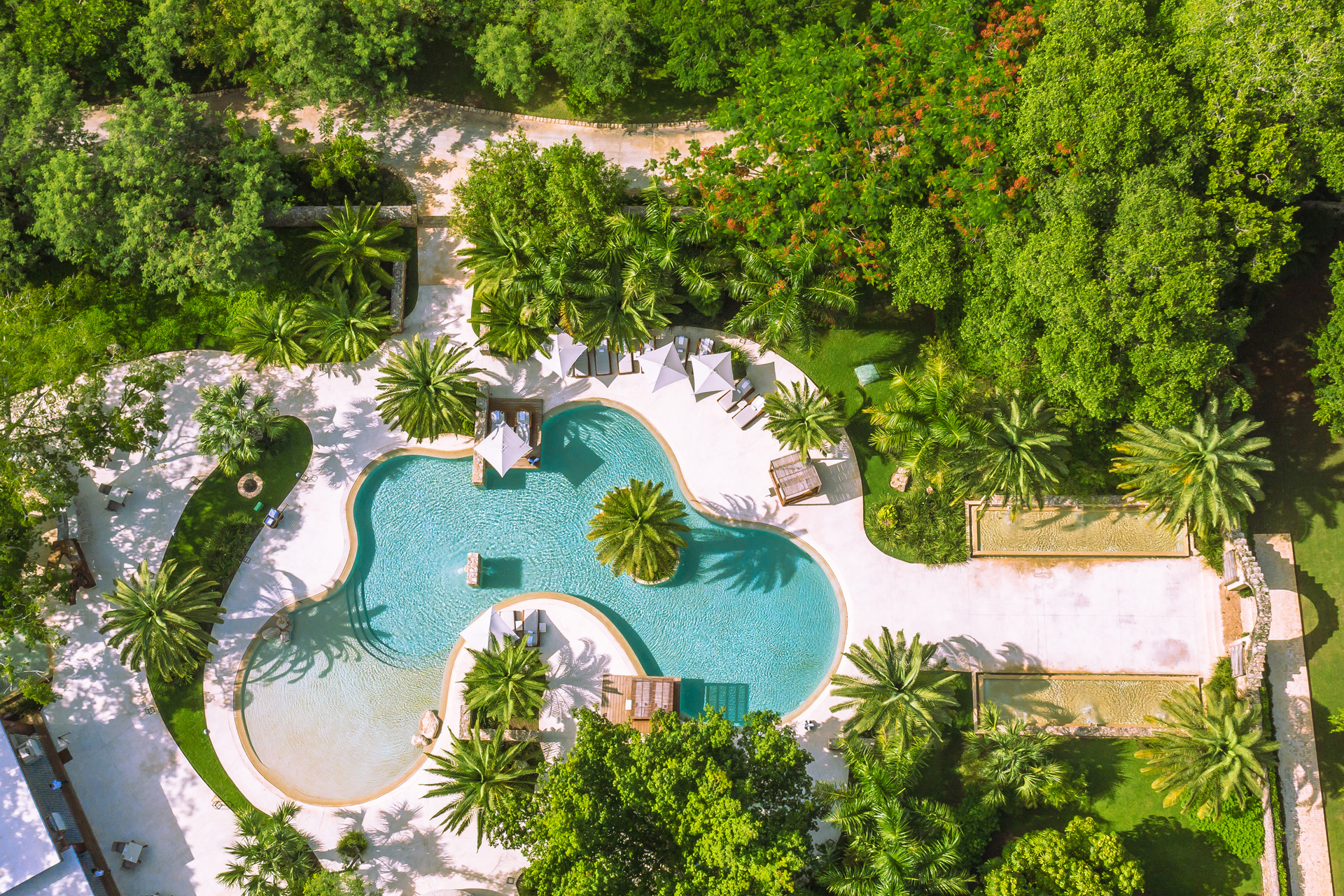 Jungle Paradise: Chablé Yucatan
Where? Yucatan
Standing in the middle of the sprawling 2000-hectare estate, time stands still at Chablé Yucatan, as the wind gently blows in the ancient trees across immaculate lawns and the palm trees of the private guestrooms. This hotel is the result of a 16-year labour of love: the conversion of an abandoned 17th century hacienda into a jungle paradise that can either be explored on foot or by bicycle (each of the 40 villas comes with two). Mexican architect Jorge Borja perfectly combines modern comforts with the grandeur of antiquity, complemented with Paulina Moran's contemporary interior design. Stop in your tracks and be held in time alongside the croaking of toads, gentle ribbits of frogs, an orchestra of exotic birds, and even be welcomed by one of the resident deer strolling across the lawn. A sacred cenote sits in the heart of the property, with spa treatment rooms built around it like human sized bird boxes to completely connect with the Mayan magic that emanates from the water as iridescent kingfishers flit in and out. Dinner at Ixi'im (the Mayan word for corn) celebrates Mayan and Spanish flavours, and should be finished with a mezcal. With one of the biggest mezcal and tequila collections in Mexico, it will just be a question of which one to choose.
Eco-credentials: Using the UN Sustainable Development Goals as their framework, Chablé have built the hotel in harmony with nature, using renewable materials and inspired design such as turning fallen tree trunks into unique furniture and powering the property with 60 percent solar energy generated from the hotel's 1500 solar panels. They are custodians of 250 hectares of protected forest and 100 traditional Mayan gardens, Ka-anchés, where indigenous harvesting methods are used. Preserving traditional Mayan culture is a fundamental part of Chablé's commitment through employment of a local work force and honouring ancestral rituals. 
BOOK IT: Rates from $1,106 (approx. £790) per night for a Casita with a private pool, including breakfast and taxes. chablehotels.com
Intimate Grandeur: Orchid House 
Step into this former 100-year-old neoclassical mansion in one of Mexico City's most exclusive streets, Campos Elíseos, in the chi-chi Polanco neighbourhood, and be dazzled by the grand staircase in the hotel's reception area and (you guessed it) the orchids, which adorn every corner of this casa boutique. The beauty and complexity of this elegant flower inspired the owners of Orchid House who have created a sophisticated urban retreat. The 18 rooms are clean cut, bright and airy with rustic features and Mexican artwork throughout while still paying quiet homage to its illustrious past with the floor-to-ceiling stained glass windows embraced by pink quarry stone unique to Polanco's architecture, antique tiled floors and elaborate cornicing. A verdant bistro and terrace provide a tasty breakfast and lunch. For everything else, from the National Museum of Anthropology to a highly coveted table at one of the city's Michelin starred restaurants, it's only a short walk.  
Eco-credentials: Orchid House works with Arca Tierra, a regenerative agriculture platform to provide experiences to guests that discover the relationship between the land, cooking, and nature in Mexico. 
BOOK IT: Nightly rates start at Orchid House Mexico City start from 250 USD. orchidhousehotels.com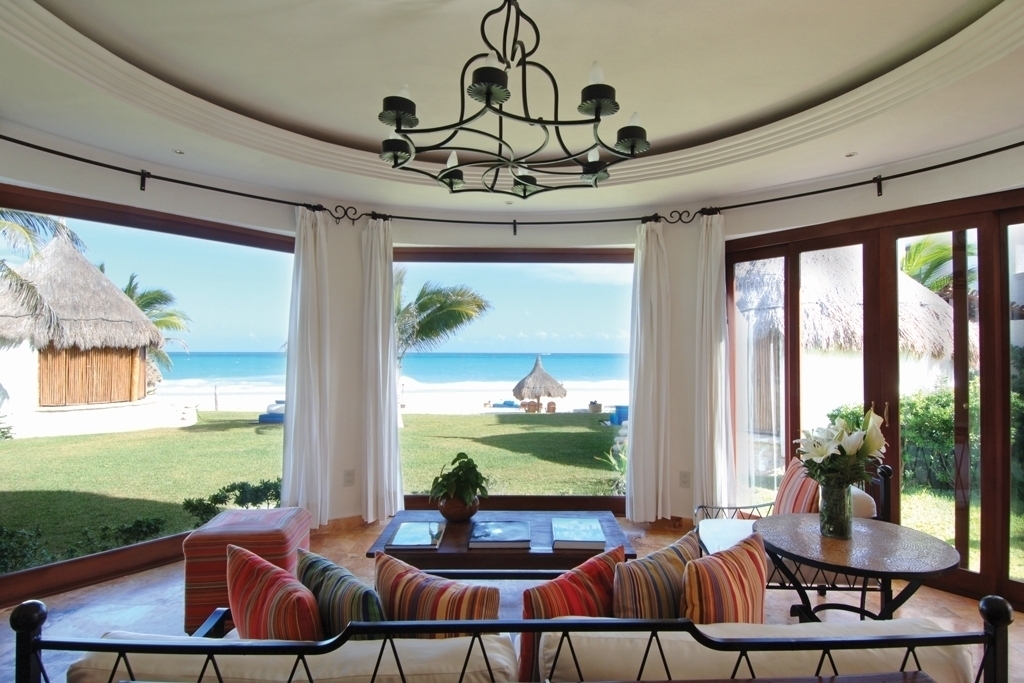 Best Spa Hotel: Maroma, A Belmond Hotel
(Currently closed for refurbishment – reopening May 2023)
Where? Riviera Maya
Built in 1995, this hotel was a game changer for the destination. It could do with a bit of 21st-century love but it nonetheless maintains real appeal, especially in its impressive Kinan spa. Take the time to experience a traditional Mayan Temazcal ceremony where you and your shaman sit in darkness inside the tiny sweat lodge on the beach. With four cycles of ever-increasing heat from the wood piled onto the fire between you, you're encouraged to be reborn through a series of voicing trapped emotions, practising forgiveness and allowing your inner child out; a remarkably cathartic experience. Relax afterwards in one of the 63 rooms and suites which come with marble floors, indulgently large bathrooms and the sounds of the surrounding jungle. By Mary Lussiana
BOOK IT: belmond.com
Featured Image: Chablé Yucatan