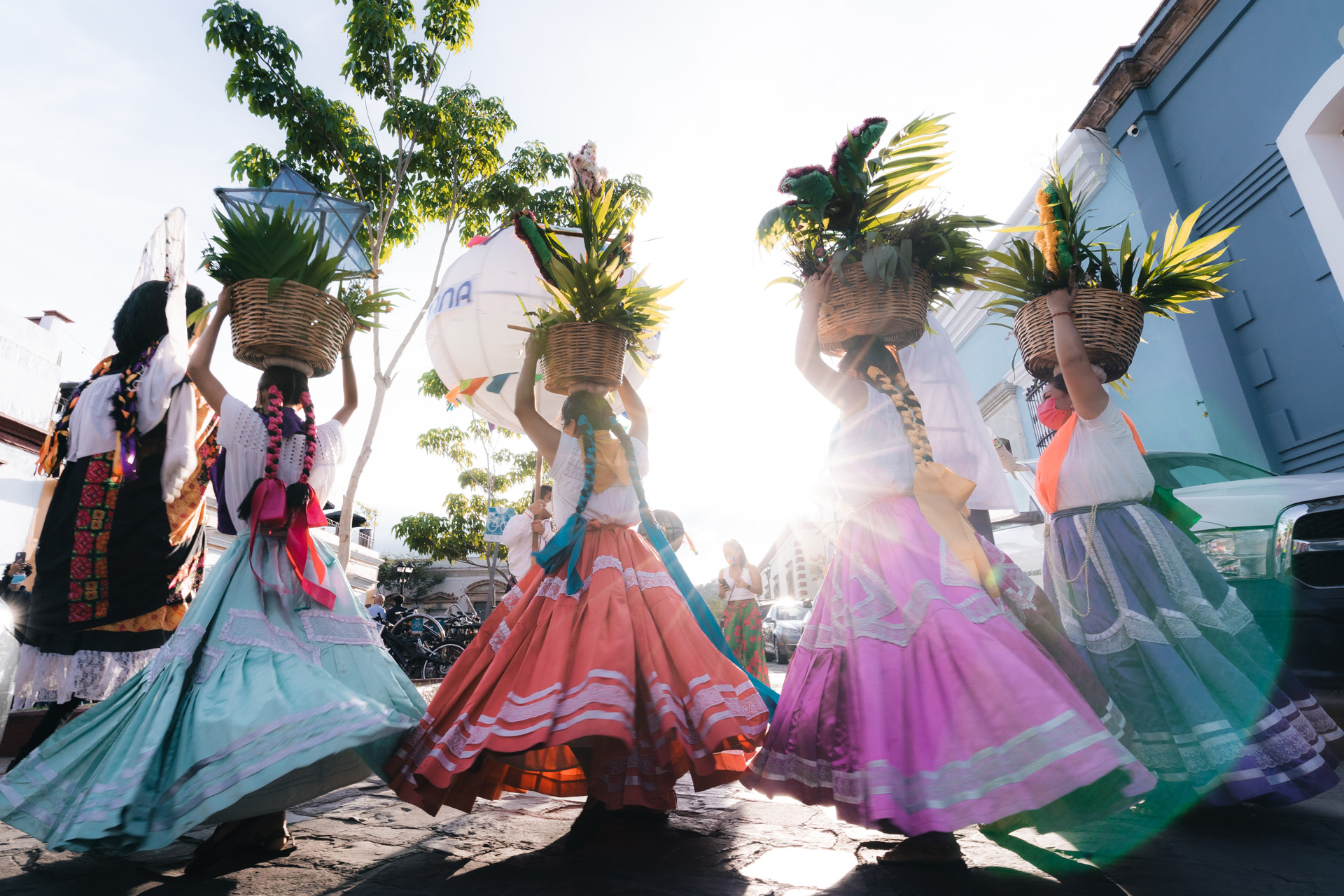 The Ultimate Oaxaca City Guide
---
Mexico, mezcal & Michelin stars
Oaxaca City is one of Mexico's most vibrant cities. Alanna Ospina explores its world renowned culinary scene, from the street food to the Michelin stars and, of course, the mezcal.
Read the C&TH Responsible Tourism Guide
The Ultimate Oaxaca City Guide
I'm sitting in a sunlit square lined with food stands that sell snow ices only. I choose the one with the twirliest decorations and sit down for a fruity ice. A slow Latin beat moves across the airways as an old speaker rumbles into play, and couples of varying talent start ballroom dancing. One couple catches my eye, an older lady dressed to the nines in a ruby red flamenco dress and tantalisingly tall heels, and her more demure dance partner serenely sashaying across the stone slabs. Just as suddenly, I am swept up in a giant parade, where papier mâché statues, whatever the Oaxacan version of a whirling dervishes are, and girls with colourful ribbons elaborately braided down their backs shoulder past me (as I stand in wide mouthed wonder) down into another square filled with fanfare and music. 
I scramble to get a better view from the top of the church steps. Asking a street seller balancing trays of strawberries and cream what was going on, she tells me it's the 25th anniversary of a local school. It's true: Mexicans know how to party. Buzzing with adrenaline, the Oaxacan spirits lead me to the main square, the Zócalo, where I am drawn to the fast rhythm and beats of a live cumbia band playing to a crowd of dancers that range from just-walking toddlers, to awkward teenagers double stepping side to side, to the snake hipped lover boys and the slightly mad dancing to their own beat.
It's irresistible and I start to move, too, taken into the throng by a gentleman whose buttons are undone a little too low down his chest. Once satisfied I was indeed not a cumbia dancer of professional standards, he drops me quickly and a middle-aged lady with passion in her heart and hips pulls me in for a twist and turn. This is Oaxaca City on a Friday night – music and dancing hangs in the air on every street corner, the smell of street food and promise of mezcal is always deliciously close, and life is always being lived at its very best. 
BEST TIME TO GO
The weather is warm and temperate all year round. You might want to choose your visit in time with one of the iconic festivals that take place year-round, the most popular being Día de los Muertos in November. 
STAY
A flurry of design-led hotels have opened in the last few years, celebrating the creative scene in Oaxaca. Terracotta hues punctuate the colonial style of the city, with buildings that have been immaculately maintained. 
Zapoteco
Pug Seal's Oaxaca City outpost is a divine tribute to the local Zapotec and Mixtec cultures with stories depicted by dramatic murals and installations around the hotel. Spacious, contemporary rooms with moody lighting are located around a central courtyard and fountain – a great spot for their delicious breakfast. Each of the twenty rooms in the 19th century house are uniquely designed and inspired by Mexican folklore. pugseal.com
Escondido Oaxaca 
Behind the unassuming double doors of a blood-red building is Escondido Oaxaca (literally 'hidden Oaxaca'), a calm sanctuary that has kept the old-style charm of the original building and blended it with modern muted tones and sleek wooden finishes. It is one of the few hotels in the city with a pool – hidden up a spiralled tower. You will want to carve out some time to chill in the Culture Room filled with bold coffee table books. escondidooaxaca.com
EAT & DRINK
For foodies, Oaxaca City is a dream destination, teeming with restaurants that vary from the best street food to modern Mexican Michelin starred splendour. The element that unites them all is the incredible ingredients, with the humble corn being the star of the show.
Food Markets
The food markets dotted around the city give an authentic insight in how the locals shop and eat. Mercado 20 de Noviembre and Benito Juárez are the busiest, with the latter having an epic food hall where a tlayuda (a huge, crunchy tostada covered in refried beans, lettuce, avocado, shredded meat, quesillo and salsa) is a must. To escape the crowds, visit Mercado de La Merced and learn all about various ingredients and foods from the Central Valleys of Oaxaca. You can also marvel at the chillies, giant tomatoes, and ladies sitting with bags of dried beetles between their legs, watching as diners are serenaded by men on guitars. 
Itanoni Flor Del Maiz
Itanoni Flor Del Maiz is a sustainable traditional kitchen where ancient and native corn varieties are preserved to make exquisite food: simple, yet enriched by the rich flavours of the different varieties. Try a tlayuda clásica washed down with an espirituosa or guayaba drink. 
Levadura de Olla
Young Mexican chefs have caused a tidal wave of exciting new restaurants, including the award-winning Levadura de Olla, which elegantly elevates traditional Oaxacan and Mexican food to fine-dining level while staying true to its essence. Drink frothy pozontle (a cacao ceremonial drink) while admiring the corn mobile installation blowing in the wind and enjoying the artistic dishes. 
Origén 
For a blowout dinner, book the tasting menu at Origén for seriously smart dining and a series of flavour popping plates that look like art and taste like a masterpiece, too. 
Street Food
For street food, head to the unnamed cart on Calle Jesus Garanza Garcia headed up by two ladies who have been feeding locals for years, from construction workers to smart suited business folk. The empanada stuffed with flor de calabaza y quesillo (squash blossom and the local salty cheese) with a dripping of homemade salsa is a revelation. 
Join the late-night hordes for suckling pig tacos and tostadas at the Lechoncito de Oro food truck (open from 8pm until 4am), recommended by the airport taxi driver and backed up by pretty much every other local I spoke to. 
Mezcal
Mezcal is predominantly made in Oaxaca and can be found in drinking dens across the city, from shady watering holes to sophisticated bars. Sit at the bar for a mezcal tasting, or go for cocktails at Sabina Sabe, an impassioned tribute to mezcal.
DO
Tia Stephanie Tours
Oaxaca is the cradle of corn for Mexico, and home to one of the most important food scenes in the world due to the preservation of ancient ingredients. To understand its history and the significance of corn in Oaxaca's Central Valleys – including the advent of civilisation in Mesoamerica (the transition from hunter-gatherer to an agriculture-based society, based on the domestication of corn) and how that continues to influence how people live today – there is no-one better than Tia Stephanie Tours. Tia Stephanie has been running tours around Mexico for 30 years and has curated a team of the best, most knowledgeable and passionate guides who give tours of the city and its surrounding valleys. 
Bii Daüü
Take one of Tia Stephanie's bespoke, two-day tours to explore the sites, markets and restaurants of Oaxaca City one day, and the magnificent town of Teotitlan del Valle on the next. See its daily market selling local delicacies such as cactus fruit and ceremonial drinks, then be taken to the atelier of the extraordinary weavers, Mariano Sosa Martinez, and his wife, Rafaela. They are part of a local collective, Bii Daüü (meaning Sacred Wind in the local Zapotec language), who have rescued the almost extinct artisanal skill of natural dye weaving. Spend a morning with Mariano and Rafaela and learn how they masterfully create a rainbow array of natural dyes using plants and bugs (bright reds made from the cochineal insect that feeds off the cactus, yellows made from marigold flowers and blue from the indigo plant) and water channelled from a solar-panelled pump. Work up an appetite for a delicious lunch of fresh empanadas whipped up by Rafaela.
Museo Textil de Oaxaca
The Bii Daüü collective were visited by a Scottish artist, Lynne Hocking, who asked them to create rugs that represented different birdsong. The finished pieces can be seen at the Museo Textil de Oaxaca and are accompanied by the actual birdsong for an exhibition that is truly a treat for the senses. 
Oaxaca Modern Art Museum
The contemporary art scene is thriving here and can be seen in its glory Oaxaca Modern Art Museum. Keep an eye out for the amazing graffiti murals that are spread throughout the city too. 
BUY
A handwoven, naturally dyed rug made by one of the Bii Daüü weavers in Teotitlan del Valle. Oaxaca is renowned world over for its textiles. 
Frida Kahlo was inspired by the indigenous dresses of the Zapotec women in Oaxaca that can be found in the Mercado de Benito Juarez, alongside artisanal leather shoes, hats and pottery. 
Budding chefs will be delighted by the choice of chillies to bring back home too – try the native pasillos, smoky, not too spicy and they pack a punch. 
HOW TO GET TO OAXACA FROM THE UK
The easiest and cheapest way is to fly direct from London to Mexico City with Aeromexico or British Airways (starting from £600 for a return ticket) and then purchase a ticket to Oaxaca City with a low-cost Mexican airline such as Aeromexico or Volaris (from about £100 for a return ticket).
Featured Image (c) Isai Matus via Pexels.