Frome is a small town in Eastern Somerset, just a 2.30hr drive from London, making it a great option for a staycation. It's small but it's packed with character, such as the kitsch shops selling independent designs and bric-a-brac to the thriving arts, vintage and antique scene that draws in creative characters from Bath, Bristol, Brighton, London and other surrounding towns and villages alike. A weekend spent in Frome when the sun is shining is a reprieve from London and its constant busy-ness. Discover our recommendations of where to stay and eat, what to do and where to shop, in the charming town of Frome.
Where to Stay
Bistro Lotte
Located right in the heart of Frome's town centre, Bistro Lotte is a modern, cosy bistro with rooms above. Its location is perfect for those who are interested in exploring Frome's shopping amenities – sitting atop Catherine Street, guests will step right into the path of The Frome Independent, the town's monthly market. The venue, which this February celebrated 1 year in business, was awarded 'Best Conversion' by the Somerset Building Control Partnership, recognising the restoration of the Edwardian townhouse back in 2017. The rooms are comfortable, clean and bathrooms stock local Bramley products – it's not overstated luxury, it's a pleasant spot to sleep at throughout your stay.
Its private dining room also plays host to regular supper clubs, such as its most recent venture which saw Leon Hunt and Jason Titley perform traditional folk music whilst the French food from the bistro was served. Whether you pop down in the morning for a homemade breakfast with the newspaper or make a cup of tea or coffee in your room before heading out to explore, Bistro Lotte is a perfectly snug and wonderfully central base for your stay. Rooms start at £95 per night. Book it here.
Where to Eat
Stony Street House
Newly launched Stony Street House is Frome's first shop dedicated to the great libation that is wine. It's small and independent, as is much of Frome, and is run by a group of people passionate about wine. The conceptual space has two floors which house a coffee area, a wine bar, and a large dining room open for service all day. The menus are seasonal, and all produce is local and fresh. The wine bar, which doubles as a shop, is a great place to come and try wines from over 350 regions worldwide, served and explained by experts. Try one, love it, buy it to take home! Plus, as part of Stony Street House's commitment to sustainability, they offer 10 wines on tap that can be taken away in their reusable bottles. Come here for breakfast, lunch, dinner or just a snack – it won't disappoint in any of those categories. Their weekend brunch features dishes such as banana pancakes and eggs and halloumi; order a sourdough pizza for lunch; and in the early evening, enjoy a sharing board made up of cheeses from local traders and West Country charcuterie. Stonystreethouse.com
The Best Concept Stores in London
Rye Bakery
The Rye Bakery on Whittox Lane is THE place to go for pastries in Frome. Started by two young parents, the aim was to create somewhere Frome locals can purchase good quality baked goods made by hand and with love to either enjoy there or take home. Now, two springs since its opening in 2017, the Rye Bakery is a cafe, event space, family-friendly haven for local families and visitors to take a load off and enjoy some of Frome's finest local talent in the culinary sector. The menu is simple and offers delicious family favourites such as hand-stretched pizzas made with organic flour and hearty seasonal soups. The kid's menu should please any little one with mini pizzas, fish finger pittas, and a platter for them to enjoy whilst the adults indulge in the grown-up version (the charcuterie board) – the kid's version includes cheese, eggs, bread, yoghurt and fruit. The venue also puts on weekly 'Pizza Nights' for families who come after school on a Thursday where the cafe turns into an after-school pizza party. For a more romantic option, head there on a Friday night for dinner when the lighting is dimmed and it's the adults' time to enjoy the great food and cosy atmosphere of the venue. Plus, The Rye Bakery's event space, a 300-year-old hall in what used to be the United Reform Church, is a great place to consider for hosting a special supper or celebration. Rye-bakery.com
What to See
Longleat Safari Park
Longleat Safari Park, just a 14-minute drive from the centre of Frome, is the UK's number 1 safari park. A great activity for a sunny day with the kids, you'll see an abundance of amazing animals here. Their VIP experiences are the best way to enjoy the Safari Park, with intimate guided tours that allow behind-the-scenes access to some of the park's most beloved animals such as giraffes, lions, gorillas, marmosets and tamarins. Discover the full list of VIP experiences here. The newest addition to the park, 'Koala Creek' launches on March 29. This is where, for the very first time, guests will be able to see Southern koalas and two wombats who've travelled all the way from Australia, making Longleat Safari Park the only animal collection in England with koalas, and the only animal collection in Europe with southern koalas. There are plenty of other activities on to keep everyone busy, such as Animal Experiences where you can get up close and personal (and even hold in your hands) snakes, tarantulas, and guinea pigs for the fainter-hearted. Also, don't miss the Parrot Show, an educational hour showcasing the park's beautifully colourful and equally impressive and talented parrots. Longleat.co.uk
Shearwater
Shearwater is a freshwater lake 20-minutes in the car from Frome's centre. The best time to visit for fishing enthusiasts is in the quieter months (not summer), as when summer rolls around, Shearwater becomes a popular spot for all sorts of outdoors activities. Bring your bikes and cycle along the man-made lake, bring your walking gear and explore the surrounding woodland, and bring your swimmies and take a dip! Plus, take advantage of The Shearwater Sailing Club's boathouse and get on a dinghy to explore the lake up close. Visitengland.com 
What to Buy
Frome is an amazing shopping destination for arts, vintage, and all other sorts of quirky find you might not come across in London. The best way to get the most out of the shopping here is by braving the cobbled-street-hills and potter around the winding streets, popping in and out of independent shop after independent shop.
Cheap Street
This is the best spot for old shops selling records, local food for the pantry and leather goods. An utterly unique walkway, Cheap Street has a stream running through the middle of it.
St Catherine's
St Catherine's is Frome's art quarter and is made up of Catherine's Hill, Palmer Street, Stony Street and Paul Street. On these cobbled streets, you'll find jewellery and clothes, accessories and crafts, with cafes dotted in between for a pit-stop.
The Frome Independent
Waking up on the day of The Frome Independent, you'll be surprised at how much busier the little town is than usual. This market is well-known amongst creatives of surrounding towns and villages and attracts traders and makers to set up shop selling all sorts of categories from food and drink and homemade jewellery, to vintage fashion and antiques. The market spreads through most of the town and brings it to bustling life. The Frome Independent runs the first Sunday of every month, 10 am – 3 pm. In this time you'll come across fresh food stalls serving everything from doughnuts (which, fair warning, are sold very quickly) to craft ciders. You'll also be shopping from artisan craftspeople, whom Frome supports and showcases. Here you'll no doubt pick up unusual gifts to bring home and discover some emerging brands to support. The Frome Independent also boasts a brilliant vintage fashion selection. Sure, you still have to sift through bits and bobs but the traders are very friendly and are able to help pick out the best bits, which can start at £5.
What to Do
Frome Museum
The Frome Museum is a treasure trove showcasing the history of this intriguing small town in Somerset. Their 2019 season has kicked off with a new exhibition featuring the works of John Webb Singer, one of Frome's most important historical figures. The exhibition will show personal artefacts and memorabilia of Frome-born Webb-Singer, local watchmaker and 'pioneering figure' of the Victorian era. Fromemuseum.com
Town Walks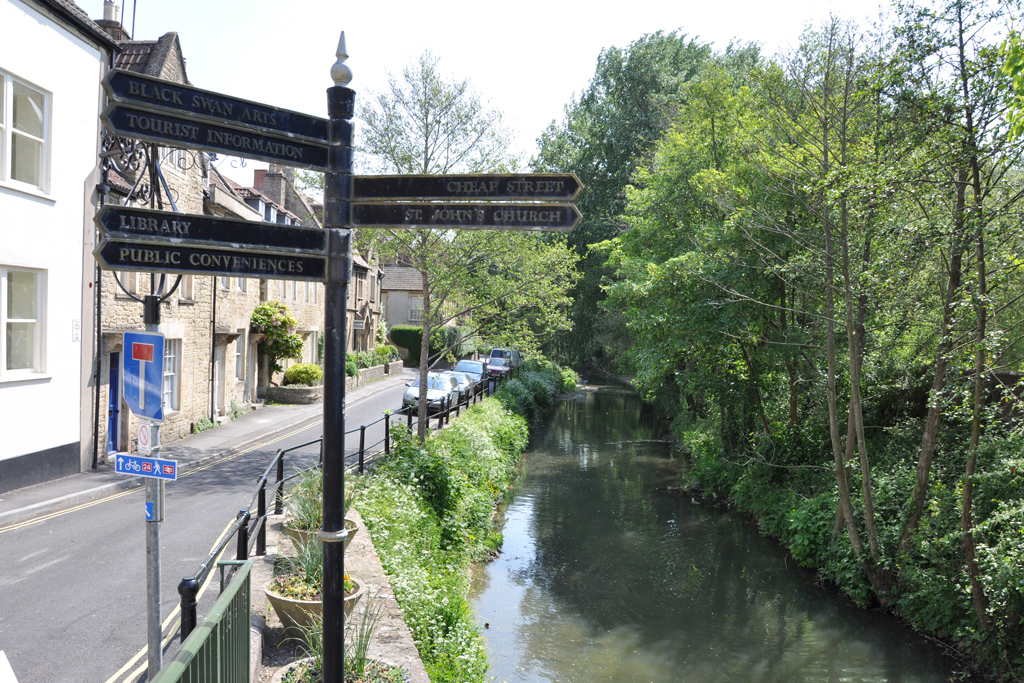 Town walks are put on by the Frome Society for Local Study and run the second Sunday of May – September. Guided by Frome-experts Ruth Angel, Alastair MacLeay, Janet Millar and Cliff Bawden, the town walks cover all different parts of Frome. However, you can also request to be toured around a specific area of interest, such a walk highlighting Frome's architecture. The town walks, which are free, will give a detailed perspective on Frome's history from being founded in 685 AD through to the middle ages, to what the town is today. Guests will pass historic listed buildings, walking up and down Frome's notorious hills, and will learn about the religious connotations behind the architecture. The next town walk date is May 12, followed by June 9, July 7 and 14, August 11 and September 8. Fsls.org.uk
How to Get There
The drive from London to Frome is pleasant and can be very scenic. This takes approximately 2 hr 40 mins. Alternatively, nip on the train from Paddington for an average of 2 hours. An adult return ticket starts at approximately £30 via thetrainline.com. Finally, make sure to pre-book your stay at Bistro Lotte, where rooms start at £95 per night via bistrolottefrome.co.uk
More Travel…
48 Hours in Vienna | 48 Hours in Berlin | 48 Hours in Barcelona
---