48 Hours in Vienna: Stay, Do, Shop, Eat, Discover
48 hours spent in Vienna is enough time to fall in love with the city, and just enough time to leave you wanting to book flights and come back for more.
This post may contain affiliate links. Learn more
Vienna is unique in many ways. Roughly 50% of its land is green, meaning it's covered in grass and parks; a 15-minute walk through the centre of town will reveal no cigarette butts on the street, no chewing gum embedded in the floor; and during this walk, you might only see one or two homeless people. Vienna takes care of its people and therefore mental illness rates are low, unemployment is too, and the people are known for being happy and kind. In fact, in Mercer's Quality of Living 2018 Study, Vienna came out as number one for the 9th year in a row. One might say 'the grass is greener on the other side' – but in Vienna, it really is.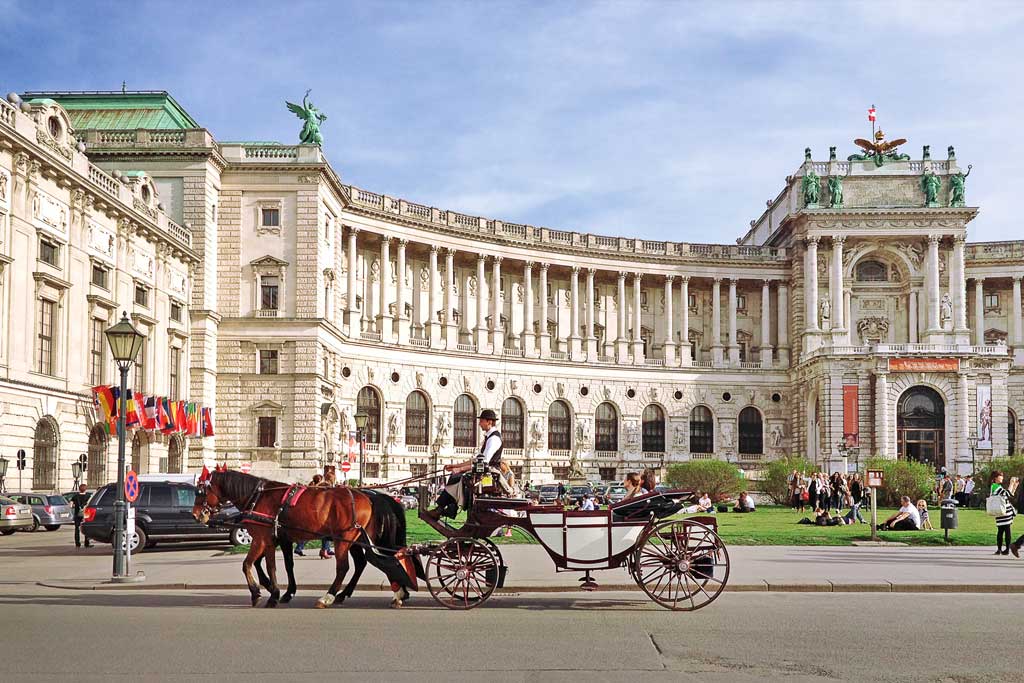 At the centre of Vienna's identity is coffeehouse culture, one that sees grand cafes open at all hours where people can sit with a coffee and a cake for hours on end, whether they're working or meeting a friend. They won't be shooed out or asked to buy more – they're 'welcome to stay for however long they like' as I'm told by a waiter at Café Landtmann. That's why in Vienna drunken people in the gutters of the street are a rarity; people are inside, sitting face to face, conversing and connecting. This isn't to say Vienna isn't forward-thinking as a city – walking around town, I notice the amount of single-use plastic sold in Vienna is easily half the amount sold in London. Vienna is sustainable as a whole and is a sight for sore eyes for those who've been living in London forever. On the other hand, Vienna is also steeped in certain traditions. I learnt from my guide that balls, in particular, are a huge part of their culture – someone even told me that from the age of 16, they'd been attending balls almost every weekend, taking the role of a debutant to get in for free. 48 hours spent in Vienna is enough time for you to fall in love with this hugely underrated city, and the right amount of time to make you want to book flights immediately and come back to see, taste and experience more.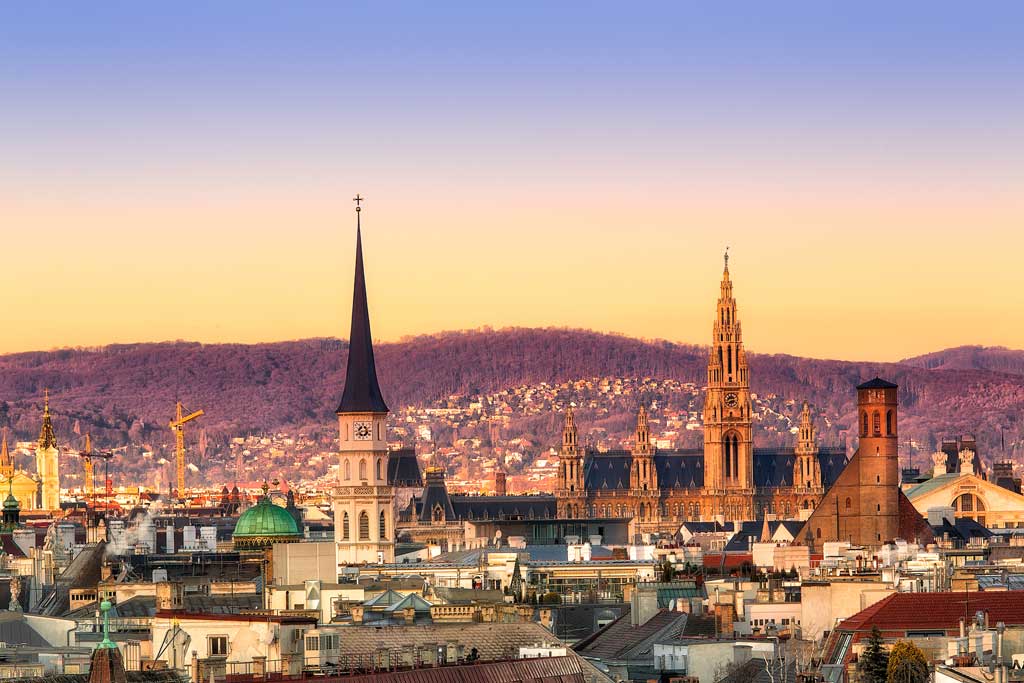 Where to Stay:
The Grand Hotel Wien
An art deco red velvet and gold dream of luxury. The Grand Hotel Wien sits in the centre of town, moments away from coffee shops, boutique shopping and the famous and very beautiful St Stephens Cathedral, which, seen at night, is a gothic architecture lover's dream. Its interior design exudes decadent luxury, as everything is either in perfectly polished gold (from the handles of the bidet to the knobs on the wardrobes), and/or draped in deep, rich red velvet adornments.
A standard room at the Grand Hotel Wien is spacious and open, with comfortable bed linens replaced daily, slippers left by the bed every night, and a compact coffee machine with a box of Julius Meinl treats (the espresso is a must-try) that are re-filled whenever one is enjoyed. The hotel has many other wonderful amenities such as a spa and a gym, a brasserie serving full breakfasts and pastries, and a warm and welcoming lobby with a bar and piano player, dotted with staff who somehow know what a guest might want before they even ask. And they all speak perfect English too. Book a room there now at grandhotelwien.com.
Where to Eat:
Café Landtmann
Just a 15-minute walk through town from the hotel, Cafe Landtmann is a grand coffeehouse specialising in classic Viennese pastries and cakes. It was opened in 1873 and has since fed and watered a long list of illustrious guests such as the McCartney family and Freud. Order the schnitzel, a typical Austrian delicacy, and save room for dessert; walk up to the entrance where you'll find the patisserie selection and pick whatever takes your fancy. If with a group, I recommend sharing 3 or 4.
To get a real taste of Vienna, try the Original Wiener Apfelstrudel, Almond Nougat Cream Tart, the Chesnut Blossom (which might not look like the most appetising desert in the world but trust us, is delicious), and the Kaiserschmarrn, which is like a warm sliced pancake, but better. Sip on a Wiener Melange made with Julius Meinl Messe Picco too, the perfect end to a decadent dinner. Book now at landtmann.at.
Where to Shop:
The Goldenes Quartier
Because balls are such an integral part of Vienna's culture, there are a host of upmarket designer boutiques selling the most grandiose gowns that wouldn't look out of place at any of Vienna's balls. Take a stroll down The Goldenes Quartier where you'll find brands such as Oscar De La Renta, Jimmy Choo, Chanel and Miu Miu. For a mid-market shop, explore Kärntner Strasse, a street with contemporary brands like Karl Lagerfeld and Austrian brand Swarovski's flagship store. Even on a Saturday, shopping on the streets of Vienna is a relaxing experience, one where you can comfortably pop in and out of shops, drool at the stylish window dressing, and enjoy the day without bumping into other shoppers at every turn.
What to Do:
Attend a Ball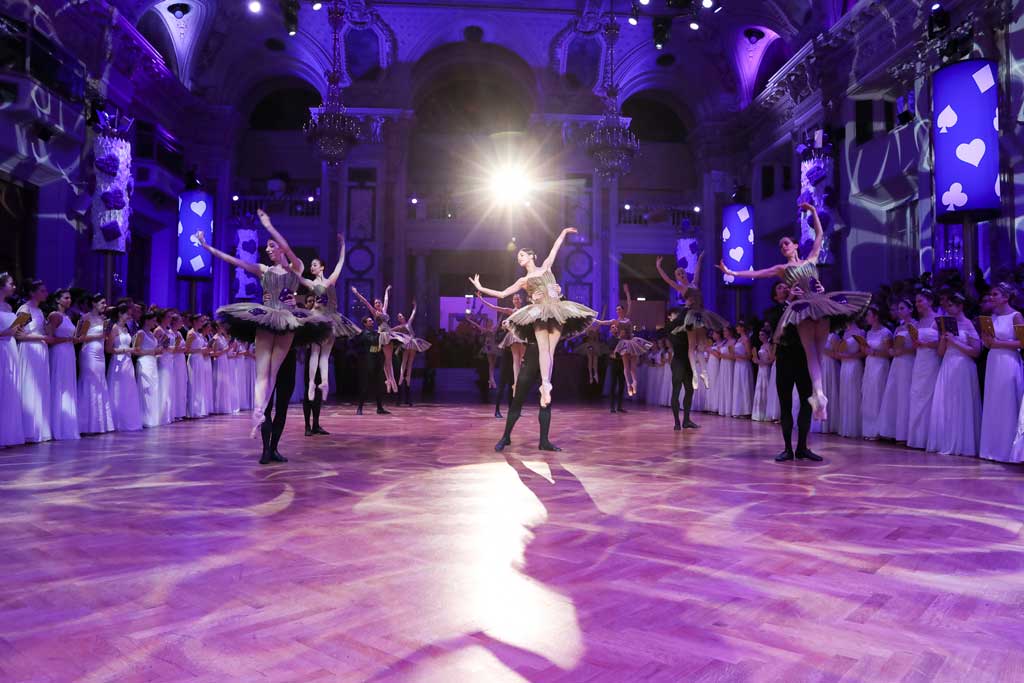 Tickets aren't always easy to get hold of, but Vienna hosts more balls than any other city, country and culture combined (over 450 annually). Attending the ball for Vienna's coffeehouse owners with Julius Meinl was like stepping into a dream where I was the Disney princess. Set in the Imperial (Hofburg) Palace, the evening was one of debutants and dancing, champagne and chatting, getting pictures taken, exploring the palace and enjoying and taking part in the festivities. The atmospheric evening encapsulated all the best typical traits of Vienna.
There are rules regarding the formality of dress which may put off some, but in the cases of those who (such as myself) don't get to regularly wear evening gowns and heels and get my hair done for an occasion, it can be an absolute blast. Julius Meinl, being one of the most prominent coffee companies in Austria, had their own room in which invited VIP guests and friends of the company came together before venturing into the main hall for the festivities to celebrate another year of caffeine craftspersonship.
Attend a Viennese ball and experience an evening like no other. It really is like being transported back to a time where long silk gloves and waltzing to a live orchestra are the society's cultural norms, and it's a norm I certainly wish was recognised in (what felt like returning post-Vienna) grubby London. Vienna's Ball Season is marked by the start of Carnival with waltzing in the city centre, and the first ball of the season is on November 30th with the Vienna Red Cross Ball. There is also the New Year's Ball at the palace, the Hunters' Ball, the Doctor's Ball, the Lawyer's Ball – but the Coffeehouse Owners' ball, very hard to get into and very exclusive, is known around town as the best one to attend. Find the full ball schedule at wien.info.
Book It:
Flights from London to Vienna via British Airways start at £48 for the month of March.
An Exclusive Room at the Grand Hotel Wien starts at €247 per night for two adults.
Julius Meinl
Julius Meinl is a family-run coffee business that has been providing and championing carefully crafted coffees since its inception in 1862. Their coffee is sold all over the world in the finest hotels (such as The Grand Hotel Wien) and restaurants. Their products can also be bought in their online store. Though they are a large company, each employee (as I discovered during my factory tour) is like a member of the family, a close friend, and this relates to the company's ethos which is all about connecting. Every World Poetry Day, in all Julius Meinl's stores, the 'Pay With a Poem' initiative goes live, meaning that if people write a poem of any length about any subject, they can use that to pay for their coffee. Read more about it here.
More from The Weekender series:
---