It's 250 years since Captain Cook first docked the Endeavour on Tahiti's powder-soft shores and 150 since Gauguin captured its dazzling colours. Caiti Grove discovers the island for herself.
Welcome to Tahiti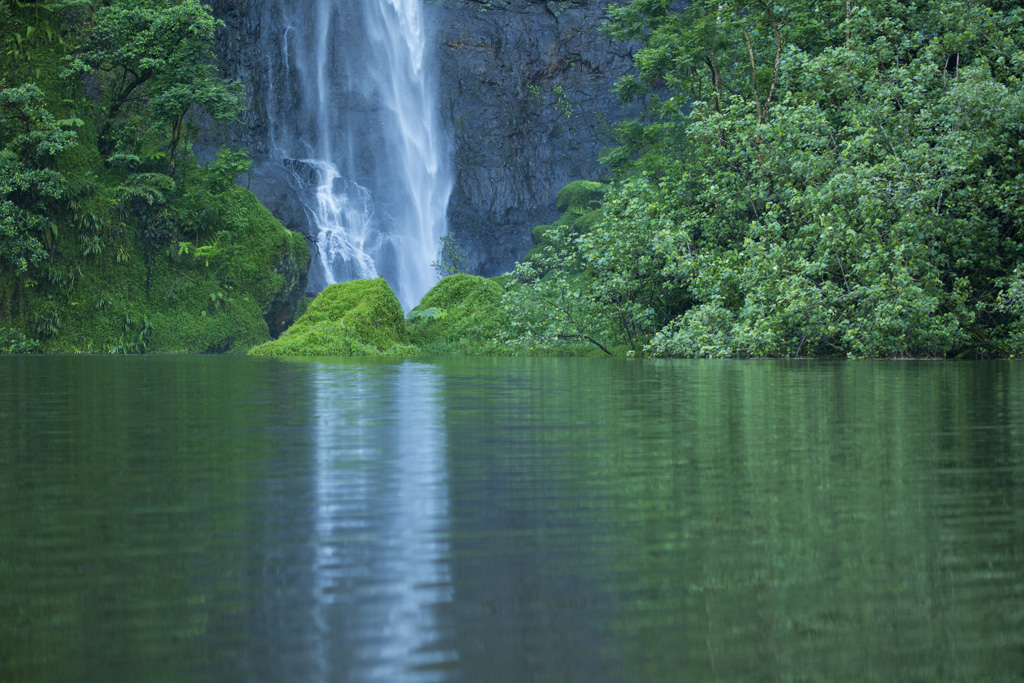 I have just plunged off a surfboard onto a shoreline of black sand strewn with volcanic rocks. 'The trick,' my instructor Pascal Luciani tells me, 'is to jump before you reach the beach.' Why didn't I think of that? Around me, children as young as four ride the breakers before neatly hopping into the swell below. 'Tahitian children are very brave,' says Pascal, who organises the Billabong Pro Teahupoo, gesturing at a little girl, who (like me) has waited too long to abandon her surfboard. Unlike me, she jumps up, runs back into the waves and starts paddling out for more action. Behind the beach, a mountain rises up out of the mist. A rainbow arches over the shoreline. This is the dreamy paradise discovered by Captain Cook, the first Westerner to explore the archipelago.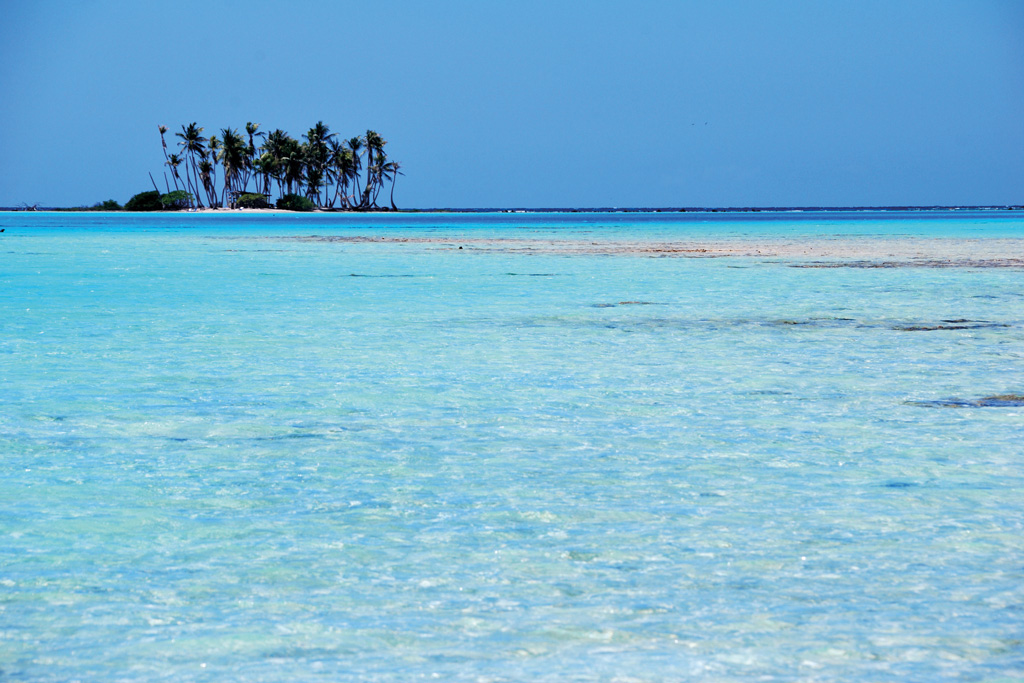 Today, 150 years since Gauguin painted its dazzling colours, Tahiti is famous for its beauty and palm tree-strewn beaches. Once a French colony and now part of the 'overseas collectivity' of French Polynesia, Tahiti is ruled by its own president and assembly but still subsidised by France, which controls its justice, university education, security and defence. City dwellers in the capital Papeete tuck baguettes under their arms with an undefinable island chill, more relaxed than the most laid-back Frenchman. A few miles from our surfing destination, Papeete is a knot of enormous roads teeming with rickshaws and scooters – more urban jungle than idyllic paradise. We stay in a passable Meridien (now renamed Tahiti la Ora Beach Resort, managed by Sofitel) overlooking the city beach. To reach the turquoise waters of a genuine idyll, a short plane hop is required to one of the smaller islands.
Mountains and Marinas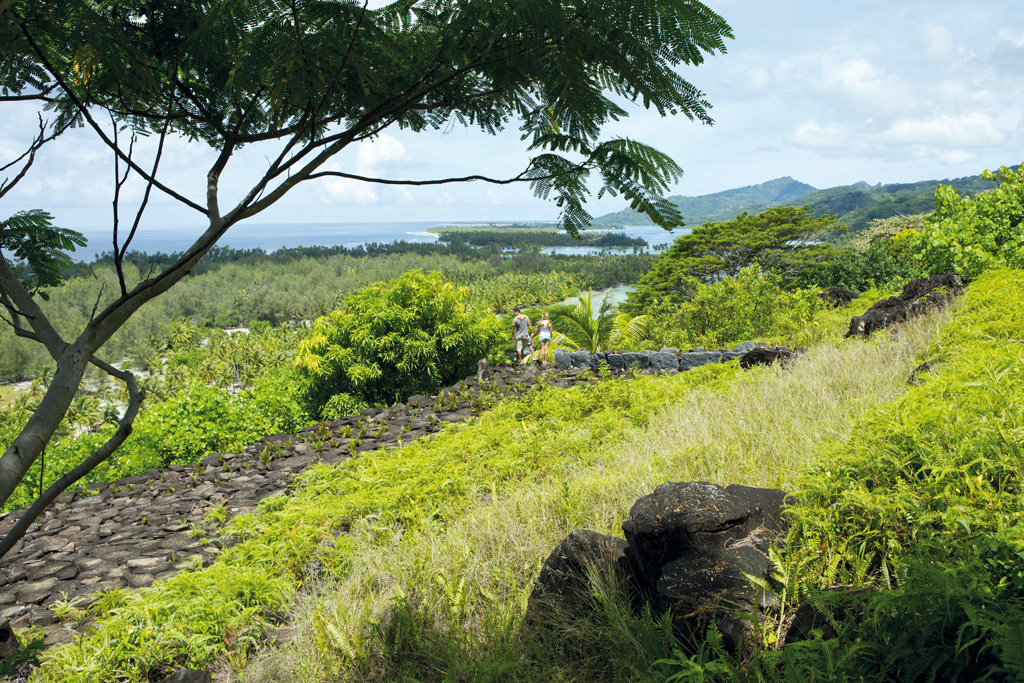 At Huahine, the magic that overwhelmed Captain Cook finally reveals itself. The name derives from vahine, meaning woman, because of the huge mountain range that resembles a recumbent pregnant female, which is worshipped as a symbol of the island's famed fecundity. With a population of 6,000 across eight villages, the centre, Fare, is simply a few fruit stalls set around a tiny marina. In Lake Fauna Nui, the dam provides fish using a method that's hundreds of years old. Only descendants of Tahitian royalty can remove it. This is authentic and unspoilt Tahiti. Le Mahana Hotel sits at the foot of a mountain in Huahine, where the ruins of ancient temples lie beneath lush undergrowth. The rooms are little pavilions with roofs of thick straw and shuttered windows. Palm trees bow towards the sea and guests relax on sun loungers or paddleboard around sailing boats that bob next to a forest at the water's edge. Guides from Poe Island Tour take us for a 4×4 circuit of the mostly deserted island – in two hours we pass just one truck transporting coconuts.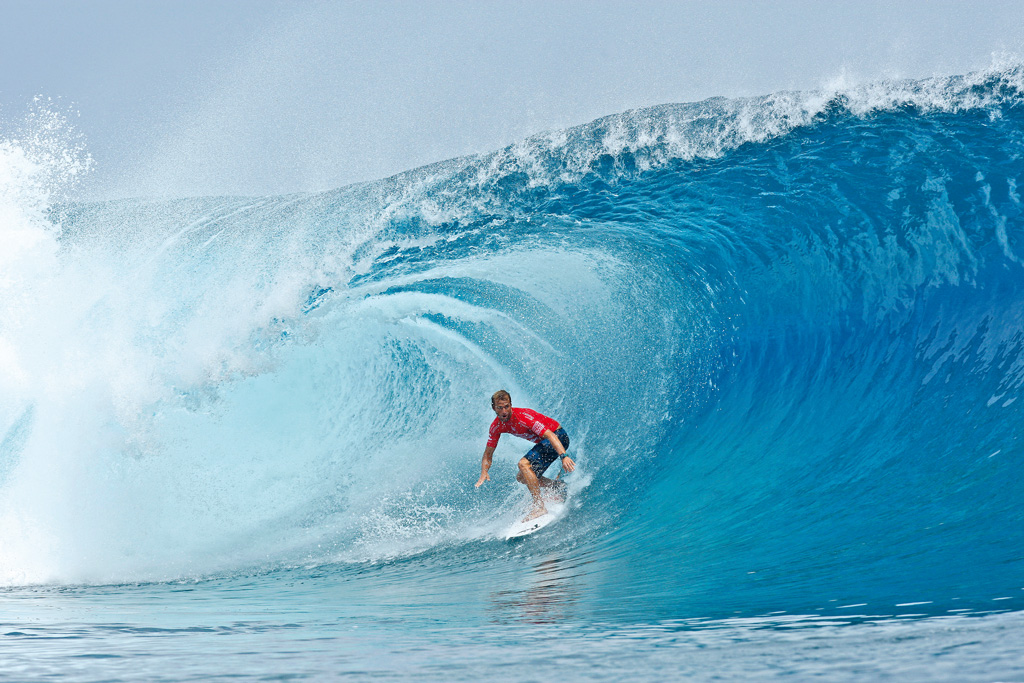 Stilted waterside resort hotels abound on most of the islands but for a truly authentic stay, pensions are the Tahitian equivalent of a bed and breakfast. A pre-hotel invention of the 60s, they hosted French tourists when visitors first came to Tahiti. The good ones are great – hospitable, cosy and exclusive. Vanira Lodge is a little nook of Frenchness owned by a Parisienne you'd be unsurprised to see shopping on the Rue du Faubourg Saint-Honoré. Her eco-lodge is near the Teahupoo break – the incredible wave that curls into a tube of water, famously used in a 2009 Red Bull advert. Chalked up in its little dining room is the evening's menu: boeuf bourguignon, confit de canard and chocolate soufflé. Why try to beat French cuisine? Our host gives yoga lessons in a wooden shuttered studio across the lawn from the guest huts. Each one is made by local craftsmen out of coral, rock and silky tree trunks that prop up grassy roofs over hot tubs; these overlook a bay where dolphins and whales make their daily commute.
Becoming a True Islander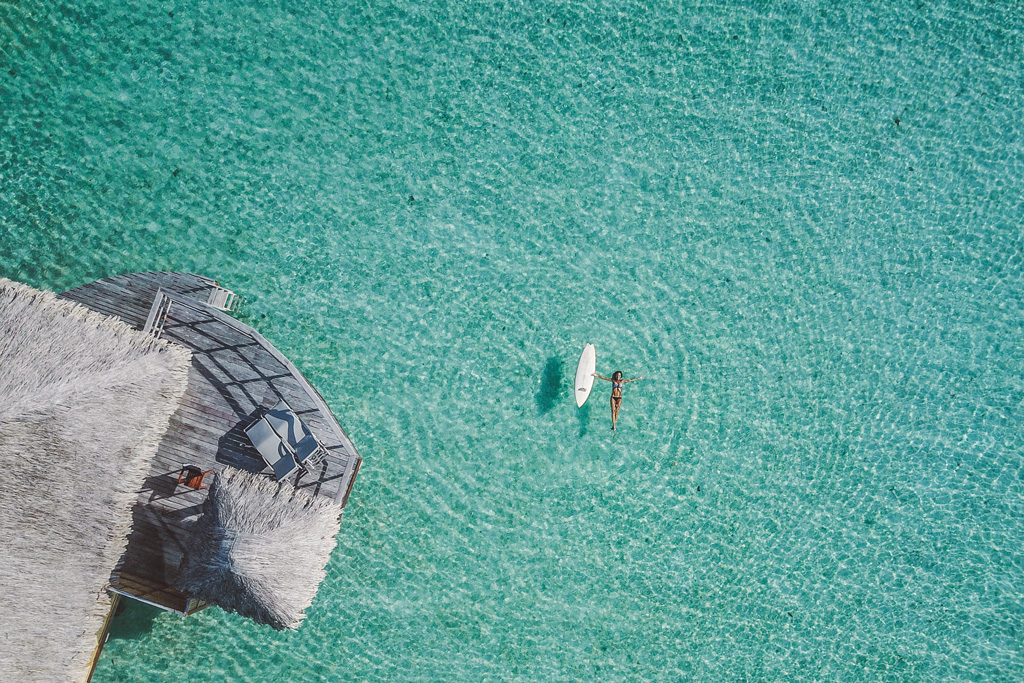 In the morning a Ford Fiesta pulls up in the driveway. Our guide Michael Vautor looks not unlike Tom Hanks in the final scenes of Castaway. In his speedboat we bounce down the coast over plumes of white surf, past miles of forest and little houses with no road access. We dock at a jetty and walk down the rocky forest path, where the sea splashes us with white spray, tree roots snake across our path and lizards blend into their bosky backdrop for camouflage. We crawl through a rocky tunnel and emerge at a pool, where a waterfall cascades with such force it's hard to stay upright.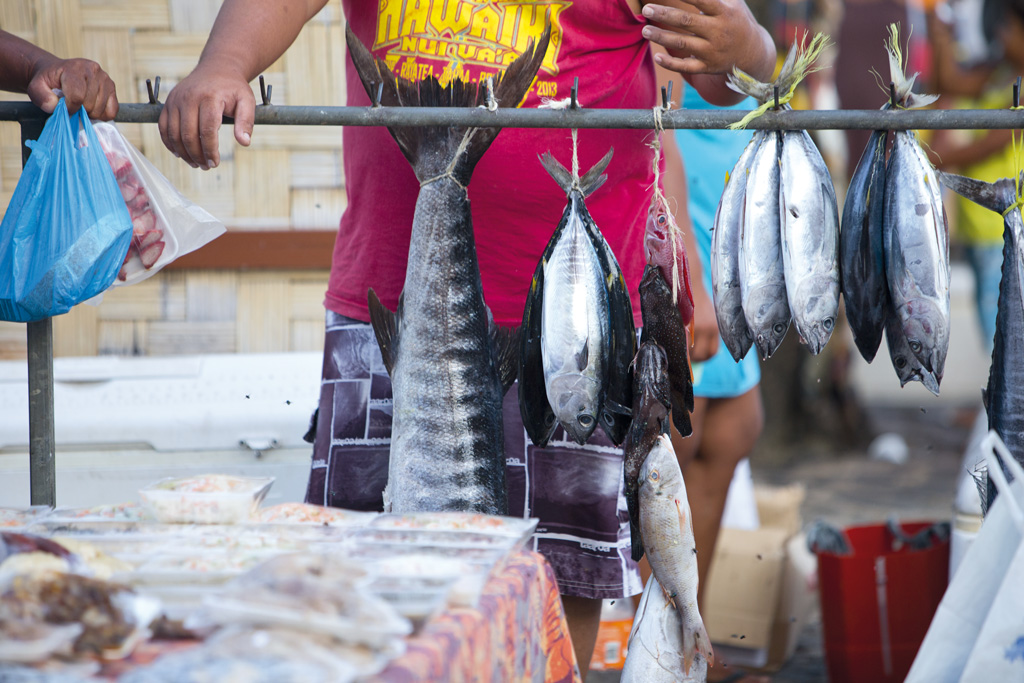 Next stop is an island estuary of tropical wilderness where a tempting rope swing hangs; now become true islanders, we grab it and hurl ourselves into the river below. Back in the boat, we zoom out to see the magnificent Teahupoo wave, to which surfers travel from all over the world, just to attempt a high-risk roll through its barrel. For our last short haul, we make for Rangiroa, one of the biggest atolls in the world, 200 miles north-east of the mainland. Its slow-pace village is surrounded by a bright blue lagoon where teenagers line-catch snappers and the Milky Way seems to shine especially brightly in the raven-black sky. In the morning a crowd of young Tahitian men arrives for the expedition to Reef Island, an hour's bumpy boat trip away. Snorkels on, we drift in a calm channel between two small islands, over red and yellow corals and enormous clams that snap shut when they sense predators (us).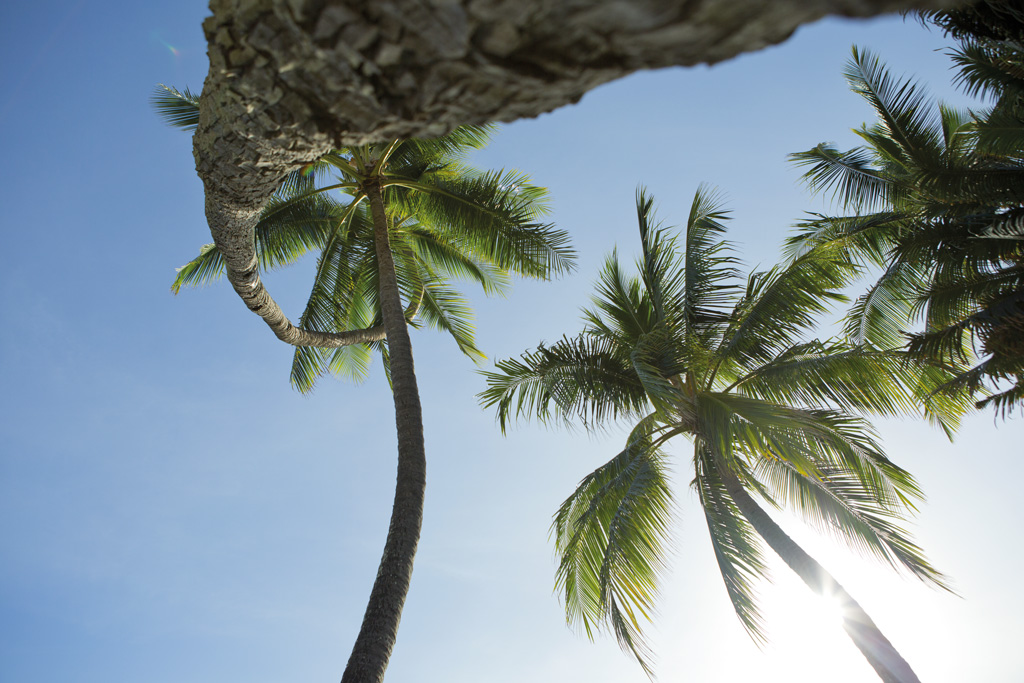 In the evening, travellers assemble at Les Relais de Joséphine, a pension run by another Paris escapee and grande dame of the island. The open-air restaurant faces the Tiputa Pass, where sharks circle in the moonlight and tourists dive by day to see hammerheads and manta rays. Glasses clink with Vin de Tahiti from the coral reef vineyard – the only one in the world – and you can eat local mango and chantilly cream, a delicious metaphor for a country where old-style France meets the unique, exotic charms of Tahiti.
Book It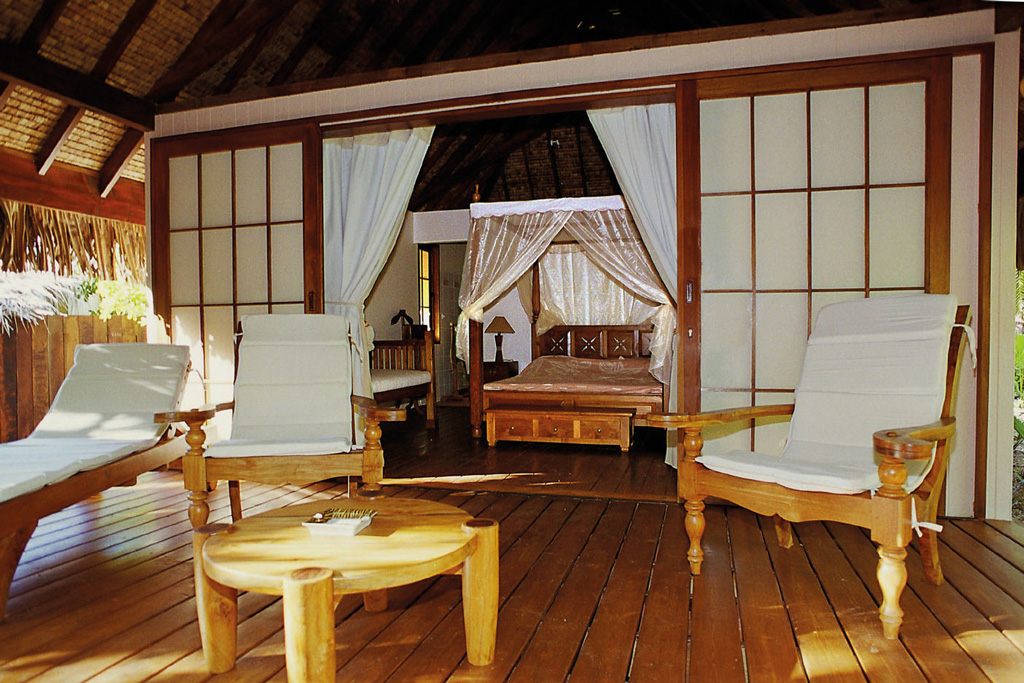 Fly from Paris to Papeete via Los Angeles, from £1,689, airtahitinui.co.uk
Vanira Lodge, doubles from £107, vaniralodge.com
Tahiti la Ora Beach Resort, doubles from £183, accorhotels.com
Les Relais de Joséphine, two-course meal plus wine from £31, relais-josephine-rangiroa.com
Hotel le Mahana, doubles from £217, lemahanahotel.com
Teahupoo Excursion: Half day: £52 pp (+689 89 75 11 98)
More Travel:
Weekender Guide: Lausanne, Switzerland | The Best Wellness Retreats 2019 | Dominic West's Holiday Memories | Luxury
---