ARCO, the annual contemporary art fair in Madrid, is one of February's biggest events, but if you missed out on this highpoint in the Spanish art calendar, don't despair. Madrid is without doubt one of the great art cities in the world, packed with world class galleries, crowd-drawing masterpieces and hidden gems to discover. Come to Madrid to tick off the golden triangle of the Prado, Thyssen and Reina Sofía, and fall in love with the off-beat art scene waiting to be discovered. Read our art lover's guide to Madrid and plan your next cultural weekender.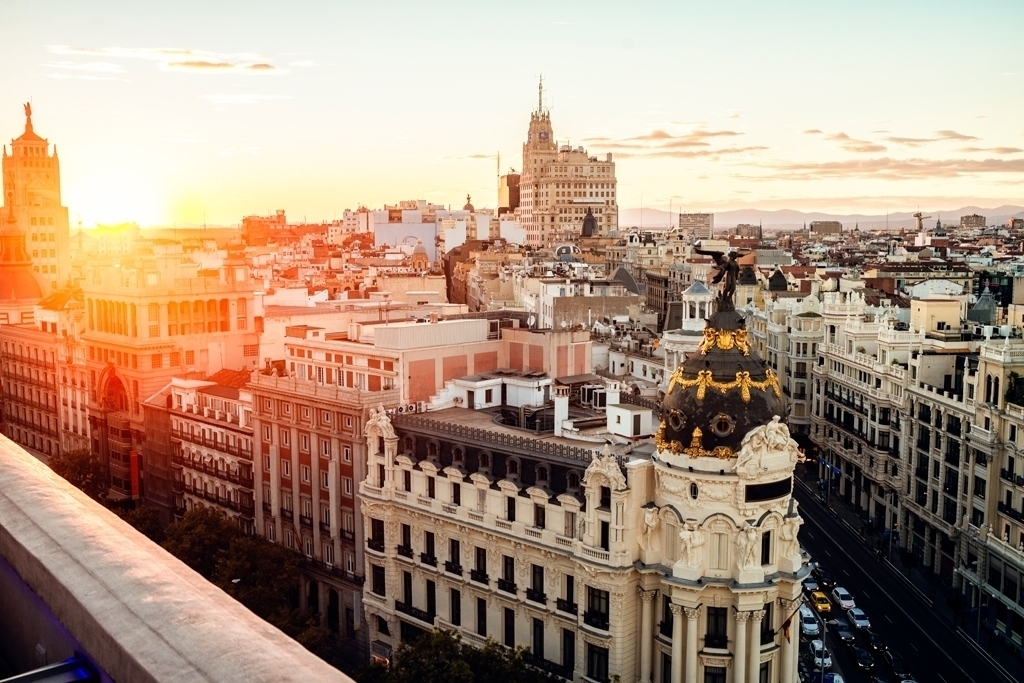 The Best Art in Madrid
The Prado Museum
Let's start with the big ones. If you're looking for the best museums in Madrid, the Prado is not to be missed. With over 7000 paintings in their collections (with 1500 on display at any one time), highlights include Goya's Las Pinturas Negras (The Black Paintings) and El dos de mayo and El tres de mayo. You'll also find work from Spanish master Velázquez, with crowds flocking to see his Las meninas work. This year marks 100 years of the Prado Museum, with special celebrations and exhibitions planned throughout 2019. Visit museodelprado.es for more information.
Museo Thyssen-Bornemisza
This is the place to go if you want a taste of multiple artists' work and style all under one roof. The best way to explore the Thyssen is to allow yourself to wander and pause to learn more simply when you're drawn to a work rather than carefully plan your visit painting by painting. You might notice the Portrait of King Henry VIII by Holbein the Younger and the 1586 Massacre of the Innocents by Lucas Van Valckenborch amongst works by Canaletto, Constable, Van Gogh, Monet, Rembrandt, Picasso, Salvador Dalí and more. museothyssen.org
Centro de Arte Reina Sofía
Just as you wouldn't go to Paris for the first time without visiting the Mona Lisa at the Louvre, no trip to Madrid is complete without standing before Picasso's Guernica (found in Room 206 on the 2nd floor), the most famous artwork in Spain. Reina Sofía is Madrid's best collection of contemporary Spanish art, with Salvador Dalí and Joan Miró works alongside plenty more Picassos. museoreinasofia.es
(A Paseo del Arte pass will get you into all three of the golden triangle museums at a discounted price, making it a solid investment for an art weekender.)
ARCO
If you're planning your visit to Madrid for next year, time it for the end of February to coincide with ARCO, the city's renowned contemporary art fair and a major event on the international art calendar. You'll find more than 200 galleries and exhibitors showing major artworks and controversial modern pieces alongside unexpected gems from the likes of Picasso and David Hockney. There are usually a few pieces grabbing headlines, in 2018 it was Santiago Sierra's four-metre-tall sculpture of King Felipe VI, priced at €200,000 and titled Ninot. The buyer was obliged to burn the wood and wax sculpture within one year of purchasing and to film the process, being left with nothing more than a skull (and, of course, the memory of owning a four-metre sculpture of the King of Spain). Whether you are there to browse or buy, it's a fantastic way to see some of the most exciting contemporary art from around the world all under one roof. ifema.es
Real Academia de Bellas Artes de San Fernand
Often overlooked by art fans rushing around the 'big three' museums, the Real Academia de Bellas Artes is the city's royal fine arts academy, with the likes of Picasso and Dalí amongst its alumni. You'll find works by Zurbarán, El Greco, Velázquez and Goya throughout the rooms. realacademiabellasartessanfernando.com
Street Art
If your art taste is less for the brightly-lit-rooms-followed-by-an-exit-through-the-gift-shop and more for the oh-look-what-we've-happened-upon vibe, head to the Tabacalera area in Embajadores, where the streets surrounding former tobacco factory Tabacalera (now a creative workspace) is completely covered in street art. The works were created by 25 artists focusing on an urban nature theme, with works updated on an annual basis. The Malasaña neighbourhood is also a cool one to explore, with Banksy-esque works by artist Ze Carrion alongside a few pieces by Parisian graffiti artist C215.
Hidden Gems
If it's something off the beaten track you're after, check out Mondo Galeria, Mad is Mad, or Travesia Cuatro for some exciting contemporary art exhibitions.
STAY
Overlooking Plaza de Santa Ana in the heart of the city, ME by Meliá is not only perfectly positioned for easy access to all the city's biggest attractions. The Prado Museum, Thyssen-Bornemisza Museum and Reina Sofia Museum are all within walking distance, as is the stunning Retiro Park for when you've had your fill of art and decide it's time to kick back by the lake with a glass of wine. The hotel's rooftop bar Radio Rooftop Madrid is one of the best spots for a sundowner with gorgeous views across Plaza de Santa Ana and Plaza del Ángel. (Opt for a 'Green Monkey' for one of the best signature cocktails in the city.)
Find out more about Madrid in our weekender guide
BOOK IT
More Travel Guides: Peru | Greece | Paris | New Zealand | Berlin
---