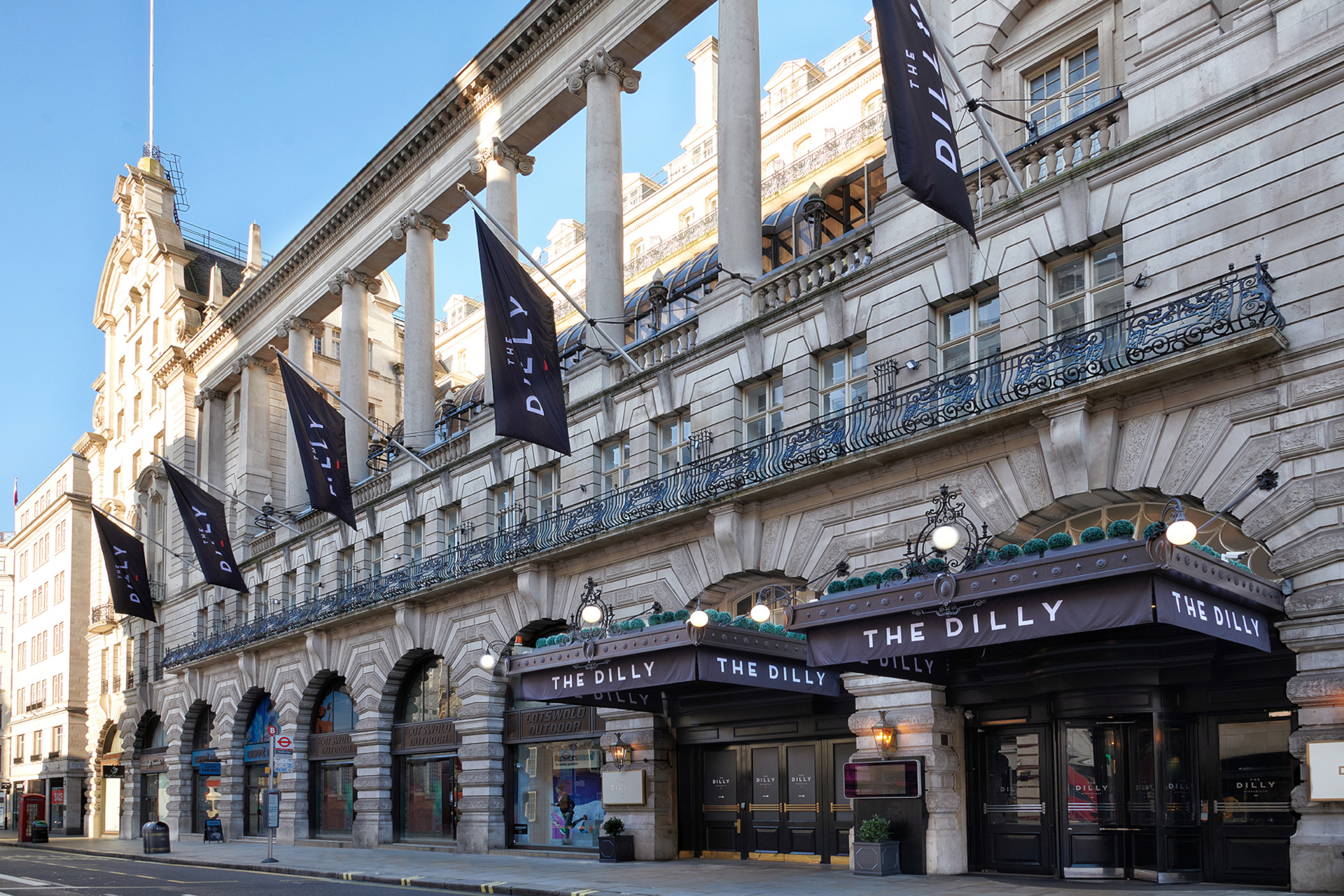 Hotel Review: The Dilly
---
A quintessential hotel, restored
Don't dally any longer: check yourself into Piccadilly's new-but-old hotel on the block: The Dilly, London's latest arrival. Daisy Finer checks in to check it out
Hotel Review: The Dilly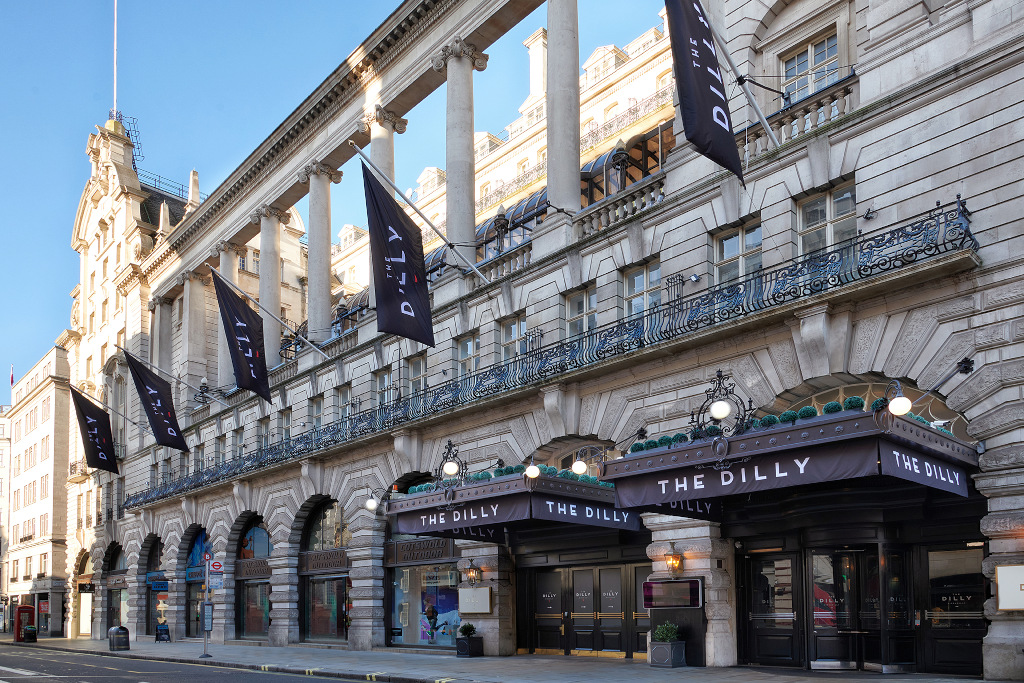 STAY
Location, location, location! This newly regenerated hotel in the epicentre that is Piccadilly has been rebranded for a fresh era under new independent ownership. It was most recently a Le Meridien operating under the Marriot umbrella, but current refreshments hark back to the hotel's glory days. Dating back to Edwardian times, the building was designed by Richard Norman Shaw in 1904 in a Neo Baroque style based on 17th century English Palladian architecture. It first opened as a hotel in 1908, and enjoyed varying guises as well as the patronage of King George V.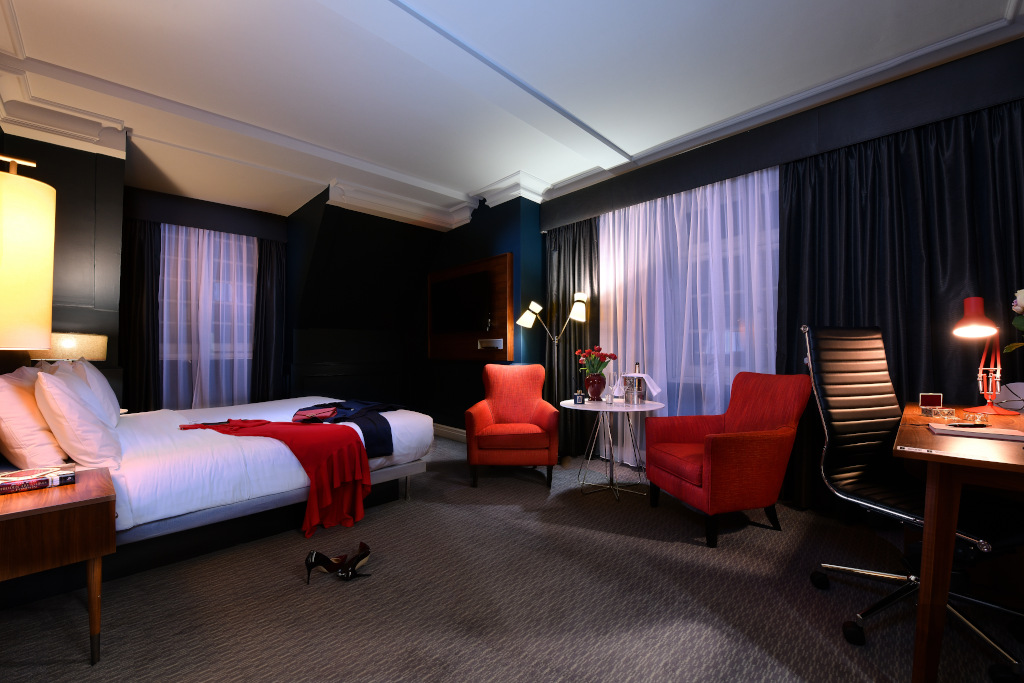 The entrance and exterior surroundings retain a grandiosity of style and renowned florists Pulbrook & Gould have an exclusive, show-stopping outlet in the lobby. While in the 1930s, an outdoor pool on the terrace was centre stage for high class London's social life, now the hotel has one of London's largest indoor pools – what a treat – as part of its on-site Health Club. This is definitely a major draw, complete with a gym and popular squash courts. The Dilly is also one of the only hotels in London with a dance studio – you can learn to tango or smooth in the ballroom! No wonder the hotel attracts such an exotic, flamboyant and sporty crowd. Meanwhile a re-design of the 255 bedrooms and 28 suites is ongoing – expect gloriously big and comfortable rooms with great views over the stunning roof tops of the West End, excellent beds and an unusual amount of space. Amazing room rates currently reflect the refurbishment stage – enjoy it while you can.
Our Pick Of The Best Hotels in London
Supportive of a local, community-centred approach, wherever possible London suppliers have been used. Expect lovely Floris goodies in the bathrooms. Meat is sourced from Smithfield, fish and seafood is only purchased from sustainable stocks, the chef sources vegetables from Covent Garden market and dairy and juices come from Allan Reeder, another family-based London business, established in 1971. Bread, too, is exclusively supplied by London's leading artisan bakery The Bread Factory which also bears a Royal warrant of appointment.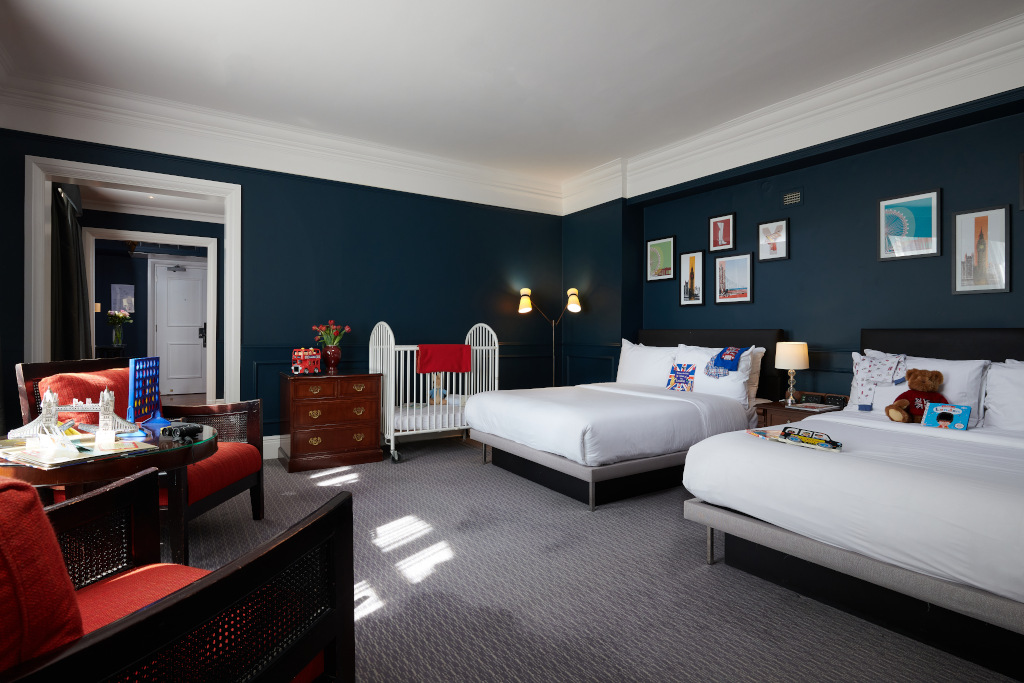 Families can stay either in interconnecting rooms, or suites with sofa beds. Kids will love the special Dilly Explorers Map with nearby landmarks for them to clock off. Parents, meanwhile, will enjoy cocktails in the funkily updated piano bar which comes alive in the evenings. In case you're worried about when this is, in a nod to the hotel's heritage every day, at 6pm, a ceremonial Edwardian gong ceremony signifies the end of the day and time to enjoy the evening. Do it in style!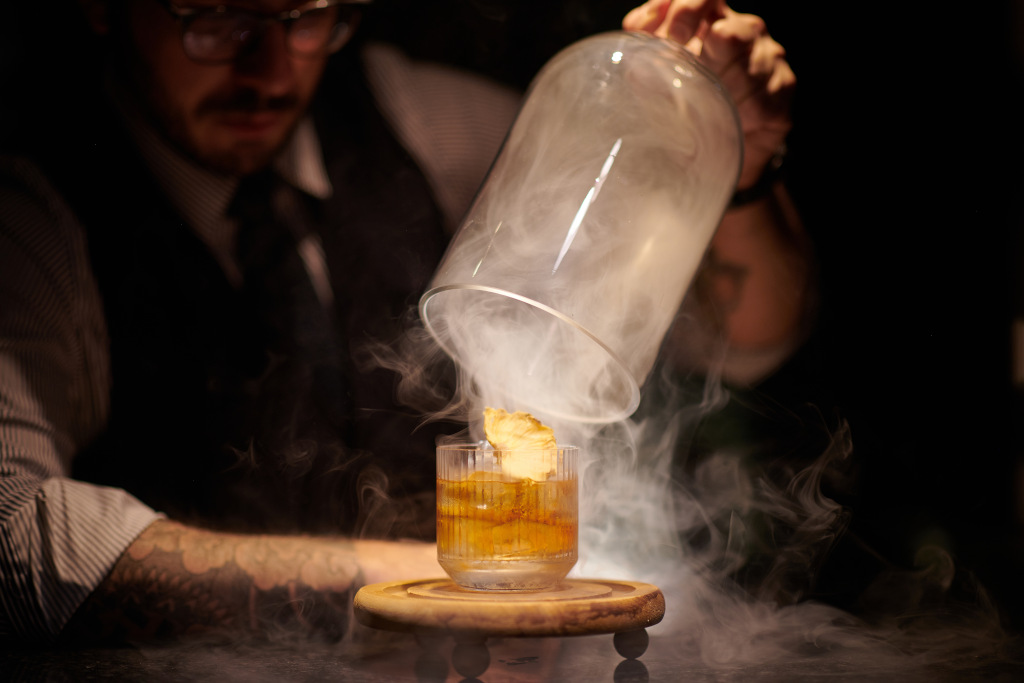 DO
There's not much you can't achieve while snoring in such a heart-of-the-action location (as long as you wake up). London is yours! The hotel is within walking distance of dangerously good shopping streets, the theatres, and landmarks such as Fortnum & Mason and The Royal Academy. It's also perfectly located for some of London's best parks. Hire one of the hotel's bikes (helmets available) and cycle past Buckingham Palace or head to Hyde Park for a longer cycle by The Serpentine. You can even take a freshly-prepared picnic hamper (available for both couples or a family picnic for four). The Dilly also offers special once-a-week exclusive neighbourhood walking tours clocking the likes of Floris perfumery (who created perfumes for the likes of Florence Nightingale and Winston Churchill) traditional bespoke shoemakers, Foster & Son, tobacconist and cigar shop Davidoff and Fortnum and Masons, before finishing off at quintessentially Victorian pub The Red Lion.
A Guide to London's Oldest Pubs
EAT
Madhu's Mayfair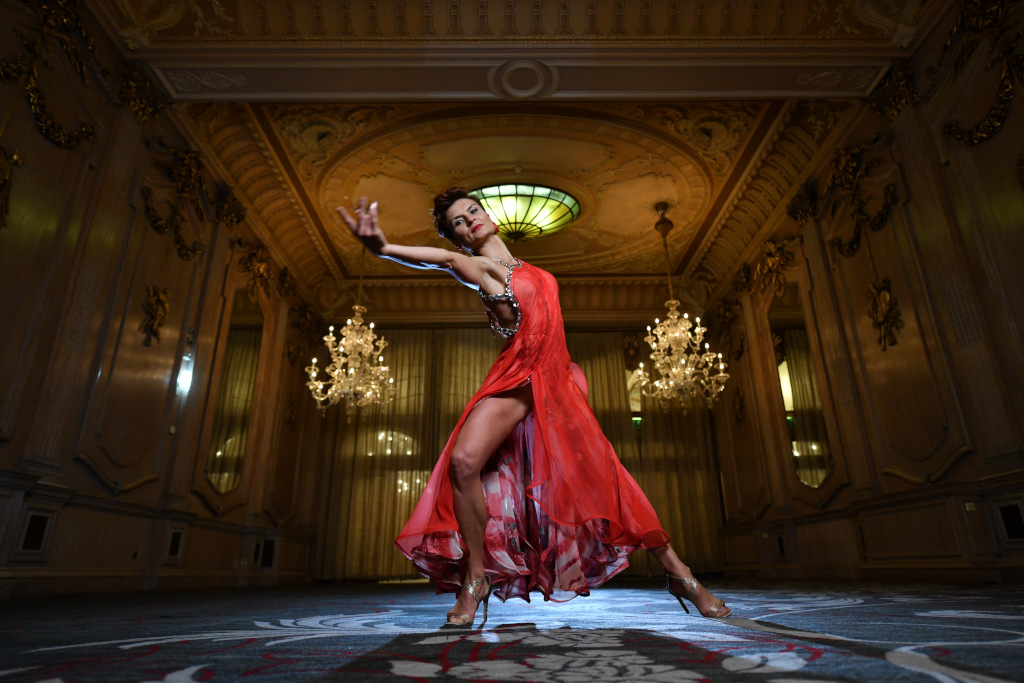 The big draw here is the Dilly's Oak Room – one of London's most famous and impressive banquet rooms – complete with opulent glass chandeliers and mirrored tables – and home to Madhu's Mayfair – a fine dining Indian restaurant featuring Punjabi cuisine with a Kenyan twist. That might sound like a strange combo – but don't fret – it would be hard to have a bad meal here. The food is exquisite with recipes handed down apparently over four generations – dive into sublime sharing platters, dal, curries, Peshawari nan, all beautifully presented and outstanding. Even the cocktail menu is interesting – from Tamarind Martinis to the Lounging Monkey. And if you're off the booze you can enjoy a divine Rose & Elderflower fizz or even a fresh green coconut.  The music does seem a little odd bearing in mind the surroundings, but makes more sense if you can appreciate that it's a playlist made by Buddha Bar in Marrakech. Despite the grandeur, this place isn't stuffy and a young casual crowd are testament to the vibe.
Terrace at The Dilly
The light-filled Terrace at The Dilly, with its gorgeously slanting glass ceilings, elegant arches and botanical style is a fresh, more casual dining spot. Enjoy the ideal breakfast, snappy service and healthy energy-fuelled lunches such as a quinoa or Caesar salad or a lean steak with veg (or chips!). Children will delight is the 'Peter Rabbit Afternoon tea', with Caught In a Twist sandwiches, Naughty Rabbit chocolate ganache and Flopsy's Strawberry Surprise. Naughty but nice.
THE FINAL WORD
A baby grand hotel with none of the stuffiness of the grande dames, oodles of cool facilities, a great location and enough energy and pizzaz to attract a loyal next generation crowd.
BOOK: Rooms from £239 without breakfast (breakfast is an additional £20 per person), thedillylondon.com