Japan: The Land Of The Rising Sun
'Japan is truly timeless'
Luke Abrahams uncovers Japan's myths, legends, and dazzling reality.
Read the C&TH Guide to Responsible Tourism
Japan: The Land Of The Rising Sun
Japan's sacred story began when the celestial gods of legend were born. Izanagi and his younger sister (and wife) Izanami were the greatest and most powerful of all. One day as they walked high above the earth they looked down onto the newly formed ocean and wondered what lurked beneath it. In a single frenzied moment, curiosity got the better of Izanagi and he thrust his staff into the earth's raging waters. As he pulled it back up towards him, the islands of Japan slowly began to form in a spectacular spectacle. The elements mixed, the heavens moved, fires raged, and their two daughters became the sun and the moon, and their unruly son, was condemned to the great storms of the sea. The rest is in the history books.
Japan, like its celestial story, is truly timeless. It's a matrix of constant creation, where ancient ruins and folklore fuse with mind boggling modernity, as if it were the most naturally pre-ordained thing in the world. Even before I visited for the first time earlier this year, everyone, from friends to family, insisted it was one of those places that "changes you." I dismissed it all as corny chatter…until I touched down in Tokyo. The spring breeze of Japan's bustling, and at times, joyfully crazy capital, brought with it a myriad of emotions. The previous year had not been a good one. My mental health was at its worst; a string of tragedies had left me in tatters; and my job became more of an exhaustive burden than it was a luxury. You often hear stereotypical stories of lost westerners travelling to Asia to go and find themselves. They are the kind I used to sneer over, and yet, ironically (and hilariously) there I was bucking the trend. I craved a change, and this city was the beginning of a long drip-fed Japanese antidote-infused adventure.
Lost in translation on the city subway, there was something so liberating about being in a part of the world where not a single person looked like me, spoke like me, or even dressed like me. There was, in retrospect, gleeful solace in the silent loneliness of it all. Yolkeing past, present and future, I quickly learned that Tokyo is one of those cities that adds a spring to your step with its unyielding passion for everything culturally suave and refreshingly new. Nowhere else on earth has quite the same mix of timeless history and space tech, of strict traditions and moments of pure serenity. A city of infinite possibilities, it presents itself as a thrill ride for everyone, including haggard old me. My home for this stint of my short and sweet nine-day trip is the newly opened Bulgari hotel set in within the ultra-trim glass walls of the 45-storey Midtown Yaesu Tower in Ginza. It's a blend of modern Italian design infused with the locale. Think nods to Japanese style topped off with a dash of storied Bulgari bling: slabs of signature black granite, bejewelled heritage pieces and drawings in the windows, vintage prints featuring Italian legends (Sofia Loren, of course) and Japanese temple-esque corridors that stretch out into cosy snugs chockers full of coffee table books and fancy lamps. My company? A view of Mount Fuji from my sky-high suite. It's best summer up as A-List to a tee.
The next few days were spent exploring the dive bars of Golden Gai, where most locals head for booze-infused no-frills debauchery; Nakameguro, a lively district full of cult shops, indie coffee houses and sexy boutiques; bolting around Harajuku, Tokyo's Street fashion (and trendsetting) laboratory; and bobbling in an Onsen bath for a spot of wellness at the supremely decadent Aman Tokyo, recently named one of the best hotels in the world. The giant sprawl also brought with it a soiree of temples, perhaps the most impressive, the lesser explored (by the western tourist at least), the Shintō shrine Meiji-jingū. Dedicated to the Emperor Meiji and Empress Shōken, whose reign (1868–1912) coincided with Japan's transformation from isolationist, feudal state to modern nation, much of it is hidden by the 120,000 or so trees that make up the temple's forested grounds. The impressive wooden torii (entrance gates) tower over me as I clap my hands, bow and make an offering at the main shrine in the hope of bringing a slice of good fortune to my life. While Tokyo was a true eye opener, it's further down south in Kyoto, however, where the ancient art and traditions of hanami (flower viewing) took a greater spiritual hold over me.
Travelling through Japan you'll hear stories of sacred cherry blossom trees, often the tales of Shinto and Buddhist folk stories. To this day, many Japanese regard them as the fleeting symbol of human life, its transience and nobleness. Some are even said to possess people's souls. At every corner of this old writ city, one towers over traditional teahouses, above atmospheric temples and in sublime gardens. Amongst them all, tourists swarm, scurrying geishas swoop and there is me, all boggly-eyed and transfixed walking down Tetsugaku No Michi, popularly known as The Philosopher's Path. Hundreds of pink, white and red petals gleam in the soft spring light between traditional ryokans, independent boutiques and artists sketching scenes under all the buds. Between all the 'grams, there's something eerily beautiful about the whole spectacle as each floral mise-en-scene reveals itself like a portrait, as rich, lush and poetic as those painted by the late Japanese artist Kawase Hasui. As I circle the city's Unesco core, spring's awesome arrival is greeted with a humble respect rarely seen in the west. 
Ancient traditions continue at my digs, the storied Sowaka hotel hidden away in Gion, Kyoto's most famous geisha district. The hotel's name translates from Sanskrit, literally translating to 'happiness' or 'wellbeing'. A blessing, it's often spoken at the end of Buddhist sutras that echo throughout the grand temples of the city. Nostalgic, yet new, the former imperial-esque teahouse turned demure luxury ryokan offers a good schooling in Japanese culture. Picture corridors of wooden craftsmanship, tatami floors, and ancient ceramics alongside tea ceremonies and meditation sessions. Rooms are furnished in the traditional style with rice paper walls and wooden tubs, all wrapped around a lush ornamental garden; and the food, served at restaurant La Bombance Gion is a delicious and imaginative reinterpretation of traditional Japanese cuisine. It's prime location also means it's a good springboard for experiencing the city's culture full force.
Come nightfall, I dine with a maiko, an honour normally only reserved to locals or paying Japanese business types in the know. We all sit for a Kaiseki-style dinner at Mansion House: Takasegawa, once the home of wealthy merchant Ryoi Suminokura in 1611. Surrounded by a garden flecked by the Kamo River, a maiko [apprentice] schools me in the art of her transformation into a geisha. 'Everything I own is not mine, it belongs to my mother now,' she tells me. By mother, she refers to okami-san, her maternal figure for five years at the teahouse she lives in currently. She also admits that she is not allowed a phone, a partner, nor can she see her family. As the night unfolds, the young 19-year-old explains her disciplined training in great detail from the difference in her hair, to the colour of her lipstick and the cultural significance of her exquisite kimono, while also telling me stories of geisha legend and performing pieces from the Japanese school of performing arts. It's the ultimate sacrifice becoming a geisha, she slyly notes, and one she herself made to help preserve her culture and the storied traditions of Japan that come with it. Leaving the teahouse to return to reality, I couldn't help but admire all her strength and determination. It was desperately humbling to an otherwise privileged Londoner like myself. 
The next day, as the sun rises over the blossoms of the city, I venture out to the rural town of Ohara to visit the lesser explored Sanzen-in temple. A sacred spot, in the belief of Jodo (Pure Land Buddhism) among Nembutsu-Hijiri (prayer mendicant priests), it was here Shomyo (Buddhist sutra chanting) was born. Set atop a small hill, Mr Uda greets me with a bow, ushering me around the temple to see all its whimsical highlights. We watch over the monks as they chant while the high priest boasts main members of the Japanese Imperial Family served here throughout the shrine's long and illustrious history It's the monumental garden here, however, that impresses most. The art of the Japanese garden is one that preaches the art of zen. It's a treasure trove of asymmetry, balance and endless symbolism where several visitors, including myself, perch on stoops for a moment of uninterrupted serenity. Alas, 30-minutes passed, the spell was broken, and I was kindly asked to leave.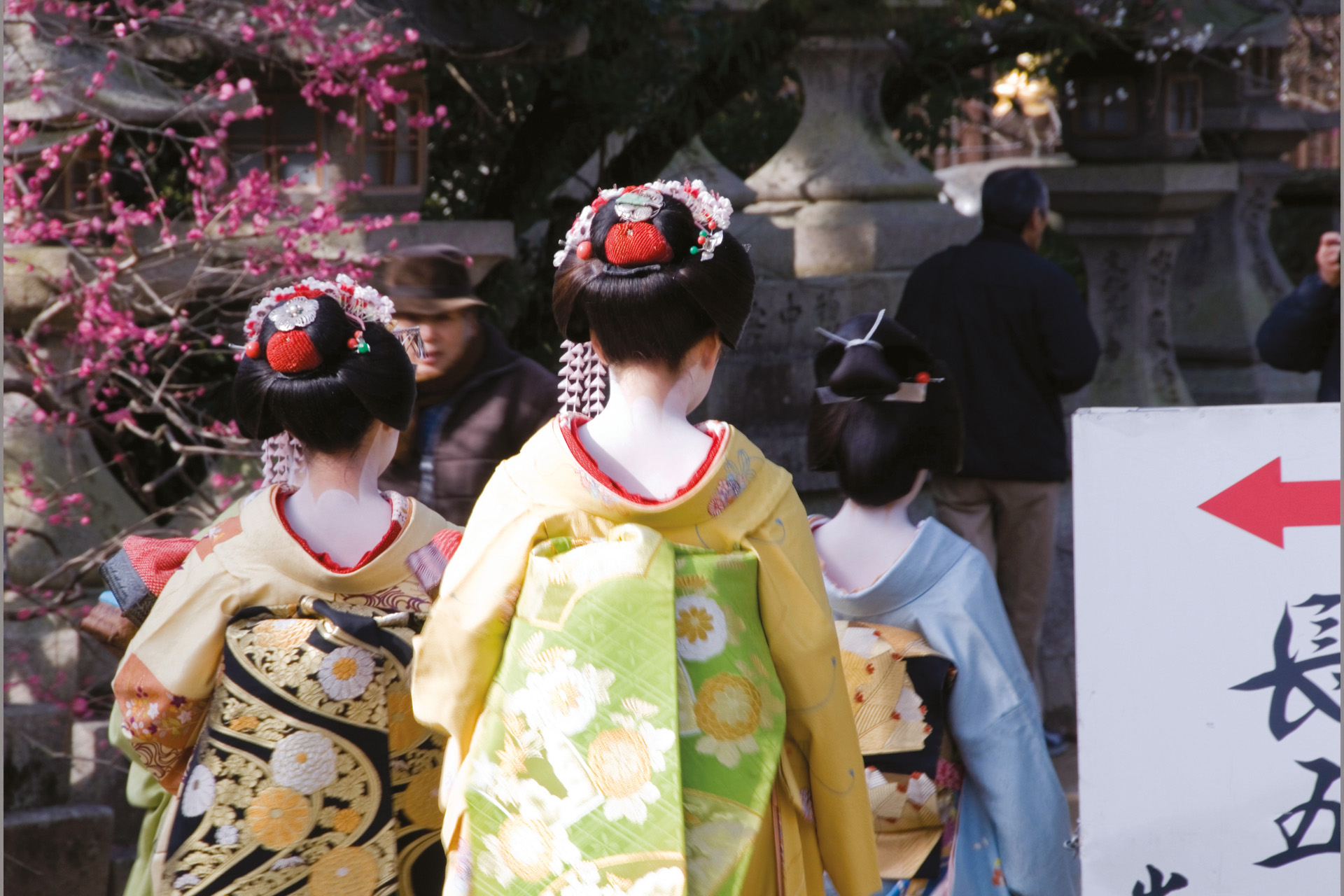 I return to Kyoto to explore all the greats: the Bamboo Forest, Fushimi Inari Taisha (the famous red Shinto shrine), Nijō Castle and learn the art of pottery making with Yuko Hayashi at Koson Kiln, an art house with over 100 years' experience creating Kiyomizu-style ware. In the middle of it all is the brand spanking new Park Hyatt Kyoto, a swish modern palace styled on ryokan living. Built around the exquisitely renovated Kyoyamato, a traditional Japanese ryotei restaurant complete with an atmospheric teahouse dating back several centuries, where feudal warlords apparently used to hold secret meetings, it's a welcome addition to Japan's ancient former imperial capital. I stay for a night, bewitched by all its stealing, rapturous views across Kyoto's mish-mash architectural skyline. For a corporate brand, the hotel's aesthetic surprisingly oozes great soul. Think Japanese garden on arrival, warm and rich interiors and several ceramic odes to the city's craftsmanship heritage in the form of chandeliers, sculptures and centrepieces. Even if you are not staying up on the hotel's upper reaches, a wander is well worth it to gawp at the treetops, gardens and signature panoramas of all the surrounding temples. They also serve up a mean afternoon tea and grub at Yasaka is a delightful fusion of French finesse and Japanese flavours. Location wise, it's unbeatable. Set on Ninzenzaka – the atmospheric street you would have seen all over the travel brochures – the city's top-notch attractions are quite literally on your doorstop, including the famed Kodai-ji temple and multi-tiered Yasaka Pagoda (often swarmed by kimono-wearing Instagram influencers from the early hours). 
After a brief stint in Osaka screaming on all the rides at Universal Studios, the island of Okinawa was my next stop, a place where the locals refuse to die. The Japanese archipelago, a so-called Blue Zone, has a higher percentage of centenarians than anywhere else on the planet. Collectively known as the Southwest Islands, Okinawa comprises several chains of semitropical, coral-fringed (some Unesco-listed) isles that are far removed from the mania of its mainland sister. Here, the slow life reigns supreme and the cultural, relaxed, heritage of the former Ryūkyū kingdom endures as a lifestyle. After a brief stint in Naha, the island's capital, we eventually arrive at our destination, the village of Kunigami. Only 30 or so people live here, most in small homes with sea views built in unison with Mother Nature: coral and limestone walls surround its base while dainty houses live under the protection of overgrown groves and tropical plants. The village almost has a sublime, drowsy air to it. Prancing butterflies dance, dragonflies swoop and the winds are rich with the sounds of birdsong. It's a picture of Eden. In between the houses, stone walls are brandished with the markings of Jashiki, a local deity who grants the villagers protection and prosperity and the smell of burning incense flutters through the air. 
I meet local chef Michiko-san, the woman tasked with revealing the secrets of a long life to me. We begin to make a traditional Okinawan meal together. inamuruchi, a soup filled with pork, vegetables and fishcakes infused with miso; Nigana no shiroae, a leafy veggie packed with Vitamin A, C kalium and calcium; and Kugaimo, Papaya and carrot Shirishiri, and Okinawan grate stir fry; and finally wild yam patties native only to the island of Okinawa. In a sort of grand anti-climax, the chef stops me in my tracks as I bring the rice to a boil and says, 'It's the ingredients we use that are key to our lifestyle… fresh, picked from the earth, and seasonal. We only make what's in season and what we can find and we have been doing this since the time of our ancestors…it's medicine for the soul.' Mental health is also an important aspect of daily life, Michiko-san tells me. I smile as she asks if I have a stressful job, and my blunt yes gives her the sniggers. Beyond the healthy diet, the chef tells me that the villagers in these parts live under the mindset of nankuru nai sa, which means 'things will work out somehow'. It's their stress buster, and no matter how tough things are or how chaotic the world gets, she insists with her last parting words that 'the beauty of community and looking out for others' always prevails. It's an optimistic point of view I instantly got behind. 
Returning to Tokyo for the flight back to London, my Japanese pilgrimage ended at Sensō-ji temple in Asakusa to get my parting fortune. I paid the small fee, popped my token in a box and the number 99 appeared. I shimmied over to the trays opened my one up and the beautifully embossed paper revealed the words 'you have the best fortune… your wish will be realised; the sick person will get well; and the person you are waiting for will come.' With nothing but the warmth of the temple fire, the caress of the spring breeze, a myriad of blossoms and a sea of other lost souls to keep me company, these words couldn't have been more poetically welcome. 
BOOK IT
Inspiring Travel offers an eight-night stay in Japan, based on two adults sharing a Palace Garden View Room at Aman Tokyo for four nights B&B, and four nights at Bulgari Tokyo in a Premium Imperial Garden View room B&B, with return economy-class flights from London Heathrow with British Airways, from £10,725pp at inspiringtravel.co.uk
A private geisha experience can be arranged via Japanese hospitality consultancy Luxurique. luxurique.com