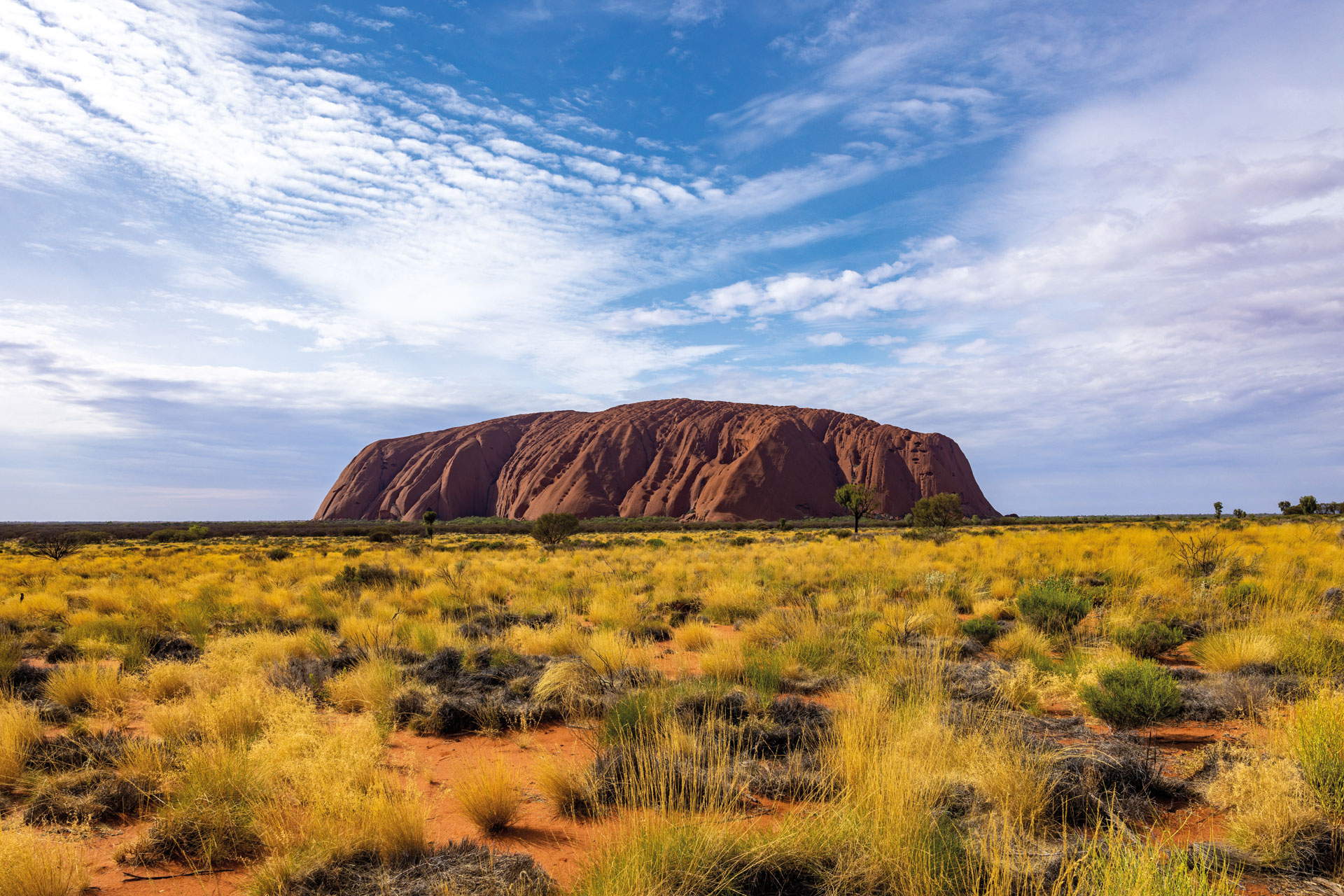 Red Planet: Visiting Australia's Otherworldly Red Centre
---
Have the adventure of a lifetime in Australia's otherworldly Red Centre, says Juliet Herd.
Read the C&TH Responsible Tourism Guide
Red Centre, Australia: Visiting Uluru
It is one of the most spectacular natural wonders of the world and Australia's most ancient landmark but nothing quite prepares you for the sheer majesty and spiritual presence of the incredible sandstone monolith that is Uluru (formerly Ayers Rock).
From a distance, it dominates the landscape, crouching like some giant prehistoric creature in the middle of desert scrubland, almost pulsating in the fierce sunshine. At dawn and dusk, this ancient rock puts on a blockbuster light show, turning from pale purple to bright red to gold as the sun rises and then gradually shifting from dusky pink and mauve to crimson and deep aubergine at sunset.
To visit the Red Centre of the Northern Territory, the red desert heart of Australia, is an unforgettable experience. Encompassing unofficial capital Alice Springs, World Heritage-listed Uluru-Kata Tjuta National Park and Kings Canyon region, it is a place of ancient geological formations, rare plants and animals, and exceptional natural beauty. It is also home to many diverse Aboriginal peoples and cultures, most of whom live in remote communities, where more than 100 Aboriginal languages and dialects are spoken and traditional cultural practices maintained.
Fly to Alice Springs or Ayers Rock Airport, both within three hours from the east and south coast cities of Australia, to begin your adventure of a lifetime.
What To See, Do And Eat At The Red Centre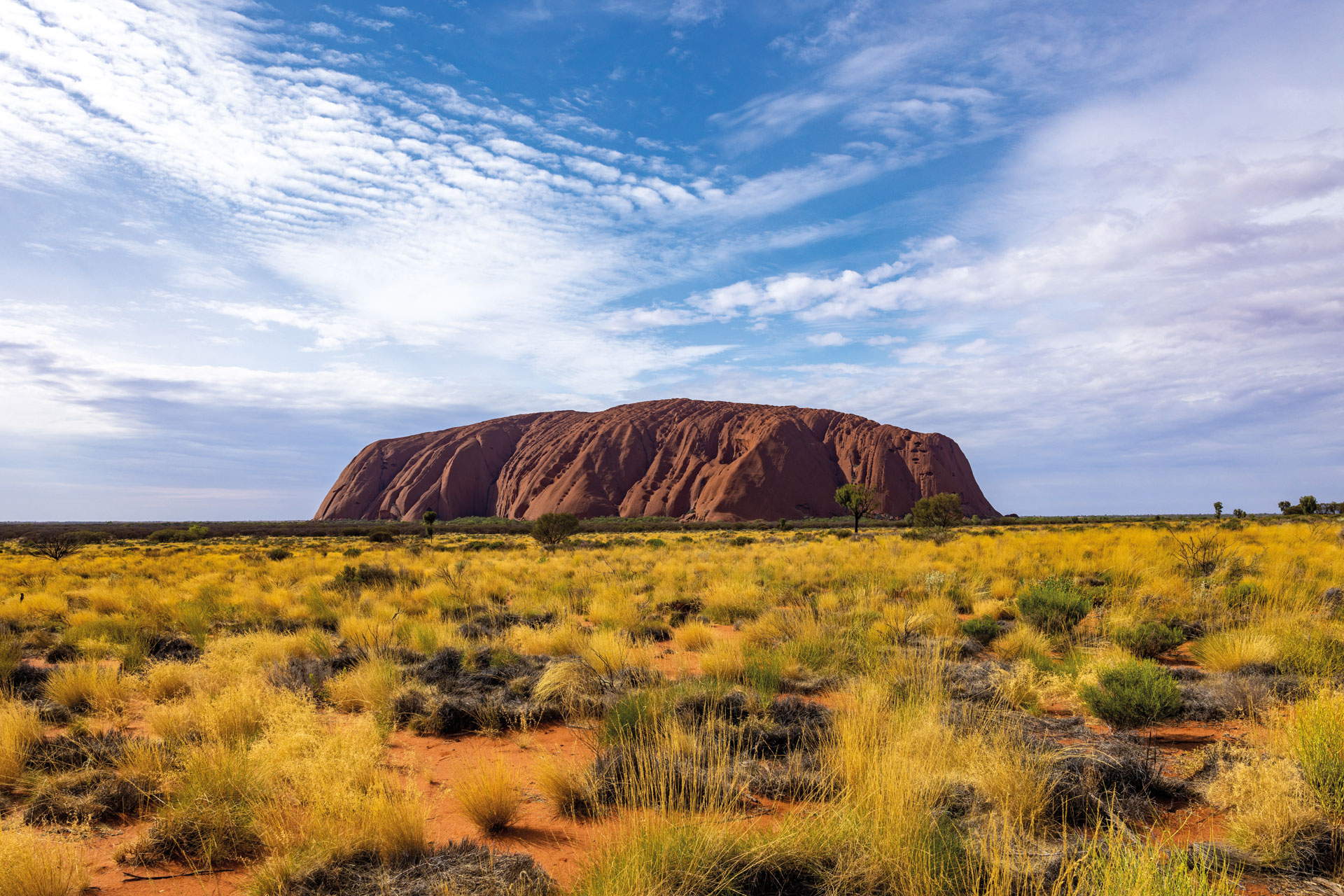 Uluru
The 512-square-mile Uluru-Kata Tjuta National Park is Aboriginal land and one of the few locations in the world to be dual-listed by UNESCO for both its outstanding cultural and natural values. Although climbing Uluru was banned in 2019, visitors can walk the 6.5 miles around the base, which takes about three and a half hours, or choose to cover sections of it. You'll pass through acacia woodlands and grassed claypans, encounter noisy finches and nankeen kestrels, and discover Anangu (traditional owners) rock art. Join the free ranger guided Mala walk and learn about the creation ancestors, including the deadly battle between the woma python woman and venomous snake man. Make sure to visit the cultural centre, where you can immerse yourself in First Nations culture and pick up original artwork in the two top notch galleries.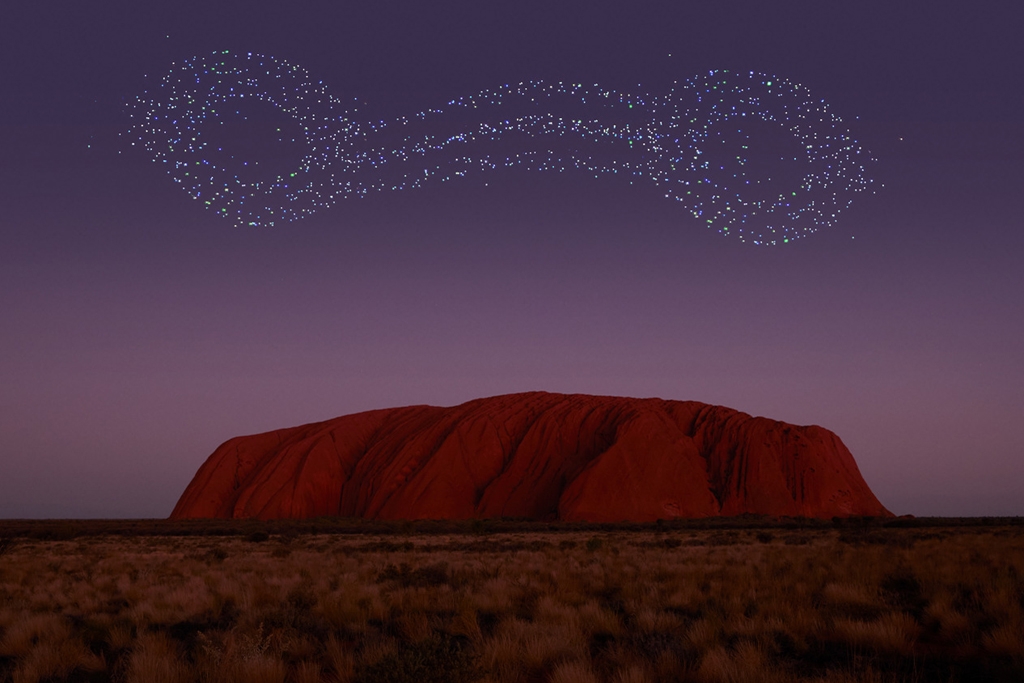 The First Uluru Drone & Laser Show
Launching in May is the first-of-its-kind drone and laser show at Uluru. Twice nightly, the Wintjiri Wiru Experience will illuminate the desert sky with a state-of-the-art performance involving more than 1000 shape-shifting drones in a kaleidoscope of colour. It will be the first choreographed drone show of this scale to perform nightly. Created in consultation with the traditional land owners, this breathtaking immersive show (Wintjiri Wiru means 'beautiful view out to the horizon') tells the Mala story, central to the ancestral history of the Anangu people. 
Visitors who book the signature Sunset Dinner can enjoy welcome cocktails and canapes on the sunset amphitheatre platform overlooking Uluru, followed by the show and a four-course indigenous-inspired menu. ayersrockresort.com.au
Parrtjima – A Festival in Light
In April, Maruku artist Rene Kulitja will bring to life a large-scale immersive light and sound installation immersing visitors in the world of the Anangu people as part of the 10-night annual Parrtjima – A Festival in Light, in Alice Springs. 
The theme for this year's festival is Listening with Heart, inspired by the artwork surrounding the Statement from the Heart, and will embody the concept of coming together, meeting and taking the time to contemplate and reflect. northernterritory.com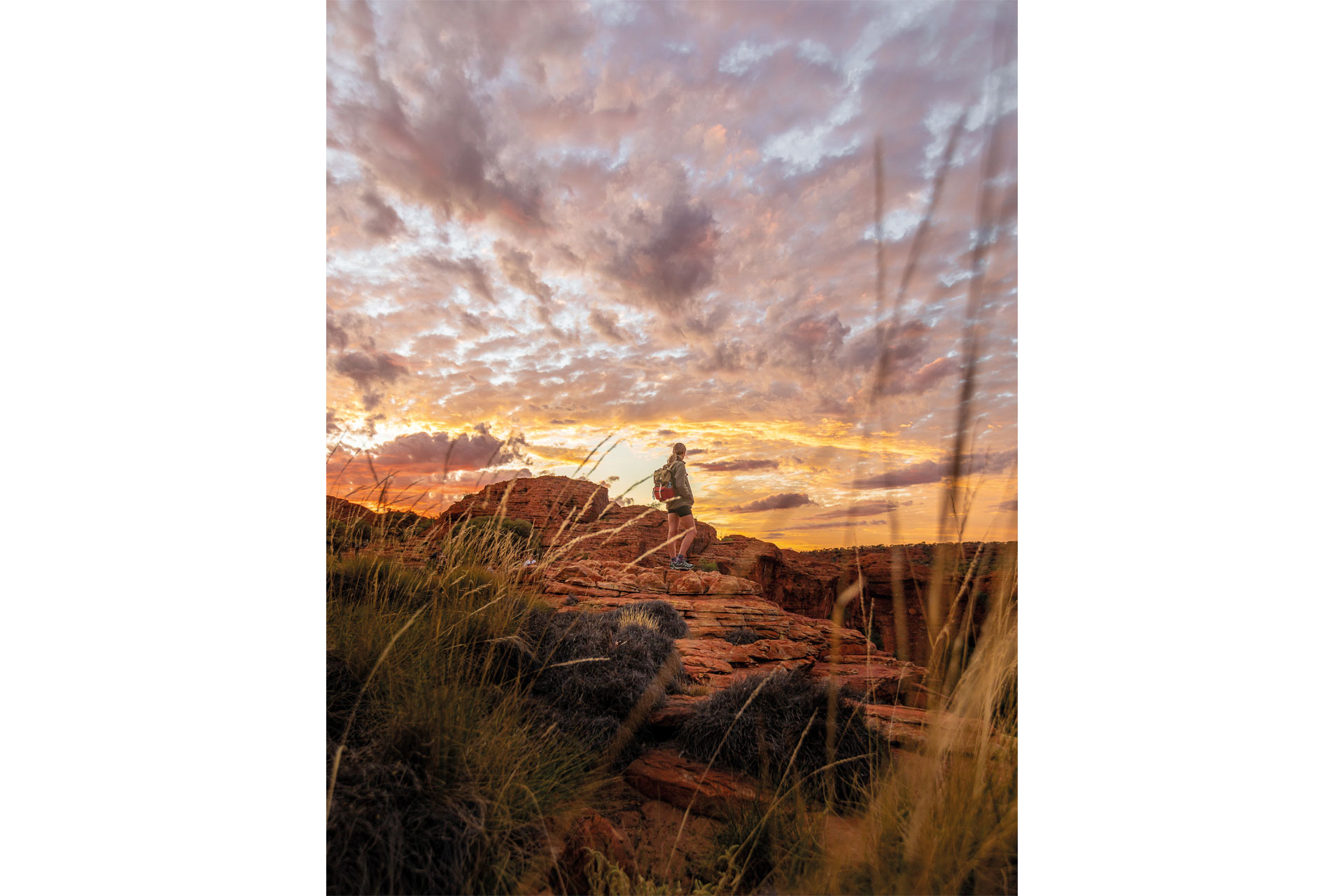 Kings Canyon
Nestled in Watarrka National Park, Kings Canyon, with its soaring red cliffs, ethereal rock formations and hidden watering hole, is one of the Red Centre's most breathtaking sights. The 3.7-mile rim walk, which takes up to four hours, starts with a steep climb to the top of the canyon, where you can take in panoramic views of the rugged scenery before passing through ancient 'beehive' sandstone formations (The Adventures of Priscilla, Queen of the Desert was filmed here) and continuing down to the lush foliage of the Garden of Eden.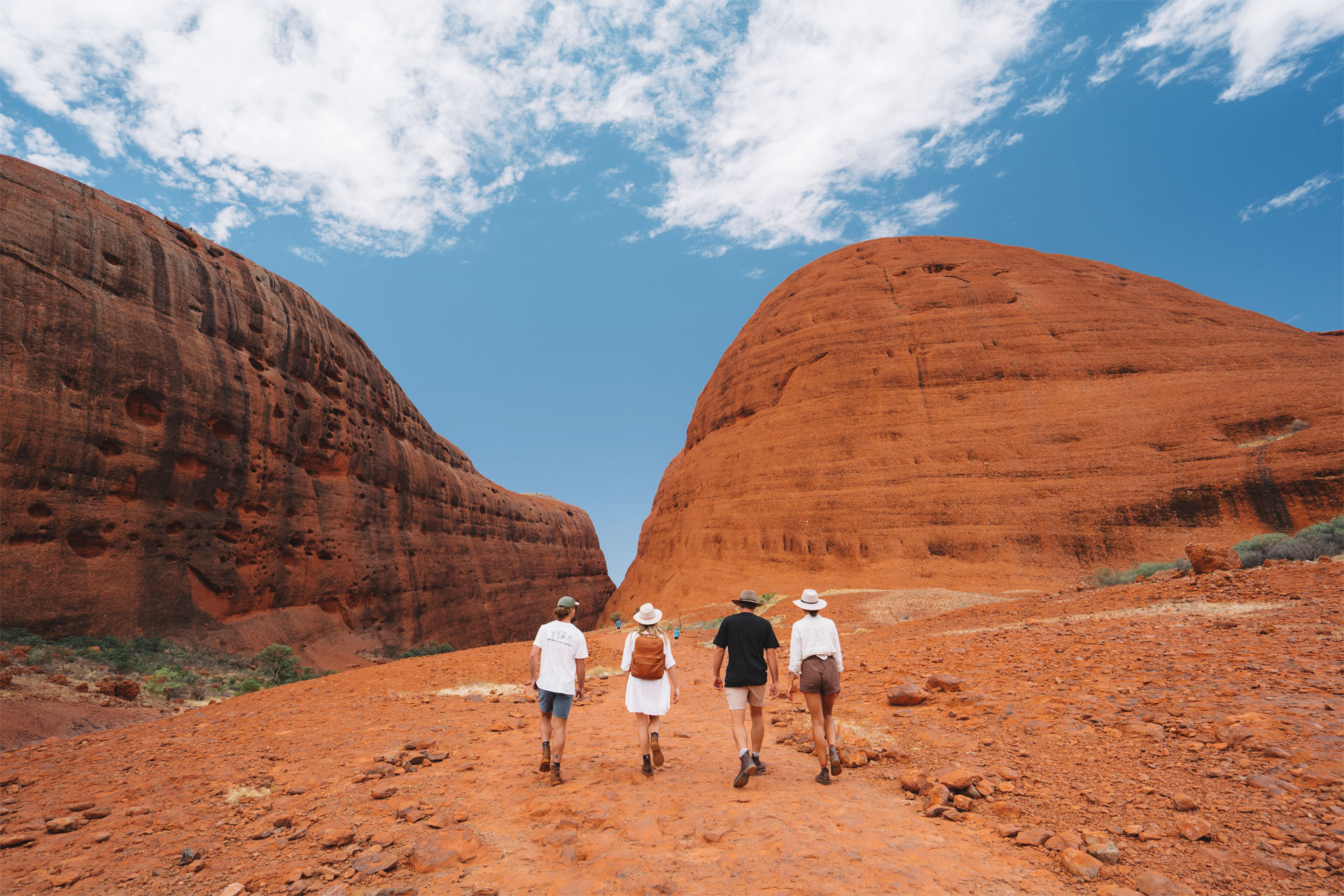 Kata Tjuta
Meaning 'many heads' in the Pitjantjatjara language, Kata Tjuta (formerly known as 'the Olgas'), is a towering collection of 36 domed rock formations, 30 miles from Uluru. The best way to explore this 500-million-year-old otherworldly landscape is on foot, via the 4.6-mile Valley of the Winds trail, which takes you into the heart of the sacred site. Although challenging in parts, you'll be rewarded with panoramic views from two lookouts before descending the Walpa Gorge and emerging into a valley of native spearwood trees and other rare plants. Watch the last rays of the day illuminate the ochre-coloured western face. (There are also five dedicated sunrise and sunset viewing areas in the park.)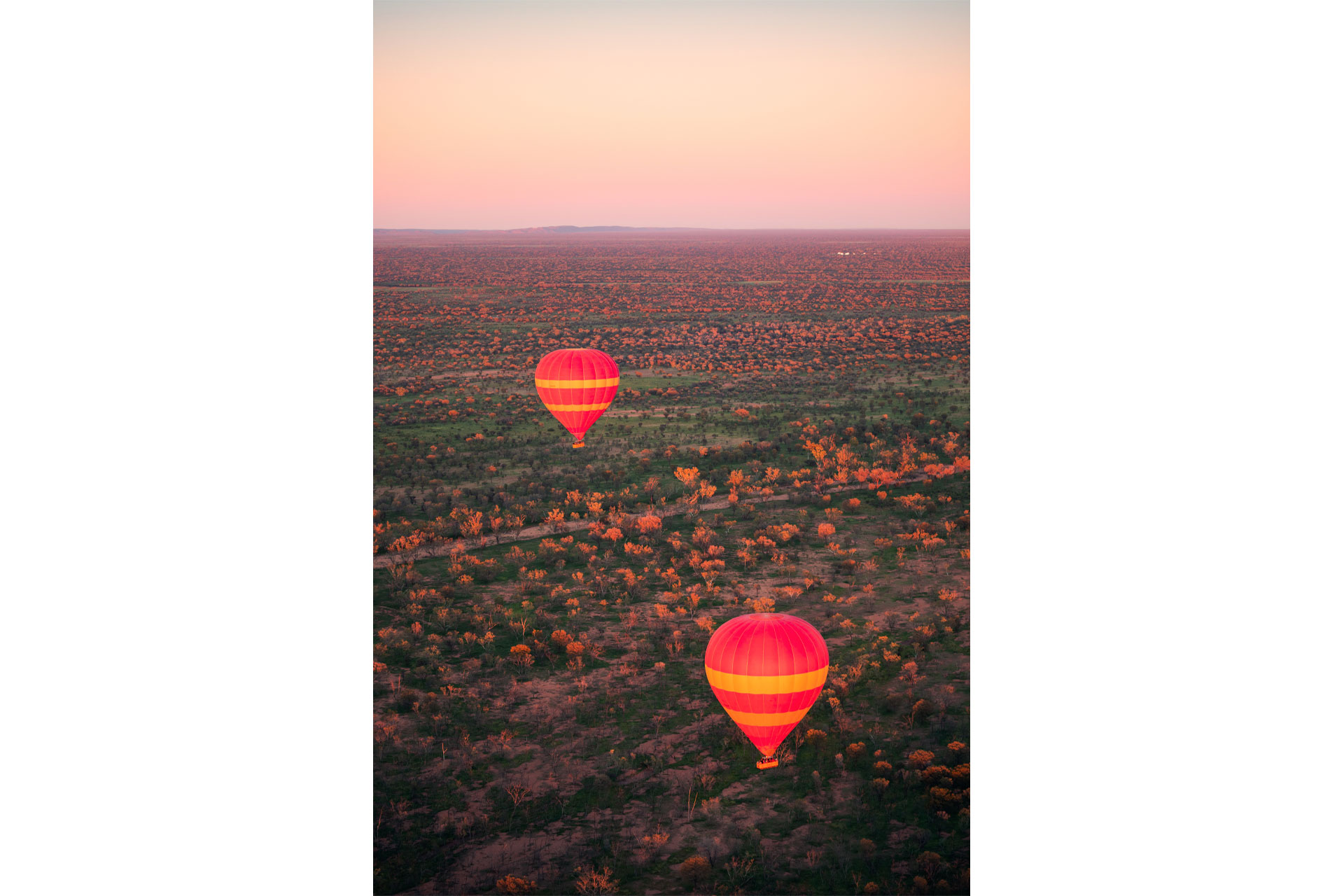 Take A Tour
Join a camel ride across the rich red sand dunes (ulurucameltours.com.au); cycle the many desert trails with a Red Centre Adventures guide (redcentre.fun); ride around Uluru on a Segway (ulurusegwaytours.com.au); take a scenic helicopter flight (phs.com.au) over the Red Centre, or float above the desert in a hot air balloon (outbackballooning.com.au). You can also embark on guided sunrise or sunset tours as well as camping or day tours with a range of specialist operators, including Intrepid Travel (intrepidtravel.com), AAT Kings (aatkings.com) and Outback Elite Tours (outbackelitetours.com).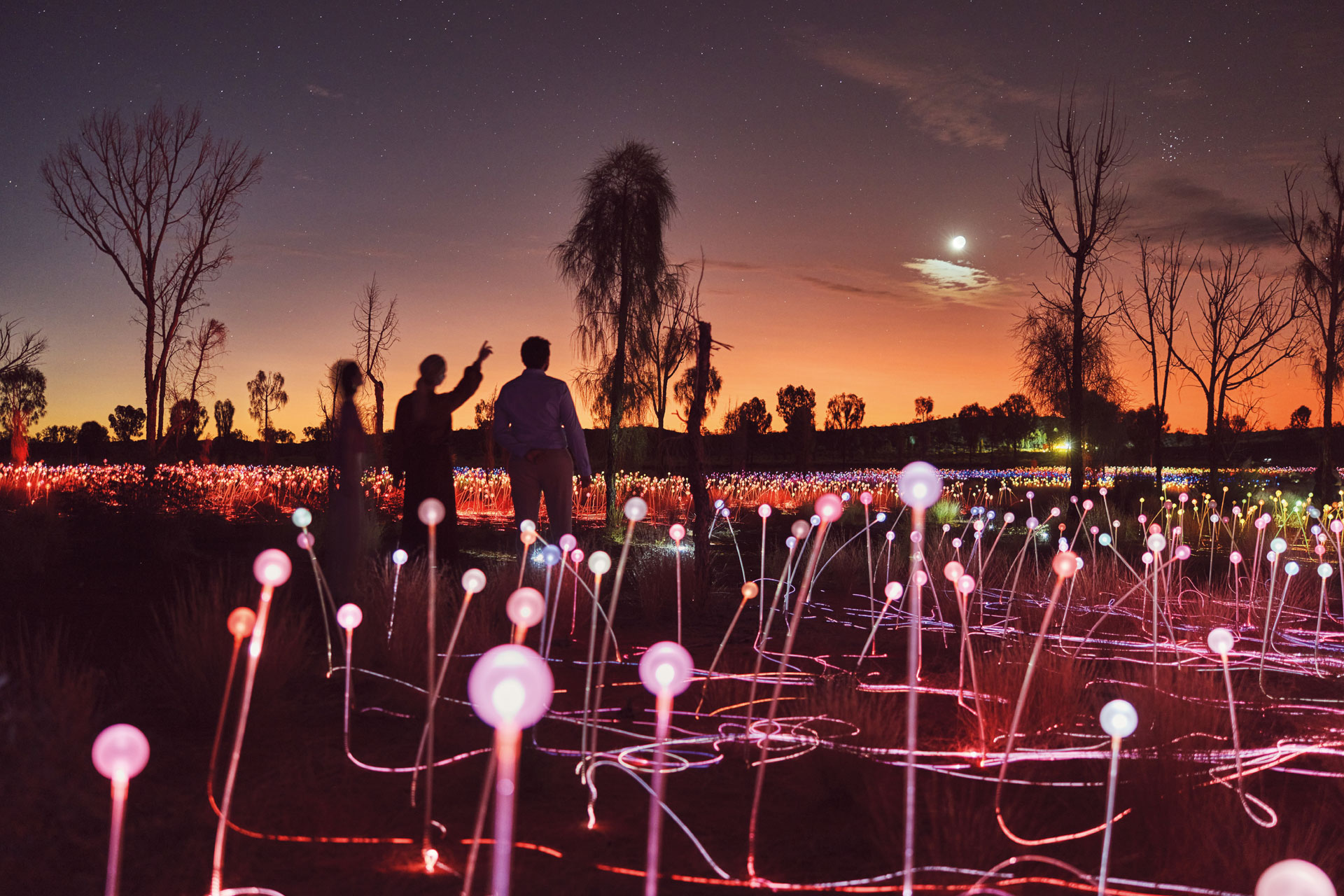 The Field of Light
One of the most dazzling sights is Bruce Munro's Field of Light, a vast art installation that illuminates the desert landscape with 50,000 spindles of light in ochre, deep violet, blue and soft white, reflecting the colours of Uluru. His latest piece, Light-Towers, will open in April 2023 in Kings Canyon. ayersrockresort.com.au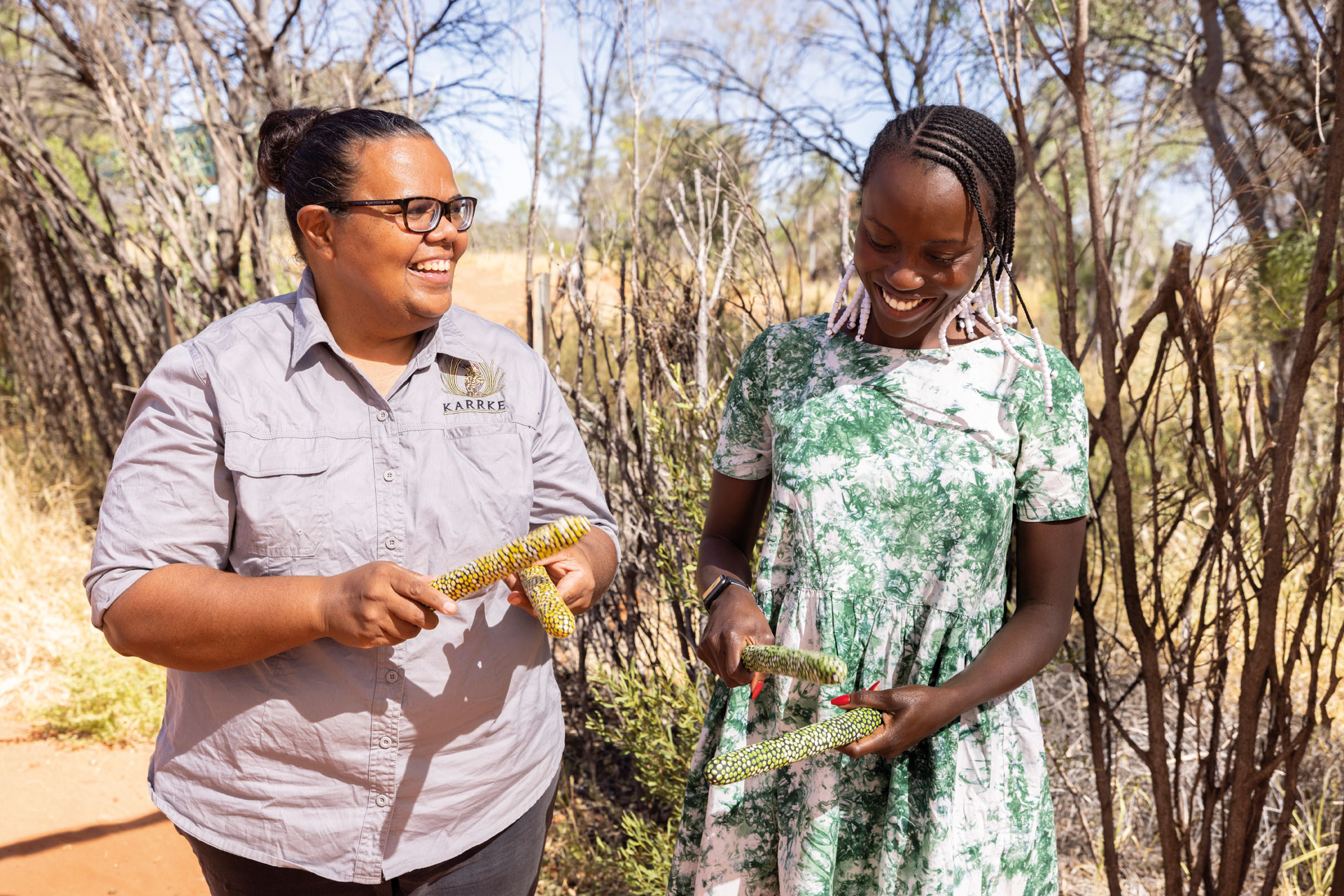 Walk & Talk Watarrka National Park
The one-hour 'walk and talk' Karrke Aboriginal cultural experience on the edge of the Watarrka National Park offers an insight into one of the oldest living cultures on earth. You'll learn about seasonal bush tucker, like the famous witchetty grub, artefacts such as non-returning boomerangs, and the significance of dot paintings as well as bush medicine plants and their uses. karrke.com.au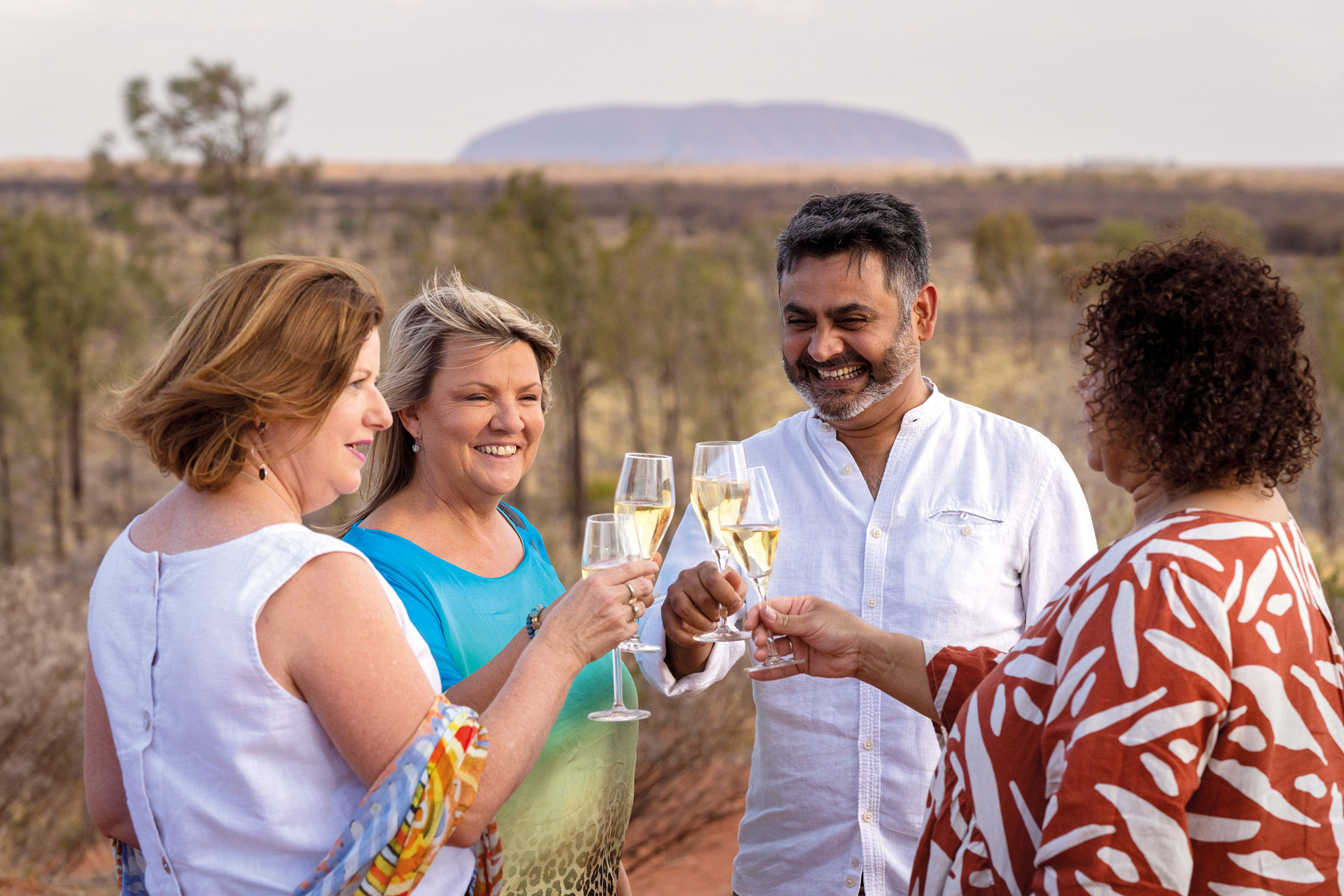 Where To Eat
Set on a private dune under the Southern desert sky, Ayers Rock Resort's Tali Wiru restaurant is a unique gastronomic experience. You'll enjoy a four-course menu incorporating native ingredients in dishes such as pan roasted toothfish with coastal greens, desert oak fermented muntries and a risotto of Australian black truffle and wild mushrooms. Wines are from local vineyards including Cullen and Henschke, and most of the staff are Indigenous.
In Alice Springs, you can find a host of culinary offerings, including The Locals, serving tapas and gin, Bella Alice, specialising in wood-fired pizza, and the contemporary 1690 Restaurant and Bar at Alice Springs Turf Club, with sensational views of the MacDonnell ranges.
Dining under the night sky sets the tone for your Red Centre experience. Sip sparkling wine while watching the shifting sunset colours of Uluru as the sound of a didgeridoo fills the air. Swap tales with fellow travellers as you enjoy a bush tucker-inspired menu featuring kangaroo, emu and barramundi, before listening to an astronomer decode the hyper-bright Southern stars. ayersrockresort.com.au
Where To Stay
Nestled atop red dunes with uninterrupted private views to both Uluru and Kata Tjuta, Longitude 131o (from $3,780 per night, longitude131.com.au) is the last word in sophisticated camping with 16 tented pavilions featuring floor-to-ceiling glass (with the option to sleep on the balcony in a bespoke swag), bar, restaurant and spa. The tiny township of Yulara, about 12 miles from Uluru, is the hub for accommodation, restaurants and tour operations.
Voyages Ayers Rock Resort (ayersrockresort.com.au) offers everything from luxury accommodation to outback camping. Five-star Sails in the Desert (from $475) with its distinctive white sails, comprises 228 luxury rooms and suites, swimming pool, spa, art gallery and brasserie-style restaurant. The company's more budget-friendly options include Desert Gardens Hotel, Emu Walk Apartments, The Lost Camel Hotel, Outback Pioneer Hotel and air-conditioned cabins at Ayers Rock Camp Ground (from $43 per night). There are free cultural activities held daily in the town centre, including didgeridoo workshops, guided garden walks, astronomy talks and bush yarn sessions. You can also discover the history of dot painting at the Gallery of Central Australia.
At Discovery Kings Canyon resort, check into one of 100 newly refurbished rooms or a superior glamping tent (discoveryholidayparks.com.au).
In Alice Springs, luxury hotels include DoubleTree by Hilton Hotel Alice Springs (hilton.com) and Crowne Plaza Alice Springs Lasseters (ihg.com) or there's eco-conscious Squeakywindmill Boutique Tent B&B (squeakywindmill.com) on the edge of the Western MacDonnell Ranges.