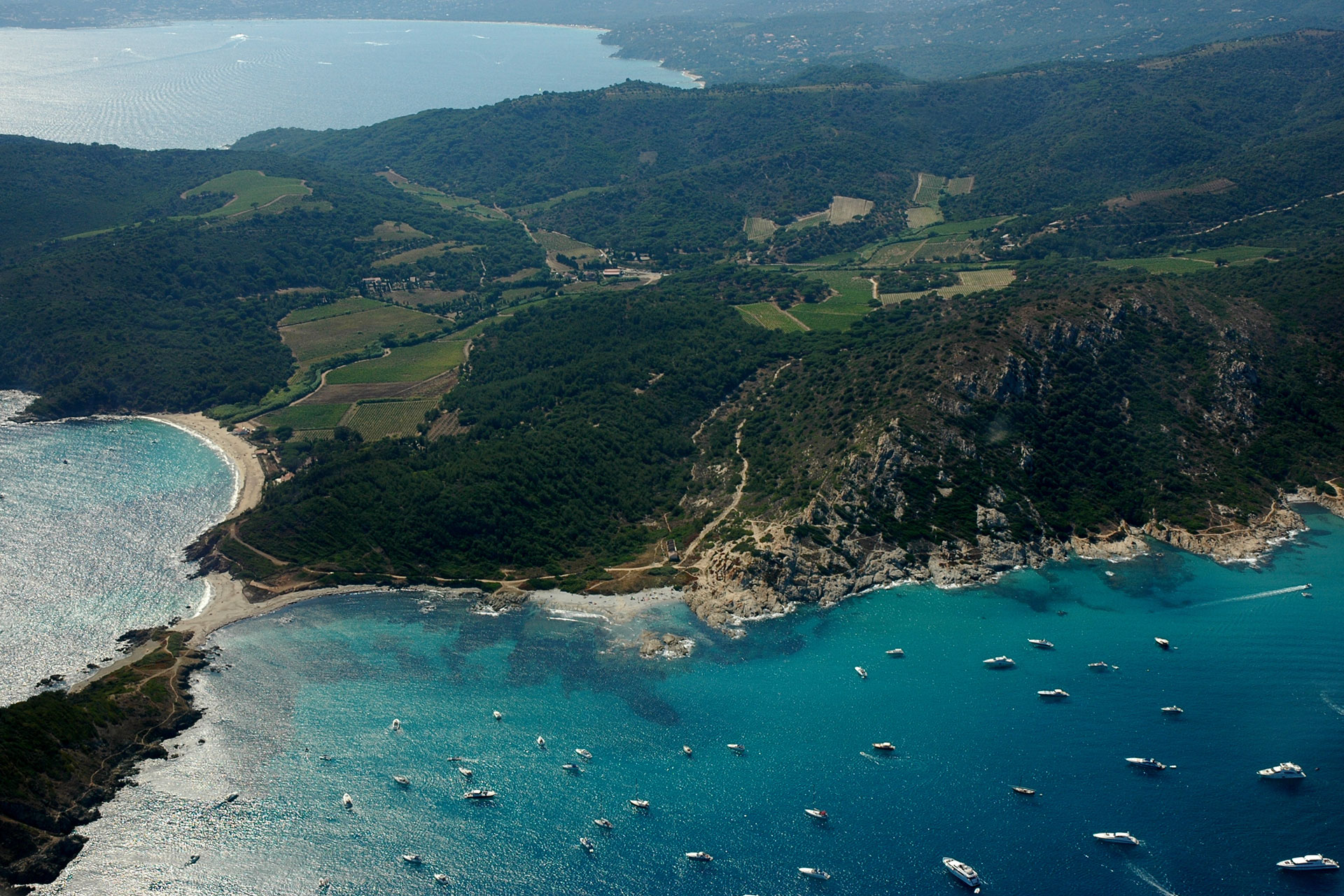 Discreet And Indescribably Chic, Cheval Blanc, St Tropez – Hotel Review
---
Rosalyn Wikeley checks into Cheval Blanc St Tropez for a tranquil and luxurious escape.
Rosalyn Wikeley checks into Cheval Blanc St Tropez for a caviar-laced dose of old-school glamour.
Read the C&TH Responsible Tourism Guide
Discreet And Indescribably Chic, Cheval Blanc, St Tropez – Hotel Review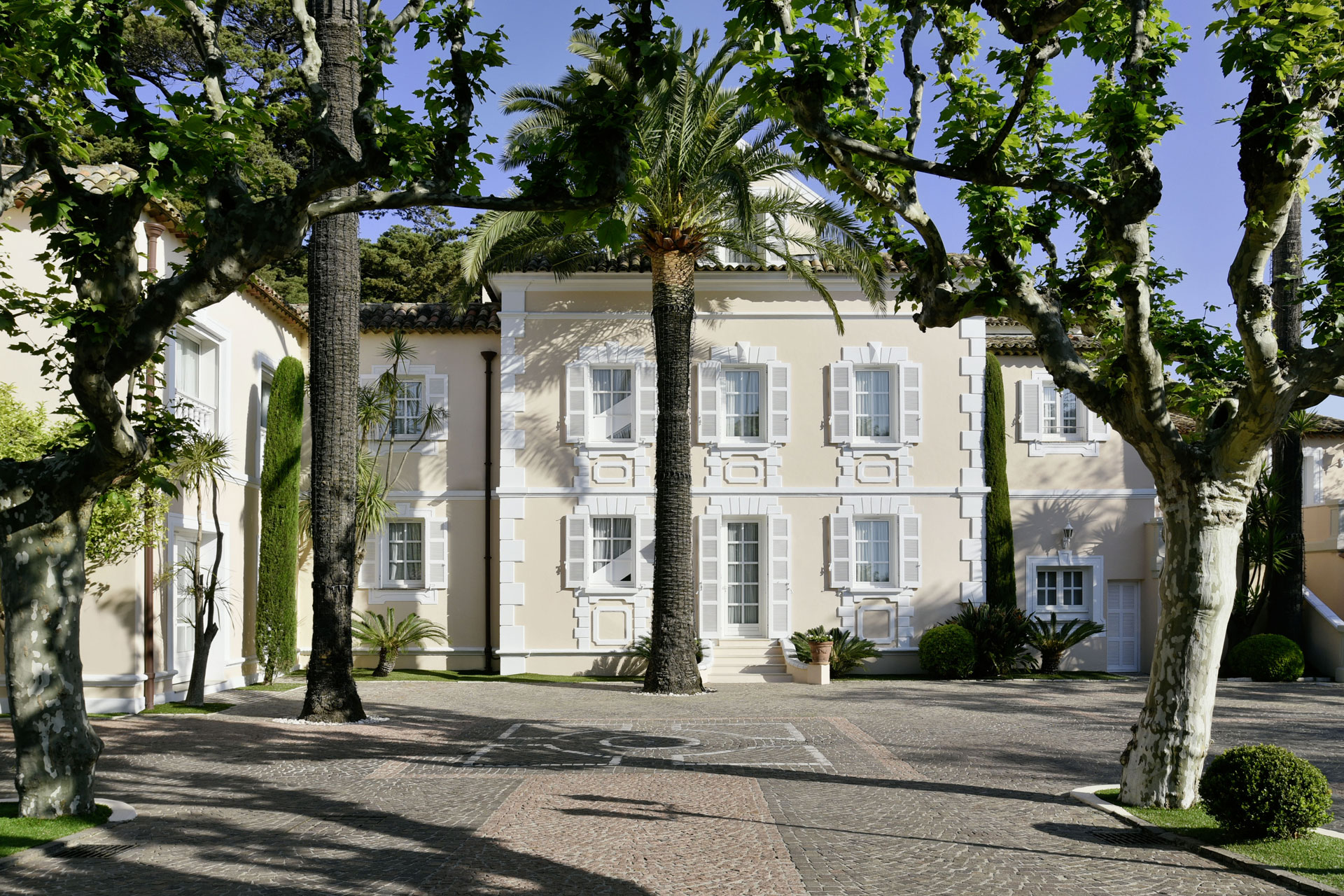 As the arbiters of taste, it's always curious to see how LVMH choreographs its hotels and the lifestyle its ritzy products' promise. Its various maisons slip into the rhythms of a discreet elite, visiting Paris' Haussmann splendour for shopping, making for St Barth's as the cities freeze over, for the slopes of Courchevel once the snow and sun ratio is just right, for the Maldives, whenever Indian Ocean sunsets are missed, and for Saint Tropez when the Cote D'Azur switches on the sunshine and reminds everyone what all the fuss is about. 
STAY
Bernard Arnaud, King of LVMH, made it very clear that exterior of the Pinede Chateau remain untouched, including the mighty pines shading plates of Eric the fisherman's lobster on the terrace and bestowing this Cote D'Azur chateau with its name. He was keen to respect its history, as a coastal bolthole for a Parisian family from 1936, then given to a chef and swiftly snatched back once Bridget Bardot and Roger Vadim put Saint Tropez on the global map with the film And God Created Woman. Much like Bardot herself, Pinede plays a seminal role in Saint Tropez' star-studded story.
So, the trees and surroundings were off limits, but the interiors were fair game for Jean Michelle Wilmot, who was tasked with thrusting the dated chateau into the 21st century. He did so in textured blue and cream strokes, a contemporary expression of the ravishing coastal views that Pinede lords over. In 30 rooms, indescribably comfortable beds are crowned with smooth curving headboards, art nouveau chairs have been carefully selected from Paris' flea markets and illustrated rugs honour the work of Tropezienne ceramist Roger Capron, whose frescoed wall was uncovered by the Cheval Blanc hotel from behind a mirror in 2007.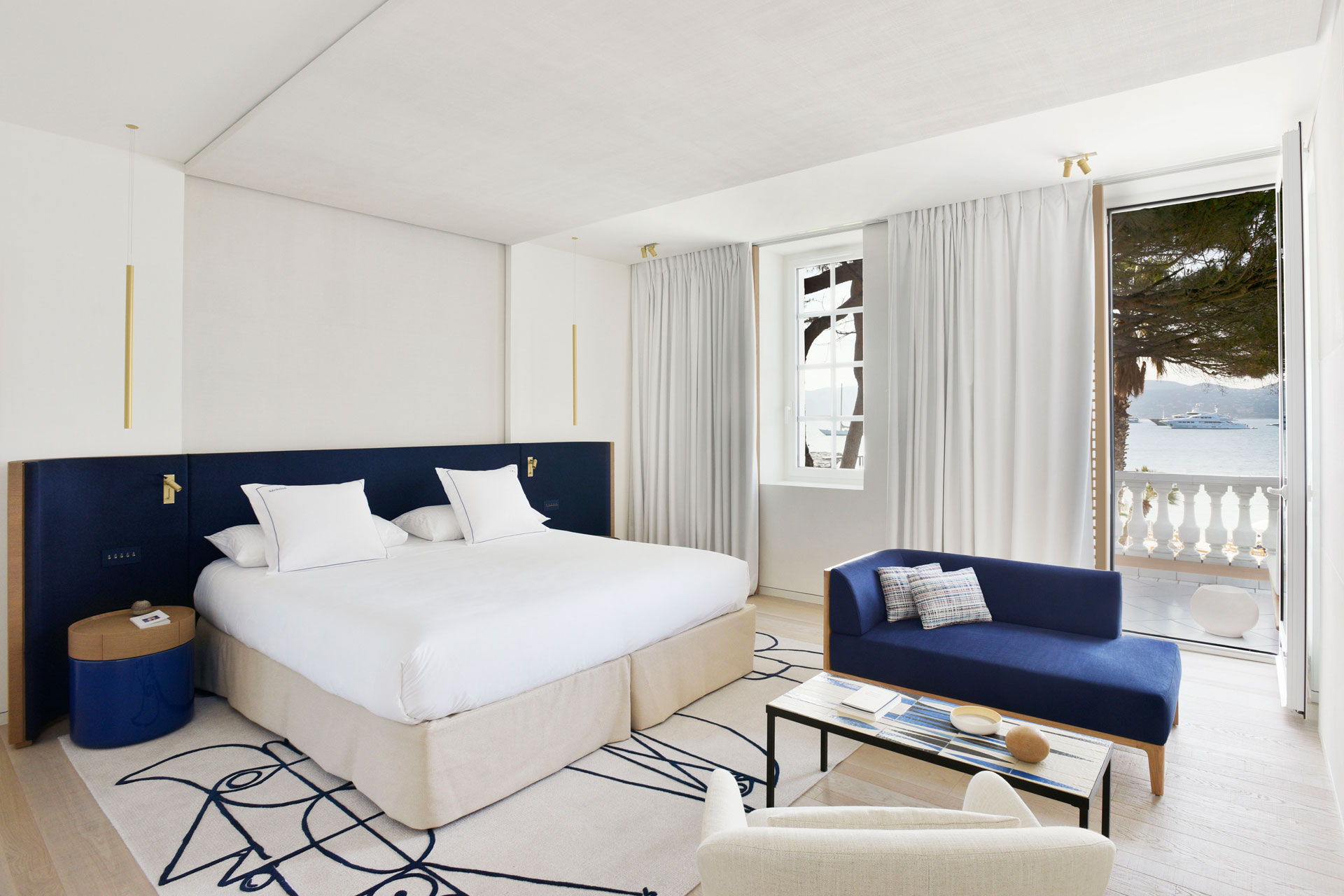 Sewn into this calm and contemporary scene is technology that gives even seasoned luxury traveller that little flutter of joy. Deep bathtubs are positioned for sunsets, or, a few episodes on Netflix on a screen hidden into the wall, Ipads make concierge and room service a breeze and one switch next to the bed avoids the comic hotel malarkey of requiring an engineering degree to switch all the lights off. A team dressed in the same flawless creams and blues as the rooms know what guests need before they know it themselves… a light mille Feuille cake with a glass of Ruinart at sunset, some warm milk with that coffee, or perhaps, a candle-lit bath, filling the room with the hotel's fig and citrus Riviera Chic scent. 
When not feasting on elaborate plates of pastries under the pines or dipping into the pool that practically laps the maison walls, there is a feast of modern art inside to occupy thoughts – a hallmark of the group.
DO
Eat, sleep, sunbathe, repeat. The itinerary here feels perfectly Saint Tropez. Pretty sun loungers line up on the private Bouillabaisse beach (more a lick of flawless white sand) where guests sip cocktails embellished in herbs and gaze across the blue to Saint Maxime. While Cheval Blanc's team have choreographed a series riveting adventures for guests, making the most of the dazzling coastline and its culture (expect anything from Riviera shopping to winding up into the vineyards in a racing car), activities can be tailored to various schedules and whims.
Occupying a remarkably spacious lower floor, with a courtyard pulling in plenty of natural light, the spa has been given the same detailed treatment as the rooms and the main spaces. Gold, sandy hues lower the shoulders well before guests have even made their way through the corridor connecting the treatment rooms, flanked by narrow pools of calming water. Delicious Guerlain creams and potions are lathered onto tense muscles with expert fingers – several of the treatments working in step with sun-kissed skin. It's hard to envisage a basement spa that speaks of summer, but the woody shades and sun-dappled courtyard are a constant reminder of the Riviera setting. The latter hosts morning yoga and pilates classes, where guests can set the tempo with an astute and experienced teacher. Just off it is a gym, where personal trainers take guests through bespoke sessions, and where tasty, Cheval Blanc style gourmet granola bars naturally replace the usual protein packets. 
EAT
Refined palettes rejoice. Far from limiting its dizzying level of cuisine to Chef Arnaud Donckele's three Michelin starred Vague d'Or, every morsel of food that passes between your lips at the Cheval Blanc hotel, from breakfast to a more 'casual' lunch at La Terrasse will retune taste buds and set a new standard. Shaded by the mighty pines, breakfast is a delicious, theatrical affair – a modern, refined expression of the silver service of yore, without a hint of stuffiness. Pastries, detox juices and chia puddings are presented on beautiful ceramics with creative flair, along with omelettes and bircher muesli dressed in flowers from the gardens. A bread trolley laden with rye, fresh baguette, seeded loaves and brioche glides around this elegant scene, and every yoghurt flavour imaginable is doused in berries and local honey.
The slick and ritualistic movement of ceramics, cutlery and flawlessly dressed waiters is a dance to behold – one that has been perfected through gruelling 'savoir vivre' training and an impeccable taste in tableware. The setting isn't bad either. Tables laden with plates of caviar are scattered like cinema chairs before views over the petite plage and sequinned bay. A jazz singer animates a crowd already light on Ruinart before plates of fresh lobster, Grandma's Pomodoro and Truffle Croque-Madame arrive. Holding three Michelin stars, La Vague d'Or feels like the zenith of fine dining. Chef Arnaud Donckele thrills a coiffed audience with plates creatively riffing on Provencal cuisine, themed across land and sea – expect smoke, ceramic art and food erring on poetry. 
FAMILY-FRIENDLY
Cheval Blanc Saint Tropez tactfully embraces families without altering standards for guests without children. Their trick is to lavish broods with the same Cheval Blanc treatment – no ugly high chairs or plastic fantastic baby regalia in sight. 'Little guests' as they are affectionately termed, are welcomed with gourmet treats and teddies, wrapped in mini Cheval Blanc dressing gowns and slippers and swaddled in state-or-the-art baby equipment. While parents are made to feel welcome from the get-go, there are a few egg-shell corners of the hotel to flag – the Michelin-starred Vague d'Or feels decidedly grown up and would be an uneasy fit for children past 8pm (trusted babysitters are easily organised by the hotel for deserving parents). And while farm-to-fork baby purées, children-friendly menus and treasure hunts along the coast can be fixed in a flash, this is well-behaved and well-mannered children territory, for sprogs au fait with fancy interiors and fine dining. 
THE FINAL WORD
Cheval Blanc Saint Tropez has a remarkable percentage of returning guests, which is hardly surprising given its ability to blend Michelin-star restaurants and haut interiors with the lo-fi, Mediterranean spirit of Saint Tropez. 
BOOK
Doubles from £700 per night based on two sharing on a half board basis. chevalblanc.com