Review: The Georgian Coppa Club, Haslemere
---
A home away from home for locals and visitors alike
Sophie Bucknall heads to Haslemere to check out its newest resident, The Georgian. Coppa Club has once again worked its magic and transformed this hotel into a buzzing communal hub which offers a space for visitors and locals alike to sit, eat, drink, stay and do. Whether you're a local looking for a home away from home, a city-dweller after a minibreak or somewhere to rest your feet between exploring local National Trust sites or a trip to the polo at the nearby Cowdray Park Polo Club, The Georgian promises to cater to all your needs.
Review: The Georgian Coppa Club, Haslemere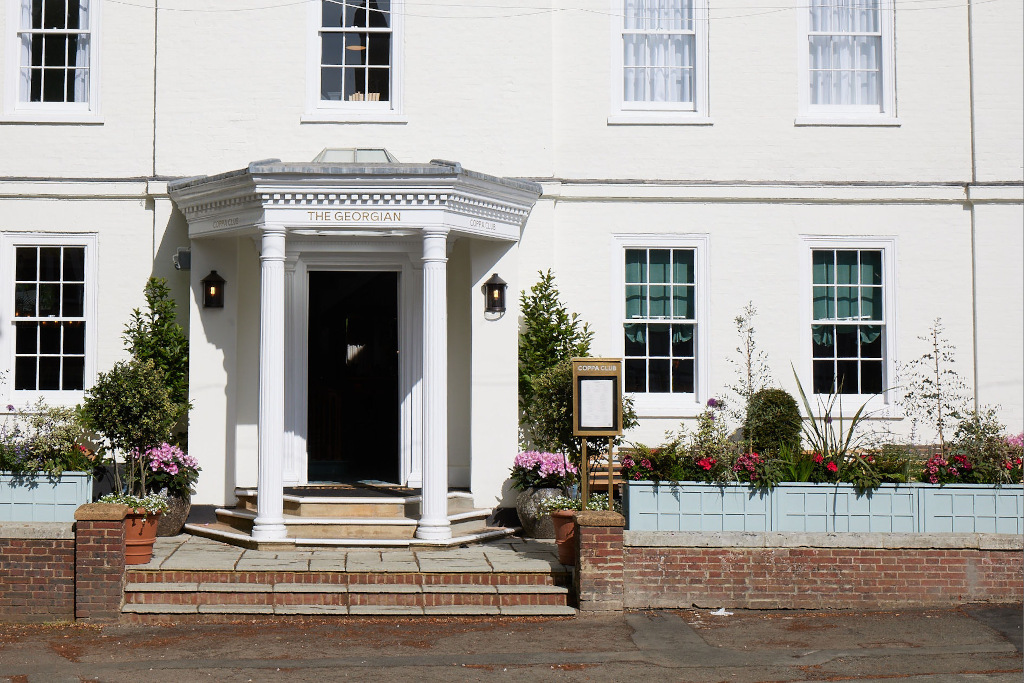 STAY
The Georgian occupies a prime position on Haslemere's high street, and sits amongst houses and local shops and eateries like The Haslemere Bookshop, Luigi, a high fashion boutique, and Hemingways coffee shop. It's just a short walk from the train station, meaning a car isn't necessary – making it all that more accessible and appealing for those folk looking for a quick and easy escape away from the city.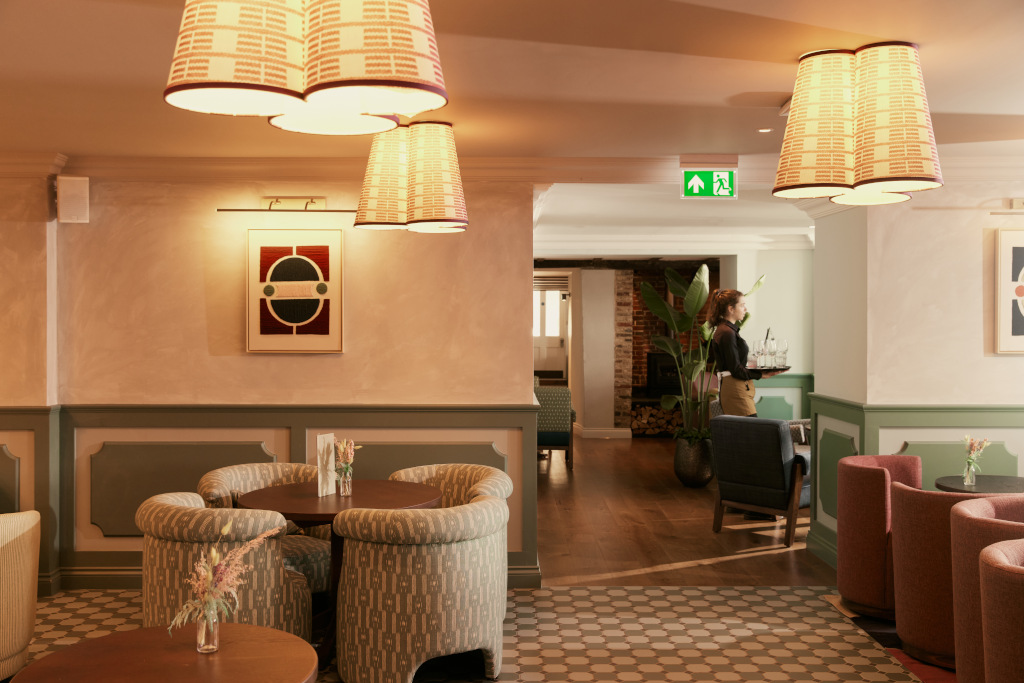 Inside, it lives up to its period-given name; its interiors demonstrate a thoughtful and carefully considered approach to retaining its Georgian charm while adding plentiful modern comforts. The Georgians tended to use muted colours in shades of pink, blue and earthy colours; this, as well as the period's innate elegance, is reflected throughout The Georgian, alongside cool contemporary touches.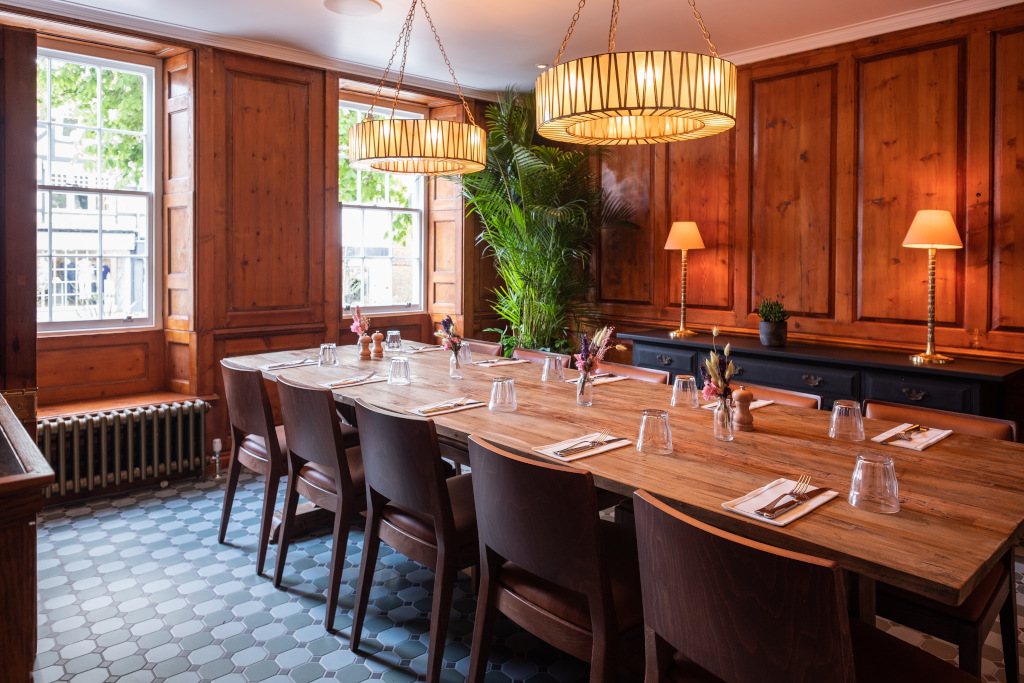 On the ground floor, there are several rooms with coffee tables, sofas, armchairs and desks to seamlessly allow its occupants the option to relax or work; there's a wood-panelled dining room (the wood-panelling is listed!) which they use for hosting talks, or which you can hire for meetings or private dinners; the pink 'conservatory-style' room is simply stunning, with its vaulted glass ceiling, biophilic aesthetic and quirky interior touches. You can also hire this one out for meetings, meals or a more special do.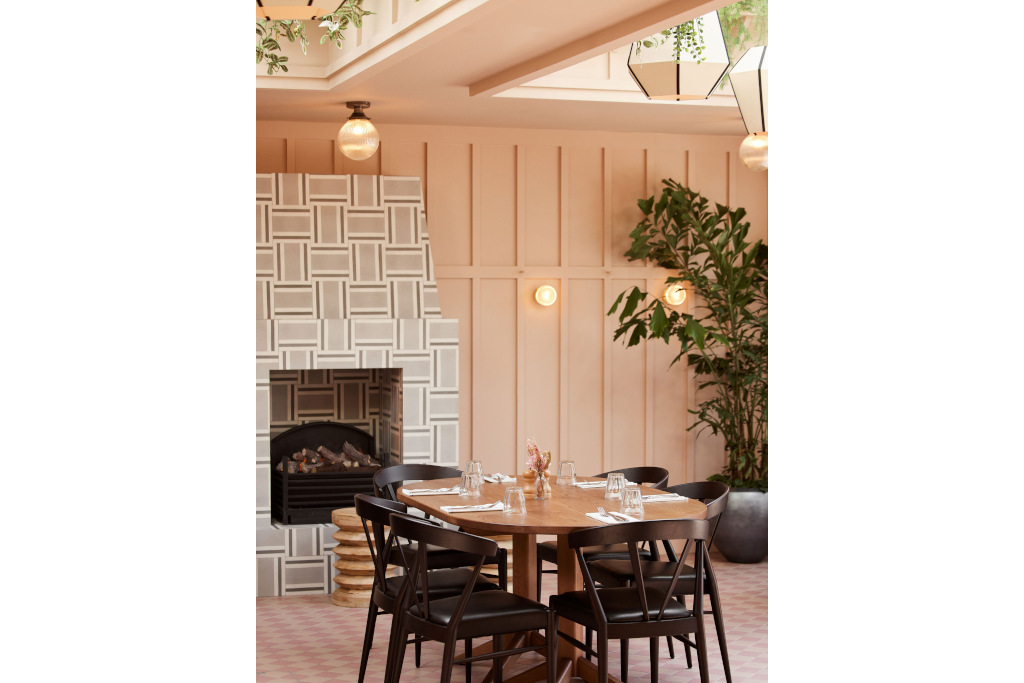 Upstairs, you'll find 12 bedrooms. While they follow a similar colour theme, each room is slightly different, giving it that boutique feel. You'll find a large comfy bed, a flatscreen tv, desk, kettle, fridge with fresh milk for your tea, and an en-suite bathroom. It's in here that you'll find the ultimate highlight of your room: the rain shower. It is truly the most luxurious way to shower, and it'll have you never wanting to leave – and googling how much it would cost to install after just one use.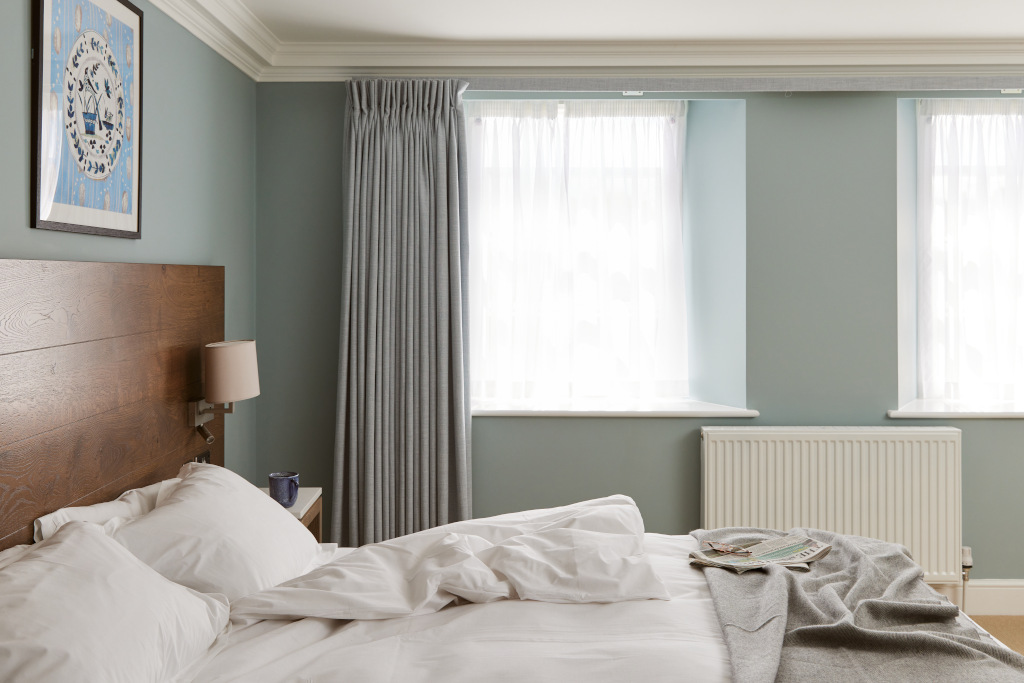 There's also an accessible bedroom on the ground floor with a fully-accessible wet-room. It's tucked away from the main building of the hotel and offers the feel of a private getaway. This room is also dog-friendly, so if you want to bring your pup with you, make sure you request this on booking. While this is the only room which allows furry friends, the hotel's ground floor is also dog-friendly.
EAT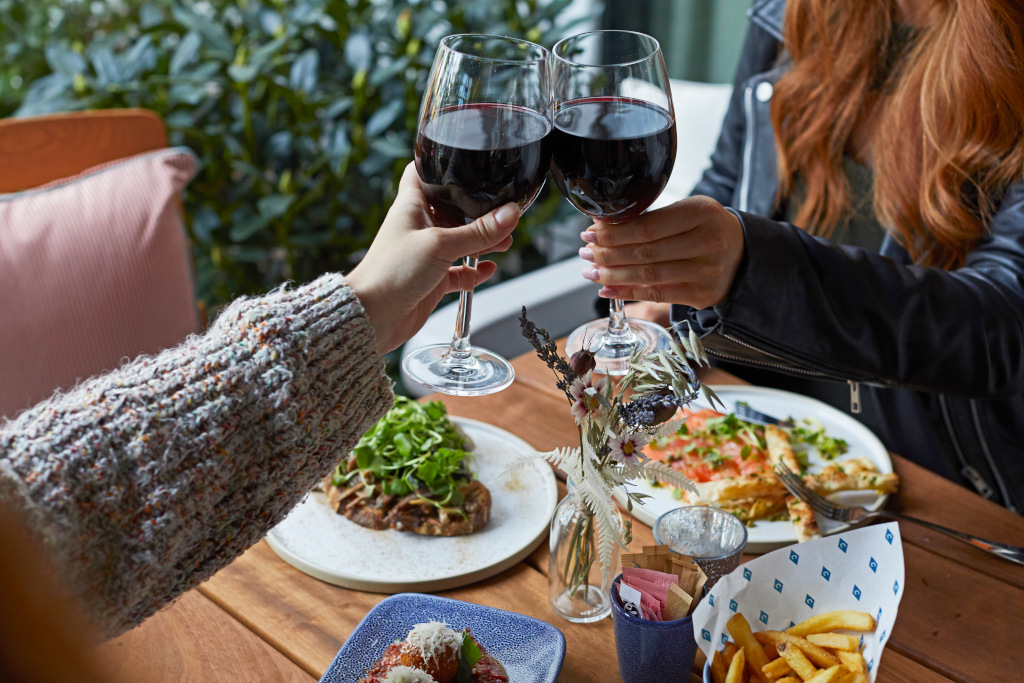 On the menu at The Georgian is modern European cuisine. Dishes arrive well-presented and generously portioned. Throughout the week there's the breakfast menu which offers everything from pastries to pancakes to poached eggs or the all day menu which caters to atypical eating routines.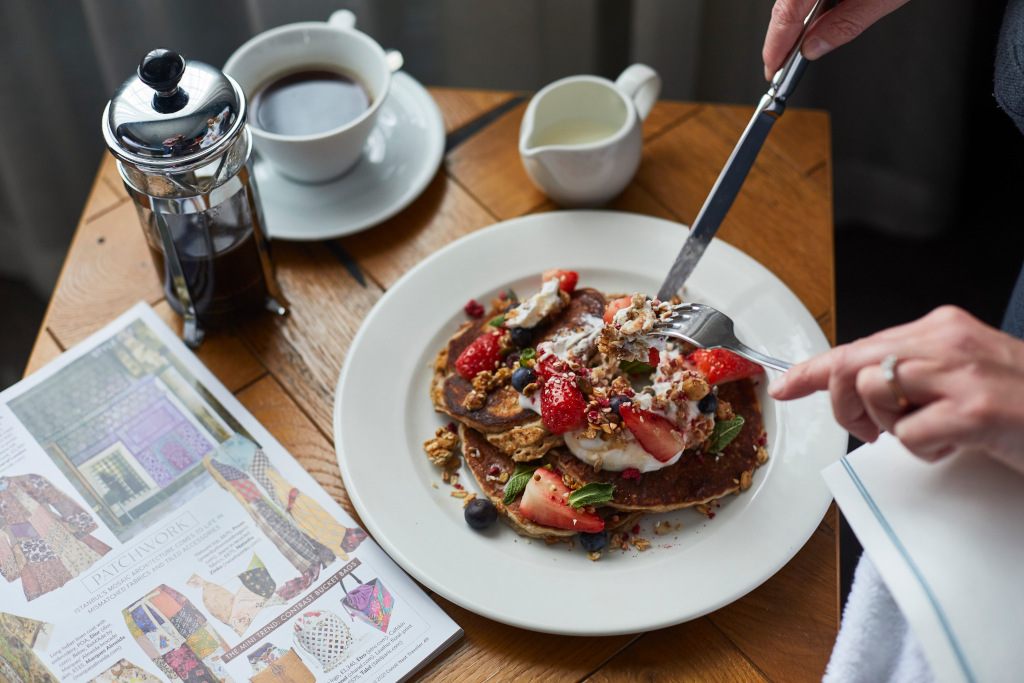 On here you'll find an array of tasty nibbles and small plates if you're after something lighter or alternatively, they work well as sharing dishes for the table if you can't decide on one particular dish. A highlight here is definitely the crispy and lemony fried squid with spicy ponzu dip and siracha mayo. For mains, you'll be stuck for choice between plentiful pizza, pasta grilled options and salads. If you're treating yourself, opt for the wild prawn spaghetti. And for dessert? It has to be the chocolate and miso mousse – honestly, divine.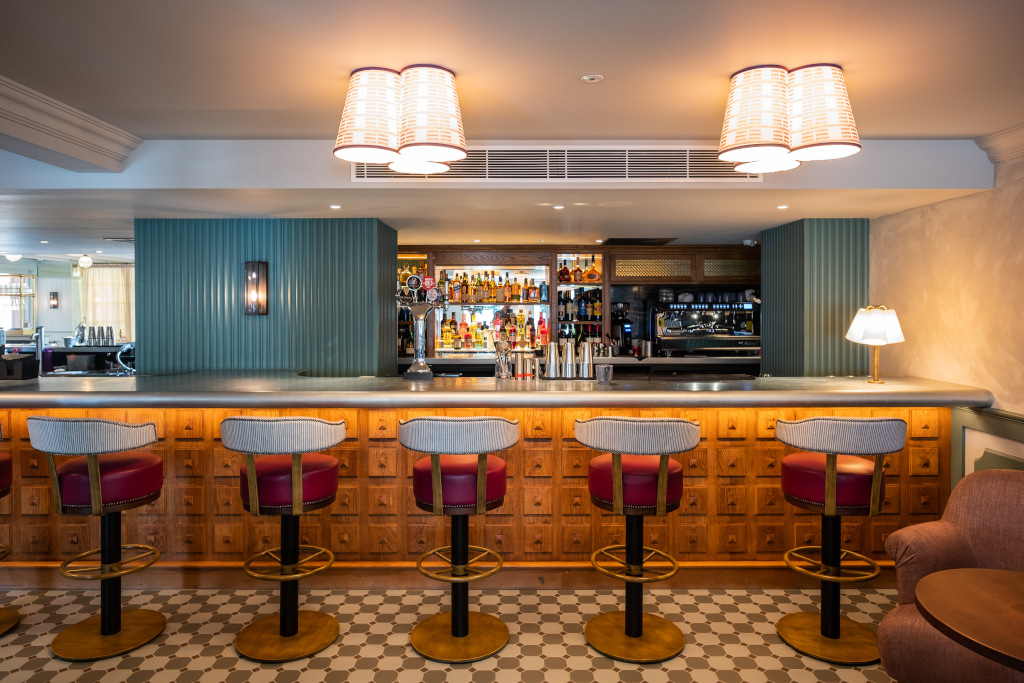 You can also head here just for drinks. The drinks menu is extensive, with plentiful wines, beers and cocktails as well as alcohol-free options for non-drinkers still after a delicious tipple.
Guests will enjoy drinking and eating in main dining area which is spacious and smart with a buzzing atmosphere; it connects to an alfresco terrace which can have its roof lifted when the weather's nice.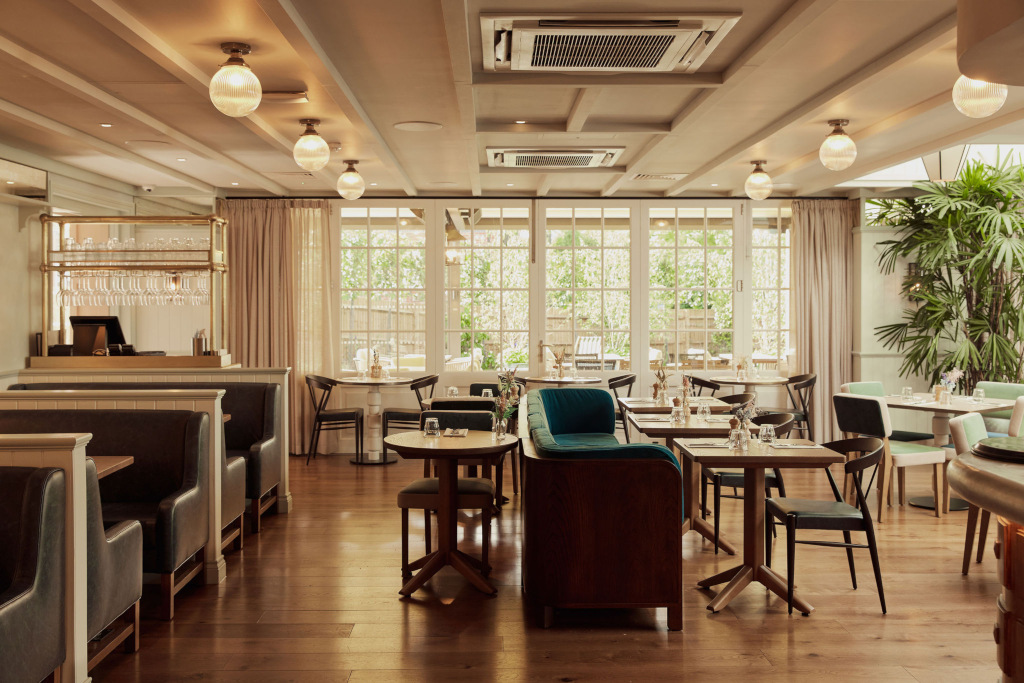 Alternatively, in line with Coppa Club's reputation, you can also choose to dine in one of its igloos. It's no surprise they have become so popular, with the idea spreading across brands: they allow a new, intimate way of sharing meals together, without feeling claustrophobic or stuffy. It's a nice way to dine with a group if you want a more private atmosphere.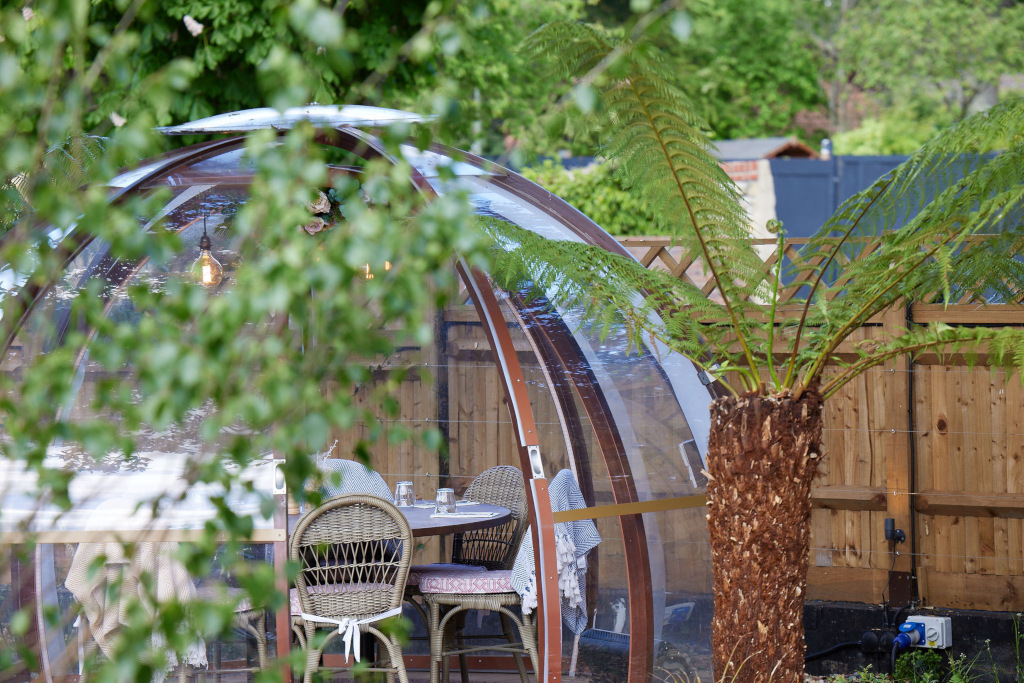 DO
Work, eat, drink, sleep, essentially – get involved.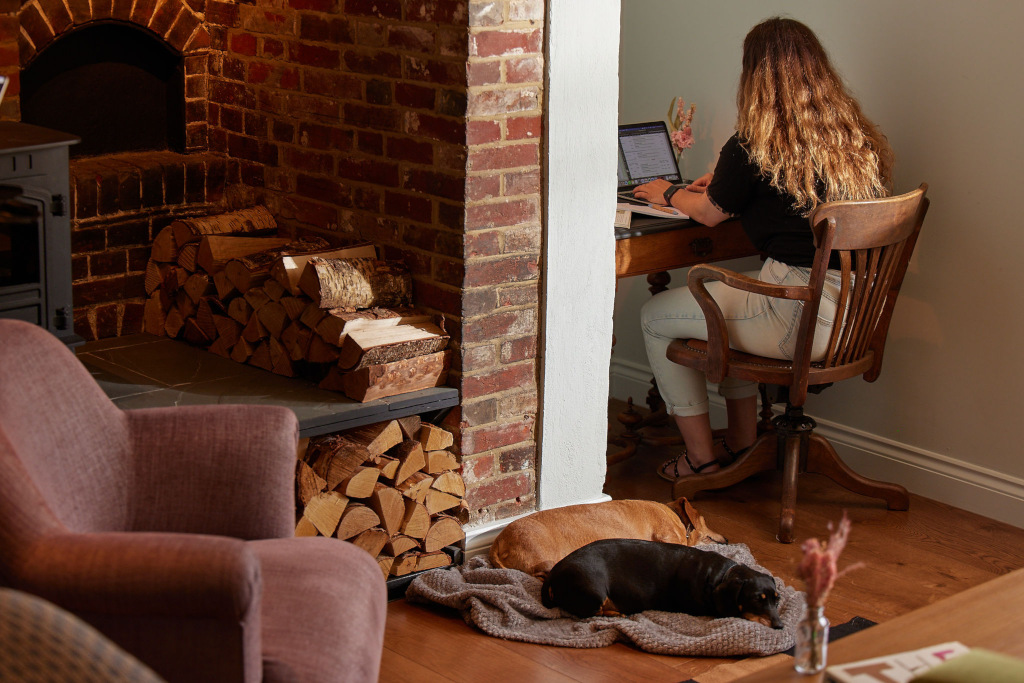 It's ideal for those finding themselves in a WFH rut who need a new workspace away from their everyday surroundings, or just somewhere to escape to for half an hour. Or if you're looking for somewhere to have a meeting, there are plenty of quiet corners or an entire room you can book out. It's also particularly useful for those meetings which take place outside of the usual 'breakfast, lunch, dinner' hours – it's open and available for use throughout the day.
Equally, it's a place for relaxing, enjoying and celebrating. Head here for a solo glass of wine, a boozy lunch with friends, or a special occasion dinner. It promises to become your new reliable local.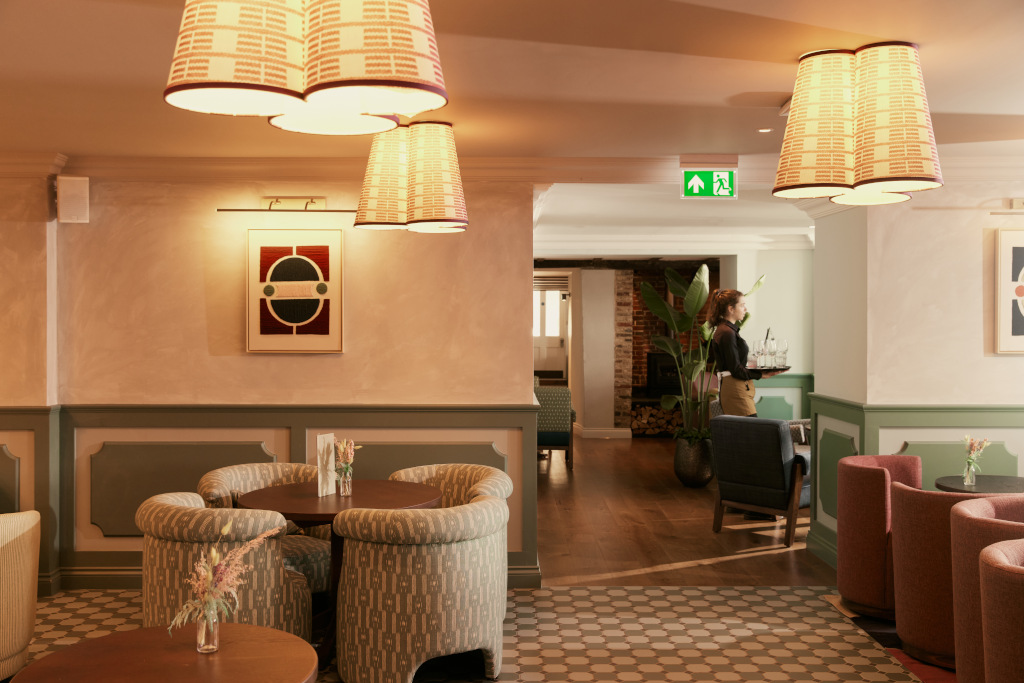 And reliable local is Coppa Club's aim. It's intent on ensuring each of its residences is firmly part of its community, and equally aims to celebrate and promote local people and businesses. The Georgian is no different. It provides a multifunctional space for locals to use, while also organising activities and events for locals and visitors alike to partake in. This can include organising gin masterclasses led by Silent Gin (a local Gin distillery) to hosting Jo Mitchell, a local artist, to teach a painting class. The painting class in particular is a seriously lovely – and incredibly therapeutic – way to spend an hour or so. There's something inherently relaxing and childlike about switching off from the world and focusing on your brushstroke and the image that appears.
If you feel like getting out and stretching your legs, you can head directly across the road where you'll find a little passage leading to the National Trust Swan Barn Walk. In seconds you'll find yourself in stunning Surrey countryside with no sign of the bustling high street you left behind mere moments ago.
While you'll have access to the countryside, as well as Haslemere's plentiful shopping amenities by foot, there are also local attractions to note if you are bringing a car. There's the Cowdray Park Polo Club, home to British polo, Petworth House, and more National Trust to explore.
FINAL WORD
The Georgian is set to be a new local hotspot, an escape for city-dwellers and a base for Surrey-explorers. It offers a multifunctional space with impressive interiors and a friendly vibe; its setting is ideal for locals and for those who don't want to drive; the rooms are comfortable; the food is good.
BOOK
From £90 for 2 people sharing a Double Room on a B&B Basis, visit coppaclub.co.uk/at-the-georgian or call 01491 525 879 
READ MORE: 
Restaurant Review: Coppa Club, Putney / The Best Picnic Spots in the UK & Ireland / Barmy for Llamas: The Alternative Way to Explore the Surrey Hills