Santorini With Soul: Santo Pure Oia Suites & Villas – Review 
Get the Santorini experience with a touch of tranquility
As overrun as it may be, there's something undeniably captivating about Santorini, says Eva Ramirez – especially if it's your first time visiting. White-washed buildings cascade down cliffsides, cobalt domes punctuate views, delicious smells emanate from charming tavernas, and of course – there's those otherworldly sunsets. The island offers an easy-going blend of natural beauty, cultural richness and relaxation. What's not to love?
Oia is the well-known coastal town that trickles down the crescent-shaped caldera. It's filled with maze-like alleyways, clouds of fuschia bougainvillea and what feel's like Santorini's full quota of hotels. It's a fun place to visit and spend your evenings, weaving in and out of boutiques, bars and restaurants, but the persistent crowds kill any sense of serenity you may be after. Which is why Santo Pure Oia Suites & Villas, set just far back enough to feel like a private slice of the island, is a welcome respite that's still conveniently close to the action. 
Read the C&TH Responsible Tourism Guide
Santorini With Soul: Santo Pure Oia Suites & Villas – Review
The Resort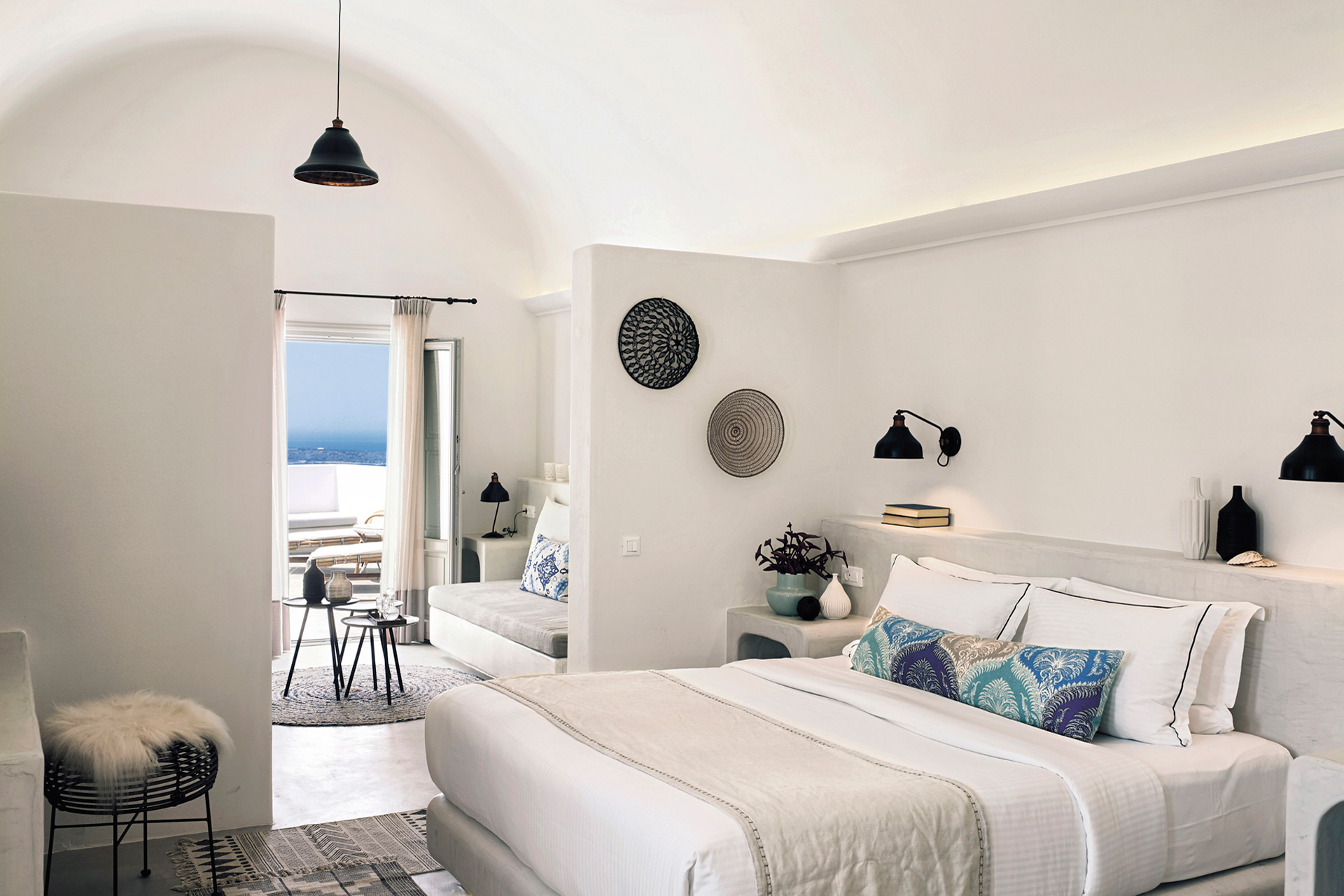 The resort is part of the Santo Collection, alongside 37-suite resort Santo Mine, and The Villas by Santo Collection, both of which are set to open in April 2024. Having recently undergone a renovation, there are 20 new suites to choose from, bringing the total to 83 (plus two villas). Despite the expansion, it maintains its charming boutique ambiance. Walking around almost feels like you're staying in a little Greek village, with its sedate charm, lemon trees and wildflowers dotted around – there's even the odd stray cat. Vegetable and herb gardens bloom around the property, growing all sorts of produce that are used in the kitchen, from tomatoes to 'melitzana', the famed white Santorini aubergine.
The resort is divided into six different sections – like neighbourhoods – and each one has its own pool, although you're free to enjoy all of them. At the centre of the resort an infinity pool stretches towards the sea, framed by sun loungers. It's the type of place where you're likely to befriend other guests, with low-fi beats playing all day long until live musicians arrive to soundtrack your sunset experience. 
Design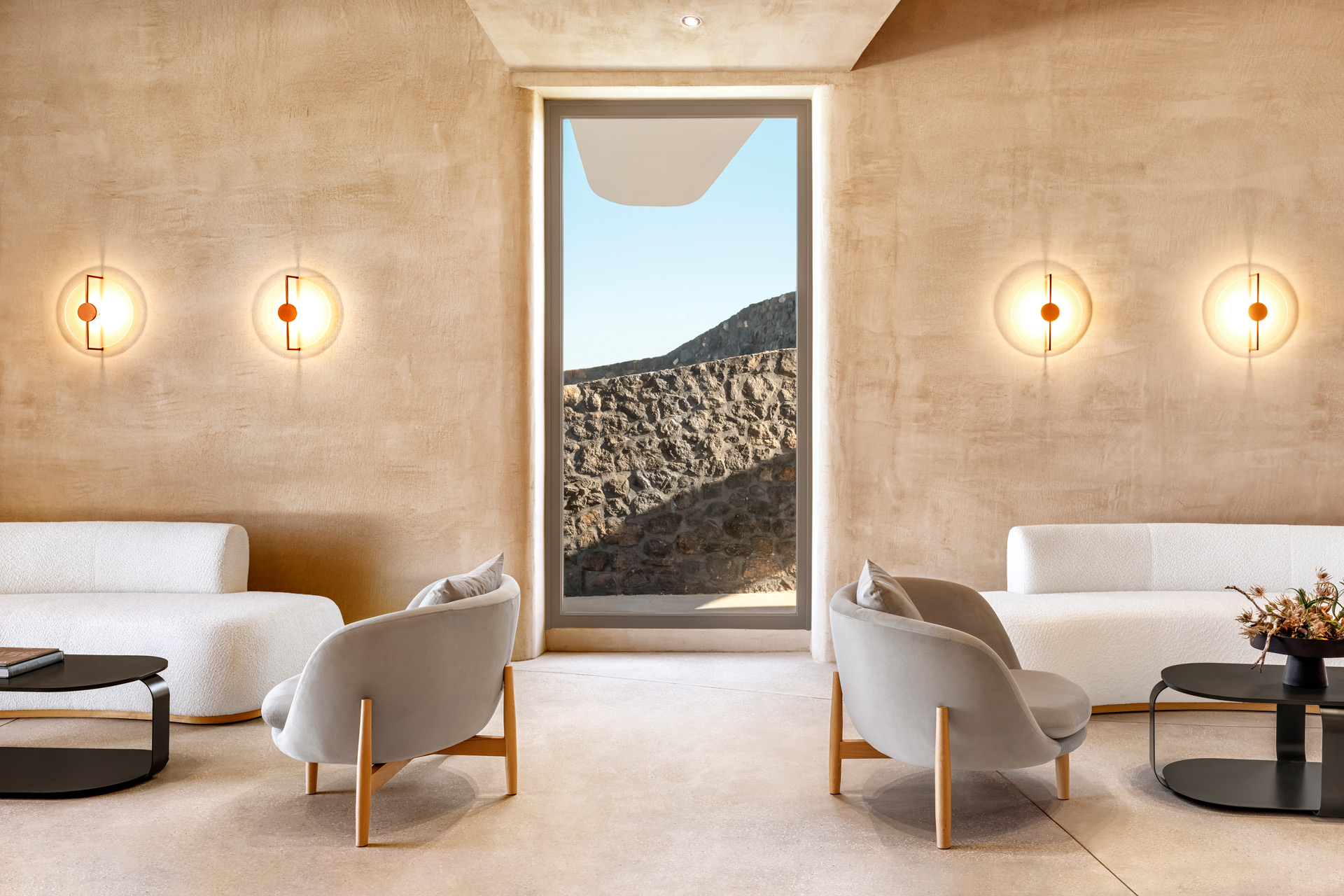 Design reflects the region in a minimal and effortless way. Warm, earthy tones echo the island's unique landscape and high, curved ceilings provide the organic air conditioning that is synonymous with Cycladic architecture. The new suites have been designed with similar design principles; a soft take on monochrome sees dark grey features punctuate white lime accents, and marble and wood give a grounding feel. Living areas are open-plan, with desks and ample wardrobes, offering generous amounts of space and comfort.
You'd be hard-pressed to find a room that doesn't impress – each one is its own little sanctuary, complete with a private terrace, jacuzzi or pool. For the ultimate in sea and sunset splendour, though, book in to one of the Junior Suite Sunset and Sea View rooms. Perched in prime positions, you'll get unobstructed panoramic views that are simply unmatched. 
Dining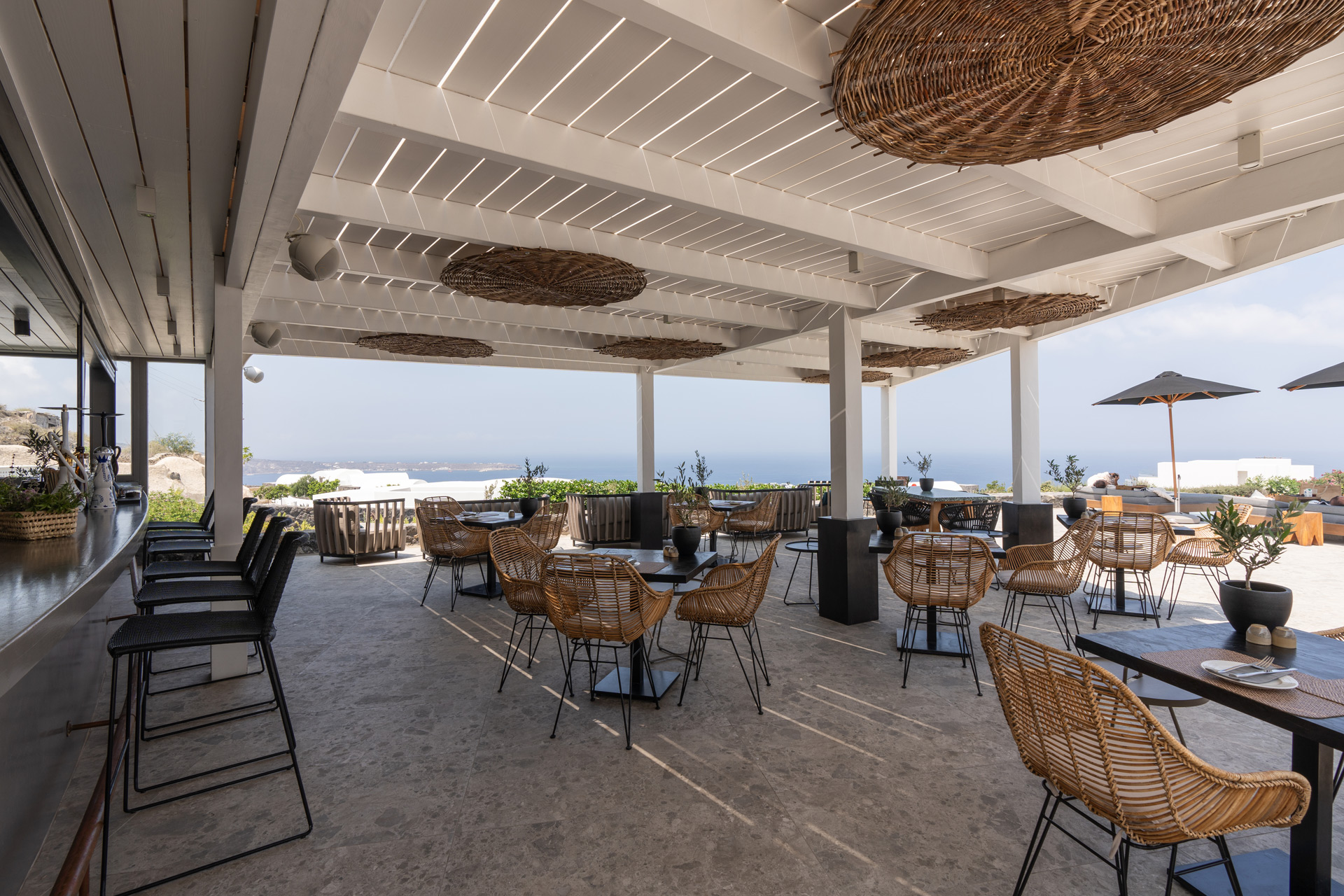 Akratos Poolside Bar is open between 11am and 11.30pm, but the best time, of course, is dusk. The cocktail menu is full of ingenious combinations made with various ingredients from the gardens, such as a surprisingly delicious and eye-wateringly bright Beetroot Margarita.
For a refined dining experience, al-fresco Alios Ilios showcases Mediterranean flavours with a refined edge. Ingredients are sourced from as close to home as possible. Under the guidance of recently-appointed Head Chef Andreas Vgenopoulos, the fine-dining restaurant has unveiled a new seasonal menu. Classic calamari makes an appearance, but is given an unexpected twist with bulgur, blood orange, pine nuts and green apple. A surprisingly light ravioli dish features the resort's very own white aubergine alongside eel, tomato, Greek truffle and verbena – it's a must-try. And if you want to go all in, tasting menus consisting of either seven, nine or 11 dishes will give you the full culinary experience.
Wellness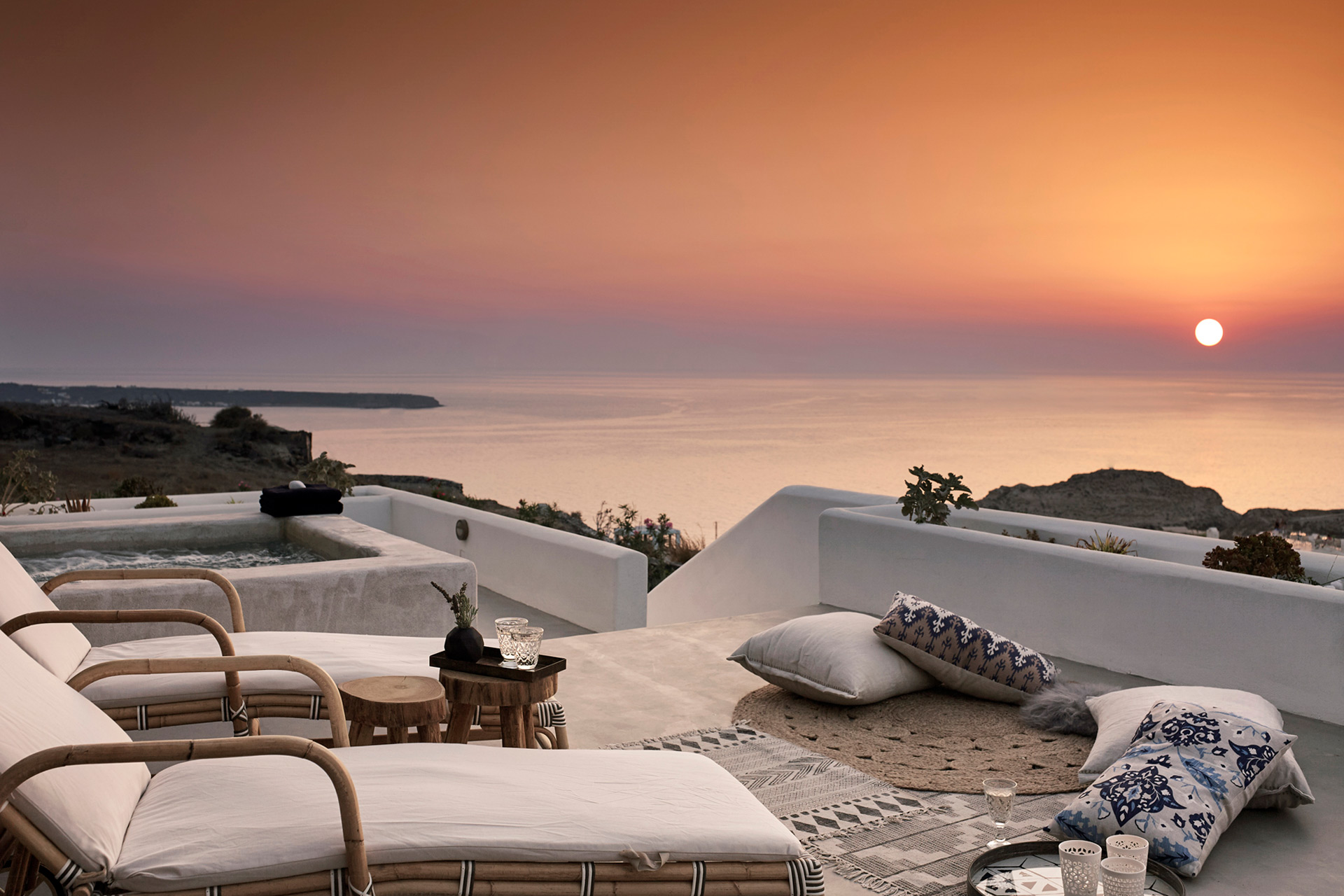 Anassa is the resort's award-winning spa, and one of the largest and most popular on the island. It's an underground sanctuary that transports you to another world for a total immersion. Treatments favour natural products and draw inspiration from both ancient Greek practices and modern techniques. There's a sauna, steam bath and cryotherapy to enjoy pre- or post-treatment, and if you're looking to break a sweat, the gym is perfectly equipped. The wellness offering will soon be expanding to offer aerial yoga and an outdoor meditation deck too, but until then, there are plenty of mixed-level hiking trails to explore nearby.
Sustainability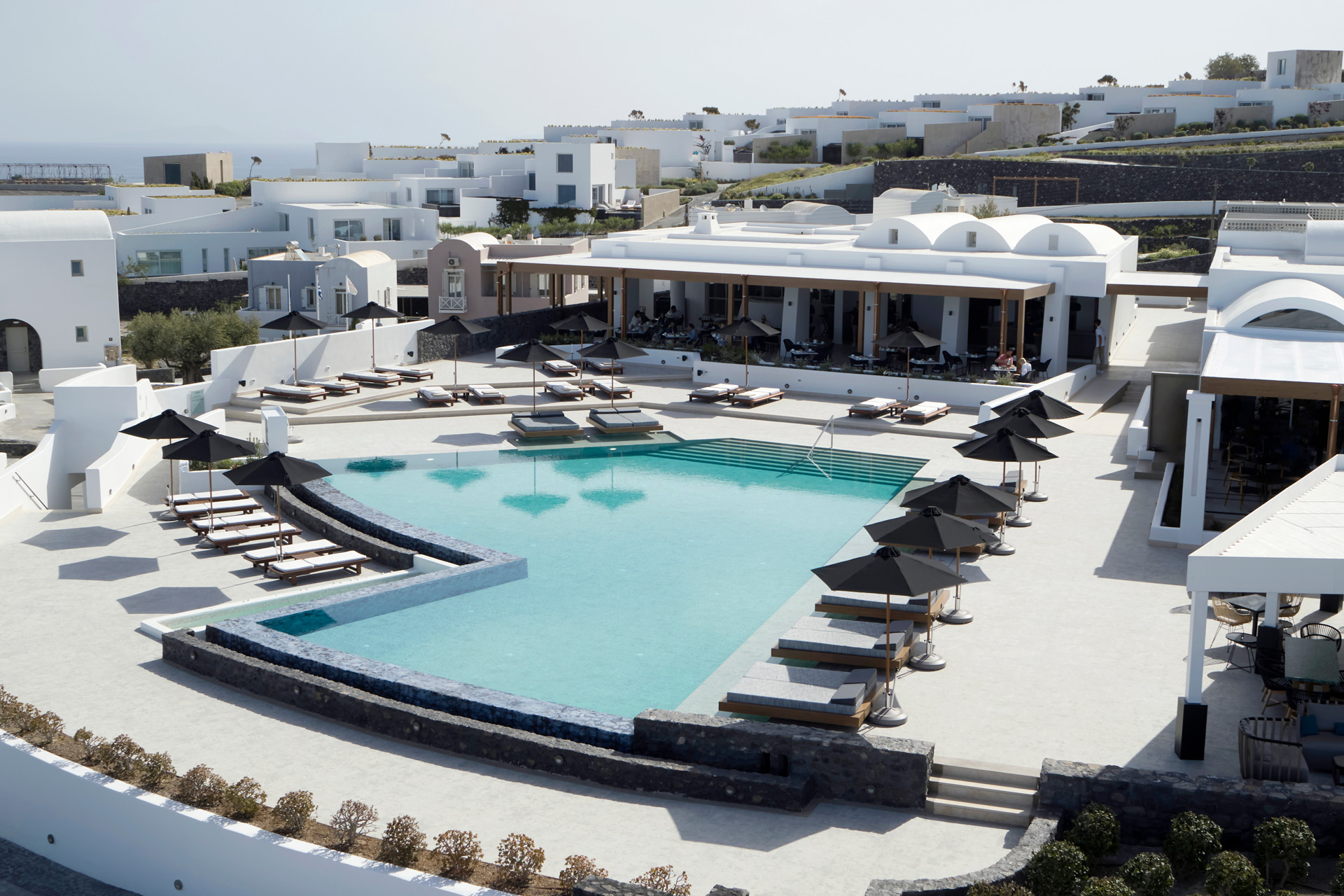 What's clearly evident, running through every aspect at Santo Pure Oia Suites & Villas, is the resort's dedication to reducing its environmental impact through thoughtful sustainability initiatives. Their focus on water and energy conservation is impressive, including the use of filtered seawater in their pools, tap flow reduction filters, a 'wash on demand' towel policy, optimised air conditioning, recycling in all suites, and the replacement of plastics with eco-friendly alternatives. The vibrant biodiversity of the resort adds to its beauty while also serving a purpose too, and aside from using produce from the vegetable and herb, the kitchens also operate a low waste policy. 
The Final Word
If you want the Santorini experience with a touch of soul and serenity, this is it. 
BOOK IT
From £276 for a Pool Front Suite with Jacuzzi, based on two sharing. santocollection.gr
Read more of Eva's writing here.