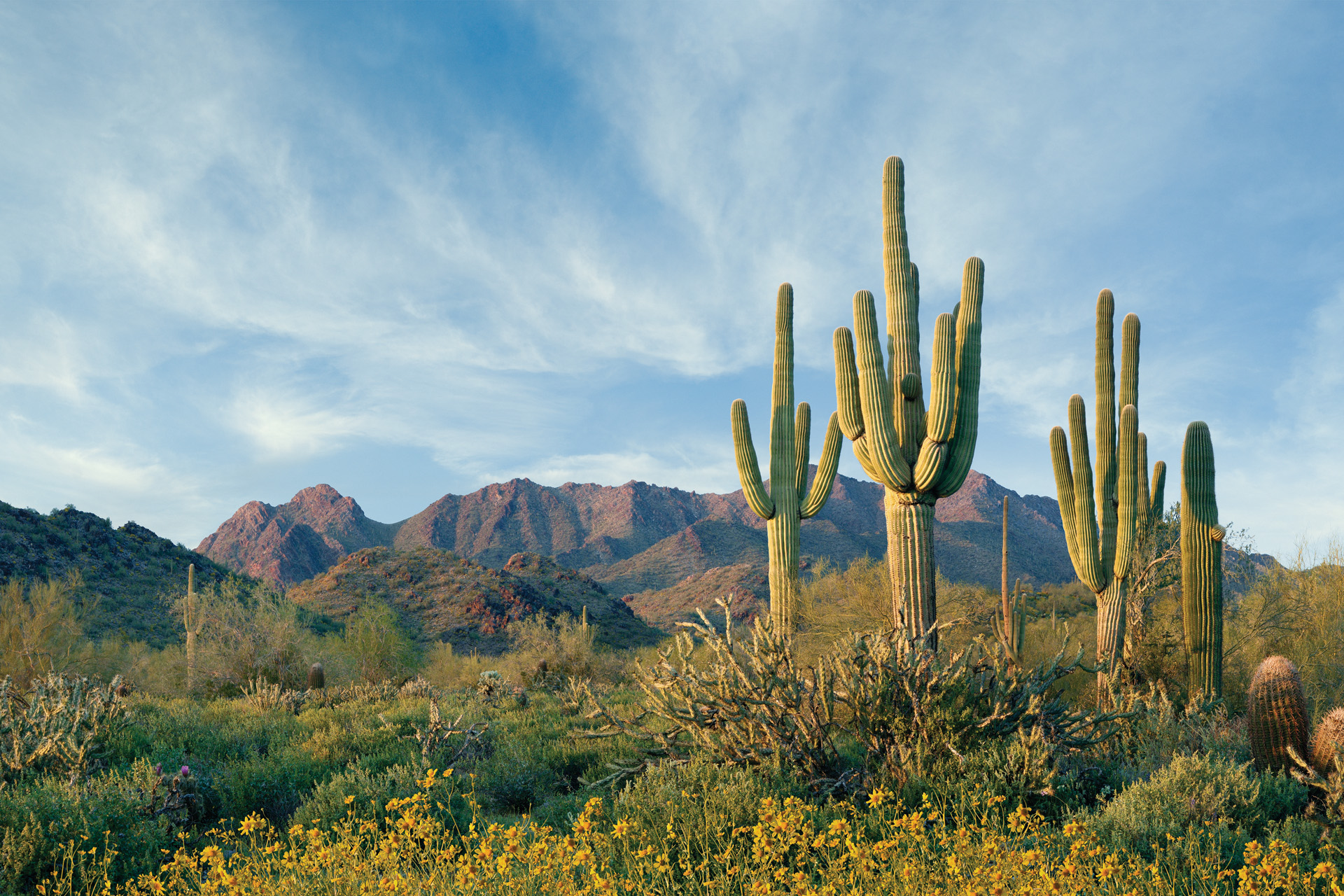 Scottsdale: A Winter Desert Wellbeing Break
---
Sunrise hikes, horseback adventures and hot air balloon rides above the red rocks…
Scottsdale's Sonoran Desert sizzles in the summer months, defined by its arid red landscapes and giant tree-like cacti. Described as a place where 'winter never comes, but summer loves to linger', as temperatures cool in the winter months, the destination offers crisp, sunny days canvased by blue skies. Georgie Bentley-Buckle visited to learn how this wild west American destination is a magnet for wellness and outdoor adventure. 
Read the C&TH Responsible Tourism Guide
Scottsdale, Arizona: The Ultimate Travel Guide 
When Is The Best Time To Visit Scottsdale?
With guaranteed sunshine, in the summer, this desert destination is popular only with those brave enough to brace the heat. The extreme temperatures, often reaching up to 45°C, hold many back from enjoying the outdoor activities on offer – limiting you to skipping between air conditioned spaces and swimming pools. Come late October and Scottsdale becomes much more approachable, lasting until early April. October to April is the best time to visit Scottsdale for scenic hikes, horseback trails and mountain clad vistas for outdoor sound healing and yoga. 
Where To Stay In Scottsdale
Four Seasons Resort Scottsdale at Troon North
This low-rise desert hotel offers a luxurious escape among the dramatic rocks in one of the 210 casita rooms and suites that are woven among the cooling foothills of Pinnacle Peak. With an authentic, natural design that blends with the sand-hued landscape, the hotel allows each of its guests to enjoy the destination in their own way. For us, this meant enjoying gentle nature walks around the perimeter, learning about the local flora and fauna, and sunrise sound healing and meditation to the backdrop of the pink valley.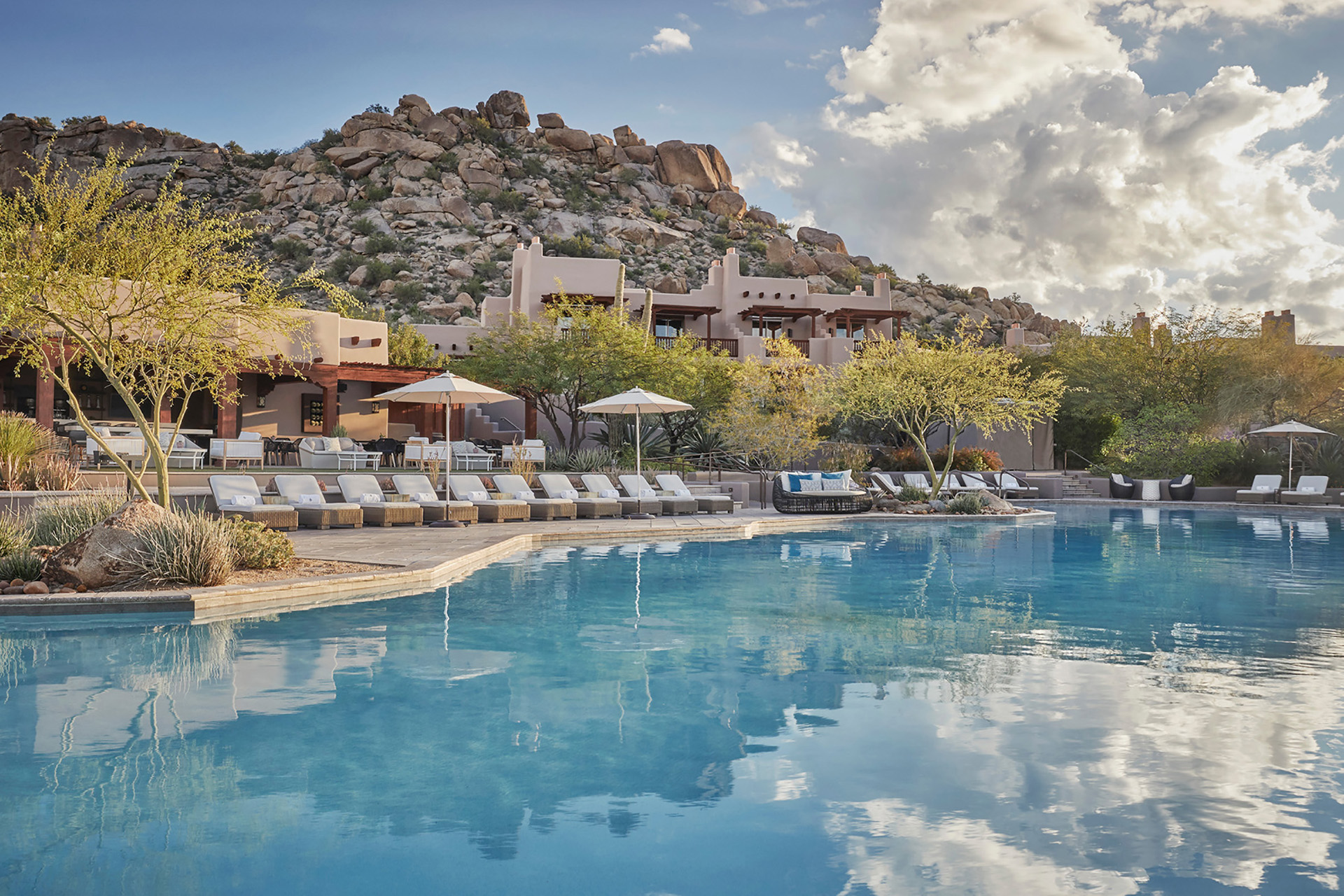 Meanwhile, the spa utilises the gifts mother nature left on its doorstep, notably with the 'Nopal Massage' (more commonly known as the prickly pear cactus). Similar to the soothing effects of aloe vera, instead of massage oil, this inventive treatment uses warmed-up cactus gel. Locals famously use this to detox, benefiting from its naturally high vitamins and minerals. Inspired by the destination's golfing heritage, there is also the aptly named 'Golfer's Massage', which uses golf balls and stretching techniques to knead tight muscles and ease golf-related stiffness.
Dining options at Four Seasons Resort Scottsdale have been inspired by culinary cultures both near and far. Try home-style local dishes at Proof, a relaxed restaurant with a glimpse of old Americana and where breakfast is served (featuring dishes layered with nachos and cornbread). Meanwhile, Talavera is a contemporary Spanish steakhouse where you can order Spanish favourites such as paella, jamón Ibérico and tapas, washed down with a selection of over 500 new and old-world wines.
BOOK IT: Deluxe Casita Room's start from £717. fourseasons.com
Mountain Shadows
Under the silhouette of Camelback Mountain (an Arizonan mountain with an elevation taller than the Empire State Building) is Mountain Shadows. Set comfortably in the protected region of Paradise Valley just adjacent to Scottsdale, this is a Hollywood hotspot. Originally opening back in 1959, the 183-room low-rise resort has a suave 1960s aesthetic with John Wayne and Elizabeth Taylor some of the notable names on its glamourous guest list.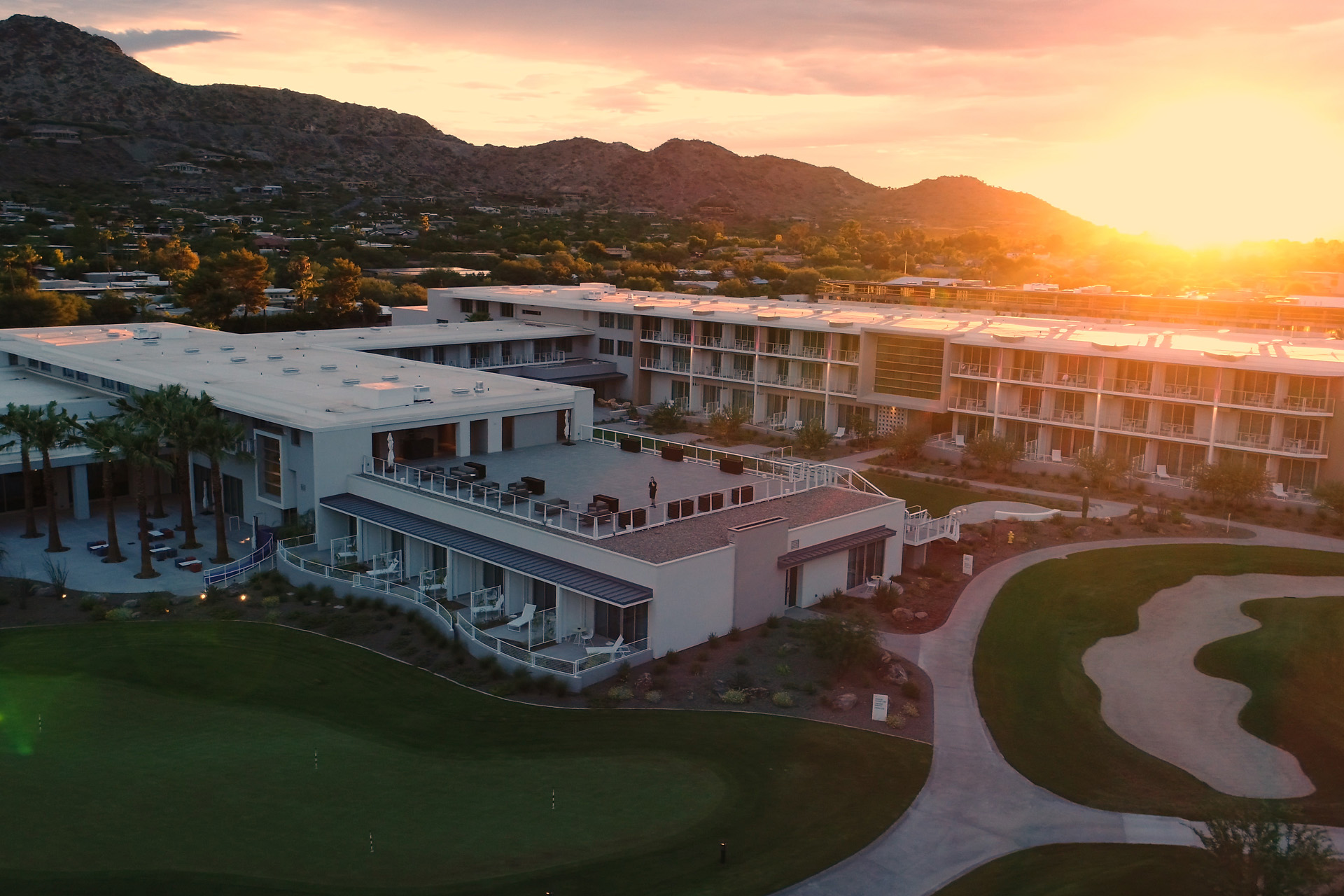 Beside Mountain Shadows' 18-hole short golf course is the scenic lawn in the centre of the property. As the late afternoon sun drops behind the mountain, find peace with sound healing and meditation led by a local expert. Using crystal bowls as instruments that omit vibrations to relax the mind (and to also enhance lymph flow and blood circulation, we are told), it is a chance to incorporate mindful meditation with breath control. This backdrop is also a popular place for both hotel guests and locals to come together for weekly free-flow yoga. 
In honour of Paradise Valley which became a town in 1961 is the hotel's restaurant: Hearth '61. Serving modern American food, Chef Charles Wiley's ingredient-led menu is brimming with time-honoured flavours in a traditional cooking style. A place that has a string of awards under its belt – including 'the most beautifully designed bar in Arizona' (an accolade I can personally vouch) – I enjoyed two of the best meals here during my time in Scottsdale. This included a perfectly rich cut of beef with smooth glasses of red wine. Breakfast, meanwhile, was a vibrant smashed avo on toast – superior to many brunch spots I have visited. 
BOOK IT: Signature Deluxe Rooms start from £484. mountainshadows.com
Where To Eat In Scottsdale
Bryan's Black Mountain Barbecue
For a homemade, informal taste of Scottsdale is Bryan's Black Mountain Barbecue. A family-run diner in Cave Creek: a small town in Scottsdale that could be the setting for any Wild West movie – its cowboy charm is a contrast from the preened luxury resorts and designer stores. The owner Bryan is no stranger to the region's five-star spots, previously working in the kitchen of the Fairmont. This was before opening Mountain Barbecue in pursuit of perfecting the comfort food of the wild west. Having been voted the 'best ribs in Arizona' his smoked meats and bricks of brisket are marinaded lovingly in his famous homemade sauces. Pair with the winning sweet, pickled jalapeños and bottles of local ale. bryansbbq.com
The Americano
A smarter side to Scottsdale's dining scene is The Americano. An Italian-inspired steakhouse, its menu is described as 'elevated, yet approachable' and includes prime cuts of American Wagyu beef, fresh pasta, organic salads, antipasti, and Mediterranean seafood. A sleek setting that is a world away of the saloons of the wild west, its inventive cocktails are well worth a try. This includes the famous 'Versace on the Floor' which we all ordered on arrival. theamericanorestaurant.com
FnB
Away from the flame of the BBQ culinary culture, veggies can revel at FnB in Downtown Scottsdale. Chef Charleen Badman (also known as the 'veggie whisperer') is one of Arizona's most celebrated chefs and makes a bold statement by blending flavour combinations using locally grown vegetables throughout an unfussy, home-style menu. Choose from dishes that are great for sharing such as winter greens with apple, shaved vegetables, blue cheese and walnuts or local citrus with whipped ricotta, yuzu honey, almonds and basil. And if you're keen to sample some of the state's best wine, FnB's co-owner continually curates an evolving wine list that highlights a different growing region each month. fnbrestaurant.com
Farm & Craft
Wellness aficionados will not want to pass Farm & Craft by. Taking the concept of wellbeing dining to the next level, its seasonal menu follows four paths to optimal health (these being an anti-inflammatory diet, increasing probiotic levels and antioxidants, and reducing stress). They do this with sustainable, gluten-free, organic, and hormone-free ingredients. Highlights include the Korean Bowl with kimchi cabbage and jalapeño slaw, or the steak and farrow wrap with caramelised onions in a whole wheat tortilla. Ingenious cocktails are both delicious and guilt-free, notably the fresh pressed watermelon squeeze, açaí superfruit skinny margaritas, or Kombucha cocktails. ilovefarmandcraft.com 
Platform 18
This immersive train journey cocktail bar is an alternative experience in a glamorous, Presidential Pullman-inspired train carriage. On our visit, there was absolutely no sign of snow landing on the warm Arizonan landscape. Stepping into Platform 18 virtually guided us through the magical snow-clad forest among the Rocky Mountains. This was all whilst sipping on a mix of classic, and more so creative cocktail concoctions – including one served in a teacup and saucer. centurygrandphx.com
Things To Do In Scottsdale
Hike the Echo Canyon Trail at Camelback Mountain 
This trail is for those who'd like to conquer Scottsdale's leading landmark: Camelback Mountain. Get yourself to the base of the trail just before sunrise to beat the crowds and enjoy the famous red rocks glow under the morning sun. An incredible route for anyone who fancies themself a hiker, it is rated 'extremely difficult' and requires a fair amount of both leg and arm power to reach its picturesque summit. Choose the Cholla Trail options for a friendlier path.
Saddle Up On A Horseback Adventure
Become a cowboy for the day on a horseback adventure. Wild Western style, don a cowboy hat, jeans and leather tassels with Windwalker Expeditions, working professionals who offer private guided tours of Scottsdale's Sonoran Desert with their horses. Another way to explore this beautiful wilderness, we carved our way through the arid landscape into the late afternoon as the sun lowered, casting its dramatic shadows across the red rocks and mountain ranges beyond. For those who want to throw themselves into this way of life, Windwalker also offers expeditions of up to ten days that navigate into some of Arizona's most remote territories. windwalkerexpeditions.com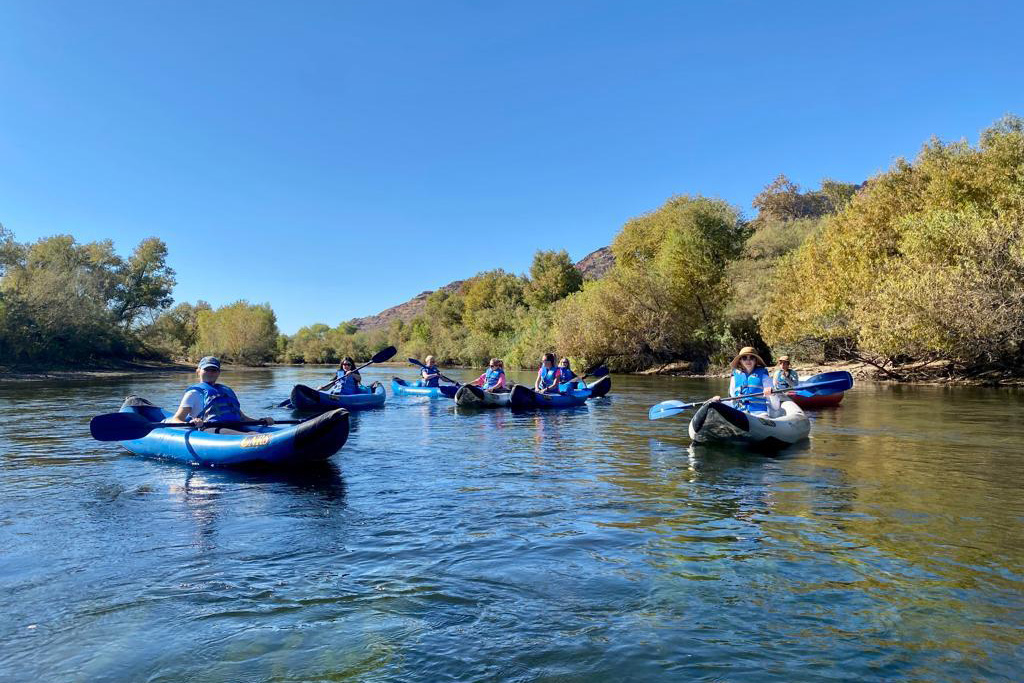 Kayak Down The Lower Salt River 
Take to the relaxing waters of the Lower Salt River on a kayak. Surrounded by unobstructed views of four different mountain ranges, the nature-rich river is abundant with wildlife – this includes birds such as great blue herons and bald eagles. The striking wild horses are one of the main attractions and of which you're almost guaranteed to paddle past. destinations.rei.com
Visit the Second Nature Clinic
Retox and rejuvenate with a visit to Scottsdale Old Town's Second Nature Clinic. A Natural Medicine hub, there's a menu of Naturopathic and Ayurvedic Medical Therapies from its founder, Dr. Thanki. With a belief that the natural world should be an integral part of any wellbeing routine, order the strictly non-alcoholic 'IV Cocktails' or 'Single Shots'. I had the Immune Boost drip, aka a 'super dose' of Vitamin C, B Complex, and Zinc to power up the immune system. Shots include the recharge Pick-Me-Up, or metabolism boosting Lipo Shot. secondnatureclinic.com
Hop On A Hot Air Balloon Flight
Even the most organised of visitors cannot guarantee hopping into a hot air basket due to very changeable conditions (as we soon discovered). Hot Air Expeditions has been filling the skies with their graceful balloons for over 30 years over the Sonoran Desert and has become a popular activity for those planning to propose (should you be willing to share the experience while in a basket with other witnesses). Perfect for experiencing the landscape from a new perspective, early morning and afternoon flights (should conditions allow) enable passengers to spot local wildlife and take in the dramatic mountain ranges from up to 5,000 feet. This is all within handcrafted wicker baskets which cast off from a different place across the region each day. hotairexpeditions.com
Go Vintage Shopping
Scottsdale's Old Town is a treasure trove of vintage stores attracting celebrity clientele such as Rhianna and Miley Cyrus. One of the most popular is Vintage By Misty. With rails stacked with iconic brands from Chanel to Hermès, owner Misty Guerriero has made quite a name for herself seeking out luxurious vintage items over the last decade. Pop by for some retail therapy before lunch at one of the many restaurants nearby. vintagebymisty.com
BOOK
For more information on Scottsdale visit experiencescottsdale.com.