Devanshi Mody finds breathtaking scenery, healthy eats and sublime spa treatments in this magical corner of Southeast Asia.
Luang Prabang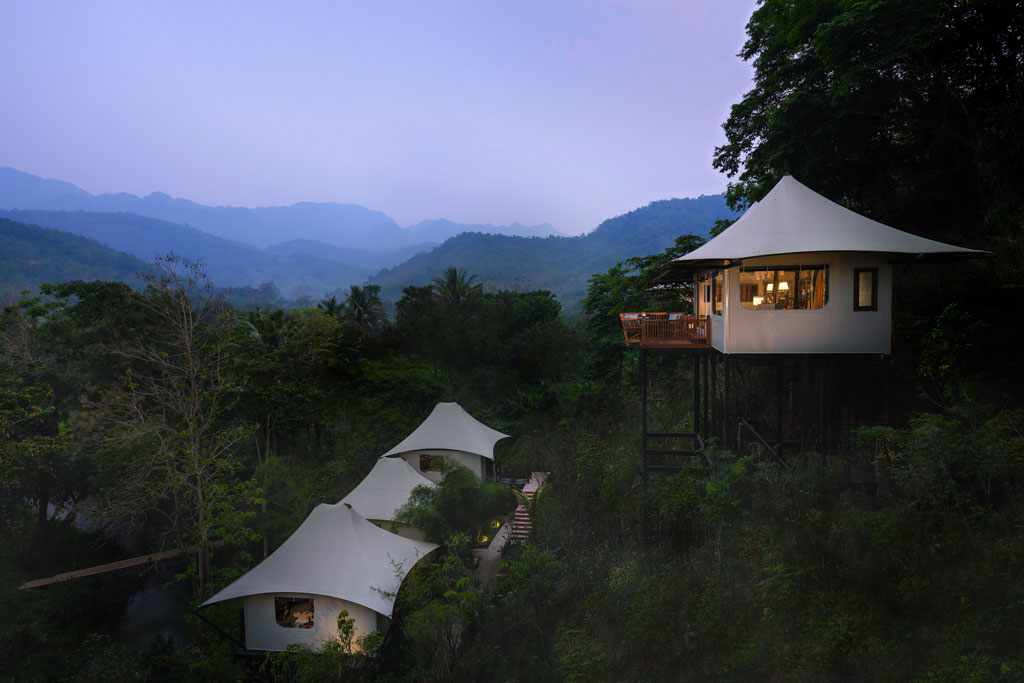 With astonishing hill-perched tents, the ravishing new Rosewood has catapulted to the acme of Laotian luxury. You'd think the tents, exotically and individually decorated by Bill Bensley and fetching over £1000/night, are the hotel's highlight. But its best-kept secret is Sense, the spa tucked half-way up the gardened hill the tents preside over. At the spa reception, heated towels warm your neck as you peruse the excursive spa menu, before you're escorted through verdured ways to the spa suites, where a bed stands over a glass panel, framing a stunning streaming cascade of plants. Over signature "Lost Remedies" treatments, Ly – among the best masseuses on earth – straightens even the tautest of muscles, rendering you fit to sprint uphill to your tent. Treatment compositions use herbs from the hotel's gardens, besides organic ginger, pepper and mountain honey, and smell so delicious you'd eat your poultice and scrub. But much better to try chef Sebastien Rubis' Royal Laotian cuisine at the romantic, garden-wrapped restaurant in the hotel's colonial Great House. Alas, his assemblage of French wines annihilate even the sternest detox resolve.
BOOK: Doubles from £630++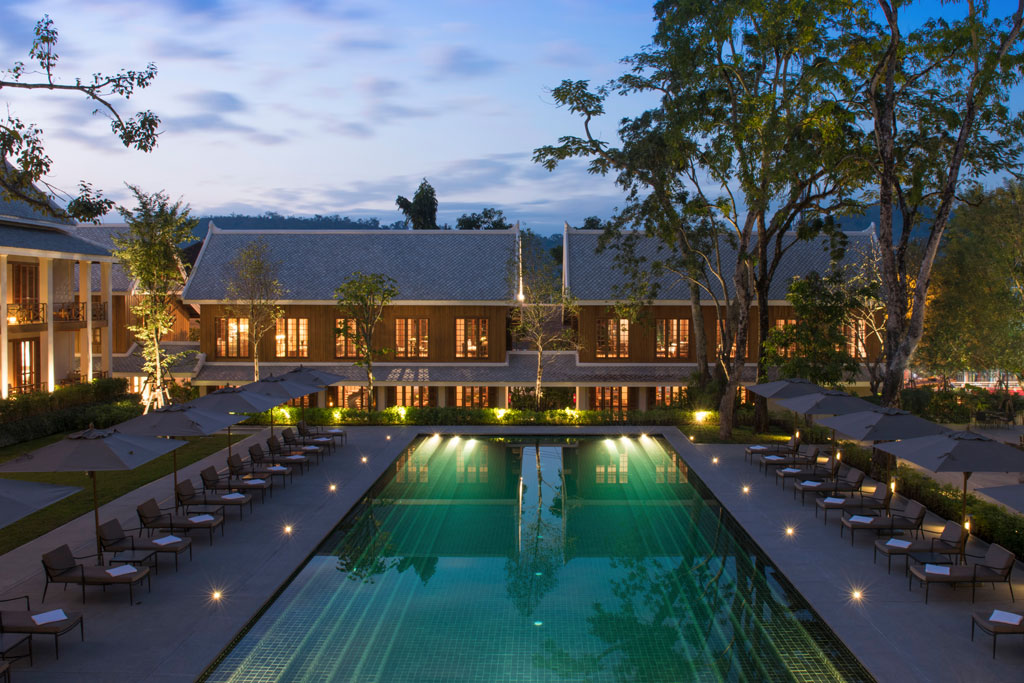 Conceived by legendary architect-turned-hotelier Adrian Zecha, fringing the Main Street of Luang Prabang's old heritage town, the hotel is a miracle of minimalism, set around a sleek central pool. If the hotel's 40 rooms are snug, the 4 spa suites are expansive, with the same spartan elegance. The Couple's Suite conveniently has 2 individual changing areas with their own showers on either side. The spa boasts not one but two exceptional therapists, Noy and Sui – so you needn't combat your partner for the best hands to effect the intensely vigorous 90-minute Deep Impact massage with lemongrass oil. The all-day restaurant has superb healthy salads, some of which incorporate the gleaming cherry tomatoes that grow around the restaurant's outdoors terraces. But the hotel's most exhilarating feature surely must be the street-set al fresco lounge terrace which spectacularly juggles private and public spaces – you feel you are at one with Luang Prabang's streets and yet remain aloofly apart on this suave hotel terrace. As you nibble on salubrious Living Land Sandwiches, feast your eyes on the pageantry of temples, tourists and local life all around.
BOOK: Doubles from £300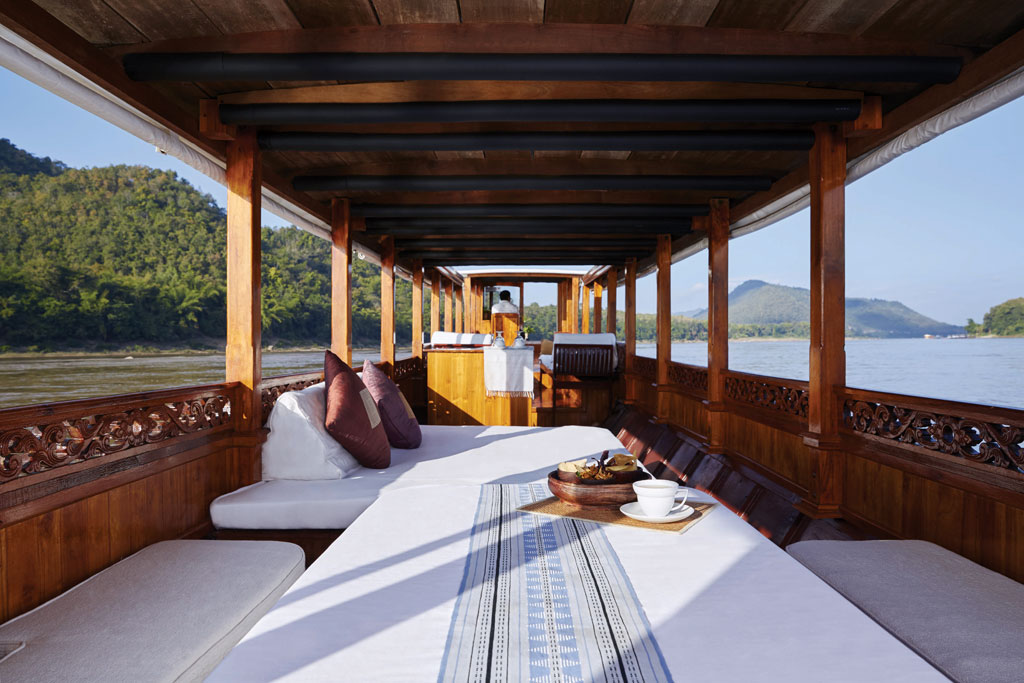 This beautiful hill-top retreat is secluded and serene. The Belmond boasts some of the loveliest suites; here, French colonial chic meets Asian exoticism, capturing the hypnotic romance of Luang Prabang's bygone era like no other hotel in town. You won't want to emerge from the seductive confines of your room – except for multiple excursions to the spa village, set around the spa's private pool, in a delightful embrace of lotus ponds. Immense spa suites in dark wood exude a sensual oriental aura. Try a traditional hot bamboo treatment where steamed bamboo is used across your body to iron out and invigorate your muscles. Post-treatment, you may be escorted to a secluded gardened pavilion for a 500-candle dinner – "You can count the candles!", the staff enthuse – amongst the most stunningly orchestrated private dining experiences. The spa's rejuvenating therapies apart, it's as therapeutic to simply luxuriate around the hotel's main pool, watching verdant hills waver against cloudless skies. More therapeutic still is alms-giving to monks at dawn, followed by Luang Prabang's first ever Breakfast Cruise. Float down the Mekong, past sleepy foliage that's awakening gently in the soft morning sun, as your butler unveils a savvily composed picnic breakfast comprising all your favourites.
BOOK: Doubles from £459++
This abode has all the grandeur and the glamour – as it should, originally built as the French Governor's residence in the 1900s. Citadel-like, the haughty white exteriors enclose opulent gardens and the longest, most lavish lawns in all Luang Prabang, inlaid with exuberant fountains and an amethyst-tiled pool. The spa is inspired, occupying fabulous heritage wooden Lao houses on stilts. Laos is renowned for its coffee: at The Sofitel, you don't just drink it but are burnished with it during the elaborate Bonjour Experience, which uses rich Lao coffee and coconut to exfoliate the skin and stimulate circulation. The ritual culminates in a relaxing bath and an aromatherapy massage. Another spa with more than just one outstanding therapist, you'll have to book a few massages to decide between Da and Lee's expertise. Post-spa, relish one of the resort's celebrated pop-up dinners in the bowers of an immense tree in the front gardens. New chef Jeremie Muller 'Frenchifies' Laotian cuisine into streamlined, stunningly presented artwork, imparting unprecedented finesse to Luang Prabang's dining scene.
BOOK: Doubles from £240
The latest addition to Luang Prabang's hotel scene, it's enormous and excursive, contrasting with the intimate, exclusive boutique properties which are the norm. This is perhaps the town's first real "resort", and a resolutely modern one too. The spa, set against a backdrop of far-away hills, is accessed after a buggy ride past in-house patches of paddy cultivation. The reception is so outrageously chichi; from it, you are led to spa villas set around beautifully landscaped gardens. Try the 4-hand massages, where therapists Pou and Vanh knead you with wondrous dexterity, or combine a 90-minute deep tissue massage with the best facials in Luang Prabang, with components like marine ferments, plankton and "sacred lotus," imparting a distinctly local flavour.
BOOK: Doubles from £200
South Laos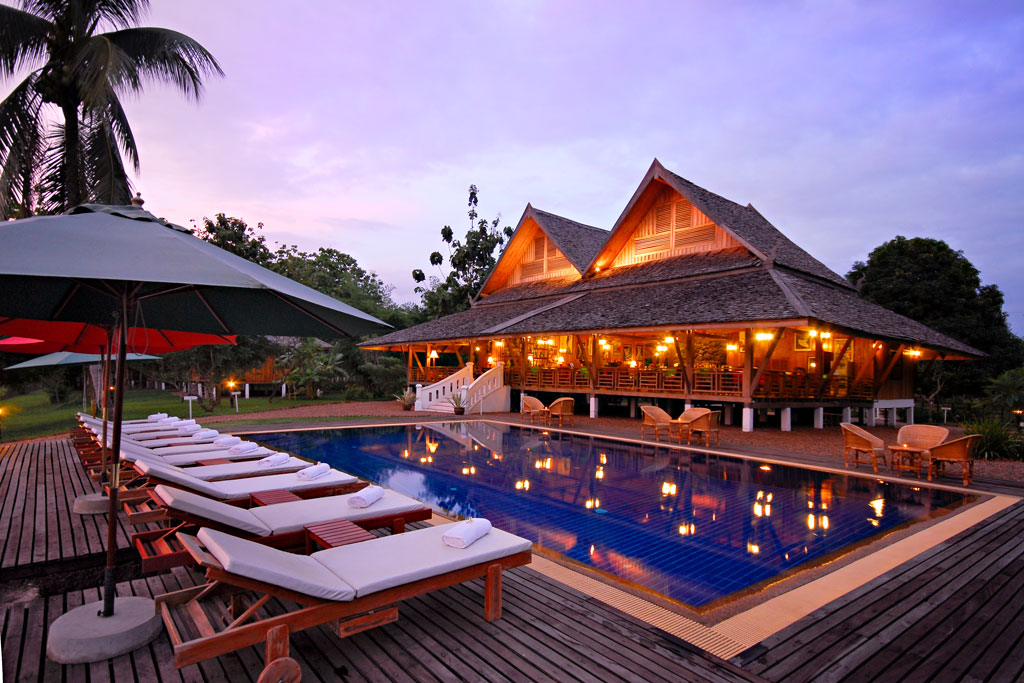 Eco-elegant, endlessly adventurous and eccentric beyond imagination, this lodge near the fabled Wat Phou Temple is owned by French aristocrat Antoine de Noailles and, like its owner, has character. You arrive by boat, which happens to be a floating platform with a scatter of chairs and umbrellas for shade. If you arrive at dusk, there are no lights and you seem afloat on a ghost river until suddenly, a meander of lamps appears, snaking up the sand to the lodge. Named after the French for madness, it is madness you discover when you have to step off the boat, hop-scotch planks and then jump onto a tractor to reach the lodge. If the experience leaves you mildly bewildered, there's an ineffable allure about this place. Wooden cabins, like something Robinson Crusoe might have built, sit along the Mekong. The new spa occupies one such cabin, and it isn't trying to be too sophisticated – the idea is imbibing the natural surroundings over massages using oils, created for the resort by the famous Artisans Laos. Drink up the ambiance from the foliage-filled riverside terrace, and if that's not tranquil enough, embark on a peaceful sunset cruise with a private butler and the best canapés in Laos.
BOOK: Doubles from £205
North Laos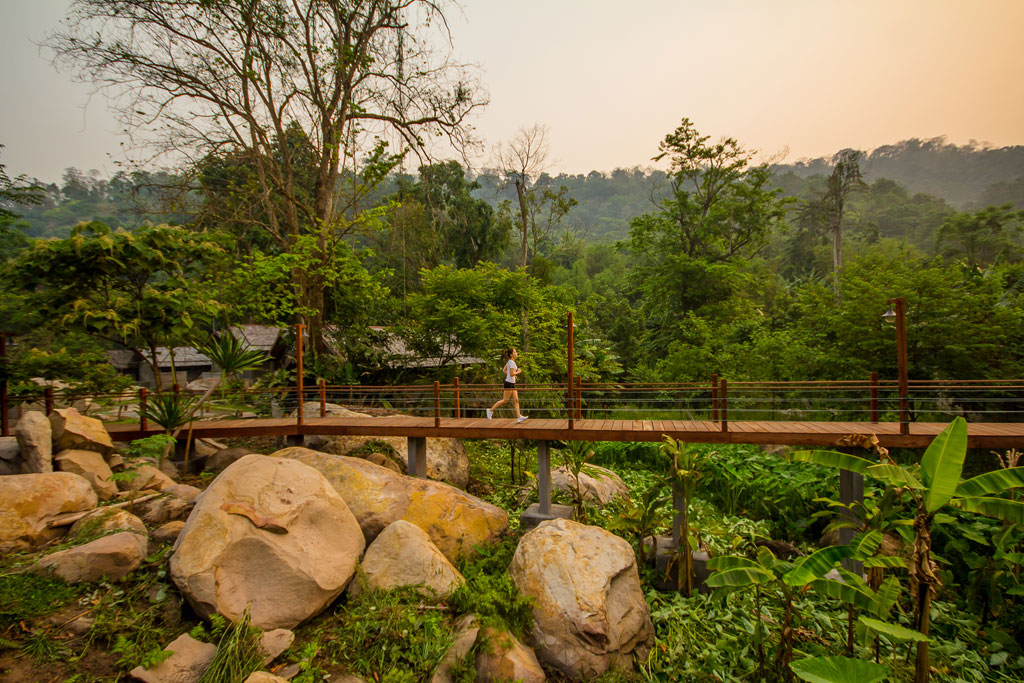 An outdoor activities paradise sprawling across acres of green, the resort's design features are deeply steeped in the architectural and cultural identity of the historic Oudomaxy region, with a strong tribal element to the contemporary fittings and artwork. Different categories of accommodation include everything from camping tents, set in the pristine hilled and leafy surrounds of North Laos, to the ethno-chic pool villa. The villa, comprising a living room and bedroom, has a bathroom as big as the bedroom with a free-standing jacuzzi-tub. But the real show-stopper is the outdoors terrace with wood-panelled walkways, exotic gardened pavilions and the serenade of the gushing stream. The restaurant has outdoors tables set before vast stretches of greenery whilst the spa, also set on the stream, is the place for hot poultice tribal massages.
BOOK: Doubles from £115
BOOK IT
Trails of Indochina crafts bespoke itineraries with 3-day packages for Luang Prabang, from £957/person based on a couple.
Bangkok Airways offers Bangkok-Luang Prabang return flights from £180 for transits through Bangkok with complimentary lounge access on all fares.
More Weekenders: Perth | Cape Town | Tokyo | Berlin | North Devon | Provence
---