Just an hour and a half south of tourist trap Cancún lies Tulum, a soft sand paradise that's mastered the perfect balance of both healthful and hedonistic pleasure-seeking. Eva Ramirez shares her top picks for where to eat, sleep and more…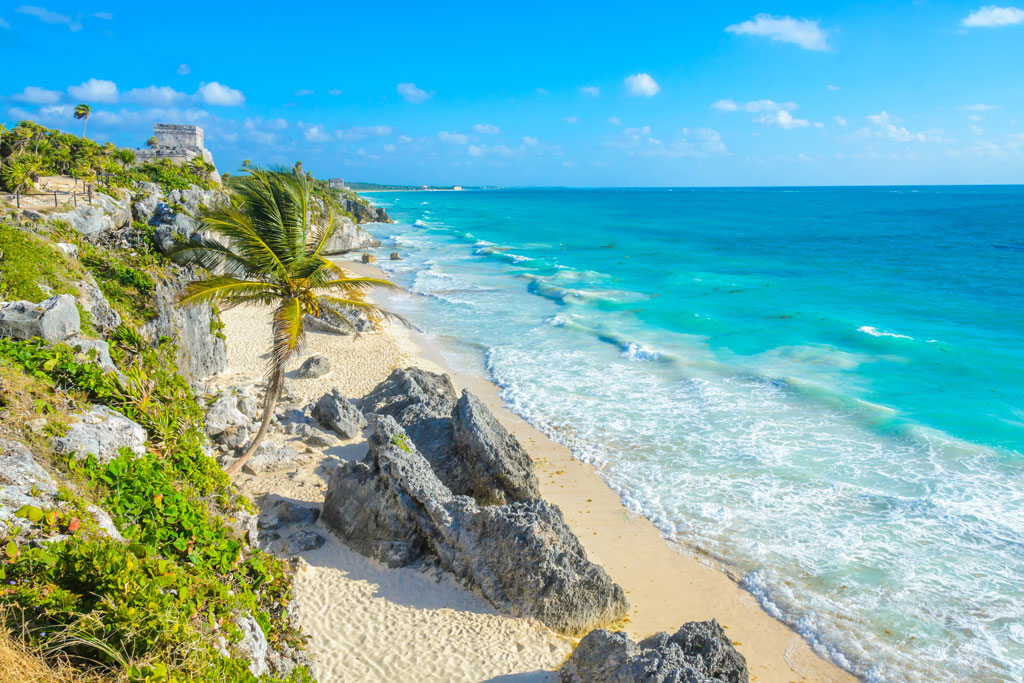 STAY
Tulum naturally attracts an international blend of residents and Habitas seems to be a hotbed for the most creative of these. Opened just last year, the lifestyle hotel is a mish mash of contrasts – oceanfront and ensconced in jungle palms, bohemian and luxurious – that seemingly combine to provide a setting which soothes, inspires, encourages connection between fellow guests and ignites a sense of curiosity.
Rooms are thatch roofed tents individually built on raised platforms, with private terraces and outdoor rain showers. Wellness offerings at Habitas are inspired by the location's Mayan roots, with mandala classes, Mayan calendar readings, clay ceremonies, yoga, meditation and more, all complimentary to guests. Bicycles, which are the preferred mode of transport in Tulum, are also free to hire from the hotel.
While breakfast isn't included in the booking costs, you'll get your money's worth by getting stuck into the activities. Come evening, outdoor movie screenings, DJ residencies and live music mean you won't have to venture far for a craft cocktail and taste of the Tulum nightlife. If you do feel like branching out, Habitas is right at the beginning of the beach strip and the perfect starting point for a bar hop. More about where to wet your whistle further on…
SEE
Cenotes are everywhere in the Yucatan region, the only difficulty will be choosing which of these magical pools to visit. I'd advise going with a tour so you can see several in a day. Dos Ojos is one of the most spectacular, full of winding underwater caves which are perfect for avid divers. The Yucatan Peninsula was the centre of Mayan civilisation, so it's no surprise that the region is full of ancient ruins and awe-inspiring archeological sites.
There are the cliffside Tulum Ruins and further inland you'll find Coba, with it's network of stone causeways and mythical pyramids. The largest of these Ixmoja, standing at 138ft. Unlike other Maya sites, you can actually climb this pyramid. It's challenging but rewarding, with an amazing view of the jungle below. If you can muster the energy for a daytrip, a jaunt over to Isla Holbox should be it. Home to flamingos, pelicans and quite probably the most instagram-worthy beaches you'll ever see. To get there, drive up to the tiny port of Chiquilá and then it's just a 25-minute ferry ride away. The protected Sian Ka'an Biosphere reserve is a nature lover's dream, full of lagoons, beaches and coral reefs waiting to be explored.
EAT
Start your day in town with breakfast at Del Cielo. Beautifully presented generous portions are just what you need to fuel up for a day of exploring. If it's eggs you're after, try the typical Huevos Rancheros made with proper Oaxacan cheese or 'A la Mexicana' scrambled eggs with local smoked sausage. They also have more continental options such as a sweet mango bircher muesli, french toast and thick, fluffy pancakes.
Back near the beach, Raw Love is popular with the vegan and health-conscious crowd. The name pretty much gives it away – it's a raw vegan cafe but portions are hearty and you'll leave feeling satisfied, especially if you go for a smoothie bowl topped with granola, fresh fruit and nuts as opposed to the usual slurp-with-a-straw kind. Later in the day, stop for a quick lunch at Taquería Honorio. Revered by locals and visitors alike as the best tacos in Tulum, they close at 2pm so you'll want to get down there early. Go for the slow-roasted cochinita pibil, a seasoned pork which is one of the most notable Yucatecan dishes. It comes on a freshly made corn tortilla with pickled onions on top, and don't forget to try the host of condiments they have, all at varying degrees of spiciness.
If it's a late night, post-tequila taco you're after, try Taqueria El Nero in town. The El Pastor (pork) and Suadero (beef) are delicious here. For a more formal dinner setting, visit Arca, the candle-lit restaurant headed up by Noma alumni Jose Luis Hinostroza. Here, food is a seasonal, progressive celebration of Mexican culinary traditions and the local land's bounty. Service is un-stuffy and the familiar staff will happily recommend dishes. While it may seem like a dull option, the sourdough with homemade butter and Mayan salt is an incredible starter alongside grilled octopus, just don't forget to save some room for dessert.
DRINK
You'll spot Gitano pretty easily thanks to the fluoro pink sign above it's entrance. The crowd is as beautiful as the setting and the gypsy vibes and delicious cocktails which go down all too easily make for a fun night at this jungle club. The DJ starts at 10pm so arrive just before. A few steps down the palm-tree lined beach strip you'll find Xaman with it's concrete, brutalist decor. A newbie among the bars here, it's already building a reputation for creative cocktails which use regional ingredients such as plantain, chaya and mayan melicona. Live DJs start their sets as it sinks further into the evening with a mix of shamanic beats and more contemporary, electronic music. It's all eco-friendly hedonism here.
SPA
Whether you find your joy in mezcal or matcha while in Tulum, one thing you'll want to treat yourself to while visiting is a few hours at Yaan Wellness. This energy healing spa integrates mind, body and soul in their approach and offers a varied menu of indigenous and more pamper-focused treatments such as facials and waxing (ideal if you didn't have the time to prep pre-holiday).
MORE TRAVEL: A Local's Guide to the South of France | The C&TH Guide to Kazakhstan | The C&TH Guide to Hot New Hotels
---