Winter Sun: The C&TH Guide To Gran Canaria
---
Stay, eat and do on the Canary Islands' most famous isle
Gran Canaria is one of Spain's best-known Canary Islands, situated off north-western Africa, famous for its black lava and white sand beaches. A mere four and half hours flight away from London, Gran Canaria maintains a mild climate practically all year round, with temperatures sitting around 18°C even in December, making it a perfect destination for some last-minute winter sun for couples and families alike.
Read the C&TH Responsible Tourism Guide
The C&TH Guide To Gran Canaria
STAY
Gloria Palace Royal Hotel & Spa
Gran Canaria has a number of outstanding residences from which to choose from; the four-star Gloria Palace Royal Hotel & Spa is particularly suited to those with young families. Conveniently located on the edge of Gran Canaria's Amadores beautiful golden beach, with 21 spacious suites overlooking the infinity pool and stunning panoramic views of the sea and mountains around every corner, the amenities on offer ensure that there is something for everyone. An a la carte restaurant, buffet and four bars with day and evening menus cater to all palates, and multiple swimming pools, a spa, wellness centre and on-site and off-site activities ensure that there are endless diversions if you want to do a little more than enjoy the beach.
BOOK: gloriapalaceth.com
Hotel Rural Las Longueras
For those looking for something a little off the beaten track, Hotel Rural Las Longueras is a 12 room boutique hotel. Over 100 years old and known locally as the 'Red House', the hotel is nestled in the middle of an orange, avocado, mango and papaya farm in the Ageate Valley – a secluded and untouched rural setting that makes it the perfect base to explore the island's natural side. The hotel is imbued with genuine character drawn from ancient Gran Canaria traditions, with a combination of wood with cheerful fabrics, a collection of photographs, painting and antiques, as well as a delicate scent of the fruit trees that surround the property. It is an ideal location to spend a few days in the heart of nature, all the while sunning yourself by the swimming pool.
BOOK: From £105 per room per night. laslongueras.com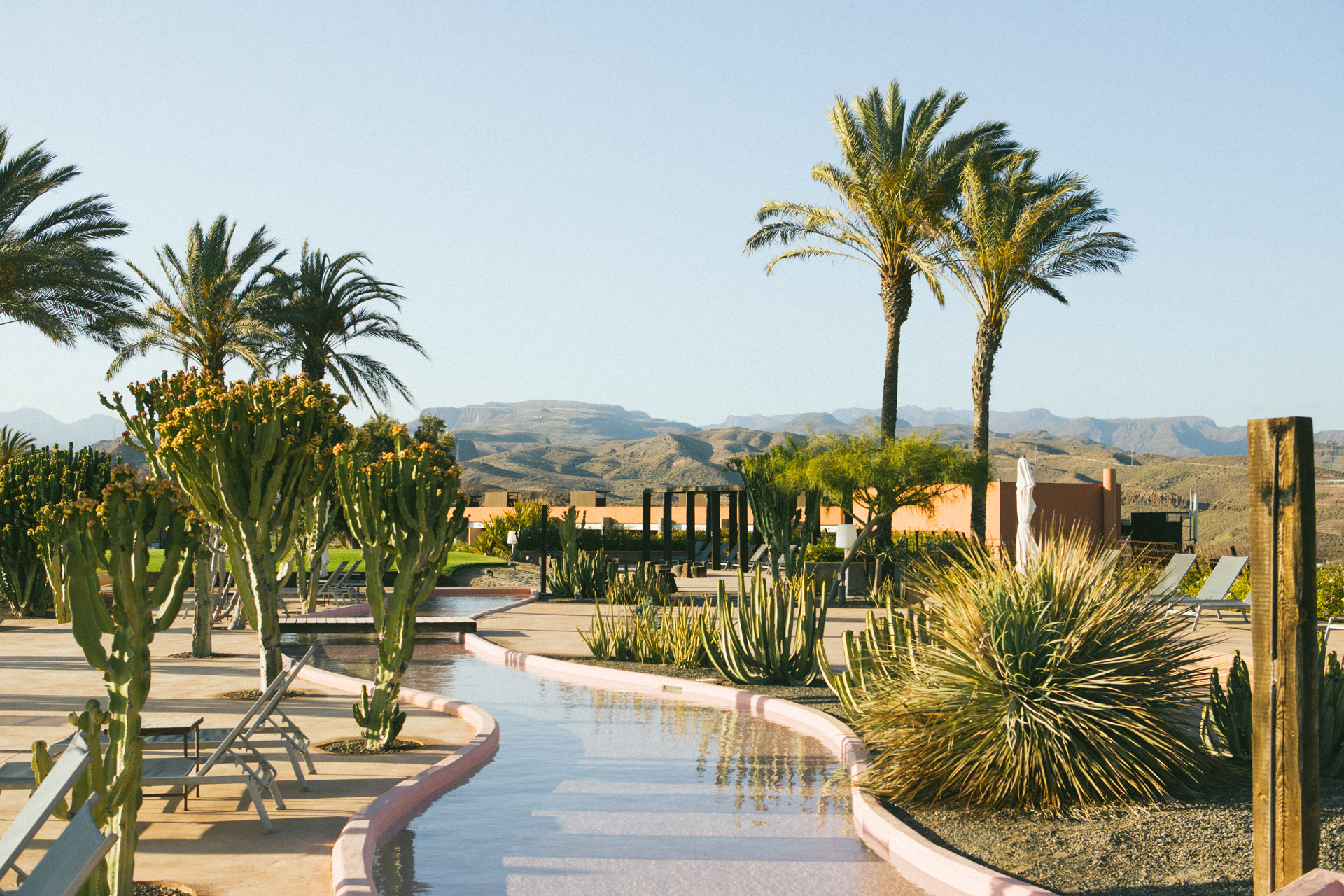 Salobre Hotel Resort & Serenity
If you want a little more indulgence, head to the prestigious Salobre Hotel Resort & Serenity, which offers guests a truly stunning respite from daily life. One of the most luxurious destinations on Gran Canaria, Salobre Hotel Resort & Serenity blends indoor and outdoor living, with an architectural design that is integrated into the landscape, ensuring every corner of the hotel (including each of the serenely chic 313 rooms) offers stunning rolling views of the highlands beyond. At this tranquil paradise, every aspect is geared towards guests' relaxation and peace, down to the smallest detail; so clever is the layout that you literally feel as though you are in your own little world, regardless of how busy the resort is.
Relaxation and disconnecting from the endless pace of digital life is heartily encouraged; guests can book a 'Daydreaming' experience on enormous Balinese Beds located on the eleventh floor, where breathtaking panoramic views of blue skies meet a blue ocean. The experience (especially when accompanied by the recommended sparkling wine) is no less than, well, dreamy. Six restaurants guarantee a plethora of gastronomic adventures, with breakfast in the SENS Kitchen Patio Garden – a daily highlight. The Resort prides itself on its sustainability ethos, offering guests the opportunity to use bikes around the resort, using organic local ingredients in their cuisine, and championing their in-house 'Be Aloe' commitments. In the Be Aloe Wellness Centre, a 360° approach is taken to guest's wellbeing, with daily meditation sessions and yoga classes in group and private sessions. The state-of-the-art gym amenities, basketball court, cycling trails, eco fitness area, football pitch and running track offer an array of athletic options for those keen to enjoy exercise in beautiful natural surroundings. For those inclined to the fairways, Tee times are always reserved for in-house guests, so you can play to your heart's content. 
BOOK: From £190 per room per night. salobrehotel.com 
EAT
As well being a coveted place to stay on the island, Salobre Hotel Resort & Serenity is also a luxury dining destination, offering the perfect culinary experience across their six eateries. The five-star menus offer fresh and creative dishes using seasonal local produce. The Sidecar Restaurant's a la carte menu in particular has won praise for its fusion of market food combined with international influences to reinvent classic recipes. Regardless of the golf, definitely pencil in a visit to the Casa Salobre restaurant just to take in the unbelievable panoramic views across their world-famous course, and to sample the best of local wines alongside local and international dishes.
DO
Boat Trips
The stunning waters of Gran Canaria are renowned for their excellent sailing conditions and abundant marine life, and a boat trip is the perfect way to enjoy the beautiful coastline. Book a sojourn on the famous Five Star Boat, the largest Catamaran in Gran Canaria, for a truly decadent and authentic island experience (£52 per ticket). Or for those wishing to catch a glimpse of the whales, dolphins and the famous flying fish, trips can be booked on the Spirit of the Sea (£33 per adult ticket).
Wine Tastings
One would be remiss not to pay a visit to one of the local wineries. The beautiful Finca La Laja & Bodega Los Berrazales – located at the foot of the cliffs of Tamadaba and canopied by a forest of centuries-old pine trees – is worth the visit if only to enjoy the views of the adjoining cliffs and picturesque Agaete Valley. Famous for its oranges, coffee and wine, the family-run estate is over 200 years old and aims to recover the agricultural traditions of the area, while also offering guests, local and international, the opportunity to learn about winemaking from the ground up.
Golfing
For those anxious to work on their golf handicaps, one of Spain's premier courses resides at the Salobre Hotel Resort & Serenity. The Old Course was designed by Roland Favré (those in the know will know how important that is), opened in 1999, and has hosted many important championships, such as the Spanish PGA in 2006 and the Senior and Femino Spanish Championships in 2001, making a visit a must for those who cherish their drivers, wedges and irons.