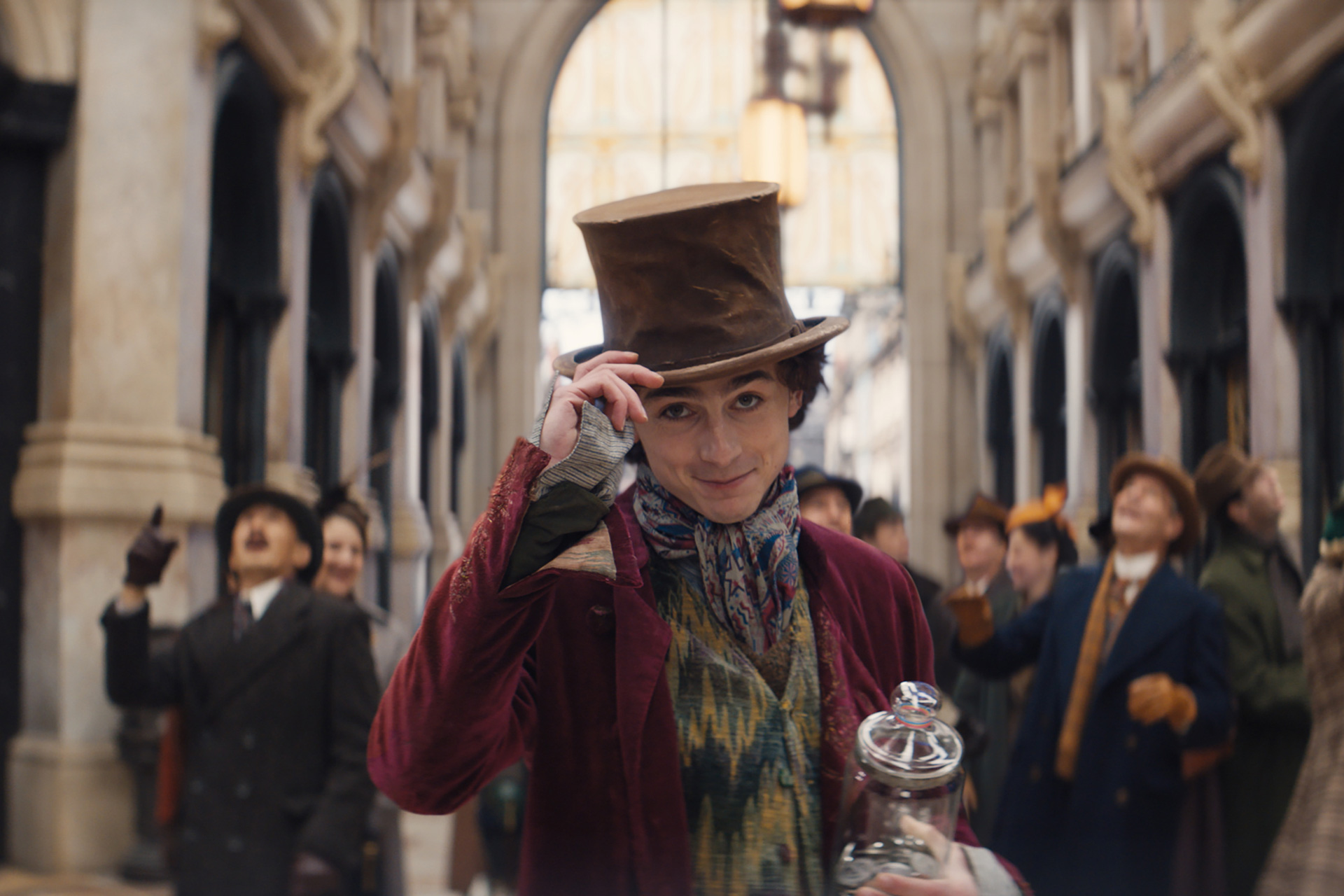 Exciting Movie Releases Still To Come In 2023 (& What's Coming In 2024)
From rom coms to ambitious sci-fis, there's plenty to look forward to in 2023
Consider yourself a film fanatic? Or perhaps you want to make more trips to the cinema? Barbenheimer may have happened already, but it's not all over. Whether you're a Letterboxd lover (if you know, you know) or just like keeping up with the latest trends, here are all of the best 2023 movie releases still to come this year.
New Movies Releases Still To Come In 2023
Foe
In cinemas 20 October 2023
Combining rural farm life with sci-fi, love, technology and the environment, Foe will star Irish legends Saoirse Ronan and Paul Mescal donning American accents, transported 40 years into the future. The two play Henritta and Junior, a married couple living in a farmhouse in the US whose lives are upended when a mystery man named Terrance arrives at the door and informs them that Junior has been selected to leave home to pilot a space programme on a hunt for human life away from Earth. Read everything we know so far here.
Killers Of The Flower Moon
In cinemas 20 October 2023
Leonardo DiCaprio and Robert De Niro star in this haunting western directed and produced by Martin Scorsese. Transporting us back to 1920s Oklahoma, the film centres on the mysterious murders of people in the Native American Osage Nation after oil was discovered on tribal land. It's set to be one of the biggest films of the year – and it's the most expensive film ever produced in Oklahoma. Read all about where it was filmed here.
Bottoms
In cinemas 3 November 2023
Bottoms buzz from critics and audiences across the Atlantic has been floating across to the UK, but we've been cursed for months by a lack of a UK release date. At last, the curse has ended: Bottoms will arrive in British cinemas on 3 November, bringing Rachel Sennott, Ayo Edebiri, Kaia Gerber and Nicholas Galitzine with it. The teen sex comedy follows two high school girls who set up a fight club as a way to hook up with cheerleaders.
The Hunger Games: The Ballad of Song Birds and Snakes
In cinemas 17 November 2023
Suzanne Collins' The Hunger Games trilogy was a massive success, which ushered in a new era of young adult action films (think Divergent, The Maze Runner, The Mortal Instruments), especially those led by women. Collins' 2020 prequel The Ballad of Song Birds and Snakes will transport us to the Capitol, where we follow a young Cornelius Snow (later President Snow). With a killer ensemble cast (Peter Dinklage, Viola Davis, Hunter Schafer), it's sure to be one of the year's hottest movie releases.
Saltburn
In cinemas 1 December 2023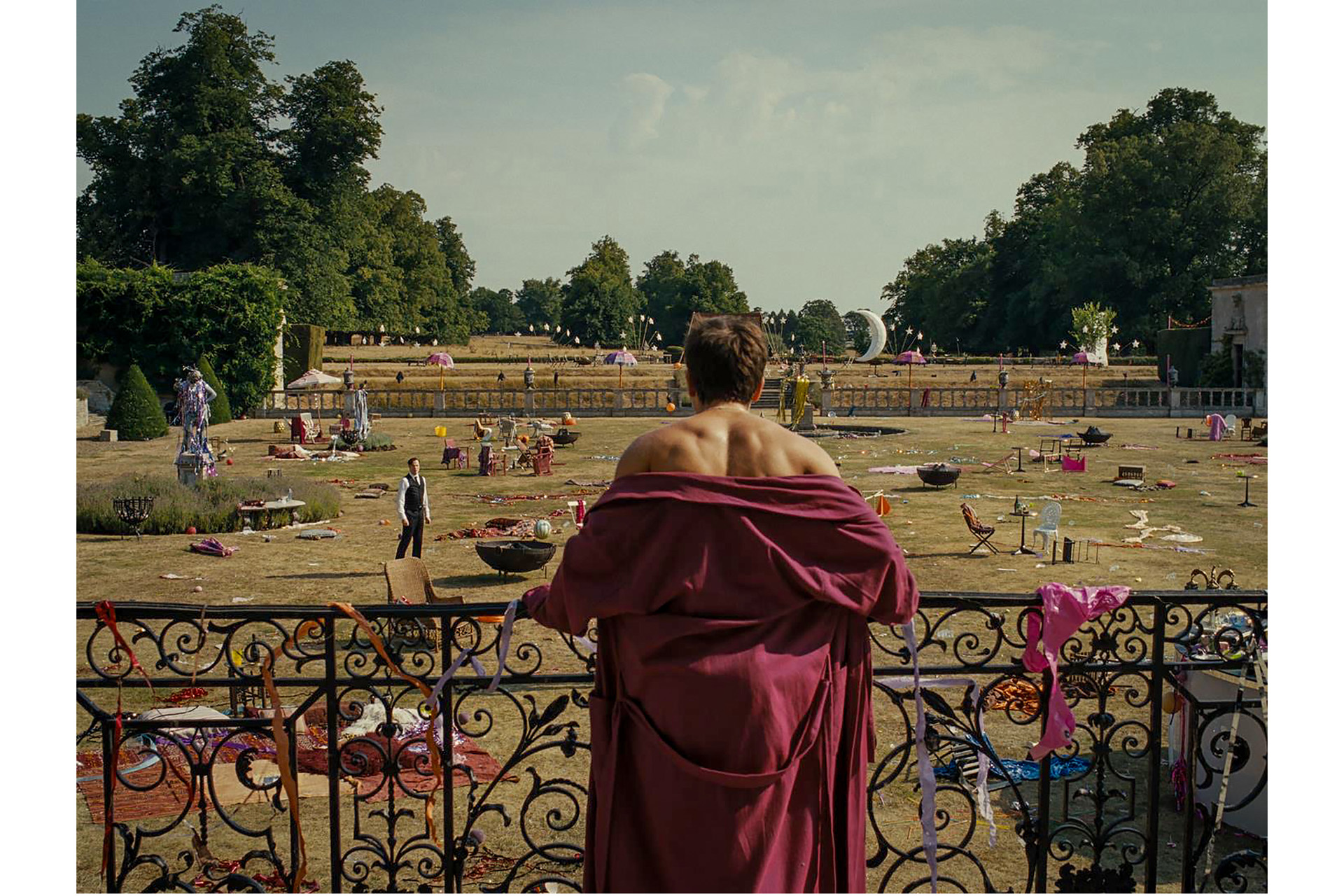 Emereld Fennell's sophomore feature film, Saltburn, will open the BFI Film Festival in London this October, giving a first look into the scandalous flick starring Barry Keoghan and Jacob Elordi. Here's everything we know so far.
Eileen
In cinemas 1 December 2023
Based on Ottessa Moshfegh's debut 2015 novel of the same name (though the author is perhaps best known for her 2018 follow up, My Year of Rest and Relaxation), Eileen debuted at Sundance in January, starring Thomasin McKenzie and Anne Hathaway. Transporting us back to 1960s New England, the film follows Eileen (McKenzie) working in a prison when a captivating counsellor arrives and helps her access new facets of her personality.
Leave the World Behind
On Netflix 8 December 2023
Based on Rumaan Alam's hit 2020 novel of the same name, this psychological thriller will star the likes of Julia Roberts, Mahershala Ali, Ethan Hawke and Kevin Bacon, landing on Netflix this December. Scrutinising our modern world and centred on a trip to an Airbnb, the film follows a couple on holiday who are joined by another couple seeking refuge from a cyber attack.
Wonka
In cinemas 15 December 2023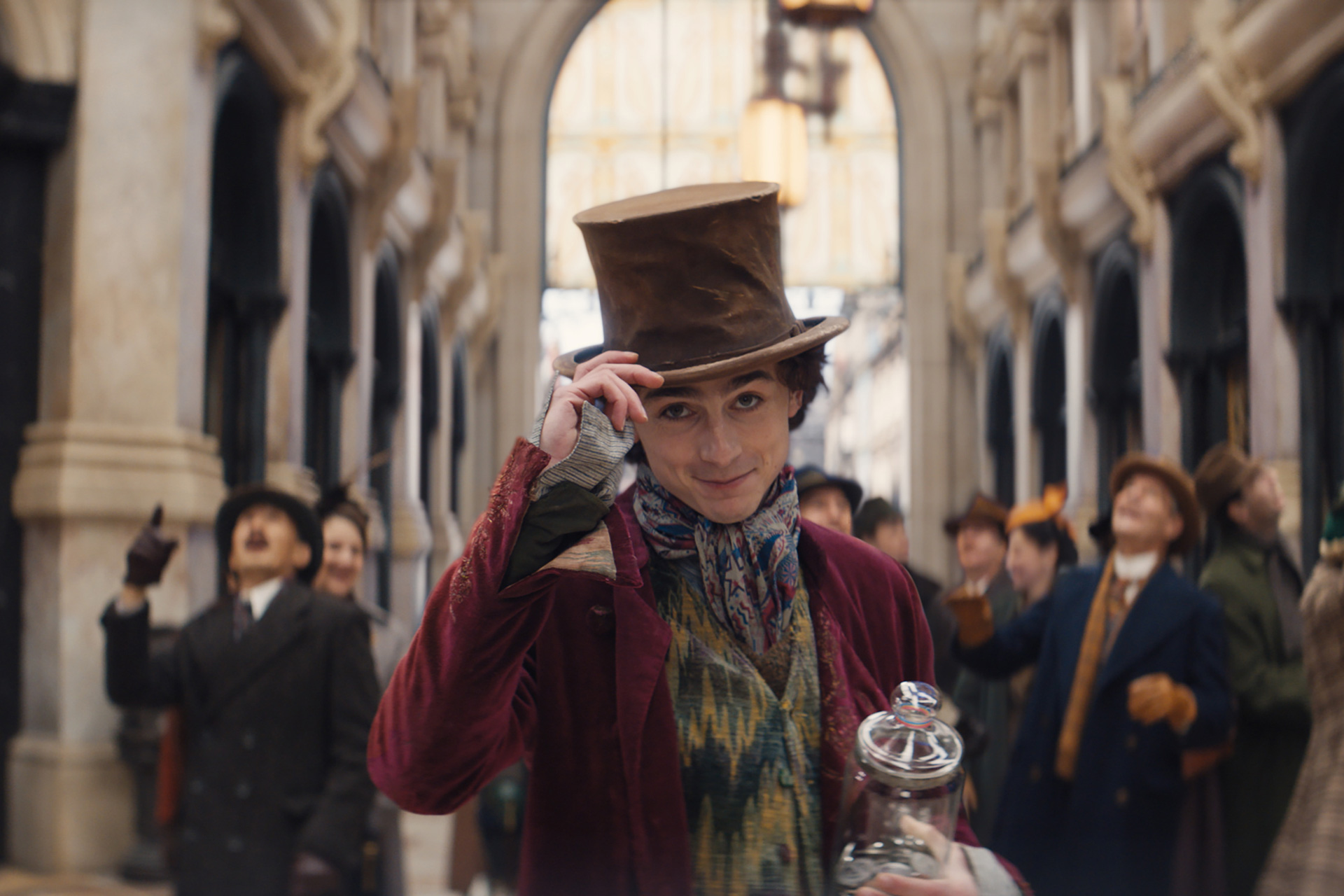 After a year of Timothee Chalamet sightings on set in Oxford, there's still a year to wait for Wonka, slated for release in December 2023. Chalamet will star as a young Willy Wonka, with Keegan-Michael Key, Sally Hawkins, Jim Carter, Matt Lucas, Natasha Rothwell, Olivia Colman, and Rowan Atkinson also confirmed to star. Here's everything we know so far about the film – plus, where it was filmed.
Anyone But You
In cinemas 15 December 2023
Twitter is abuzz with chatter about Anyone But You, the upcoming rom-com starring Glen Powell and Sydney Sweeney. Supposedly a modernization of Shakespeare's Much Ado About Nothing, the film is slated to follow college archnemeses who reunite years after graduation for a destination wedding and pretend to be a couple for their own personal reasons. But through pretending, they actually fall in love. With so many classic rom com tropes, could Anyone But You signal a much-anticipated rom com renaissance? Here's hoping. Meanwhile, here are our favourite romantic films.
'ANYONE BUT YOU' the R-rated rom com starring Sydney Sweeney and Glen Powell, releases on December 15, 2023 in theaters. pic.twitter.com/RsCad8v8TZ

— Sydney Sweeney fans (@SSydneyBest) May 3, 2023
All of Us Strangers
In cinemas 22 December 2023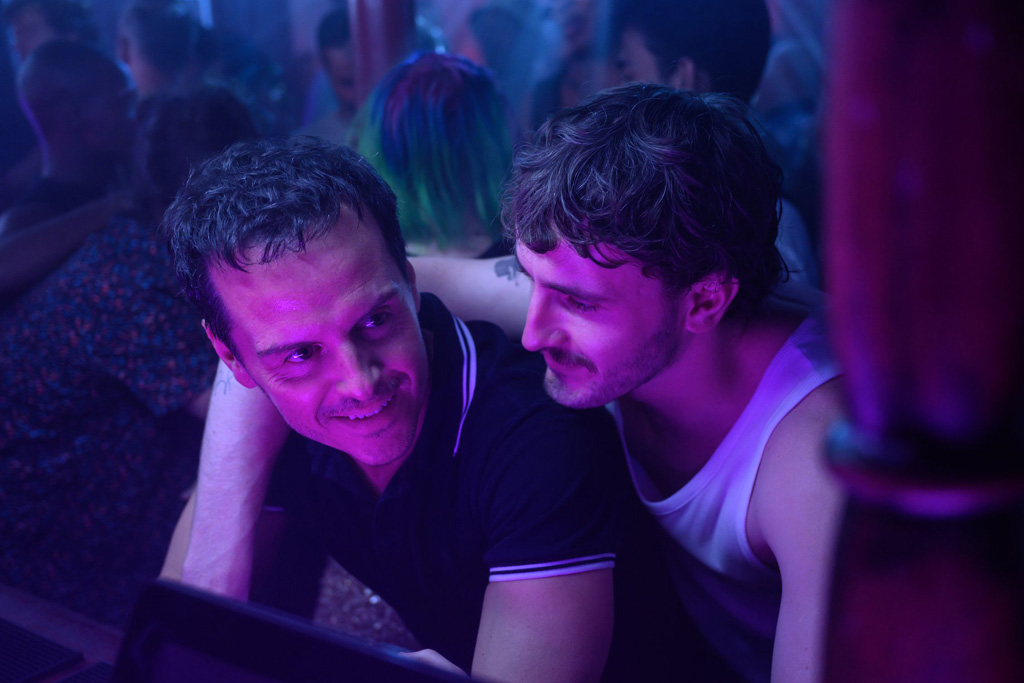 The second film adaptation of Taichi Yamada's 1987 novel, Strangers, All of Us Strangers will be a weird fantasy drama starring Andrew Scott, Paul Mescal, Jamie Bell and Claire Foy. Reimagining the Japanese novel in contemporary London, Scott will play Adam, a screenwriter who has a chance encounter with his mysterious neighbour Harry (Mescal) that ultimately changes his life.
Exciting Movie Releases To Look Forward To In 2024
Priscilla
In cinemas 5 January 2024
Elvis fans, it's time to get excited. After Austin Butler's 2022 blockbuster, Jacob Elordi is set to take the reins in Sofia Coppola's film focussing on Priscilla Presley's life. With Cailee Spaeny in the title role, it's set to be an autumn hit – though its UK release date is still TBC. Here's everything we know so far.
Poor Things
In cinemas 12 January 2024
Premiering in the UK at the BFI Film Festival (after an initial premiere at the Venice Film Festival), Yorgos Lanthimos' Poor Things is led by an eerie looking Emma Stone opposite an ensemble of Mark Ruffalo, Ramy Youssef, Willem Dafoe and more. Lanthimos previously directed Stone in The Favourite with Olivia Colman; in Poor Things, she plays a young woman named Bella who has been brought back to life by a scientist.
The Color Purple
In cinemas 26 January 2024
Based on Alice Walker's seminal classic 1982 novel of the same name, The Color Purple will arrive in cinemas at the start of 2024 with a new 2023 book adaptation, almost 40 years after Stephen Spielberg's 1985 adaptation of the novel. The film will follow Celie (played by Fantasia and Phylicia Mpasi) and her life-long struggles in southern America in the early 1900s. Colman Domingo, Taraji P. Henson, Corey Hawkins and Halle Bailey will also star.
Argylle
Streaming on Apple TV from 2 February 2024
Bryce Dallas Howard will lead this star-studded flick from director Matthew Vaughn – whose cat stars in the movie. Argylle follows Elly (Howard), an introverted novelist best known for her series of novels, Argylle. But her life is turned upside down when Elly is accidentally drawn into the world of espionage following a chance encounter on a train.
Dune: Part Two
In cinemas 15 March 2024
Following the acclaimed 2021 adaptation of Frank Herbert's seminal sci-fi classic starring Timothee Chalamet and Zendaya, Dune: Part Two will arrive at long last in cinemas in November 2023. With Florence Pugh, Austin Butler, Léa Seydoux and Christopher Walken all joining the cast for Part Two, it's set to be a showstopper.
Mickey 17
In cinemas 29 March 2024
We've seen a few first look images from Mickey 17, Robert Pattinson's next flick based on Edward Ashton's novel, Mickey 7. Directed by Bong Joon-ho – the man behind Parasite – we're expecting big things. Warner summarises: 'Mickey7, known as an "expendable," goes on a dangerous journey to colonize an ice planet.' With a supporting case starring Steven Yeun, Naomi Ackie, Toni Collette and Mark Ruffalo, we're expecting a thrilling sci-fi ride.