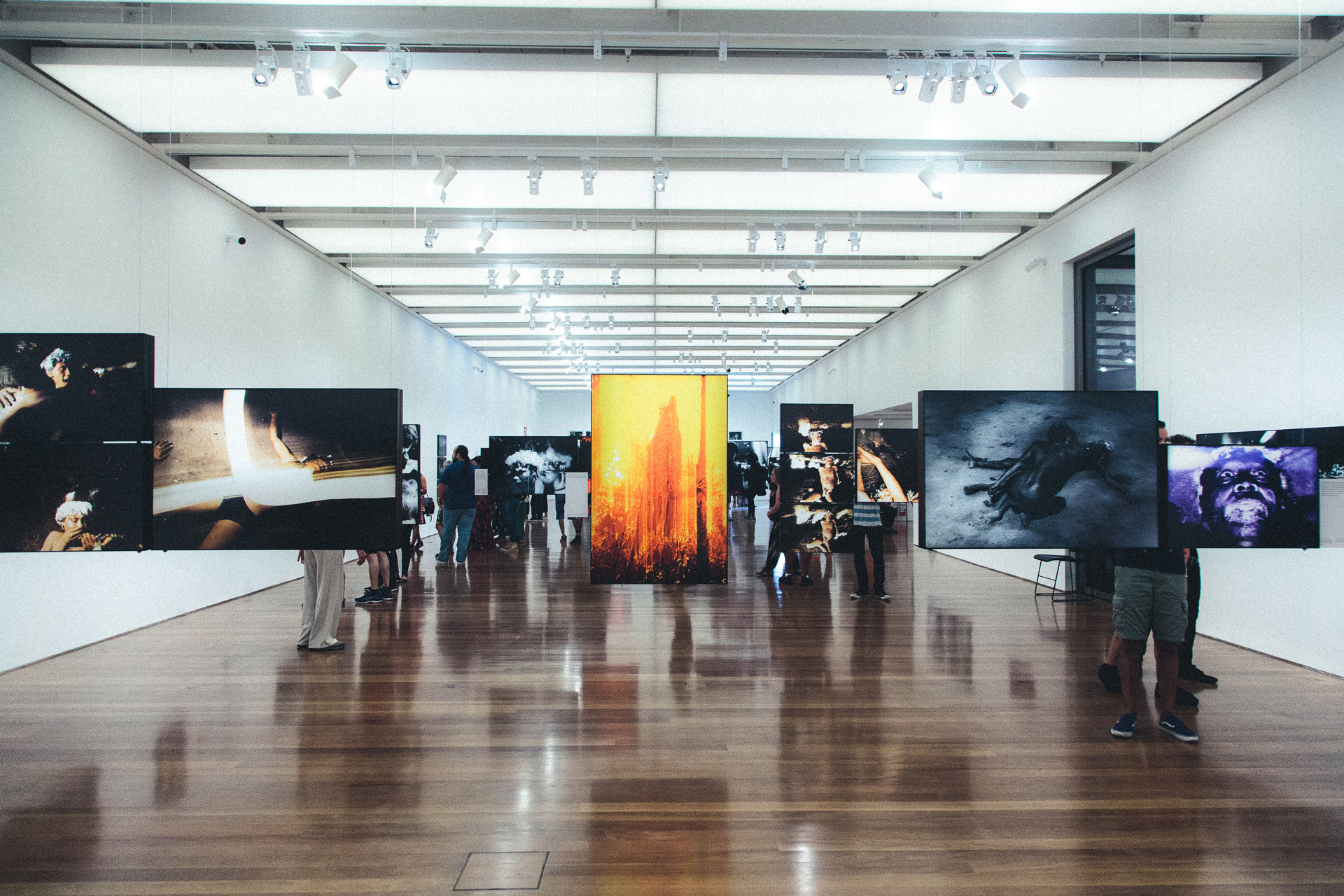 Art Exhibitions Across The UK To Check Out In 2023
---
The best arty things to see in 2023
Looking for must-see art exhibitions in the UK? You've come to the right place. There are oodles of galleries spread across the country where you can find a fantastic array of artworks and designs. Here are the ones to look out for in 2023.
In Brief: What's On Now?
Until 26 March: A Sense of Place at Watts Gallery
Until 6 May: Body Poetics at GIANT Gallery
Until 7 May: Two Worlds Entwined: Annie Morris and Idris Khan at Newlands House
Until 7 May: Rosalind Nashashibi: Hooks at Nottingham Contemporary
Until 8 May:

The New Bend 

at Hauser & Wirth Somerset

Until 2 September 2024: Damien Hirst at Yorkshire Sculpture Park
Art Exhibitions Across The UK To Check Out In 2023
Guildford: A Sense of Place
Where? Watts Contemporary Gallery at Watts Gallery – Artists' Village
When? 19 January–26 March 2023
Young artists Grace Ellen and Tom Voyce join forces to showcase, through landscape paintings, how place can be evoked by and incorporated in art – from Surrey to Cornwall to the US. wattsgallery.org.uk
Bournemouth: GIANT Presents Body Poetics
Where? GIANT Gallery (The Square, Giant Bobby's Building, Bourne Avenue, Bournemouth BH2 5LY)
When? 18 February–6 May 2023
This group exhibition presents nine feminist artists working at the 1970s and '80s advent of feminist theory alongside contemporary artists from a younger generation. Curated by Marcelle Joseph and Becca Pelly-Fry, Body Poetics is a feminist provocation across time and space that explores the outer limits of what a body can be, using the broadest sense of the word 'feminist' to include all female-identifying, non-binary and trans artists. giant.space
Petworth: Two Worlds Entwined: Annie Morris and Idris Khan
Where? Newlands House Gallery (Pound Street, Petworth GU28 0DX)
When? 11 February–7 May 2023
Placing the work of this artist couple side by side for the first time in the UK, Two Worlds Entwined showcases the career work of Annie Morris and Idris Khan in conversation, alongside new work inspired by the Sussex countryside. In the intimate surroundings of the historic Newlands House Gallery, expect sculptures, furniture and paintings. newlandshouse.gallery
Nottingham: Hooks
Where? Nottingham Contemporary (Weekday Cross, Nottingham NG1 2GB)
When? 11 February–7 May 2023
Lush, fractured and dreamlike, the work of London-based artist Rosalind Nashashibi is presented in its largest exhibition to date at Nottingham Contemporary this spring. While Nashashibi's attention has primarily been on showcases her films across the past two decades, in recent years she has returned her focus to painting, which she initially studied at art school in Sheffield. nottinghamcontemporary.org
Somerset: The New Bend
Where? Hauser & Wirth Somerset
When? 28 January–8 May 2023
Travelling from LA to Somerset, The New Bend will bring together 13 contemporary artists working in the raced, classed, and gendered traditions of quilting and textile practice. Curated by Legacy Russell, the exhibition pays homage to – and exists in dialogue with – the contributions of the Gee's Bend Alabama quilters – Black American women in collective cooperation and creative economic production. hauserwirth.com
Wakefield: Damien Hirst
Where? Yorkshire Sculpture Park
When? Open now until 2 September 2024
Four of Damien Hirst's major sculptures are on display at Yorkshire Sculpture Park until 2024 as part of the Yorkshire Sculpture International partnership with The Hepworth Wakefield, the Henry Moore Institute, Leeds, and Leeds Art Gallery. Wander the expansive grounds of Bretton Hall to see Charity (2002-2003), Myth (2010), The Hat Makes the Man (2004-2007) and The Virgin Mother (2005-2006). ysp.org.uk
In Brief: Art Exhibitions Coming Soon
16 March–3 September: Oliver Frank Chanarin: A Perfect Sentence, Derby
18 March–1 October 2023: Mirror Mirror: Reflections on Design at Chatsworth, Derbyshire
30 September–7 Jan 2024:

Coastal Communities and Climate Crisis, 

Penzance
Art Exhibitions Across The UK To Look Forward To
Derby: A Perfect Sentence
Where? Museum of Making (Silk Mill Lane, Derby DE1 3AF)
When? 16 March–3 September 2023
Commissioned and produced by Forma, Oliver Frank Chanarin's A Perfect Sentence will arrive in Derby later this year, exploring the complexity of being seen and the anxiety of being overlooked in photographic encounters across Britain. Part of FORMAT23 – the UK's  leading international photography biennial – and Chanarin's first solo UK project, the exhibition will include public acquisitions and an accompanying publication by Loose Joints. derbymuseums.org
Derbyshire:
Mirror Mirror: Reflections on Design at Chatsworth
Where? Chatsworth House
When? 18 March–1 October 2023
A centre of creativity for generations, Chatsworth's new exhibition, Mirror Mirror: Reflections on Design at Chatsworth, will collate contemporary work in direct relationship with the house's historic design, considering architecture, interiors, furniture and ceramics, glass, stone, wood and light. Co-curated with writer, historian and curator, Glenn Adamson, artists and designers such as Joris Laarman, Chris Schanck and Andile Dyalvane will be showcased. chatsworth.org
Penzance: Coastal Communities and Climate Crisis [Working Title]
Where? Newlyn Art Gallery & The Exchange, Penzance
When? 30 September 2023–7 January 2024
Through new commissions and recent work, this collaborative exhibition will raise awareness of the threat of rising sea levels and the acute danger facing coastal communities in the climate crisis. Connecting with the local community, Coastal Communities and Climate Crisis will promote direct action to tackle the environmental emergency. newlynartgallery.co.uk
Featured image by JULIO NERY via Pexels.