For the ninth interview in our new series, Charlotte Metcalf meets the A-list's artist…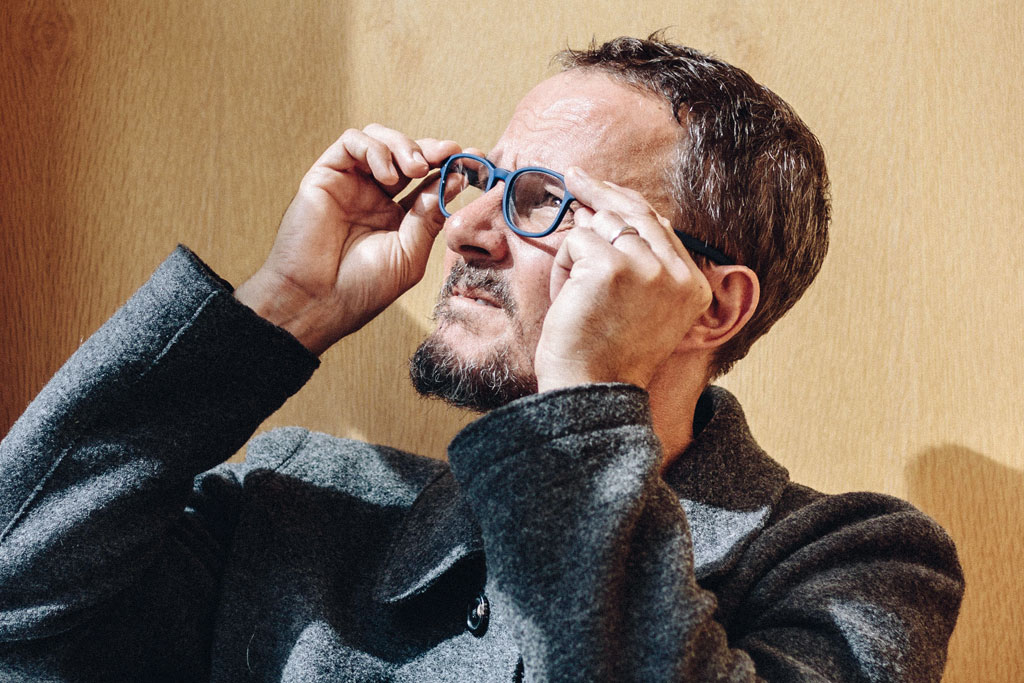 For a man whose career is scrutinising faces, portraitist Jonathan Yeo appears relaxed about being the subject of our photographer. 'I don't think I'm very good at it but it's something that increasingly goes with the territory,' he says.
Yeo's Work
The 'territory' has expanded as Jonathan has become as much a part of the zeitgeist as the people he paints. He's painted politicians (Blair, Cameron, Hague, Major), royalty (Prince Philip, the Duchess of Cornwall), Hollywood A-listers (Kevin Spacey, Nicole Kidman, Helena Bonham Carter, Idris Elba), major artists (Grayson Perry, Damien Hirst) and activists (Malala Yousafzai, Doreen Lawrence).
Jonathan's work is of course attention-grabbing because of the celebrities he paints but it's even more exciting because he's using the portrait genre as a springboard from which to explore controversial issues, like how social and digital media transform our attitudes to everything from porn to beauty. About a decade ago he created a portrait of George W Bush from pornographic images and in a series of portraits of Cara Delevingne he hinted at the ways in which she manipulated her public persona via her vast social media following.
Cosmetic Surgery Depictions
What I'm excited about discussing with him today is his fascination with cosmetic surgery, the subject of Skin Deep, his new exhibition at The Bowes Museum
in County Durham. The show contains a series of provocative, often disturbing paintings and some 'before- and-after' diptychs showing face lifts, breast enhancements and gender reassignment. 'I was very keen for my focus to be entirely on elective surgery – though some would say gender reassignment is not optional,' says Jonathan, 'because I think cosmetic surgery is a weather vane for what's really going. What we're prepared to do in pursuit of beauty and youth will always have a cultural relevance.' Jonathan collaborated with surgeon Miles Berry, who let him observe several cosmetic operations. In one, a woman had her breasts removed to become a man and Jonathan's visceral painting of it shows skin and breasts peeled back from the torso to reveal gory, bloody flesh.
Another haunting image shows a woman's post-operative face, pale swollen and vulnerable as a flower, in a halo of surgical sheeting.
'As a portraitist I convince myself that I can decode someone's personality by looking at their face but facelifts and surgery distort the way we communicate non-verbally, and that's what drew me in'
'Is Miles a surgeon or an artist? I am very interested in the intersection of the two disciplines. Miles is changing people's appearances and there's no universal agreement about what makes a person look better so he's doing subjective work like a sculptor. Often people preferred the "before" paintings, so bigger breasts or a tighter face are not necessarily objective improvements. Yet fascinatingly, some people feel so much better about themselves after surgery that their posture changes and they start to walk taller and exude confidence they didn't have before. If we could only find a way of getting there without having to go the radical extent of undergoing the knife.' We start discussing facial lines being part of the map to the soul and Jonathan talks animatedly about the lines that surgeons ink onto the flesh prior to making their incisions: 'Those lines represent the intrusion of science on an organic body, but in a sense they're decorative and also art.'
To describe Jonathan as naturally chatty is to underestimate the way he shimmers with enthusiasm and alert intelligence as he articulates his ideas. In a BBC film shot for The Culture Show, friend and actor Tom Hollander (they were at Westminster school together), said Jonathan was the most 'alive and vibrant' people he knew.
His Passions
Jonathan's obvious passion for what he does is partly because he came to painting with determination and certainty brought on by a life-threatening illness. While Jonathan was at the University of Kent studying English and Film (in the nineties art schools were teaching conceptual art rather than painting which he'd wanted to study) he contracted lymphatic cancer. This affected his studies less than it changed his attitude to the rest of his life. 'I wouldn't say I could see the benefit at the time,' he says drily,
'But in retrospect I realise that being ill helped me become an artist. It focused me. I might have wasted time spending a few years doing something else while I decided what I really wanted. After being ill, I didn't want to lose any time.'
He is endearingly modest as he describes how Archbishop Trevor Huddleston, a family friend, sat for Jonathan's first serious portrait 'out of sympathy' for him being ill.
Following his 2013 retrospective at the National Portrait Gallery, Jonathan has been freer than ever to experiment. His futuristic bronze head, which used processes like 3D printing, virtual reality and Google Tilt Brush, was on display until March at the Royal Academy and he plans more similar works. It's his immersion in contemporary culture and his fascination with the future that makes Jonathan such a relevant artist. As his potential sitters, he observes us all as living products of everything that is happening around us. Paradoxically, it's Jonathan's ability to see and portray our faces as manifestations of our culture that will give his portraits longevity and permanence and in years to come they are bound to be valued as important records of our swift-moving, throwaway, digital age.
Quick-Fire Round:
Pub lunch or Michelin star?
My studio's set up for lunches butifIdohave lunch out I'd go to the Half Moon pub near my home in Putney.
Glass of wine or green tea?
I should say tea but a glass of wine is much more frequent.
Cat or dog?
Cats – we have three in our menagerie along with rabbits and a tortoise.
Cosy knits or sharp suit?
Whatever I wear becomes splattered in paint so I gave up on clothes ages ago.
Skin Deep runs till 17 June at The Bowes Museum, County Durham. 
  READ MORE: Conversations at Scarfes Bar: Victoria Broakes | Conversations at Scarfes Bar: Sebastian Coe | Conversations at Scarfes Bar: Ed Vaizey | Conversations at Scarfes Bar: Wendy Yu | Conversations at Scarfes Bar: Ruth Rogers 
---