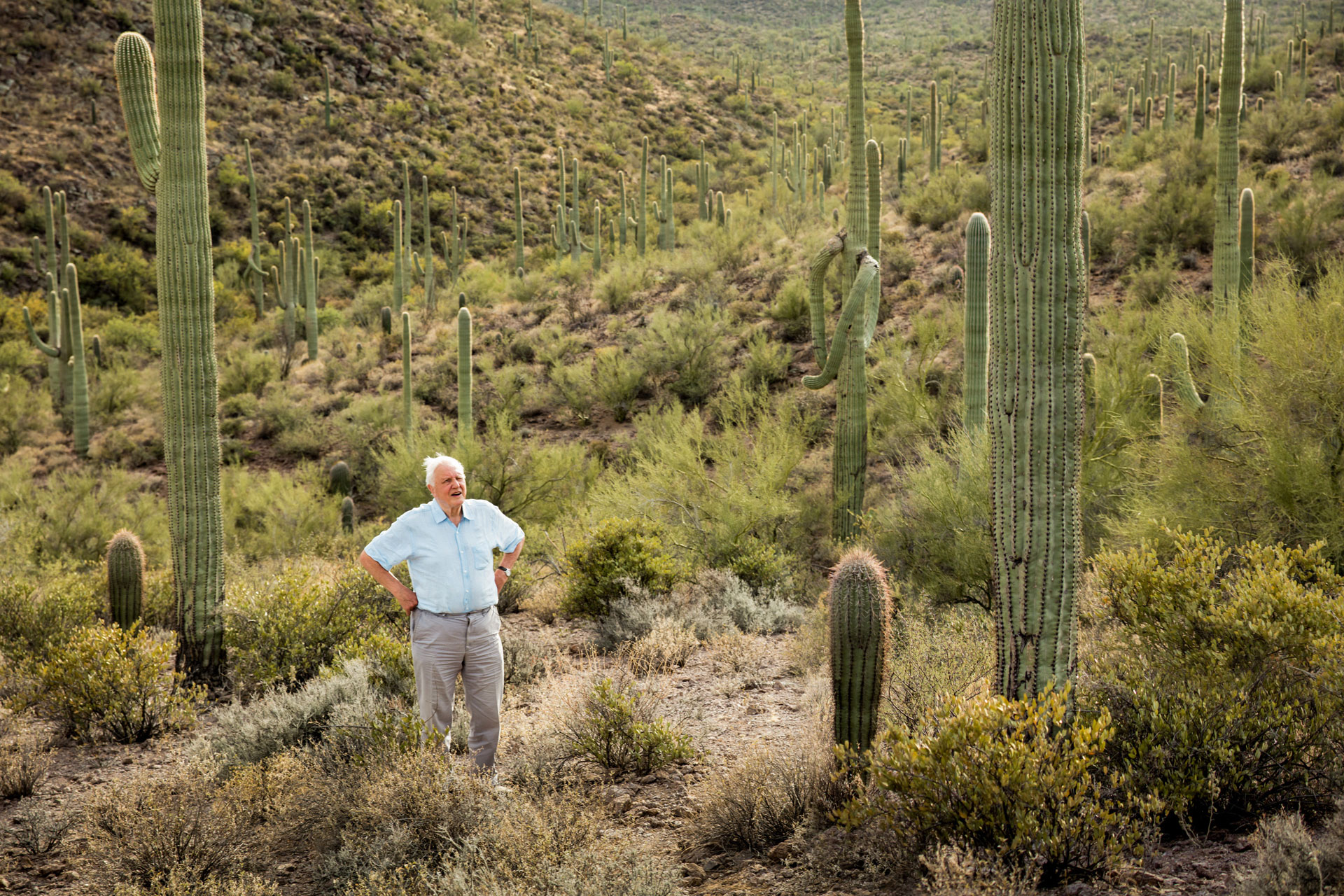 Must-Watch Documentaries about Sustainability
---
From The True Cost to David Attenborough
Knowledge is power, and in the case of protecting the planet, the more we know about our impact and how we can reverse the effects, the better. As Einstein once said; 'We cannot solve our problems with the same thinking we used when we created them.' From uncovering the 'true cost' of fashion to unearthing the planet's best-kept sustainability practices with Zac Efron, each of these insightful documentaries about sustainability highlights an array of environmental issues – and more importantly, what can be done to reverse humanity's harmful habits.
Apps To Help You Live More Sustainably
Must-Watch Documentaries about Sustainability
Riverwoods
A new feature-length documentary, Riverwoods, shines a light on the state of declining wild salmon populations – and explores what we can do to secure their future. A cold-water adapted species, salmon need cool temperatures in riverbanks to survive and grow, but the Scottish riverbanks have been deforested, leading to a 70 per cent decline in salmon over the last 50 years. The premiere will take place on 24 May at the British Film Institute in Southbank, with all proceeds going towards Scotland's most effective water charities.
Book tickets at theeuropeannaturetrust.com and visit scotlandbigpicture.com to find out more
The Green Planet
Whether you're a biophilic fantasist or struggling to keep that one spider plant alive: David Attenborough is back, prizing open the world of plants. The Green Planet takes viewers from bioluminescent and underwater plants to tropical rainforests, promising an up close and personal inspection of our green planet.
The Earthshot Prize: Repairing Our Planet
Led by Prince William, founder of the inaugural The Earthshot Prize, the BBC's five-part landmark documentary series running for over two weeks, is a call for hope amid pessimism and apathy surrounding the climate crisis. Each episode is an investigation of the work of the 15 Earthshot finalists, ranging from protecting nature, cleaning air, building a waste-free world, and reviving the oceans.
BBC iPlayer, bbc.com
ReDress The Future
WaterBear, the streaming platform behind The True Cost and Call Me Priya, has partnered with climate activist Mikaela Loach to investigate the interconnections of sustainability, trend culture, and waste within the fashion sector. The three-part series highlights changemakers who are revolutionising the industry. Green attitudes to fashion, such as the second-hand clothing movement, the rising trend of 'stitch don't ditch', using waste products as materials, circular fashion, and technological means of combatting fast fashion will also feature heavily. waterbear.com
Rivercide
In what's being hailed as the world's first live investigative documentary, environmental journalist George Monbiot explores the shocking state of Britain's rivers. First streamed on 14 July and now available to watch online, Rivercide sees Monbiot travelling along the River Wye, collecting water samples and interviewing key figures. This comes at a time when concern about our rivers has never been higher, with just 14 per cent of English rivers currently classed as being in a healthy condition. Directed by BAFTA nominated Franny Armstrong, the documentary offers ideas on how the public can help save their local river, with appearances from Charlotte Church and poet Owen Sheers. rivercide.tv
Seaspiracy
A Netflix original revealing the unsettling reality of commercial fishing and the harm that humans are causing to marine wildlife. From the makers of Cowspiracy, Seaspiracy not only emphasises the devastating environmental affects of the fishing industry, but the disconcerting secrecy and conspiracy surrounding the trade. 'This film will radically transform the way we think and act on ocean conservation forever,' says assistant director Ali Tabrizi (who also appears in the film) via Instagram. 'It is time we focus our ecological and ethical concerns on our seas and its inhabitants. This is a new era for how we treat the most important habitat on earth.' netflix.com
I Am Greta
She has fast become one of the world's most renowned and iconic climate activists, and now her remarkable story and campaign for change is the subject of a brand new documentary. I Am Greta details the Swedish teen and TIME Person of the Year 2019's ongoing fight for climate justice, from her initial 'school strike for climate change' campaign to her 2018 United Nations speech and sailing journey (in order to avoid flying) to the 2019 UN Climate Action Summit in North America. View it on BBC iPlayer now.
Down to Earth with Zac Efron
Having seen Zac Efron star in the likes of High School Musical and The Greatest Showman, a Netflix docuseries based on wellness and sustainability appeared an unnatural move for the American heartthrob – which only made the series all the more intriguing. When you discover that the actor is recovering from drug and alcohol addiction, his journey across the world in search of healthier ways of living – both for us and for the planet – seems all the more apt. Joined by friend and health expert Darin Olien, Zac journeys to a number of destinations to learn about wellbeing and environmental efforts across different cultures, from discovering an eco-village in Costa Rica to beekeeping in New York and undergoing a healing vapour bath in Iquitos. netflix.com
Cowspiracy: The Sustainability Secret
As documentaries about sustainability go, this one's certainly an eye-opener. If you've ever had doubts about the ethical and environmental impact of animal farming, this striking documentary is sure to change your mind. From air pollution to deforestation to a significant loss of biodiversity, filmmaker and environmentalist Kip Andersen investigates one of the leading contributors to climate change – livestock are responsible for 14.5 percent of all greenhouse emissions, according to the FAO (Food Agriculture Organization of the United Nations) – and unearths why a whole host of leading environmental organisations are unwilling to act. If you hadn't considered a plant-based diet, you might after watching this. cowspiracy.com
Recipe: Vegan Spinach, Quinoa & Tahini Abundance Bowl
The Biggest Little Farm
An inspiring and informative documentary spotlighting the highs and lows of sustainable farming, The Biggest Little Farm follows the journey of John and Molly Chester as they up sticks to a 200-acre farm in California, transforming it into a biodiverse and environmentally-friendly estate. The documentary – filmed and directed by Emmy award-winner John Chester himself – has won multiple awards, including Audience Award for Best Documentary at the Palm Springs International Film Festival and even made the 92nd Oscars shortlist for best documentary feature. biggestlittlefarmmovie.com
Minimalism: A Documentary About the Important Things
Does what it says on the tin: a documentary about living with less, and why it's beneficial for both us and the planet. If you find yourself spending too much time (and money) getting caught up in consumerism, this one's an eye-opening watch. netflix.com
The Best Luxury Resale Sites and Rental Services
Our Planet
National treasure David Attenborough narrates this awe-inspiring eight-part nature documentary, journeying from 'frozen worlds' devastatingly yielding to climate change to jungles and rainforests filled with fascinating creatures. Exhilarating and educational, each episode both celebrates our environment, whilst touching on the importance of safeguarding it. ourplanet.com
The Ivory Game
According to World Elephant Day, the elephant population has decreased by 62 percent over the past decade, in which approximately 100 African elephants are killed by poachers each day. This documentary explores just that – the unlawful poaching of elephants for their ivory, and those who are at the centre of this felonious 'black market'. From Kenya to Hong Kong and beyond, directors Keif Davidson and Richard Ladkani undergo a 16 month investigation into elephant poaching and ivory smuggling, informing and inspiring action in order to preserve the species. theivorygame.com
Chasing Coral
One of the most informative documentaries about sustainability and winner of the U.S. Documentary Audience Award at the 2017 Sundance Film Festival, Chasing Coral explores the earth's fascinating underwater ecosystems, and the calamitous threat to which climate change ensues against them. chasingcoral.com
The True Cost
A fashion-focused documentary that questions the true cost of your clothing, filmmaker Andrew Morgan uncovers the devastating ethical and environmental impact of clothes manufacturing, particularly in developing countries. From factory collapses – specifically that of Savar in 2013 – to destruction of the natural environment, this alarming documentary will make you think twice before investing in fast fashion. truecostmovie.com
More Than Honey
As Friends of the Earth states, 'bees are essential to a healthy environment and healthy economy', but a combination of climate change, habitat loss, pesticides and more are causing them to decline. A Swiss documentary directed by Oscar-nominated director Markus Imhoof, More Than Honey explores this collapse of bee colonies and what we can do about it. morethanhoneyfilm.com
Before The Flood
Actor Leonardo DiCaprio steps out of his comfort zone to uncover the cataclysmic effects of climate change, following an insightful three-year journey across the world. Disaffirming politicians and 'non-believers' are put into question, whilst scientists – and even former US President Barack Obama – share significant insights on the matter. beforetheflood.com
Featured image: The Green Planet, BBC/Paul Williams
Must-Read Books on Sustainability / The Best Sustainable Fashion Brands