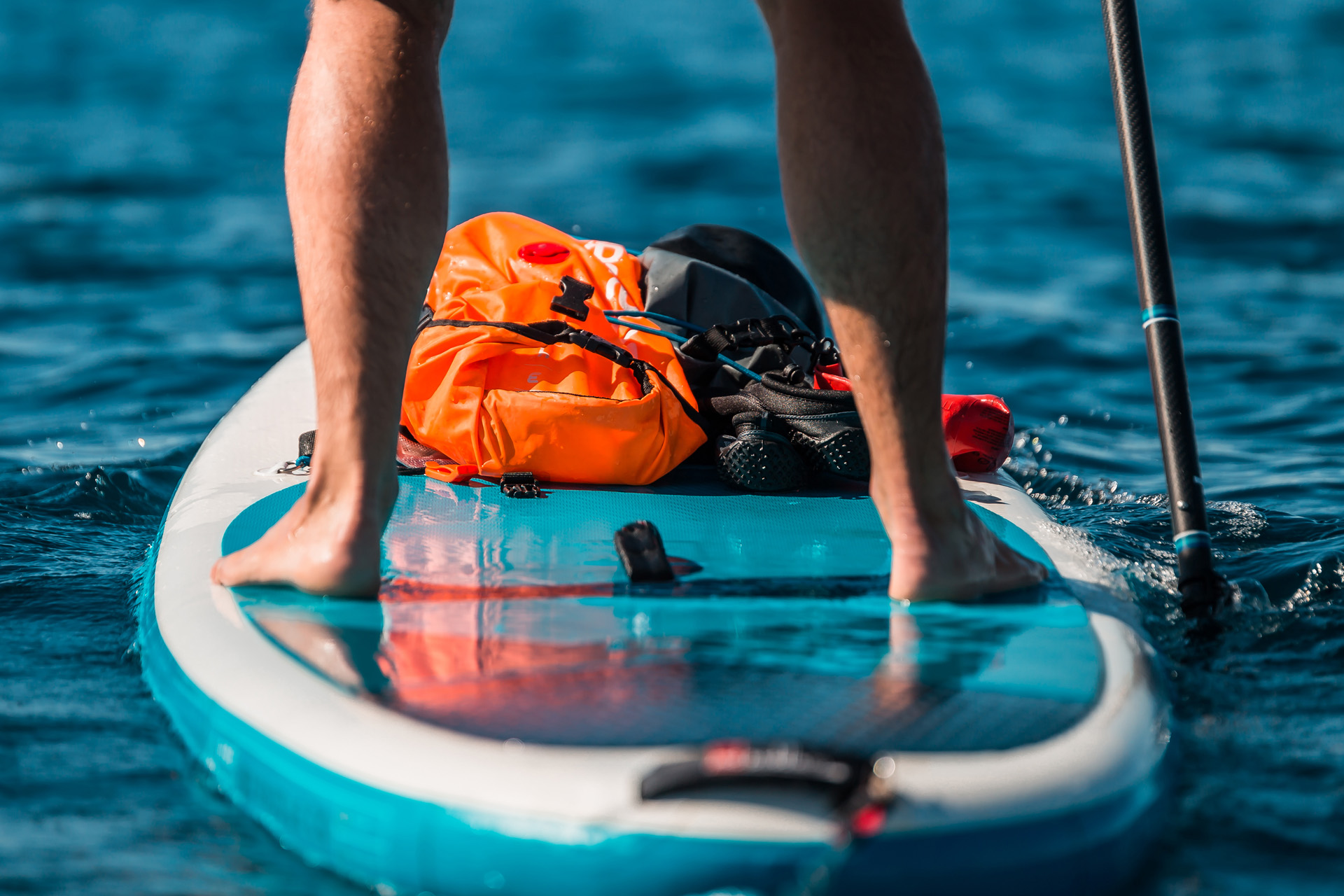 Stand Up Paddleboarding: The Ultimate How-To Guide
---
Your new summer hobby is here
Each summer, paddle boarding gains a new batch of devotees, with plenty of people across all age categories keen to grab a board and take to the water. In fact, in 2021, 11.8 million Brits participated in boating activities at least once, doubling 2020's interest. But how to get started? We asked the experts at outdoor adventure company Wave for their top tips, from equipment to safety to balancing hacks.
Wondering where to start? Here are our favourite paddleboarding spots
Stand Up Paddleboarding: How To Get Started
Equipment
There are two key pieces of equipment required for paddleboarding: a board and a leash.
Your Board
'When choosing your paddle boarding equipment, you need to find the right board first,' say the experts at Wave. 'Choose a wider, longer, thicker board as your beginner paddle board. The greater the space on the board, the easier your stance will be while learning to transition from kneeling to standing. This will give you the best chance of maintaining your balance as you learn to navigate the waters.
'As you improve your balance and technique, you can start advancing to shorter and thinner boards,' says Wave. 'This will test your core strength and should be considered when you delve further into the sport.'
Your Leash
'A leash can be a good safety measure for beginners,' says Wave. 'As you are likely to fall off the board often, learning to balance and self-correct, you don't want your board to drift too far away. You might consider different leashes, including a waist, ankle, or bicep leash.'
'Keeping safe while paddle boarding is key for all our customers, whether you are an experienced paddle boarder or someone trying the sport for the first time,' adds Ben Cook at Wave. 'When buying a leash, you should consider the water you will be dealing with. Most learners should practise on flat water until they are experienced enough to handle their board.
'An ankle cuff leash is perfect here for beginners as it offers the best chance to learn without losing your board each time you fall off!' says Ben. 'If you are starting to experience more turbulent waters, you might want to consider transitioning to a waist leash, which can be the quickest release in case of danger.'
How To Stay Safe When Paddleboarding
Practice, Practice, Practice
'As with any sport, practice makes perfect,' says Wave. 'According to the Royal National Lifeguard Institution, you should consider getting training lessons on land before hitting the water. This can teach you the correct techniques when mounting, dismounting and moving your board, as well as the best safety precautions for when you are out on the water.'
What To Do If You Fall
'No matter your experience level, you are going to fall into the water at some point,' Wave says. 'This is especially true for beginners learning to maintain their balance on the board. While you are still learning to paddle board, you will want to learn to fall and remount your board safely. Ensure you are in safe water, preferably waist or chest deep, to prevent injury – if you are nervous about remounting, stay close to the shore.
'When falling, make sure you fall away from your board. This can be either falling straight back off the tail of the board or to the side,' Wave adds. 'Remember, paddle boarding is a water sport, so embracing the water is natural. The best way to fall is flat. You should be wearing a flotation device of some sort to help with the fall.'
Pick Your Paddleboarding Spot Carefully
'The best way to remain safe is to keep to a level you're comfortable with until you have further training,' says Wave. 'You don't want to be learning to paddleboard for the first time in aggressive water. Instead, find flat water lakes or other calm waters to practise your techniques. Attempting a big wave could lead to injury.'
Look After Your Valuables
'Don't forget to make sure your valuables are safe,' Wave suggests. 'Keeping your phone close by is about more than just making sure you can get that all-important selfie: it could save lives if you or another water user gets into difficulties. Use a waterproof phone case – make sure it's got a safety strap or lanyard – to keep the phone close at hand but also out of harm's way.'
How To Move & Balance When Paddleboarding
Starting Position
'When you are starting to go out onto the water, you will want to be kneeling in the middle of the board,' says Wave. 'At this point, pushing away from shore, your paddle should be in front of you, perpendicular to your board. Once you are confident that you are balanced, you can start rowing slowly, alternating between sides.'
Transitioning
'When you are at a comfortable distance from the shore and feel steady enough to stand up, do so one foot at a time,' Wave suggests. 'Make sure your feet are pointing forward, shoulder width apart, and your knees slightly bent to help you maintain your balance.'
Maintaining Balance
'Now that you are up on your board, you will want to keep your balance,' says Wave. 'If your stance is correct, you should be fairly balanced already, but once you start paddling, it can become harder to maintain stability. For the best chance of staying on your board, remember to paddle with your core. Your centre should be tight. Keeping an eye on the horizon will also help maintain this, as looking down at your board and where you are paddling could throw you off centre.'
Take It One Step Further…
One thing you're bound to notice when you start paddling down British rivers is an upsetting amount of plastic waste. If you'd like to help protect the longevity of our natural environment as well as our wildlife, take a bag out with you and start fishing out the trash. Check out our interview with Lizzie Carr MBE, founder of Planet Patrol, to learn more about how paddleboarding can help solve plastic pollution, and how you can get involved, here.