Where To Go Stand Up Paddleboarding In London
---
Take the plunge into the latest wellness craze
Stand up paddleboarding, it seems, is the new sport de jour. Beloved by A-listers from Jennifer Aniston to Pierce Brosnan, SUP (as it's known by fans) is the fastest growing water sport in the world – with a particularly big surge in interest reported during lockdown. In the UK, it's unsurprisingly popular in beach towns across Cornwall and Devon – but there's a big stand up paddleboarding scene in London too. Fancy dipping your toe in? Here's are the best places to go stand up paddleboarding in London, including where to learn the ropes.
What Is Stand Up Paddleboarding?
Stand up paddleboarding involves balancing on water on a floating board, using a paddle to move around. While it's by no means easy, SUP is more accessible and less intimidating than other water sports – plus relatively cheap, with classes available from just £25.
It offers a whole host of health benefits too – both physical and mental. All the major muscle groups are targeted, with a particular focus on core strength. It also challenges your balance and burns calories – though, as with most exercise, fitness benefits vary depending on how much effort you put in and how advanced your style is. Devotees also rave about the meditative effects: SUP requires your full attention, bringing you into an immersive state of flow. Studies have highlighted the ample wellbeing benefits of spending time in in blue spaces too.
Can You Learn To Paddleboard In London?
While the seaside makes for idyllic paddleboarding settings, London's rivers offer a magic of their own. The water tends to be less choppy than the sea, which means calmer gliding. For those looking to give it a go, we've highlighted some of the places offering classes in the capital. A little nervous? Rest assured 90 per cent of people don't fall in on their first lesson – though participants are advised to wear gear they don't mind getting wet just in case they're part of the unlucky 10 per cent.
Where To Go Stand Up Paddleboarding In London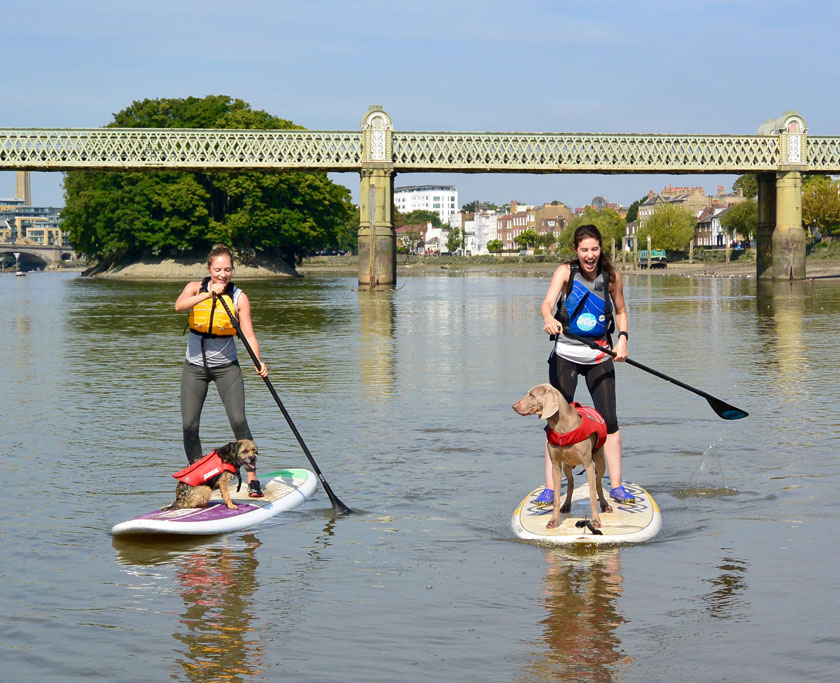 Active360
One of the frontrunners in London's SUP scene is Active360, which has been around since 2011. It operates from three sites across the city: Kew Bridge, Paddington and Brentford – the latter being well suited to hesitant beginners thanks to its tranquil and hidden setting. At a group class you'll begin with some land-based training before heading out on the water for a guided tour, led by an instructor. Private sessions are also available – both individual and in small groups of two to five people – and can be tailored to your needs, with the option to add games, short races and drink stops. From £59pp. active360.co.uk
Paddleboarding London
There's a whole menu of different classes available at Paddleboarding London, from sunrise sessions to SUP yoga. It runs from three locations: Camden, Regent's Park and St Katharine Docks, with lessons to suit all levels of experience. Beginners can learn the ropes at a private session or in a group of six, while pros can take part in moonlit paddles. Fancy making some friends? Head to one of the Friday night Paddle & Prosecco sessions, which involve a journey along Regent's Canal followed by some fizz at the school's roof deck in Camden Town. From £30pp. paddleboardinglondon.co.uk
Blue Chip SUP School
Run by coach Piotr Kadziela, Blue Chip SUP School sure knows its stuff, having run paddleboarding lessons on the River Thames since it first launched back in 2008. All instructors have the highest accreditation from the Academy of Surfing Instructors too, so you're guaranteed to be in safe hands. Activities centre around the city's suburbs in Walton-on-Thames, and include SUP pilates, yoga and fitness training, plus private and advanced coaching sessions. From £30pp. supschool.uk
The London Stand Up Paddle Company
Richmond is home to a beautiful stretch of the Thames, which you can explore by taking part in one of The London Stand Up Paddle Company's classes. Beginners should start with the Introduction to SUP option, where you'll master the basics and build up confidence on the water. Those who have more experience, meanwhile, can join a Ride The Tide session, where paddlers will head towards Teddington Lock on the incoming tide and return on the outgoing. Assisted by the tidal flow, you'll move quicker and cover a longer distance. From £48pp. standuppaddle.london
Wake Up Docklands
East London dweller? Wake Up Docklands is your local SUP school, located in the sheltered waters of Royal Victoria Dock. Professionally certified instructors run a range of paddleboarding activities here, including tours of the area, yogalates (a mix of yoga and pilates) and more classic introductory sessions. The latter runs for one hour and covers the basic techniques and skills. From £35pp. wakeupdocklands.com
Main image: Getty Images