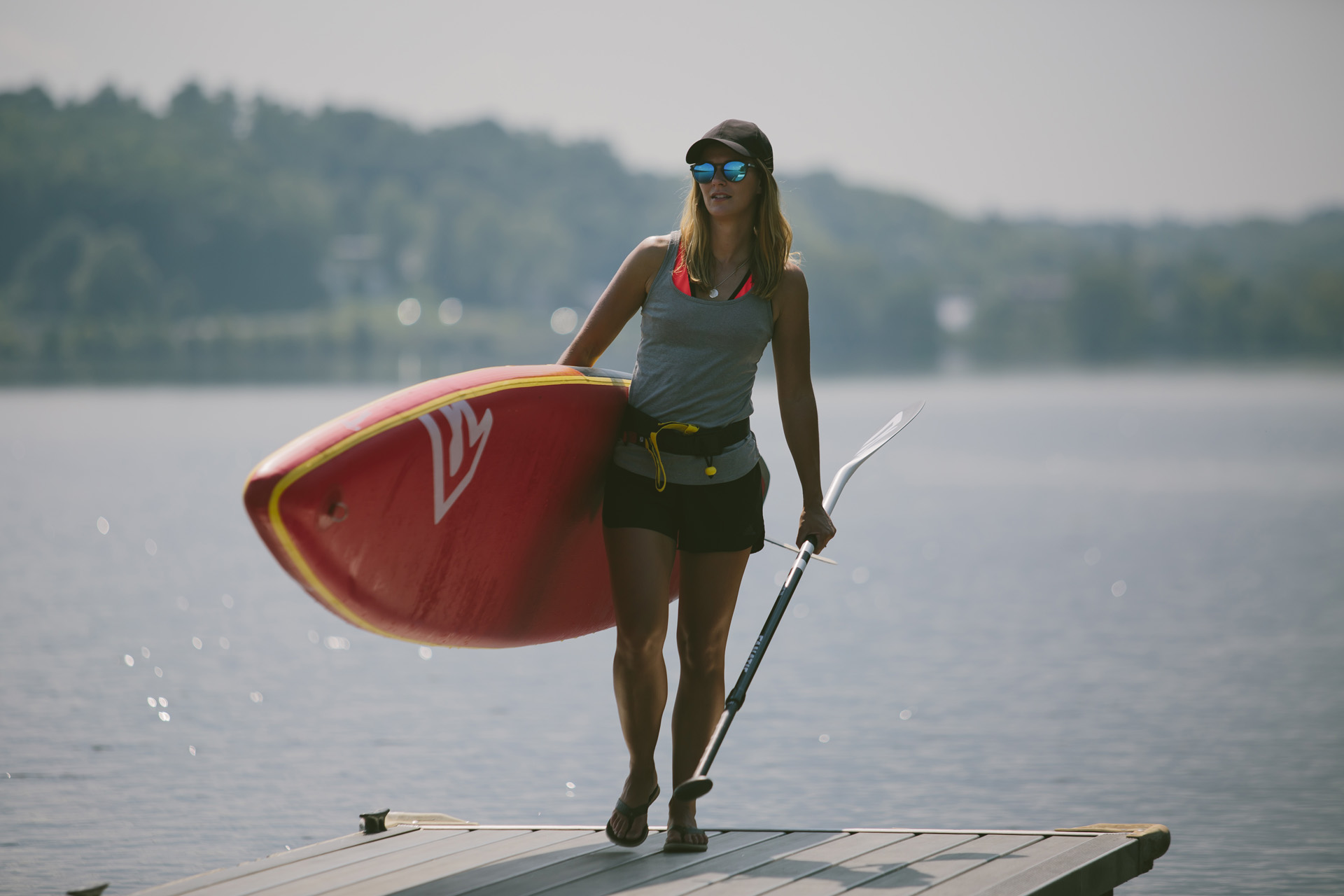 Could Paddleboarding Solve Plastic Pollution?
In conversation with Lizzie Carr MBE
Our waterways are in danger, brimming with rubbish and chemicals that are seriously harming our environment and wildlife. At C&TH, we are supporting River Action this year, a charity committed to cleaning up our waterways, as well as venturing on river cleaning expeditions ourselves. Over in Nottingham, environmental campaigner Lizzie Carr MBE is doing the same, taking to her paddle board to collect the plastic polluting our waterways. We sat down with Lizzie, who is the founder of Planet Patrol, an organisation that exists to solve environmental issues and protect the planet using citizen science-based community action, to learn more about how paddle boarding can help to solve plastic pollution.
Learn all about our work with River Action here
Could Paddle Boarding Solve Plastic Pollution? Interview With Lizzie Carr MBE
Hi Lizzie, can you tell us a bit about your background and journey to paddle boarding?
About 10 years ago, I had taken some time out in between jobs to do some travelling. I'd had a small lump in my throat for a while but hadn't thought anything of it, and it was only when I was away travelling that I was aware it felt bigger. At the same time, I was always sleeping or taking naps – but I just didn't draw any connections to the lump and the symptoms I was displaying. A week or so after getting back home, I booked to see a doctor and I was diagnosed with thyroid cancer. The bottom of my world dropped out as soon as I heard those words. It's no exaggeration to say my life changed forever. 
I started paddle boarding after my radiotherapy treatment as a low impact way of restoring my strength and fitness, but it also had huge and unexpected mental benefits. I was immediately hooked. I hadn't paddle boarded before my cancer diagnosis – in fact, I didn't even know what it was – and yet it has completely transformed my life since.
Soon after, I quit my corporate job to carve out a new life. In three years, I completed three world first challenges on my paddle board and became the first woman to solo paddle board across the English Channel.
You're the founder of Planet Patrol – can you tell us about it?
Spending so much time on UK waters was an amazing way for me to regain my strength and fitness, but it also unearthed something sinister: the state of our waterways. While out on various rivers, I became increasingly aware of the amount of plastic pollution. I was particularly horrified one day to see a coot's nest full of eggs made up of more plastic than twigs. That was a real turning point for me, and I decided to take matters into my own hands. 
I took on my first challenge to paddle board the length of England to record all the plastic I encountered on that 700 km journey. Soon after, I launched Planet Patrol as a way of raising awareness of plastic pollution – but, since then, it has evolved to become so much more. We use science-based community action to gather research and data on water pollutants, from litter to nitrates and phosphates. Together with over 35,000 volunteers, we have logged almost half a million pieces of litter data across 113 countries, and launched water quality testing initiatives including a first-of-its-kind citizen science survey.
I passionately believe that people-powered data – when members of the public help us to test and observe their local rivers, lakes and canals – is a vital tool in the battle against pollution, biodiversity loss and the climate crisis. Not a single waterway in England is in good ecological or chemical health. Government funding has fallen dramatically and water quality testing has reduced in the past decade. We can't manage what we can't measure, so we desperately need scientific research to help us address the issue of water pollution. Planet Patrol is committed to providing this data with our community of volunteers, experts and academics.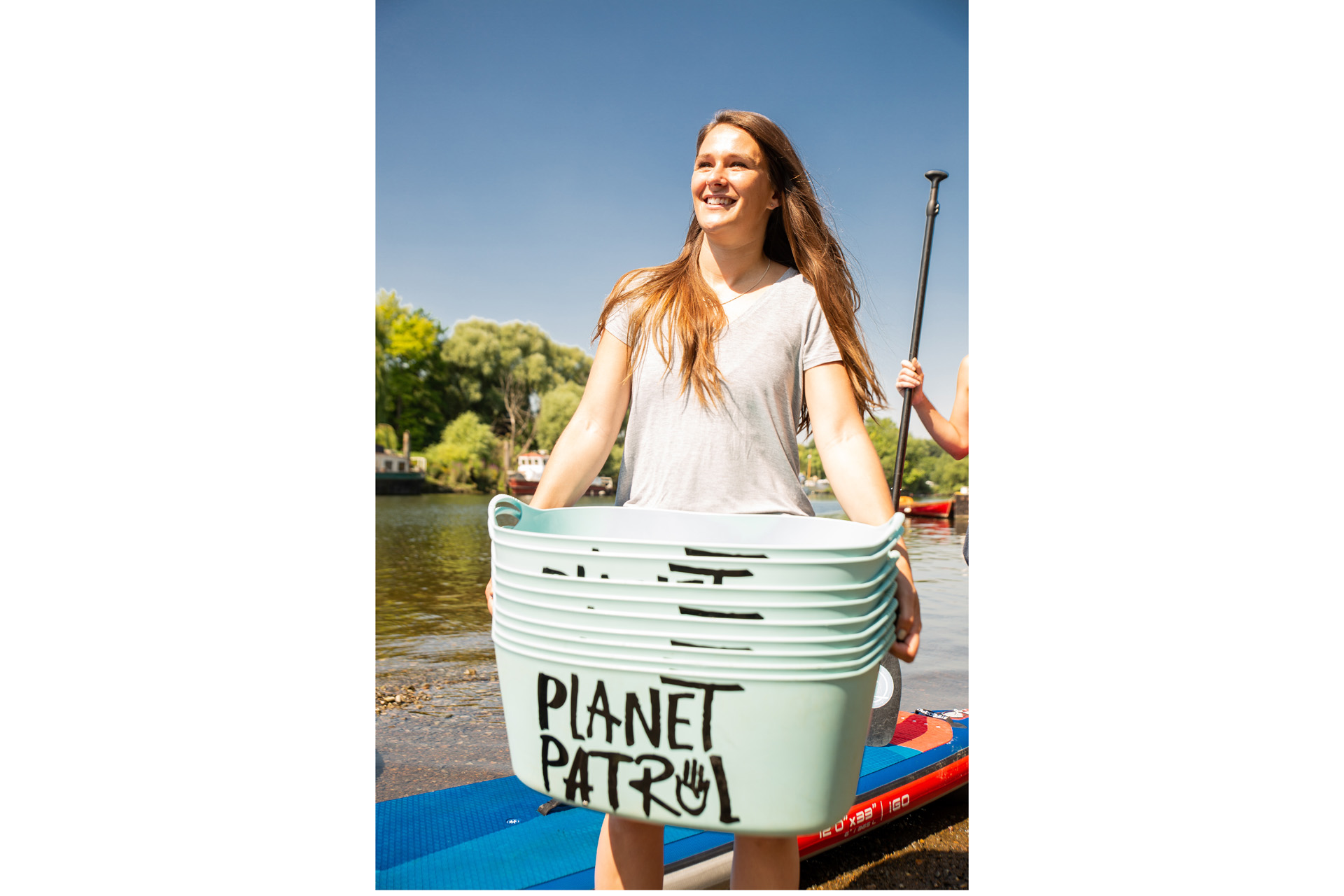 Have you always been passionate about the environment? 
I have always loved the outdoors. I grew up in Tenerife, so I was by the water a lot. My mum was a Girl Guide leader and I used to get taken along on camping trips by the water – I thought it was so cool! While I grew up appreciating our natural environment, it's fair to say that I was living in an environmental sleepwalk. My eyes are now firmly open, and I want to use my platform to not only raise awareness of the problems, but to make people feel that they can contribute to creating positive change.
What was the beginning of Planet Patrol like?
The original inspiration came as a result of my paddling the length of UK waterways. I was recording litter in an interactive map and sharing my journey on social media. Lots of people started getting in touch about how they could get involved and help, so I created the app which housed my map so people could contribute their own litter data from anywhere in the world and I started running paddling clean ups – completely free – up and down the country, where people pick up litter atop paddle boards.
Do you think paddle boarding could solve plastic pollution?
Our paddle boarding clean up events are an important part of the solution, because our volunteers are physically and literally picking up litter and intercepting the issue of plastic pollution before it reaches the ocean where, sadly, most of the litter sinks and becomes irretrievable.
However, we're not just clearing up plastic: our volunteers log every single piece of litter collected at a scale that would otherwise be impossible without community involvement. We've logged nearly half a million pieces of litter data across 113 countries, and this is being used to influence change as well as to highlight which companies and industries are the biggest perpetrators so we can hold them to account. What's more, the sense of community and collective action connects people with the scale of the problem, because they see it first-hand. We must all strive to protect what we love, and Planet Patrol has a powerful way of instilling that ethos.
What else does Planet Patrol do?
We're all about data and science-based community action. We have recently launched our Water Watch programme, which calls on people up and down the country to spend just 15 minutes observing a chosen waterway and completing the survey in Planet Patrol's app.  Questions cover the likes of wildlife sightings, signs of pollution, and accessibility.
Our Spring Water Watch is taking place from 21 April through to 30 April. It's super easy to get involved, and a great activity to do with friends and family. The data collected is like a health check for our waterways, and will be crucial in helping us understand more about what is happening to the nation's waterways and what measures need to be put in place to help protect them.
View this post on Instagram
What is your advice to individuals looking to reduce their single use plastic consumption?
Start small and go for the quick wins. Investing in reusable coffee cups, water bottles and cutlery is a great place to start. Or go room by room. Look at the single-use plastic in your kitchen and research more sustainable swaps or different places to shop. For example, is there a local greengrocer you can support instead of your supermarket for fruit and vegetables? They will usually be unpackaged, seasonal and from more local suppliers, so it's a better choice all round, and not just in terms of plastic. And definitely ditch the cling film!
We can all do our little bit by cutting back on plastic, but we also need to think beyond this. It's a production issue and a system failure, so consider how else can you help to pressure the industry and government to tighten policies. Perhaps there's a local council meeting you can join to improve recycling practices in your local community? Or get involved in signing petitions to pressure your local MP on important issues.
How can people get involved in collecting plastic pollution?
Participate in one of Planet Patrol's activity-based litter picking events happening around the country, or even organise one yourself with friends and family, and upload everything you collect in the app. You can find your nearest Planet Patrol clean up event at planetpatrol.co/clean-ups 
How do you balance sustainability and eco-anxiety with mental health? 
That's a great question. The first thing to say is that eco-anxiety is a signal of consciousness to what we're experiencing in the world. It's not something we should feel ashamed of or embarrassed by; we just need to identify coping mechanisms that work for us as individuals. All the emotions associated with eco-anxiety are ones we are subjected to as a result of failure from the power in place to protect us. It's not a choice.
There are several tools that can help with feelings of eco-anxiety. Firstly, I recommend curating your news diet. Be deliberate and careful with both the time you spend consuming news and where you get it from. Make sure it's reliable, balanced and up to date. 
Connecting deeply with nature is another great way I help to balance my emotions. Spending time in green and blue spaces improves our mental wellbeing and has been proven to reduce anxiety. It also keeps us moving physically and brings us closer to nature, helping us to develop a stronger appreciation of it. They say that you protect what you love, so getting outside and falling back in love with nature is a fundamental component of addressing the climate breakdown.
Finally, I recommend finding your tribe. One of the most effective ways I have found to manage eco-anxiety is through the support of like-minded people in the Planet Patrol movement. You may feel an overwhelming sense of urgency to tackle climate breakdown that weighs heavily on your shoulders, but it's important not to individualise the problem. No one person will solve this alone (or overnight) but collective action – whatever form that takes – is both a powerful tool to drive change, and a strong support system to pick you up when you're feeling hopeless.
How do you stay optimistic about the climate crisis?
It's easy to feel pessimistic, especially when we are overwhelmed with news stories every day on the devastating state of the planet. But, despite the doom, we can find reasons to remain hopeful. Climate action is everywhere, in communities up and down the UK and around the world. We've all heard of Greta Thunberg but, if you look close enough, you will find ordinary individuals from all walks of life, cultures, and ages getting involved in the climate movement – because it affects every single one of us. While some might choose to protest and take part in other forms of civil disobedience, others may sign petitions, write to MPs or have difficult conversations with friends and family to push the dial forward – this all matters. It's the small collective actions – as well as the incredible team and community around me at Planet Patrol – that keeps me both hopeful and optimistic.
View this post on Instagram
What are three things you envision or hope to achieve in 2023?
From a professional standpoint, I want to demonstrate the importance of citizen science as a credible and robust way to inform solutions to environmental issues. Whether that's through industry, policy and government frameworks to improve the quality of our waterways, or otherwise. The power of collective and community action is vastly underestimated and undervalued, and I want to change that.
I am also excited to grow the work of Planet Patrol and introduce more ways for people to get involved in citizen science through collective action. On a personal note, I want to get my daughter on a paddle board for the first time and introduce her to the sport that changed my life!
GET INVOLVED
To get involved in Spring Water Watch, Sunday 21–Sunday 30 April 2023, download the Planet Patrol app or visit planetpatrol.co. Or sign up to one of Planet Patrol's litter picking events taking place across the UK. 
Follow @onplanetpatrol and @lizzie_outside on Instagram.
Featured image: Lizzie Carr, by Joel Caldwell.