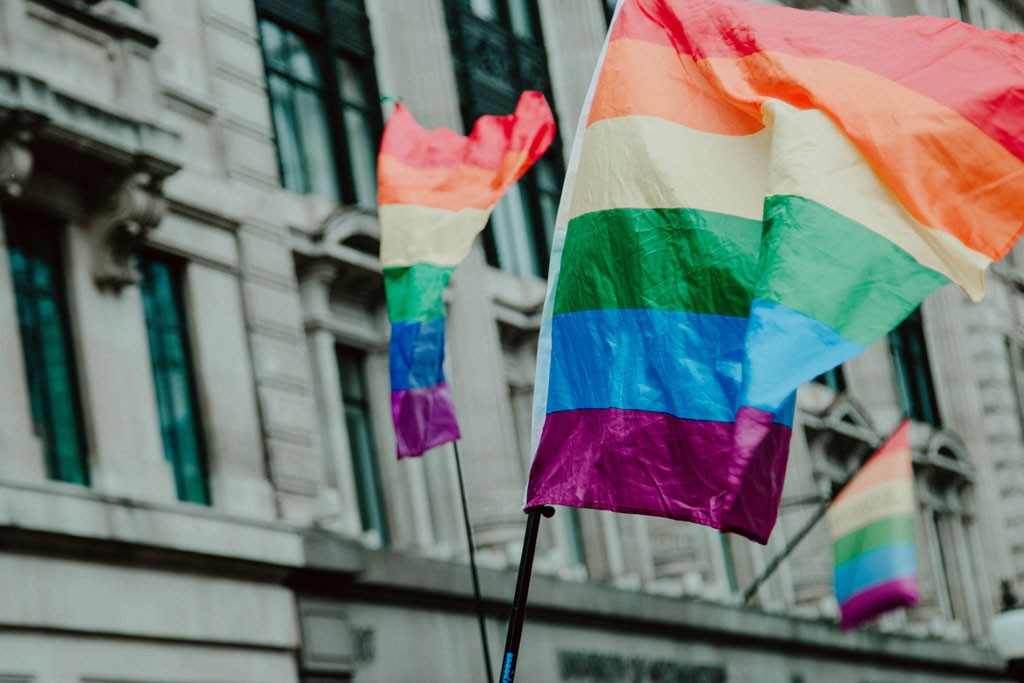 LGBTQ+ History Month: What's On
---
From comedy drama to club nights
February marks the return of the UK's annual LGBTQ+ History Month, a celebration of the history, rights and movements which have helped to shape the lesbian, gay, bisexual, and transgender communities. Since 2005, the month-long observance has encouraged hundreds of events, fundraisers and festivals to take place across the UK in support of these communities and in the hope of eradicating future judgement and preconceptions. 
This year's theme? Poetry, Prose and Plays. So, whether it's 'cooking with pride', seeing an LGBT-inspired show or attending an LGBTQ+ literary salon, here's how to best get involved…
LGBT+ Month: What's On?
Queer Bruk
The ultimate inclusive club night for Queer People of Colour is back – this time, at a new venue in Stratford. Get down to the sound of Afro-Caribbean music and celebrate LGBTQ+ month in style. Tickets from £7. The Refreshment Room London, 27 Broadway, E15 4BQ. eventbrite.co.uk
Time & Tide
From award-winning playwright James McDermott comes this timely LGBT comedy-cum-drama surrounding a Norfolk community 'struggling with change'. See it this month at the Park Theatre in Finsbury Park. Tickets from £13. 5 – 29 February, Park Theatre, Clifton Terrace, Finsbury Park, London N4 3JP. parktheatre.co.uk
Chinese Arts Now Festival: Queering Now
Part of the Chinese Arts Now Festival, Queering Now welcomes all to an evening of film and live performance spotlighting the voices of the Chinese Queer community. From artist Wang Haiyang's stop-motion animations to a live performance from Chinese drag king Whiskey Chow, the evening promises to enlighten and enthral, followed by a 'Queering Now After Party' and music from DJ Chooc Ly. Tickets from £20. 8 February 2020, 6pm. Rich Mix, 35-47 Bethnal Green Rd, Shoreditch, London E1 6LA. richmix.org.uk
Cooking with Pride
If food is your forte, then get 'Cooking with Pride' at St. Luke's Community Centre. The south Islington hub is hosting an expert-led cooking workshop in celebration of LGBT History Month, encouraging attendees of all abilities to cook and converse over delicious food. Tickets are free. 19 February, St. Luke's Community Centre, Central Street Cookery School, 90 Central Street, London EC1V 8AJ. eventbrite.co.uk
The Best Cookery Courses in the UK & Ireland
'Hidden Love?': LGBTQ+ lives in the archives
Explore LGBTQ+ histories through an enlightening talk at the National Archives, spotlighting the community's turbulent relationship with the State. Through a series of records, photographs, court reports and statements, uncover the community's ongoing journey towards liberation and equality. Tickets from £9.60. 20 February, 7.30pm. The National Archives, Bessant Dr, Richmond TW9 4DU. eventbrite.co.uk
LGBTQ+ Gallery Tour at the V&A
With a long-standing fascination for LGBTQ+ history and a dedicated Working Group uncovering LGBTQ+ narratives within the museum's extensive archives, the V&A opens its doors on the last Saturday of the month for an exclusive tour of the gallery's gender and sexual identities. Free drop-in event. vam.ac.uk
Polari Featuring Lucy O'Brien
Head to the Southbank centre for an LGBTQ+ inspired literary salon with author, academic and journalist Lucy O'Brien, in which a series of acclaimed authors – from Susie Boyt (My Judy Garland Life) to TS Hunter (Tainted Love) – will explore 'the lives of queer protagonists and the lives inspired by them.' Tickets £5, 15 February, 7.30pm. Royal Festival Hall, Southbank Centre. southbankcentre.co.uk
READ MORE: 10 Things to Do in London This Week | Best Bars to Watch Live Music in London | The Best Art Exhibitions in London