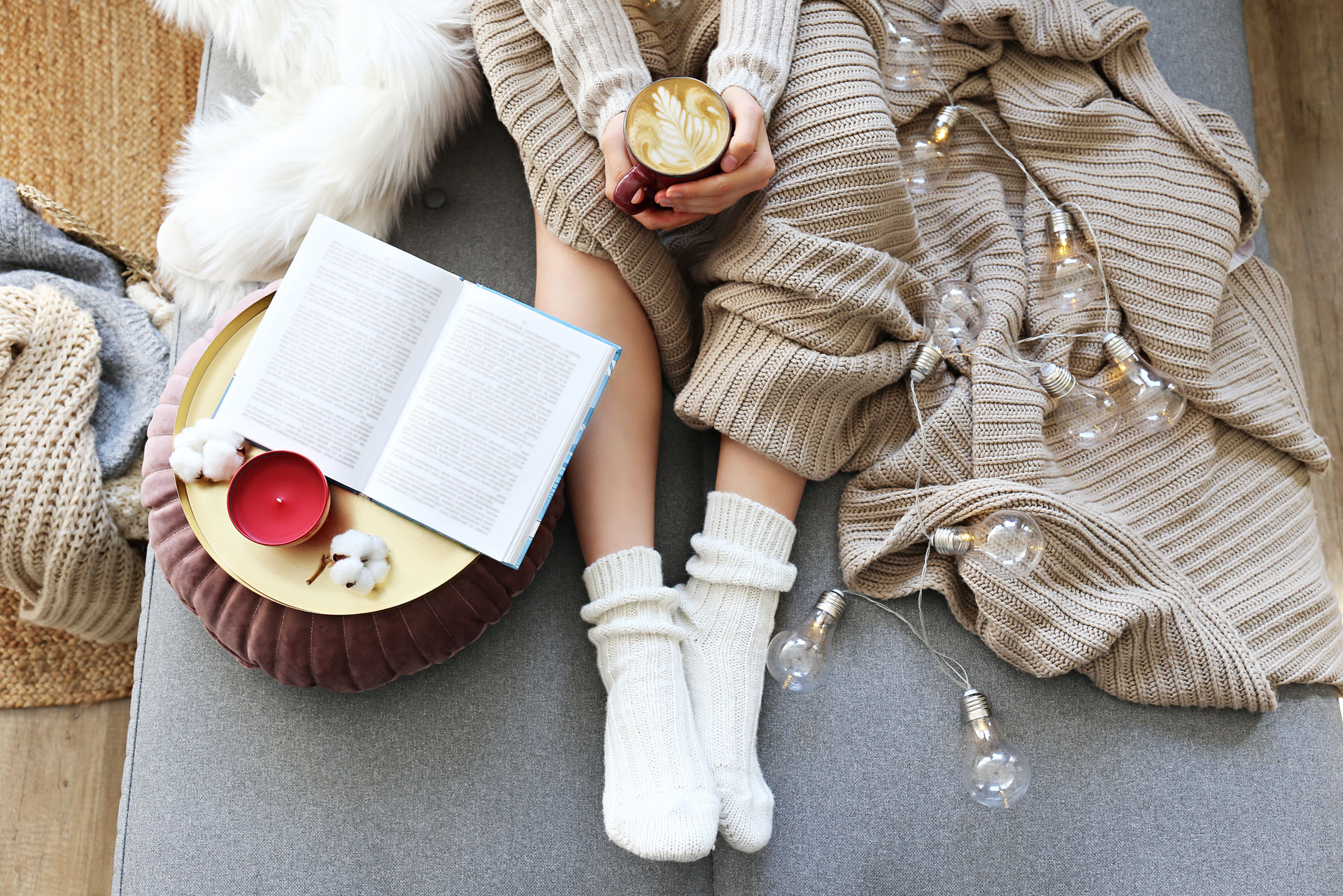 Lockdown 3 Survival Guide
How to stay healthy and positive over the next couple of months
It's nearly a year since the UK first went into national lockdown – and here we are again. To make matters worse, this lockdown is happening in the depths of the dark, cold British winter, adding a new layer of gloom to the situation.
But it's not all bad: we're armed with knowledge this time round. We've been there, done that, made the banana bread. We know what's coming – to some degree – and we can prepare for the challenges. So, below we present the C&TH lockdown survival guide, filled with expert tips on how to stay as happy, healthy and positive as possible during the weeks to come.
Staying positive
It's tricky to adopt a glass-half-full attitude at the moment, but there are small things we can do to manage our mental health. Here Puja K McClymont, life coach at House of Wisdom, shares her five top tips for staying positive.
Plan for the following: what you'll eat, how you'll keep safe, manage stress, work, family's needs, connecting with others – at a minimum twice a week – especially as the days get shorter and SAD becomes more common.
Every morning and evening, write a gratitude journal. Be grateful for what you do have everyday such as health, loved ones, a job, other income and your home. When you focus on what you do have, you keep your mind in a solutions-focused direction which helps when there is adversity.
Think of ways to create as much joy as possible – whether that's watching a comedy or kicking the autumn leaves – and ensure you keep moving with daily exercise, even if it's just a walk.
Manage media consumption: both social media and news, as well as talking to people who bring you down. Fear breeds fear and compromises your immune system.
Stay in touch with people, especially when you don't feel like it.
To combat stress, meanwhile, business psychologist Natalia Ramsden suggests trying not just the obvious ones – meditation and exercise – but also comedy. "Laughter decreases stress hormones​ and increases immune cells and infection-fighting antibodies, therefore improving one's resistance. It also helps release tension, and releases endorphins creating an overall sense of wellbeing. A funny book or comedy show ought to help if you need a cue."
Fitness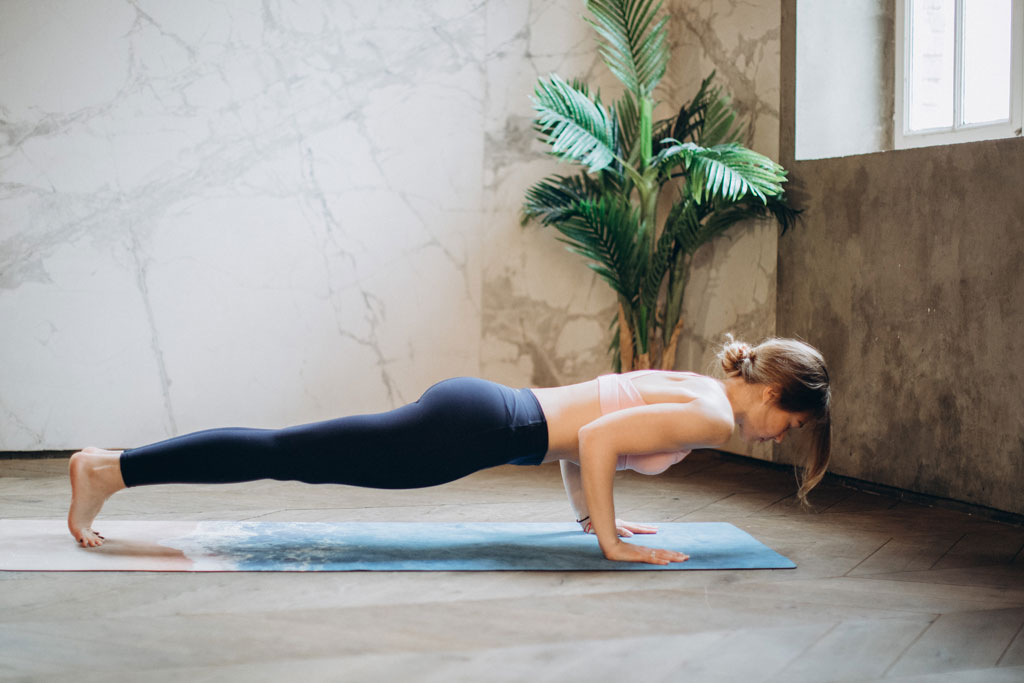 Lockdown 1 proved we can keep fit without the gym, and the at-home fitness offering is even better this time round. The cold weather may make your morning 5k less appealing, but over the past few months many top gyms have been squirrelling away to perfect their digital programmes. London fitness studio Psycle, for instance, has launched Psycle At Home, featuring online classes of all four of its workouts: Ride, Barre, Strength and Yoga. You can find all the other great at-home workout options here, and if you're in need of some extra motivation why not treat yourself to one of these trendy activewear pieces?
To ensure you stay active during lockdown, Core Collective trainer India Bailey suggests: "Start by carving out some time to work on a routine — one that will bring you joy every day, and one that pushes you toward feeling health and on-track, in a way that works for you."
If you are prepared to brave the cold, remember you can exercise with another person – either from your own household, or from another household providing you adhere to social distancing. This means you can have personal training sessions outdoors in public parks or green spaces.
Can't motivate yourself to get out the door? "Get a friend, make a plan and hold each other accountable to get outside," says Bailey. "You can also set location goals, or explore a new area in your neighbourhood to get some newness into your routine. Another tip? Get creative and use outdoor props such as logs, benches and trees for exercises like chin ups, tricep dips and decline press ups."
Make sure you dress for the occasion though – as Bailey says: "If you aim to workout outside, it's important that you don't just dress up warm, you need to make sure that the clothing you are selecting is meant for exercising, since you will be sweating. Quick-dry options are paramount and you do not want to lose body temperature as you get wet. Do not forget gloves or proper socks as it's important to protect your extremities and exposed skin." More on outdoor exercise here.
Nutrition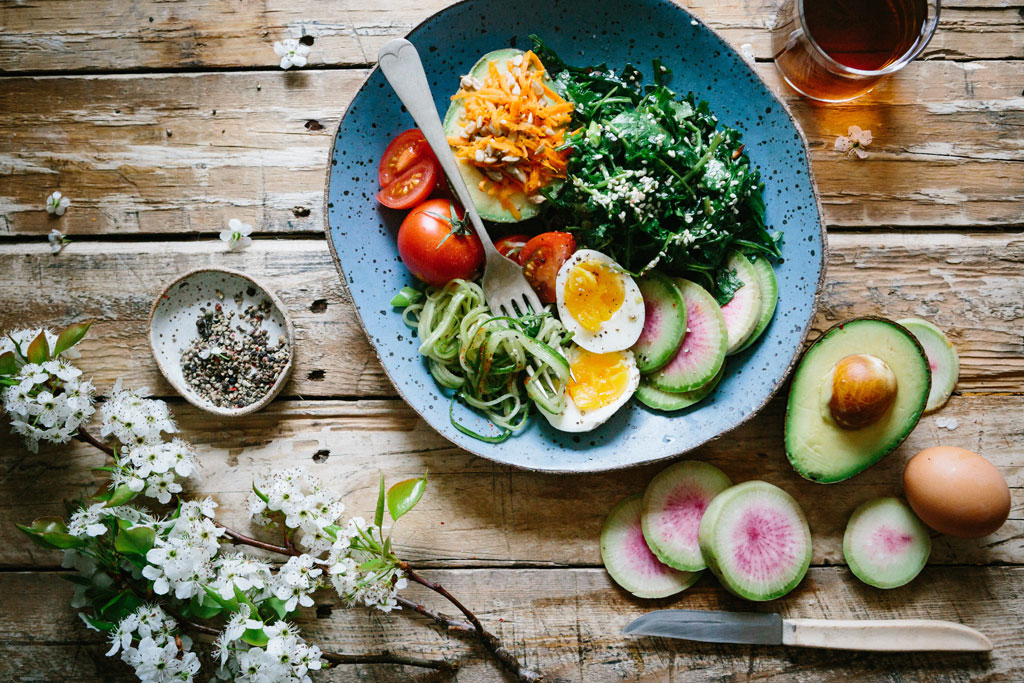 Pandemic fatigue got you reaching for the biscuit tin every 10 minutes? Us too – but we all know eating better helps us feel better. So Anna Cummings, registered nutritionist and head of coaching programmes at Liva Healthcare, is here to help with her three top tips for good nutrition during lockdown.
Don't restrict food groups. Try to make sure you're choosing from all the food groups throughout the day and that each day includes good quality sources of protein, fruit, vegetables, fibre and carbohydrates. Aim for half a plate of colourful non-starchy vegetables, a quarter plate of protein food (plant or animal), a quarter plate of carbohydrates (think potatoes, squash and wholegrains), and a little healthy fat.
Source vitamin D. In the UK, one in five people are vitamin D deficient all year round. We're spending more time inside over lockdown, with shorter days and a less intense sun over winter. This has the potential to make getting enough vitamin D harder. While supplements can help and are recommended by Public Health England (10mcg/day over winter and autumn), you can also get your vitamin D from foods like oily fish or eggs. Vitamin D is associated with supporting our immune system and helping us to ward off those winter bugs.
Be mindful of your snacks. Going into the winter months, it's common to crave foods that are high in sugar and fat. Stocking up on wholesome snack choices around the house can be really helpful – try a nice handful of almonds with a crispy apple, or a few squares of 80 per cent dark chocolate when you'd like a treat.
Feeling uninspired? Boost your brain power through your food, says Ramsden. "Vitamins B, C, D and E ​in the bloodstream are associated with better cognitive performance and a bigger brain. Low levels of certain vitamins are associated with cognitive decline in old age. Foods to include in your diet are ​Omega 3s – these can be found in fatty fish like salmon, tuna and flaxseed oil.
​"Green leafy vegetables ​such as spinach, kale and broccoli are also very important as they decrease inflammation and improve blood sugar control. Finally ​flavonoids​ such as blueberries, cocoa and apples are fantastic as they are rich in antioxidants which aid brain health by ridding the body of free-radical oxygen molecules."
Clothing
If you didn't invest in a whole load of loungewear last time round, now is your chance – particularly as being cosy is even more important during winter. We've pulled together some of the most luxurious loungewear pieces, from silk tracksuit sets to cashmere socks. It's a good time to up your pyjama game too – we're loving the new collections from Desmond & Dempsey and Olivia Von Halle.
Working from home
Struggling to stay productive while working from home? Every job is different, but there are universal ways to keep efficiency levels high and avoid going stir-crazy. Here designer, illustrator and long-term WFH maestro Emily Brooks shares the top tips she's learned over the years. Grace Paul's timely book The Ultimate Guide To Working From Home is filled with helpful advice too – here's an extract.
Entertainment
Long, dark evenings call for cosy nights snuggled on the sofa with a cuppa, and luckily the beginning of the year is always a strong time for TV. New releases to be excited about include a second series of Ru Paul's Drag Race UK, a third series of Netflix' You and a sixth series of Line of Duty. 
Books-wise, there's the highly anticipated new book from Kazuo Ishiguro, Klara and the Sun (out at the start of March), Abigail Dean's Girl A – soon to be made into a TV series – and one of this year's biggest debuts, Luster by Raven Leilani. Fancy using the time to tackle a long read? We've pulled together the ultimate quarantine reading list here. We've got a whole host of other TV, podcast and book recommendations in our regularly updated culture radar, and check out the C&TH book club for our favourite books of all time.
Sleep
Are you suffering from coronasomnia? Here sleep expert therapist, Natalie Pennicotte-Collier, advises a drug-free approach to getting a good night's sleep, including talking therapy, mindfulness, exercise and lighting. We've also got our eyes on Mela Comfort's collection of weighted blankets (£99), proven to help ease muscle tension and reduce stress hormones using a combination of deep pressure therapy and cotton and eucalyptus materials.
Best Food Delivery Services / Online Film Clubs To Join Now