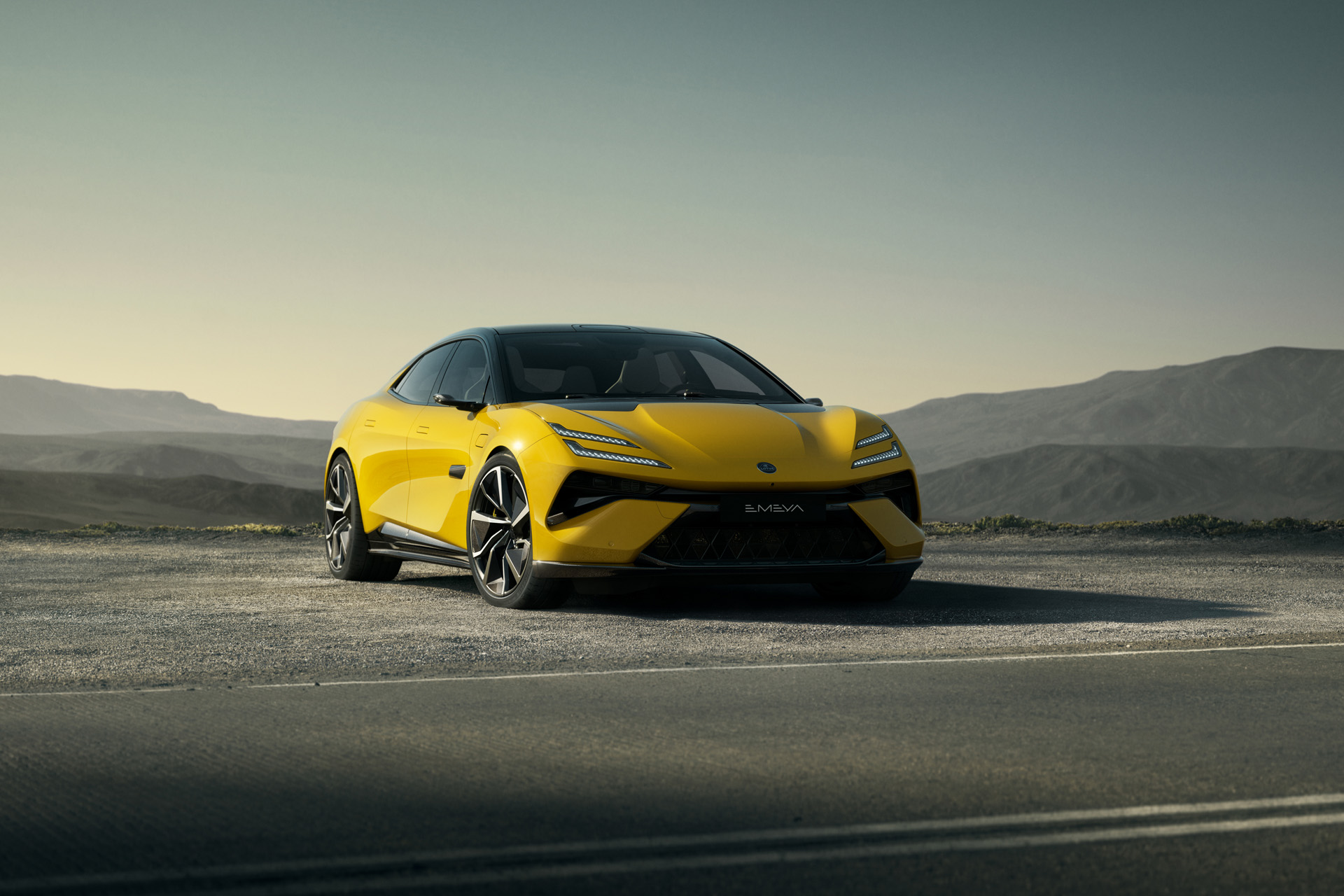 Lotus Emeya — The Green Lane
First look at the all-electric Emeya
A Lotus sports car with four doors? Motoring editor Jeremy Taylor and sustainable fashion expert Jessica Saunders look at the first images of the all-electric Emeya.
First Look: Lotus Emeya
JS – Let's start with the obvious question – why does every Lotus car have a name beginning with an 'e'?
JT – Get comfortable because it's complicated. When Lotus founder Colin Chapman created the brand in the 1950s, the first car was called the Mark 1. The plan was for following models to be Mark II, Mark III, etc.
OK, so what happened when they got to Model X?
A Mark X1 followed, but then Chapman chose to change the naming system because the media simply called the car the '11'. To avoid confusion with the Arabic number 11, which is similar to Mark 11, he named the car the Lotus Eleven. Since then, every Lotus has started with an 'e'.
I think I'm glad I asked. So, Elan, Esprit, Exige – they all follow that strategy. Which brings us neatly to the new model, the Lotus Emeya. I rather thought that by moving to all-electric models, Lotus had a great opportunity to shift the game on from 'e' – but what do I know?
Yes, it's an EV though, so that confuses things even more. The Emeya is a four-door GT that will compete head-on with the Porsche Taycan and the Audi e-tron GT. Two rather brilliant cars.
What's under the bonnet – or not, as it is battery powered?
Lotus has equipped the Emeya with a pair of electric motors, which brings permanent all-wheel drive for better grip, and a large 102kWh battery pack. It produces a massive 892bhp – tons more than either of the German GTs.
It is a Lotus, so it has to be quick. 
Indeed, we are talking 0-62mph in just 2.78 seconds and a top speed of 159mph. Lotus engineers have added an 'active' front grille that opens up to help cool the batteries, with a motorsport-inspired rear spoiler. On a practical level, it's said to cover around 320 miles between charges.
Anything else to whet the appetite?
How about a 55-inch augmented reality screen projected onto the inside of the windscreen. The head-up display includes navigation and blind spot monitoring from cameras fitted around the car.
And I read that sadly, the Emeya will not be made in Britain?
That is correct. Lotus is owned by Geely – the same folk who own Volvo – so the car is being built in Wuhan, China, instead of the Norfolk HQ of Lotus. Entry-level 603bhp models are expected to cost around £100,000, while the faster R roughly £120,000. On sale in 2024.
Shall we send Lotus a list of 'e' names for future models?
I'll grab a pen…
Discover more about the Lotus Emeya at lotuscars.com