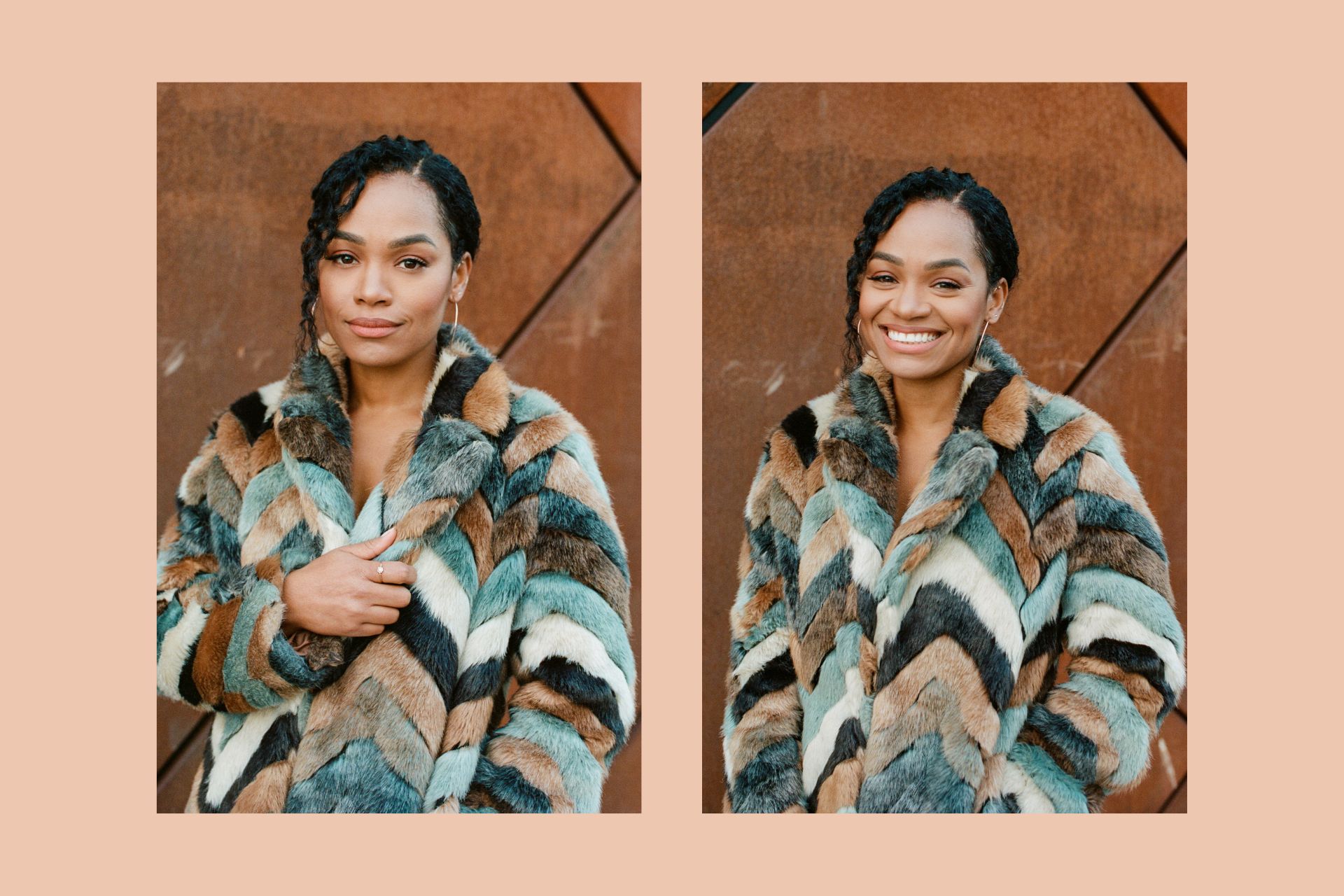 'I'm so blessed to be in a project like this': Tahirah Sharif On Starring In A Town Called Malice – Interview
Watch A Town Called Malice Thursday nights on Sky
What do Phoebe Dynevor, Lucien Laviscount, Jenna Coleman, Regé-Jean Page and Tahirah Sharif all have in common? Before their headline roles in the likes of Bridgerton, Doctor Who and A Town Called Malice, before they were pegged as the next James Bond, they all starred in the school TV drama, Waterloo Road. 'Regé is so far in the superstar universe that I don't know if he remembers little old me!,' says Tahirah, who played the superstar's sister in Waterloo Road. But now it's Tahirah's turn to swoop into that superstar universe: she is currently starring as the leading woman in Sky's new series, A Town Called Malice, alongside Jack Rowan, Jason Flemyng and Martha Plimpton. Having previously appeared in the likes of The Tower (for which she was nominated for Best Supporting Actress at the BAFTAs) and Netflix's The Haunting of Bly Manor, we caught up with Tahirah to chat all things Malice, dream roles, and bumping into Olivia Coleman.
Interview: Tahirah Sharif On
A Town Called Malice
Hey Tahirah, how's life going at the moment?
Can't complain, if I'm honest! It's been a really busy last couple of weeks with A Town Called Malice coming out, so I think I've just been caught in a whirlwind. There's a lot going on. I'm really enjoying it. But also I'm like, next week maybe I'll get to debrief and chill out a bit.
You play Cindy in A Town Called Malice, now airing on Sky – can you give us a quick plot summary?
This is one of my favourite ways to describe the show: if Dallas made love to Pulp Fiction to the sound of Duran Duran, they'd give birth to A Town Called Malice. If you're familiar with Dallas and you're familiar with Pulp Fiction – which is actually one of my favourite films – and you're familiar with Duran Duran, that sums it up really nicely. It's very 80s. It's highly stylized. There is some violence, and a lot of really difficult family dynamics. And there's an absolutely banging soundtrack.
You play the leading lady Cindy – can you tell us about her?
I mean, first of all, she's just a firecracker. She is a force to be reckoned with. But she's also dealing with experiences in her past that are leading to her making quite questionable decisions. But ultimately, she is somebody who is fiercely loyal to the ones she loves; she will literally do anything necessary to protect them. We meet her at the start, and she meets Jean, and they fall in love, and get themselves into a bit of a sticky situation, which leads to them having to run off to the Costa Del Sol.
How does it feel to be playing the lead?
You know what, at first, it was absolutely terrifying. As an actor, everyone wants to be the lead, right? That's what you aspire to. And then when you are leading the show, you suddenly realise how much responsibility is on your shoulders, and just how much hard work it is day in and day out. It's not all glamour. It is a lot of hard graft. But I was incredibly blessed to have a co-star like Jack, who is incredibly talented, and a lovely human being. And the rest of the cast and the team made life so much easier, even when I didn't have a load of confidence in myself to begin with. Once I eased into the role, I found my self confidence, and really grounded Cindy in reality – that's when I started to have a lot of fun.
What was the cast and team dynamic like on set? 
It was really fantastic. We shot for the first few weeks in London and there's always that thing of quite a big cast of people coming together and meshing. A lot of the cast play a family, and so, to make that believable, you have to get close to each other very quickly. But for me, the turning point was when we got out to Tenerife. In London, we were still trying to figure each other out, get to know each other – but you're all still going home at night after work. But in Tenerife, because we were all out there and away from our loved ones, we bonded so quickly. We spent so much time together, and it really helped, because then when we got onto set, it was just the same – always bantering, laughing, joking, supporting one another.
Any standout moments from rehearsals or filming?
There are honestly so many. One that comes to mind – which is not actually so obvious, because I've been telling everyone about little moments that me and Jack shared because we have so much screen time together – but I really enjoyed my scenes with Leanne Best who plays DI Lindsay. She is a really fantastic person – and actress. Without giving too much away, there were long days when we were just sitting in a car, no one else in the scene, even the crew was somewhere else, so you just get chatting about absolutely everything. We had a lot of great conversations in that car.
How do you get into character?
It depends on the scene. Something like this, a lot of the time it's quite fun and light. But there definitely are a lot of moments and a lot of scenes that are really dark as well – or violent, or even heartbreaking. For those scenes, you do have to psych yourself up. It was such a light hearted energy on set and a fun energy on set, but sometimes that wasn't helpful for what I needed to film, so I would take a moment to be on my own while we were filming them – just find my own little quiet space on set, and hone into the emotion I was about to deliver.
As you say, music is a huge part of the show. Were you an '80s fan before filming?
Who isn't?! Eighties music is so iconic. I don't know anyone who doesn't know a song from the eighties. The films were iconic as well – so many have cult followings. Whether we're aware or not, I think we've all been influenced by eighties culture in some way or another. A lot of the fashion is very current now. A lot of the costumes we were wearing in the show, I would wear now!
You've starred in quite a broad range of different things historically. I was a big Waterloo Road fan growing up. But you've also done Netflix projects from Christmas films to horror shows. What's your favourite genre to film? Or do you like keeping it broad?
I love keeping it broad. It challenges you and pushes you in different directions. Look, doing a Netflix Christmas movie was probably not something that pushed me or challenged me dramatically. But it certainly was a lot of fun to do, and it was something that challenged me in terms of comedic timing and being light hearted. I love naturalistic, dramatic acting. So comedy, actually, is really scary for me – but again, something that I really want to do. I want to overcome that fear. I'm so open to all genres; it just depends on the project, the script, the character, and whether or not that is something that I want to do at that time.
What has been your favourite project to date?
Honestly, I'd have to say this one – and not just because it's just come out! Jack and I said this while filming – it's honestly a dream role. Every single job and project I've ever done has been great for so many different reasons. But I just feel like Malice and Cindy are always going to be within me, and that's it. I'm so blessed to have this opportunity, and to be in a project like this. I'm really proud of it – to have played a role like Cindy. It was such a joy.
It seems like all of the emerging British actors right now were all in Waterloo Road, just like the previous generation all seemed to come from Skins… Do you ever reconnect or cross paths with those co-stars? Rege Jean Page is so famous now, for example.
I know! Do you know what, Rege is so far in the superstar universe that I don't know if he remembers little old me! We haven't crossed paths again, but he was such a lovely soul. And from what I've heard, he still is. I still talk to a few people, actually. I'm not gonna lie, I can't remember everyone's character names, but I still talk to Armin [Karim], Fin [MacMillan] and Je'Taime [Morgan Hanley]. And it was the same thing: we were away in Scotland filming for three months, so you lean on each other for support, because everyone's away from their family and friends. So yeah, I've got a lot of love for those three people.
Do you have any roles in the pipeline?
At the minute, I don't. I told my team actually, when this was coming out, that I really want to be available and free. I just want to enjoy all of this, and be able to soak it in. A lot of the time you just don't get to do that. You work on projects for six months, and then when it's coming out, you're on to the next job and you're away so you can't attend the launch party, you can't do interviews, you can't do photo shoots, and it's all a bit meh. I just wanted to block out a period of time where I was just, you know, available. But I do have season two of The Tower coming out in the summer.
Do you have a character that you've played in the past that you relate to most in your own life, or someone that stayed with you?
I think nearly all of my characters, in one way or the other, I can relate to. Because when you get a project, you get a script and you're playing a character, you have to make them part of you to be able to play them believably. I always try and infuse some of me into each character anyway – otherwise, I just don't think you can give an authentic, believable performance. Unless, of course, you're really going full character acting and playing a character that is so far removed from yourself. But I think everything that I've done so far, I've been able to put some of myself into. I've been in this industry for a while, so I think different characters have resonated with me at different points of my life. I've spent the last two years playing Lizzy in The Tower and Cindy in Malice, so those characters are very much a part of me. But they are two very different characters – literally the polar opposite! One is a policewoman, and one is a criminal. But actually, they share so much – so many traits that I can relate to.
Which co-star have you learned the most from?
Olivia Coleman! I did a short film with her about 150 years ago, right on the cusp of when she was getting really recognised. There was only four of us in the cast, so it was really intense. It was one set in a classroom – she was our teacher. And I remember it was my close up, so the camera wasn't on her at all. She'd done all of her coverage, and she'd had to cry and to emote, and I had been watching thinking, 'Wow, she's incredible.' Anyway, so the camera's on me and it was my closeup, and every single take, she was still going full out. She was still crying and it was so intense. I remember saying to her, 'oh, you know, Olivia, you don't have to cry. It doesn't matter, because it's only on me'. And she said 'no, no, it doesn't matter. Just because the camera's not on me, I'm still going to give you 100 percent, so your close up can be just as good as mine.' This blew my mind. That is definitely something I have tried to carry throughout my career and all of my projects. Even if the camera's not on me, I'm still giving you or giving my co stars 100 percent. That, really and truly, is the essence of acting. I just remember thinking she was so wonderful and generous. She's such an inspiration for me.
She's obviously an A-Lister superstar now, but I actually ran into her at the BAFTAs last year. I saw her on the carpet and I thought, 'She's not going to know who I am,' but I said, 'Oh hi, Olivia – I did this short film with you years ago,' and she said, 'Oh my gosh, yes you did!' And it was so nice. She's an absolute superstar, but she's still so lovely and a genuine person.
Do you have a dream role?
I have so many! Malice has fulfilled one for me 1000 percent – playing someone who is so kickass and confident, yet vulnerable and damaged as well. And getting to do stunts as well, which I love. There are two other things I'd love to do. One would be to do something really dramatic – something like Moonlight. When I watched that film, it blew me away. Something emotional, heartbreaking and beautiful at the same time. Every single element comes together in that film: the score, the cinematography, the acting, obviously. On the flip side, I'd love to do more action! Do something that pushes me and challenges me in a physical way. Having a role that pays me to train for the role? That would be my dream.
Did it take a decent amount of physical preparation for Malice, or not so much?
Not so much – the stunts weren't super challenging. It was actually a really good introduction for me to action stunts. But thankfully not too physically exhausting. Mentally it was on some days – that's where most of the prep came in. 
How do you balance preparing for a role with your personal life?
With prep, depending on who you are, it can be quite all-consuming. Yes, that's not always a good thing – but, for me, I was so terrified, getting a role like this, that I was going to mess it up. There was no way I was going to let myself mess up this role – the fear of that kept me going the entire time. Whether that was healthy is something else, but when you really care, you do just go above and beyond. But as I started filming and relaxed into the role and became more confident, I probably did ease up in terms of the amount of work I was doing. So, of course, in Tenerife, I was able to relax more and go to the beach and have fun.
Quick Fire
I'm tuning into… The Last of Us
What I'm reading… The Book of Dust by Phillip Pullman 
The last thing I watched (and loved) was… Triangle of Sadness
What I'm most looking forward to seeing… Citadel
Favourite film of all time… Leon with Natalie Portman
Band/singer I always have on repeat… The Internet 
My ultimate cultural recommendation… Museums. The V&A is my favourite.
How can we all live a little bit better? Sleep more. Drink more water. And, genuinely, small acts of kindness.
Cultural guilty pleasure… Next in Fashion
What's next for me is… A holiday! I think I need a little five day break somewhere, somewhere sunny and warm with the seaside and cocktails. 
A Town Called Malice airs on Thursdays at 9pm on Sky Showcase. Catch up on NowTV.
Images courtesy of DWGH Photography.