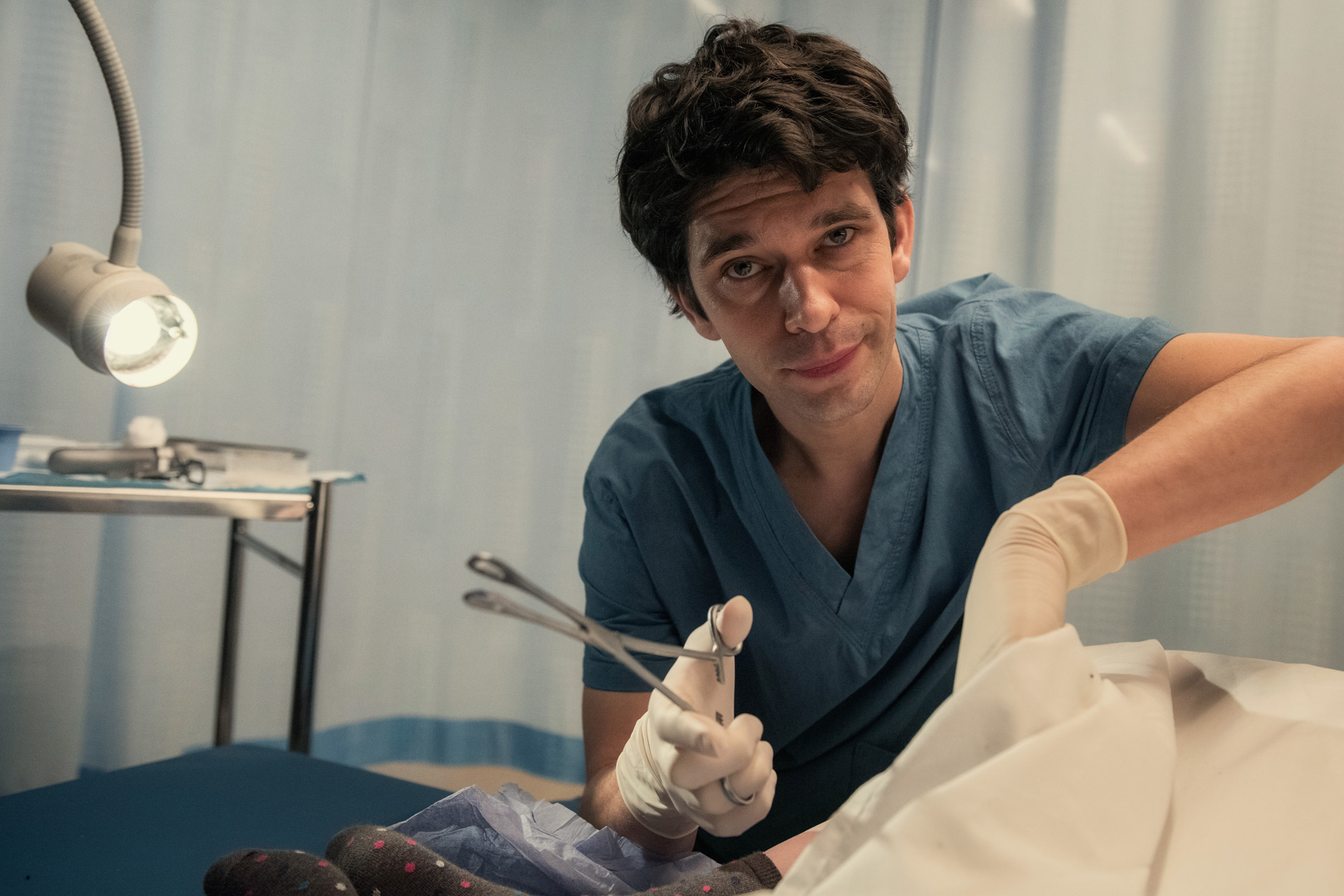 TV BAFTAs 2023: The Highlights You Might Have Missed
The biggest night in British TV
British celebrities flocked to Royal Festival Hall on the Southbank last night for the 2023 British Academy Television Awards, recognising the creme de la creme of UK telly. Among the Coronation reverberations, vibrant Eurovision song contest and your other weekend plans, you might have missed the action. Never fear: here are all of the TV BAFTAs 2023 highlights you need to know.
TV BAFTAs 2023: The Highlights You Might Have Missed
Meera Syal Calls For Diversity
Comedian and actor Meera Syal was awarded the BAFTA Fellowship last night, a lifetime achievement award recognising her contribution to British TV and film. During her speech, following a standing ovation, Meera took the opportunity to highlight the ongoing diversity issues the TV industry faces. She began by sticking her bindi onto her shiny new BAFTA statue, before recounting a story about her father's early years in the UK, having emigrated from India.
'We are all storytellers here. So we know how much it matters: what stories we choose to tell, but more importantly, who gets to tell them,' Meera said. 'Not just in front of the camera, but in the writers' rooms and the makeup vans and around the table where the deals are done. As Maya Angelou said, "There's no agony like bearing an untold story inside of you".'
Watch Meera's full speech below.
A Glittering Red Carpet
Featuring the likes of Kate Winslet, Dannii Minogue and even Wednesday's Thing with a black bowtie, the TV BAFTAs red carpet was a star-studded affair. But it was Billie Piper who stole the show, donning a glittering blue off the shoulder catsuit, shining right down to her heels and fingertips.
View this post on Instagram
Honorary mention for Claudia Winkleman donning a black jacket with 'FAITHFUL' emblazoned across the back.
View this post on Instagram
An Important Message From Anne-Marie Duff 
Following a series of heartfelt thank yous, Anne-Marie Duff – winner of Best Supporting Actress for her role in Bad Sisters (Apple TV+) – shared an important message with the crowd and viewers at home: 'Television is a profoundly political and important arena. We're in people's homes, we get to whisper in their ears. If there's anybody watching this tonight who has someone in their life who is bullying them, who is telling them that who they are is wrong, that what they are isn't enough, who's told that their voice shouldn't be heard, I'm telling you now, you are everything, and please stand up and scream at the top of your lungs.'
Watch the full speech below.
Anne-Marie Duff shares an important message as she wins the Supporting Actress BAFTA! #BAFTATVAwards with @pandocruises pic.twitter.com/M7yO2zOhoI

— BAFTA (@BAFTA) May 14, 2023
A Doctor Who Reunion
David Tennant and Catherine Tennant took to the stage to present the Best Feature award, quipping that neither had ever won their own BAFTA, with Tennant never even being nominated. Watch the full reunion below.
David Tennant and Catherine Tate's #DoctorWho reunion at the #BAFTATVAwardspic.twitter.com/tAQnikZk4z

— johnnymac (@mr_johnny_mac) May 14, 2023
Romesh Ranganathan and Rob Beckett's 'Edgy' Opening Routine 
Holly and Phil are never safe post-queuegate, as Romesh Ranganathan and Rob Beckett's 'edgy' opening routine revealed, also riffing on BBC impartiality rules, Romesh quipping 'a little bit of edge for you early doors – bet you like that!' And Rob adding that he 'enjoyed all of the ITV guys keeping a straight face'.
Watch the full routine below. 
Who Won At The TV BAFTAs 2023?
With This Is Going To Hurt and The Responder entering the ceremony with six nominations each (and Bad Sisters, The Crown, The English and Slow Horses each in the running for five prizes), the 2023 BAFTAs were well dispersed, with Bad Sisters scooping up two prizes and This Is Going To Hurt one – but the remainder of the highly nominated shows went unrecognised. That said, Channel 4's I Am…Ruth also picked up two prizes, as did Derry Girls and The Traitors.
Ben Whishaw beat out the likes of Taron Egerton, Martin Freeman and Cillian Murphy for the coveted Best Actor prize thanks to his portrayal of Adam Kay in This Is Going To Hurt, while it was the highly decorated Kate Winslet who snapped up the Best Actress award for her role as Ruth in I Am… Ruth. Netflix's Dahmer – Monster: The Jeffrey Dahmer Story controversially bagged the BAFTA for Best International Programme – beating out popular shows such as The Bear (Disney+), Wednesday (Netflix) and The White Lotus (Sky Atlantic) – while the winner of overall Best Drama Series was Apple TV+'s Irish series, Bad Sisters. 
The winners for the TV BATFAs 2023 are:
Best Drama Series: Bad Sisters (Apple TV+)
Best Scripted Comedy: Derry Girls (Channel 4)
Best Single Drama: I Am… Ruth (Channel 4)
Best Mini Series: Mood (BBC Three)
Best Soap and Continuing Drama: Casualty (BBC One)
Best Comedy Entertainment Programme: Friday Night Live (Channel 4)
Best Actor: Ben Whishaw as Adam Kay – This Is Going to Hurt (BBC One)
Best Actress: Kate Winslet as Ruth – I Am… Ruth (Channel 4)
Best Supporting Actor: Adeel Akhtar as Andy Fisher – Sherwood (BBC One)
Best Supporting Actress: Anne-Marie Duff as Grace Williams – Bad Sisters (Apple TV+)
Best Male Comedy Performance: Lenny Rush as Ollie – Am I Being Unreasonable? (BBC One)
Best Female Comedy Performance: Siobhán McSweeney as Sr. George Michael – Derry Girls (Channel 4)
Best Entertainment Performance: Claudia Winkleman – The Traitors (BBC One)
Best Entertainment Programme: The Masked Singer (ITV)
Best Factual Series: Libby, Are You Home Yet? (Sky Crime)
Best Specialist Factual: Russia 1985–1999: TraumaZone (BBC iPlayer)
Best Single Documentary: The Real Mo Farah (BBC One)
Best Feature: Joe Lycett vs Beckham: Got Your Back at Xmas (Channel 4)
Best Reality and Constructed Factual: The Traitors (BBC One)
Best Live Event: Platinum Jubilee: Party at the Palace (BBC One)
Best News Coverage: Channel 4 News: "Live in Kyiv" (Channel 4)
Best Current Affairs: Children of the Taliban (Channel 4)
Best Daytime: The Repair Shop: A Royal Visit (BBC One)
Best Short Form Programme: How to Be a Person (E4)
Best International Programme: Dahmer – Monster: The Jeffrey Dahmer Story (Netflix)
Best Sport: UEFA Women's Euro 2022 (BBC One)
Memorable Moment: Platinum Jubilee: Party at the Palace – Paddington Meets The Queen (BBC One)
Catch up on the full TV BAFTAs 2023 ceremony on iPlayer at bbc.co.uk
Featured image: Ben Whishaw as Adam Kay in the BBC's This Is Going To Hurt, for which Whishaw was awarded Best Actor.  (© BBC/Sister/AMC/Anika Molnar)