Jewellery designer, creative director and entrepreneur, Annoushka Ducas MBE, is one of Britain's leading figures in the world of fine jewellery, designing and creating for over 25 years. She founded Links of London with her husband John Ayton in 1990 and ran it while raising four small children. After she sold the company, Annoushka wanted to take time out to spend time with her family but in 2009, after only 18 months, her eponymous fine jewellery brand Annoushka was born. Half-Russian, Annoushka grew up in London, studied at the Sorbonne and travelled the world, spending time in Hong Kong and the Philippines. Find out more about Annoushka, one of our Great British Brands here…
Buy the Book and follow us on Instagram at @greatbritishbrandsofficial!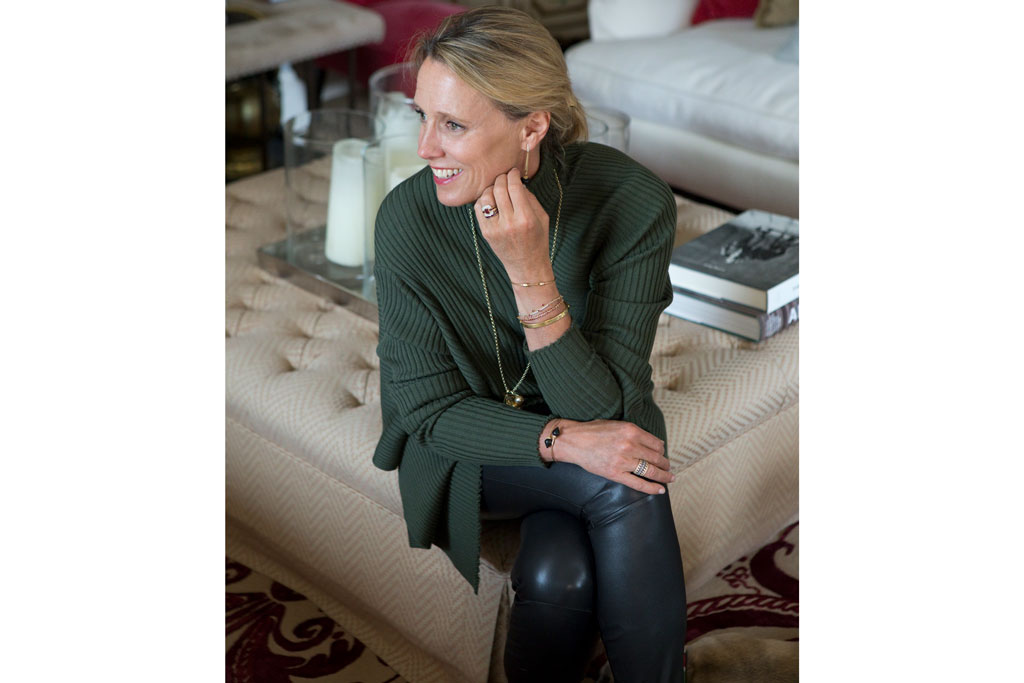 Annoushka Ducas Q&A
It's been 100 years since (some) women were granted the right to vote in the UK – how far do you think women have come in the last century?
It is shocking that it has only been 100 years! Attitudes towards women have certainly progressed in the last century, although I think we still have a long way to go in terms of gaining the recognition that we truly deserve. Many fields, particularly the art world, are still so poorly represented by women which I find pretty shocking. I am very lucky in that I have never felt hindered by my gender: from a young age, my mother instilled a real tenacity in me that has stuck with me throughout my career. 'No' was not a word that was allowed to be used in our household and I have worked hard to instil this can-do attitude in my own daughters.
I'm lucky that I am in a position where I am able to share my own story and experiences with other women. I set up my Inspirational Women's series a number of years ago with the idea of highlighting and championing brilliant women across a number of fields: entrepreneurs, campaigners, writers, artists, businesswomen, politicians, sportswomen who are using their talent to make a difference.
What does it mean to be a woman in 2018?
2018 truly has been the year of the woman. I was so honoured to be asked to take part in the Harvey Nichols 'Behind Every Great City' campaign in September, which marked the centenary of women's voting rights in the UK. To have the once in a lifetime opportunity to smash the store's windows alongside Dr Helen Pankhurst – the granddaughter of Emmeline Pankhurst – was a pretty extraordinary moment.
What do women still need to achieve?
Women should be careful not to dismiss their talents or passions as simply that – whilst holding onto jobs that do not leave them fulfilled – and be more prepared to act on instinct. Women tend to be naturally much more reluctant than men to take risks and we need to encourage them to have more confidence in their own ability.
On the other side of the world, I spend a lot of my time working alongside Give a Future, a charity which invests in children, youth, women and artisans in Addis Ababa, Ethiopia. I specifically support the micro-finance programme which provides business training, small loans and practical support, giving women a chance to support themselves and their families. There are many areas of the world where women are still struggling to support themselves. Through my work with Give a Future I hope I can help to change this and to give the women there the confidence and support that they need.
Your personal proudest achievement?
I have many proud moments from my 30 years in the industry; however one of my proudest moments has to be when I received my MBE in 2013. I was surrounded by my family and I cannot thank them enough for the support they have given me over the years. I am very proud of my business, but even more proud of my family.
I also spend a lot of time searching out and nurturing young creative talent, instigating and overseeing a very successful annual jewellery design project with the students at Central St. Martin's College of Art and Design. I have always enjoyed mentoring students and helping them to achieve their goals. It's incredibly important to support young talent, especially those who are leaving school and entering the workplace. I feel very proud that I am able to help young entrepreneurs and jewellery designers.
If you could teach young women one thing about being a woman it would be…
With two daughters, I feel passionate about the messages that I deliver to young women. I would say, believe in yourself (it might sound corny but it really is true). Don't worry what other people think of you: just go with your gut and trust your instinct, as 99 times out of 100 it will be right.
And if you could teach young men one thing…
 Men should also never be afraid to show compassion or emotion. Women regard them higher if they do!
Complete the following:
In the next 100 years, I hope women will… do whatever they want to do.
Everything that's Happening this Year to Mark 100 Years of Suffrage 
More women of note: Hannah Shergold |Juliet Sargeant | Thomasina Miers | Charlie Craggs | Sabrina Mahfouz | Wendy Holden
---