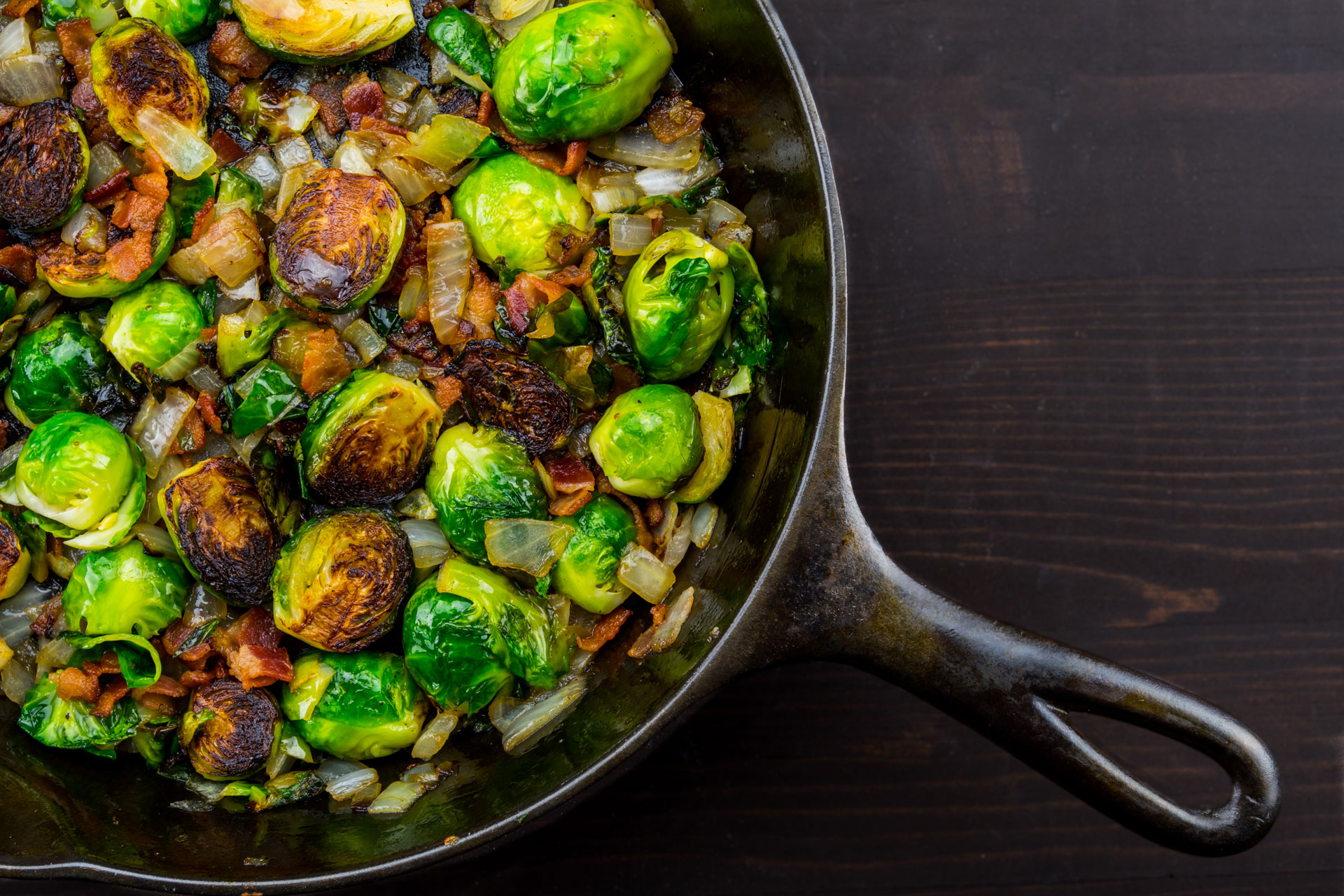 Ingredient of the Week: Brussels Sprouts
---
Not a fan of sprouts? This crispy panko recipe may convert you
Each week plant-based cook Bettina Campolucci Bordi, founder of Bettina's Kitchen, gives us the lowdown on a particular seasonal fruit, vegetable or ingredient, offering cooking tips and a recipe. This week it's Brussels sprouts.
Ingredient of the Week: Brussels Sprouts
Brussels sprouts: you either love them, or you've had too many Christmas dinners where you've pushed them around the plate, hoping for that one relative who loves them to relieve you of your pain. It's that time of year now where they will be showing up on menus – but how do we make these little golden nuggets of joy tasty? I have a few ways up my sleeve.
How To Choose and Cook Brussels Sprouts
The good news is that there are more ways to cook them than simply boiling them, meaning we can make them taste much more flavoursome. And these little cruciferous vegetables that resemble mini cabbages are so full of goodness, like Vitamin C, fibre and antioxidants – they are actually extremely anti-inflammatory and beneficial to add to your diet.
Did you know that the reason that some people find Brussels sprouts more palatable than others is that there is a bitter tasting chemical in them that you can only taste if you have a certain gene? A little bit like coriander.
Fresh Brussels sprouts can be found most of the year round, but they are most in season in the winter months and if you can find them still on their stock, these are the best ones to buy as they will be the freshest. Go for the brighter green firm ones and avoid the more yellow softer ones, which means they are getting a bit old.
Whether you steam them, roast them, grill them or grate them raw into a salad or coleslaw, there are many ways to get creative with Brussels sprouts.  
One of my favourite recipes is crispy panko sprouts. There are a few easy steps to this recipe and believe me, it will be worth the effort. Even if you are not a fan of Brussels sprouts, I think this recipe may indeed sway you. 
Try it out and do let me know, I'd love to hear whether you think this could be a game changer for Christmas Day. I would suggest starting your sprout practice now.
Recipe: Crispy Panko Sprouts
Ingredients
For the crispy panko sprouts:
450g Brussels sprouts

60g panko breadcrumbs

200g olive oil, for frying
For the batter:
80g plain flour (or gluten free flour)

1½ tsp baking powder

130ml sparkling water

Salt & pepper to taste
For the dipping sauce:
3 tbsp plant mayonnaise

1 tsp gochujang
Method
Wash the Brussels sprouts well, then add them to a large pot of pre-salted boiling water. Boil for around 10 minutes until soft. You can test if they are ready by taking one out and squashing flat – it should squash flat without disintegrating.

Lay the cooked brussel sprouts out on a baking tray and individually squash each sprout flat by pushing down with the base of a glass. Then pat them dry with a paper towel or dish towel.

Mix together the mayo and gochujang to create a lovely dipping sauce and set aside.

Mix together the batter ingredients with a whisk until combined and set aside.

Add the panko breadcrumbs to a plate.

Heat the oil up in a large frying pan until hot. You can tell it is ready by dropping some batter into the oil to see if it bubbles.

Dip a flattened brussel sprout into the batter to coat, then dip into the breadcrumbs to cover, and gently place into the hot oil. Cook for 1-2 minutes on each side until they are a nice golden colour. Remove and place on a plate lined with kitchen paper to absorb excess oil.

Put on a lovely serving plate along with the dipping sauce, and enjoy!
Main image: Getty Images