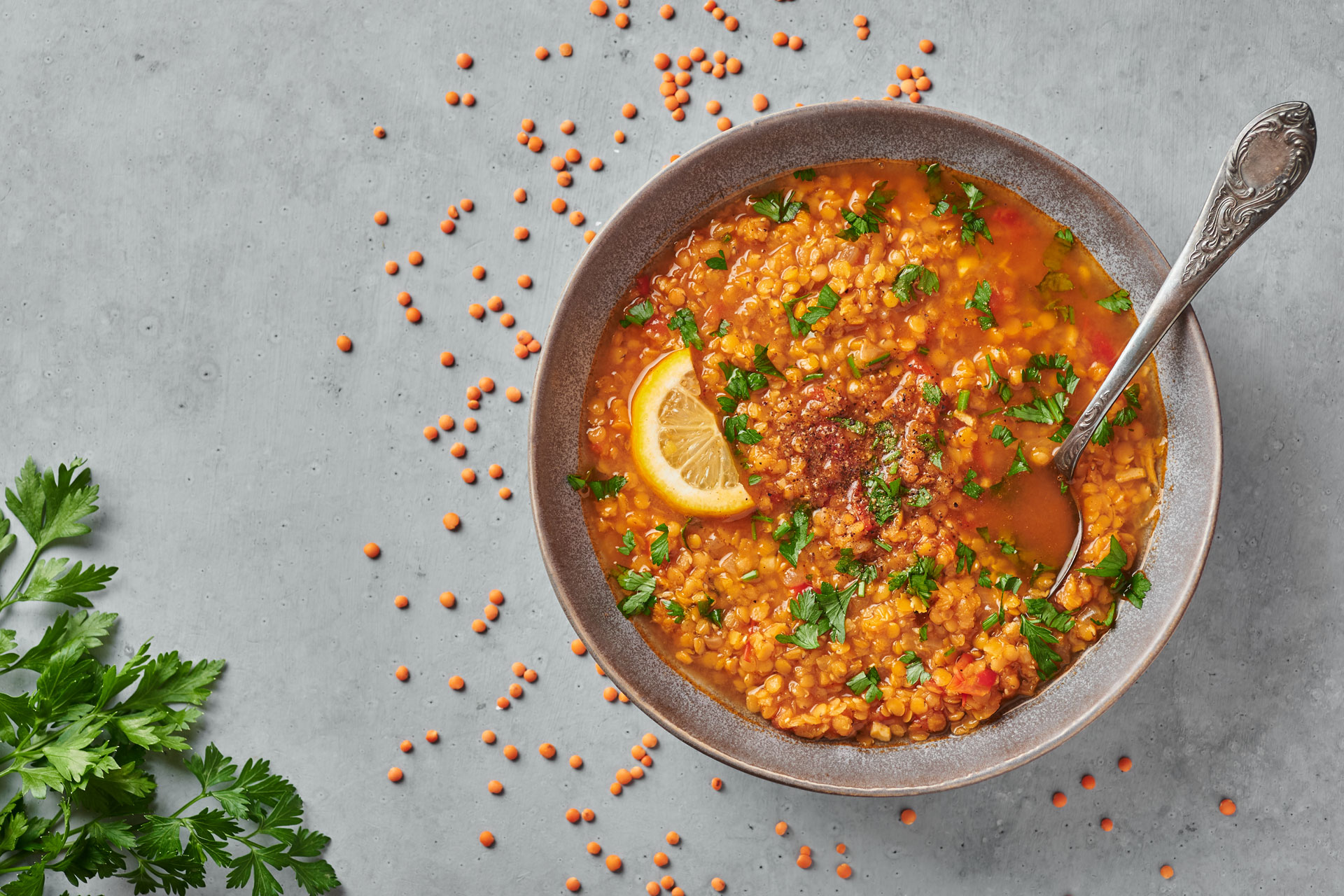 Ingredient of the Week: Lentils
---
Up this week: a warming dahl recipe for autumn
Each week plant-based cook Bettina Campolucci Bordi, founder of Bettina's Kitchen, gives us the lowdown on a particular seasonal fruit, vegetable or ingredient, offering cooking tips and a recipe. This week it's lentils.
Ingredient of the Week: Lentils
I have just returned from India, the land of pulses, and feel incredibly inspired by all the amazing pulse dishes available – specifically the little golden nutritional lentil. Humble yet tasty and incredibly nutritious, it can be made into a multitude of delicious dishes.
Nutritional Benefits
Lentils are a great little powerhouse ingredient that most people have in their pantry, or should have. Known as a pulse, which is the seed of a legume, they are naturally gluten free and full of the good stuff, being high in protein, fibre, iron, potassium, manganese and folate, while being low in calories and fat. They also have a high resistant starch content and are low GI, which means they are great for people with diabetes.
The most common lentils that people have in their cupboards are the red or yellow split lentils, which are great to use in curries and soups, or brown, puy or beluga lentils which tend to work better in salads or stews as they keep their shape. I personally love the red lentils the most as they are also an easier introduction to your tummies.
How To Store and Cook Lentils
Lentils have a long shelf life and should be stored in airtight containers in your cupboard.  They don't need to be soaked before cooking like other legumes do, however I'd recommend rinsing them first to remove any impurities. Tinned lentils are also great to use, saving even more time.
Cooking time varies depending on the type but can be anything from a quick 10-15 minutes, up to 30 minutes, which means if you are making a quick soup, dahl or curry, it is easy to add a quick burst of nutrition to your meal.  
Once cooked, lentils can be stored in the fridge for up to a week, or frozen for a few months. I love to batch cook lentils so that I have them on hand to add to so many dishes. They can also be pureed up and added to meals, which is a great way to add them to meals, or to hide them from fussy children.
I also love that lentils don't require a huge amount of water to be produced, and their carbon footprint is very low compared to many other ingredients.
Lentil pasta has become available now in health food shops, and if you blend up red lentils with water you can create a batter to make your own lentil crepes.
For me, there's nothing more comforting than a sexy dhal. It can be served as an accompaniment to a meal, as a main dish alongside rice and veggies, or add some liquid or stock and serve it as a lovely thick soup. During the autumn and winter months, I love to have a pot of dhal constantly on the go, it's like a big warm hug and makes everyone feel cosy in my house.
Recipe: Sexy Dhal 
Makes 4 servings
Ingredients:
Olive oil for frying

1 small onion, chopped

1 clove garlic

1 tsp fenugreek seeds

1 tsp ground cumin

1 tsp turmeric powder

½ tsp cayenne pepper (less for less spice)

½ tsp kashmiri chilli (less for less spice)

200g red lentils, rinsed and drained

250ml vegetable stock

100g plant cream

Salt and pepper to taste
For the hot sizzle topping:
1 onion, very finely diced

2 cloves garlic, very finely diced

2 medjool dates, pitted and very finely diced

20-30ml oil

Handful of coriander or parsley
Method:
For the dahl, heat the olive oil in a pan and add the onions and garlic and cook for a couple of minutes. Then add the fenugreek seeds and all the rest of the spices. Mix well, then stir in the lentils, salt & pepper and vegetable stock.

Stir well and put the lid on, cooking for 15-20 minutes until the water has been absorbed.

Now mix in the cream.

To prepare the topping, heat the oil in a small pan until very hot. Carefully add the onions, garlic and dates to sizzle. Cook for a further few minutes,

Meanwhile, plate the dahl up onto dishes, and then when the hot sizzle topping is ready, drizzle this over the top of the dahl, then finish with coriander leaves.