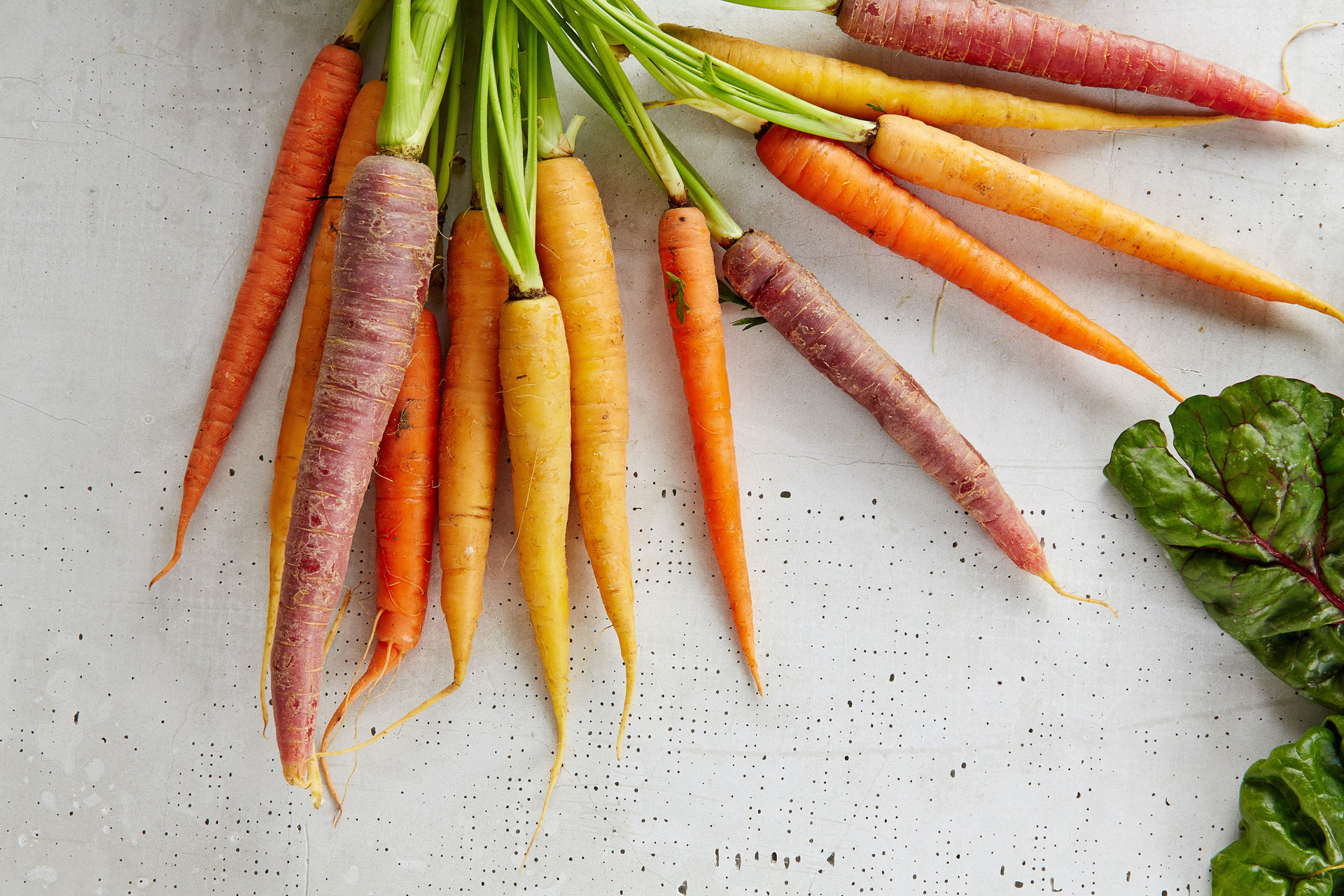 Ingredient of the Week: Carrots
Top tips for cooking with the colourful veggie
Each week plant-based cook Bettina Campolucci Bordi, founder of Bettina's Kitchen, gives us the lowdown on a particular seasonal fruit, vegetable or ingredient, offering cooking tips and a recipe. This week it's carrots.
Ingredient of the Week: Carrots
There is a warmth that washes over me when I think about carrots. Maybe it's the pop of colour they add to any plate; their sweet, earthy flavour; or the memories they bring back of growing them in my garden as a child. There's a certain kind of magic in pulling them out of the earth, a surprise of colour revealed with each tug.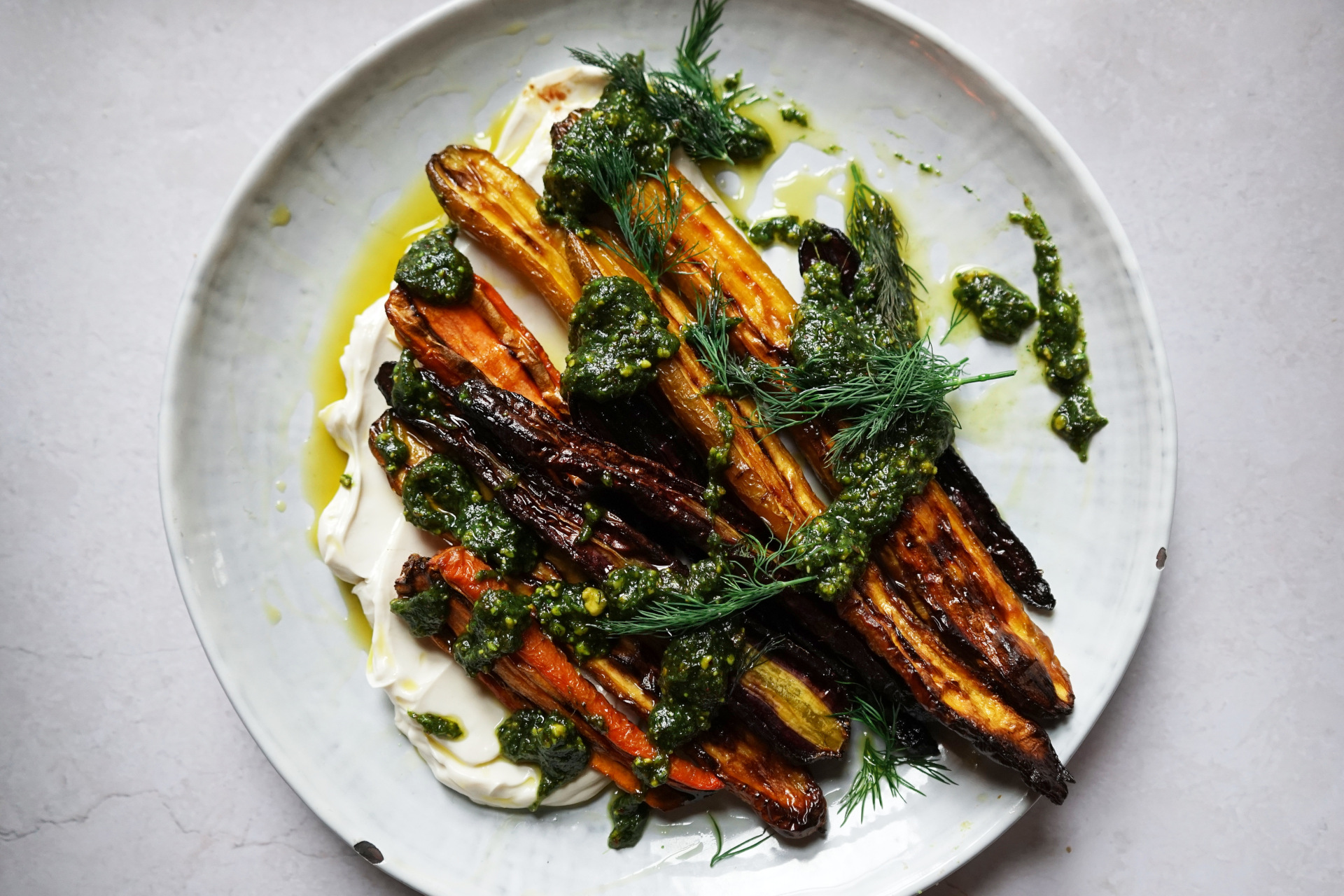 History
The journey of the carrot is as colourful as its vibrant hues. Its history stretches back over 5,000 years, originating in Central Asia and the Middle East. The first cultivated carrots were a far cry from the orange ones we see in abundance today; they were purple or yellow. It wasn't until the 17th century in the Netherlands that the beta carotene rich orange carrot we know and love was developed and quickly won hearts across Europe and the world.
Varieties
Now, we have a treasure trove of carrot varieties, each one with its own personality and flavour. The 'Purple Dragon' with its deep purple hue, the 'Nantes' with its tender sweetness, the 'Paris Market' with its adorable round shape perfect for roasting, and the 'Rainbow Mix', a blend of orange, purple, yellow, and white carrots that add a burst of colour to any meal.
How To Cook
Roasting: There's something about the caramelization of roasted carrots that brings a comforting sweetness to any dish. Tossed with olive oil, salt, and my favorite herbs and spices, then roasted until tender and caramelized, they become a dish that warms the heart. 
Steaming: When I'm in a hurry, steaming is my go to. It's quick, easy, and helps retain the carrot's nutrients. Chopped carrots placed in a steamer basket over boiling water until tender is a simple delight. 
Boiling: Boiling carrots is another speedy method. Chopped and cooked in boiling water until tender, but be mindful not to overdo it as they can become too soft. 
Sautéeing: Sautéed carrots bring a touch of elegance to any meal. Cooked in olive oil or butter until tender and slightly caramelized, they transform into a delicacy. 
Raw: Of course, the natural sweetness of raw carrots is a treat in itself. Washed, peeled, and then chopped or grated, they bring a fresh crunch to salads, wraps, or sandwiches.
The leafy greens that crown the carrot are often discarded, but they hold their own treasure of benefits. Rich in vitamin C, calcium, and iron, the slightly bitter, herbaceous flavour of carrot tops can elevate a variety of dishes. I adore blending them into pesto or chimichurri, using them as a garnish for soups and salads, or sautéeing them with garlic and olive oil for a simple yet tasty side dish. They can even be blended into a smoothie for an extra kick of nutrients. 
Here is one of my favourite recipes using the tops.
Recipe: Carrot Top Pumpkin Seed Pesto
Makes 1 jar
Ingredients:
150ml olive oil

1 clove garlic

100g pumpkin seeds

Handful of carrot top greens

Handful of basil leaves

Salt and pepper to taste
Method:
Place all ingredients into a blender and blitz until combined. Cover with a drizzle of olive oil and keep in a jar in the fridge for 1-2 weeks.