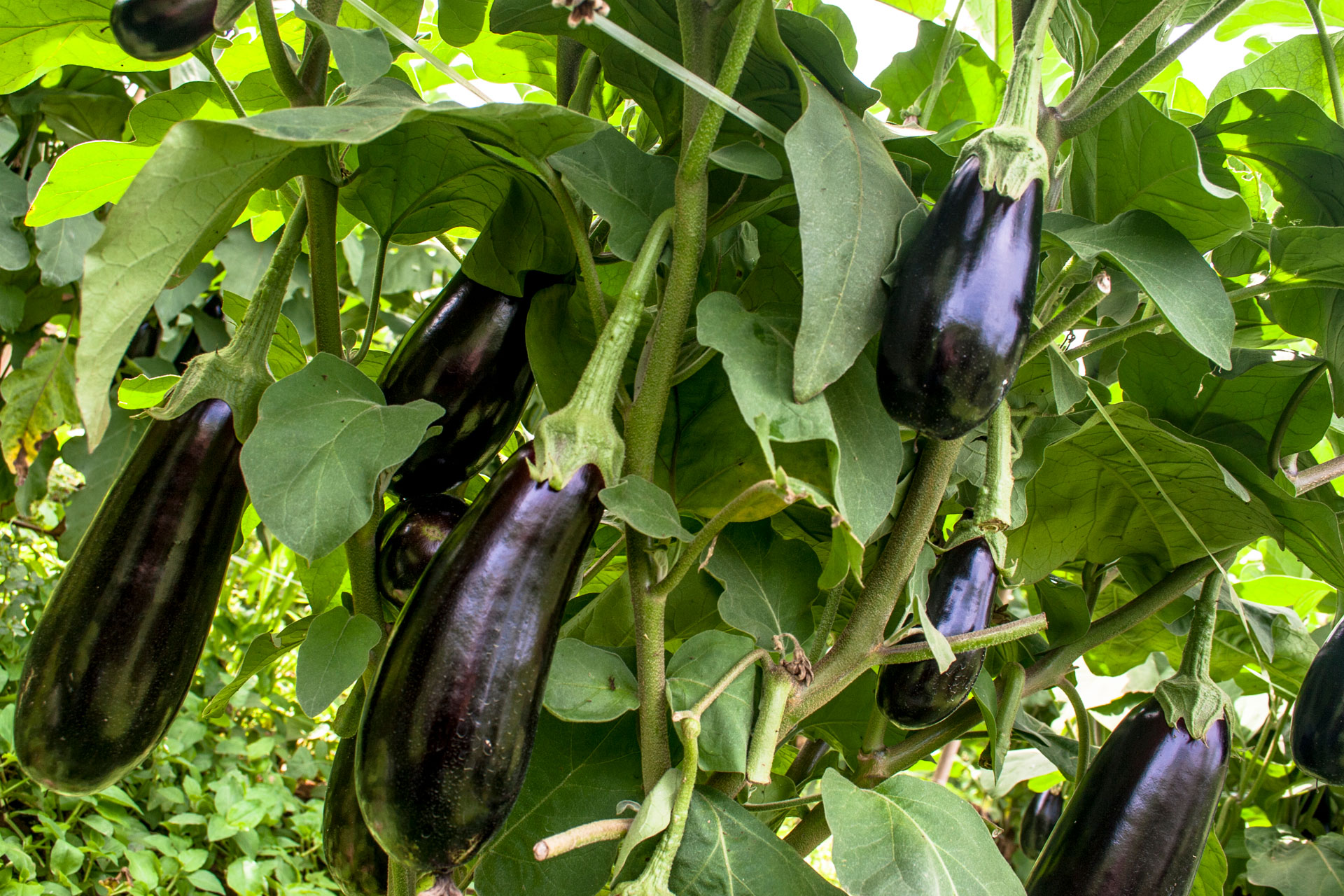 Ingredient of the Week: Aubergines
Everything you need to know about the popular purple veggie
Each week plant-based cook Bettina Campolucci Bordi, founder of Bettina's Kitchen, gives us the lowdown on a particular seasonal fruit, vegetable or ingredient, offering cooking tips and a recipe. This week it's aubergines, a versatile vegetable that can be incorporated into a variety of different cuisines.
Ingredient of the Week: Aubergines
Aubergines are one of the most delicious vegetables – if they are cooked properly. The secret is to cook them for a long time until they are soft and they almost melt in your mouth. This can sometimes take a while depending how you cook them, which makes it worth the wait when you finally eat them.
Varieties
Aubergines originate from Myanmar, however they are used all over the world, especially in Asian, Middle Eastern and Mediterranean cooking. They are low in calories, full of nutrients and antioxidants and come in different shapes and sizes, in combinations of short, fat, long and skinny. Their colour can range from a deep purple through varying lighter shades of purple to white, or even light green, yellow or orange.  Did you know that the word aubergine means a brown/purple colour in French? And the reason they are also known as eggplants is due to the most popular shape, which looks like a huge oversized pear-shaped egg.
Aubergines grow in a similar manner to tomatoes, hanging from vines of plants that can grow quite high. They, along with tomatoes, red peppers and potatoes are known to be part of the 'nightshade' group. They have a smooth glossy skin which houses a soft, spongy interior, and they can be cooked in various different ways, taking on many different tastes and textures.  They are best stored in a cool place outside the fridge, or in the fridge until ready to use.
How To Cook Aubergines
Some people are of the opinion that aubergines can be quite bitter, which can be reduced by slicing and salting the inner flesh, set aside for 10-20 minutes to 'sweat', then rinse with water before cooking. Others simply use the aubergine without going through this process and feel that it doesn't make too much difference, which can save quite a bit of preparation time. You choose which way works best for you.
I love using aubergines for a huge variety of meals, whether it is simply slicing, tossing in some olive oil, salt and spices, and roasting the oven until nice and crispy (these are great to add to a lasagne or simple toss into a salad), or pan frying large cubes of aubergine before adding them to a curry, a veggie pasta or a traditional ratatouille dish. They are also great whole roasted in the oven until completely soft, or sliced in half lengthways, scored in a criss cross pattern, coated with a delicious gojujang or miso paste and roasted until soft. Babaganoush is a really popular and widely loved aubergine dip, traditionally made with tahini, garlic, salt and lemon juice, however as with any of these dishes, you can add your own creative twist to them to pimp them up and really add a lovely unique taste and texture to a plant-based meal.
I'm loving aubergines at the moment, and this simple aubergine stir fry has only the addition of lovely salad onions, noodles and a delicious and easy to make sauce. I encourage you to make sure that your aubergines are cooked through for long enough so that they are soft (not chewy!) as this makes all the difference to this dish. You can, of course, add any other vegetables you like to this dish if you have ingredients that need to be used up in your fridge. 
Recipe: Aubergine Stir Fry
Ingredients:
For the aubergine stir fry
Olive oil, for frying

2 aubergines, halved lengthways then cut into 1cm slices

3 large salad onions / scallions, diagonally sliced into 2cm slices

300g yakisoba noodles

Pinch of salt
For the sauce
25ml tamari

1 tbsp maple syrup or honey

1 tbsp sesame seed oil
For the toppings
½ small cucumber, sliced

1 lime, halved

Handful fresh coriander

1 tsp white sesame seeds
Method
Cover the base of a large frying pan with olive oil and heat over medium-high heat.

Add the aubergine slices in 1 layer and fry until browned on each side. Then add a dash of water to cover the base of the frying pan which will steam cook them, they are ready when they are nice and soft and the water has evaporated (this should take around 4-5 minutes). You may need to do this in 2 batches, or use 2 frying pans! Once done, remove the aubergine from the pan and set aside.

Add the salad onions to the pan with some more olive oil and a pinch of salt, and fry for about 1 minute on a very high heat. Remove from heat and add to the aubergines.

Meanwhile, add the noodles to a small pot of boiling water for aprox 2 minutes, so that they separate well, then drain.

Mix the sauce ingredients together in a bowl, then add this, along with the aubergine, salad onions & noodles to a frying pan and place over a high heat for a few minutes to warm through.

Divide between 2 serving bowls, then sprinkle with sesame seeds, and top with ½ lime, cucumber slices and coriander.
Featured image: Getty Images