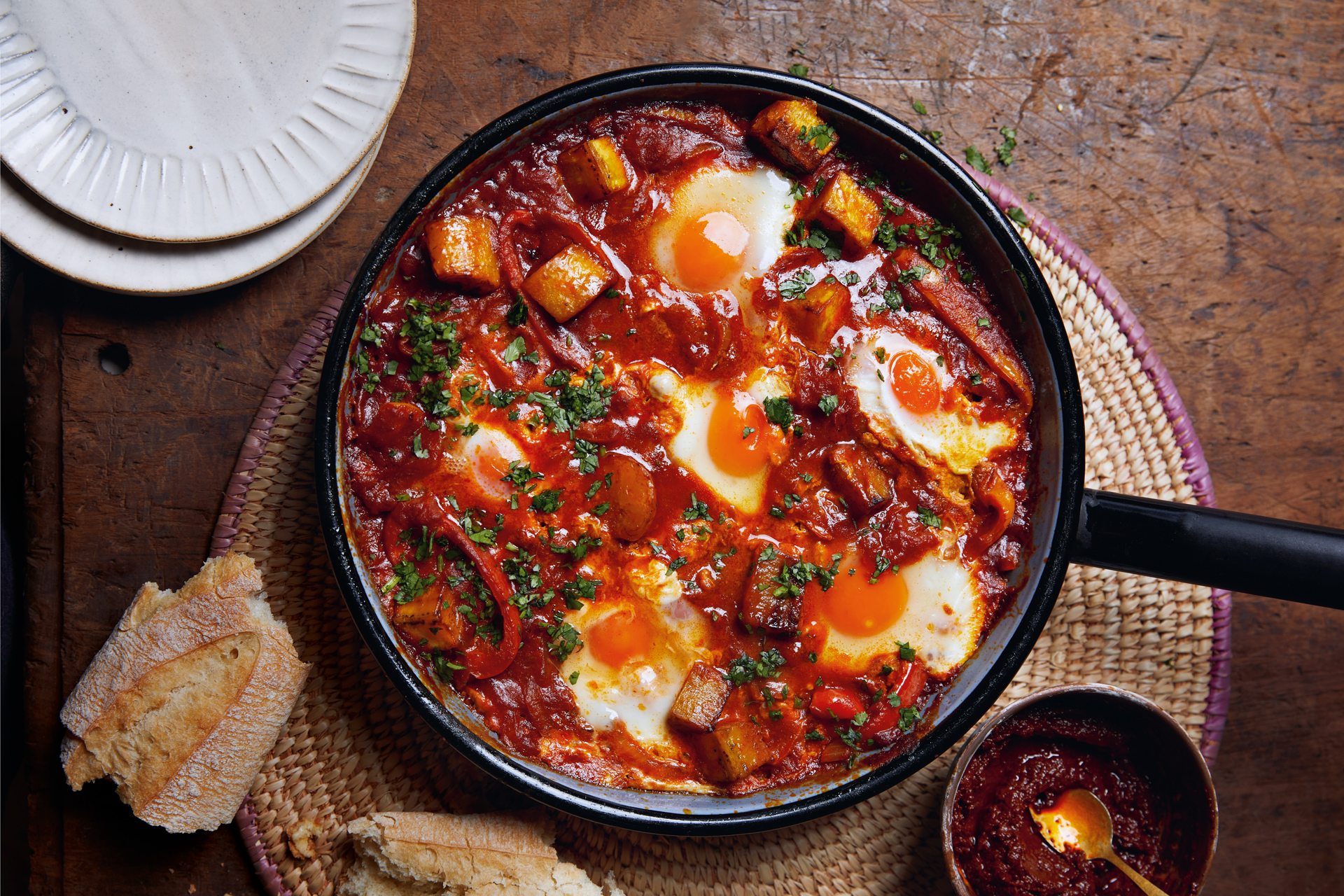 Foodie Tales with Lerato Umah-Shaylor
The writer and chef on her food rituals and memories
In her new cookbook Africana, Lerato Umah-Shaylor brings us over 100 recipes from across the African continent – from the perfect jollof to coconut fish curry. Here we speak to Lerato about her life in food, plus share a recipe from the book: plantain shakshuka, spiced with harissa and paprika and topped with eggs.
Foodie Tales: Q&A With Lerato Umah-Shaylor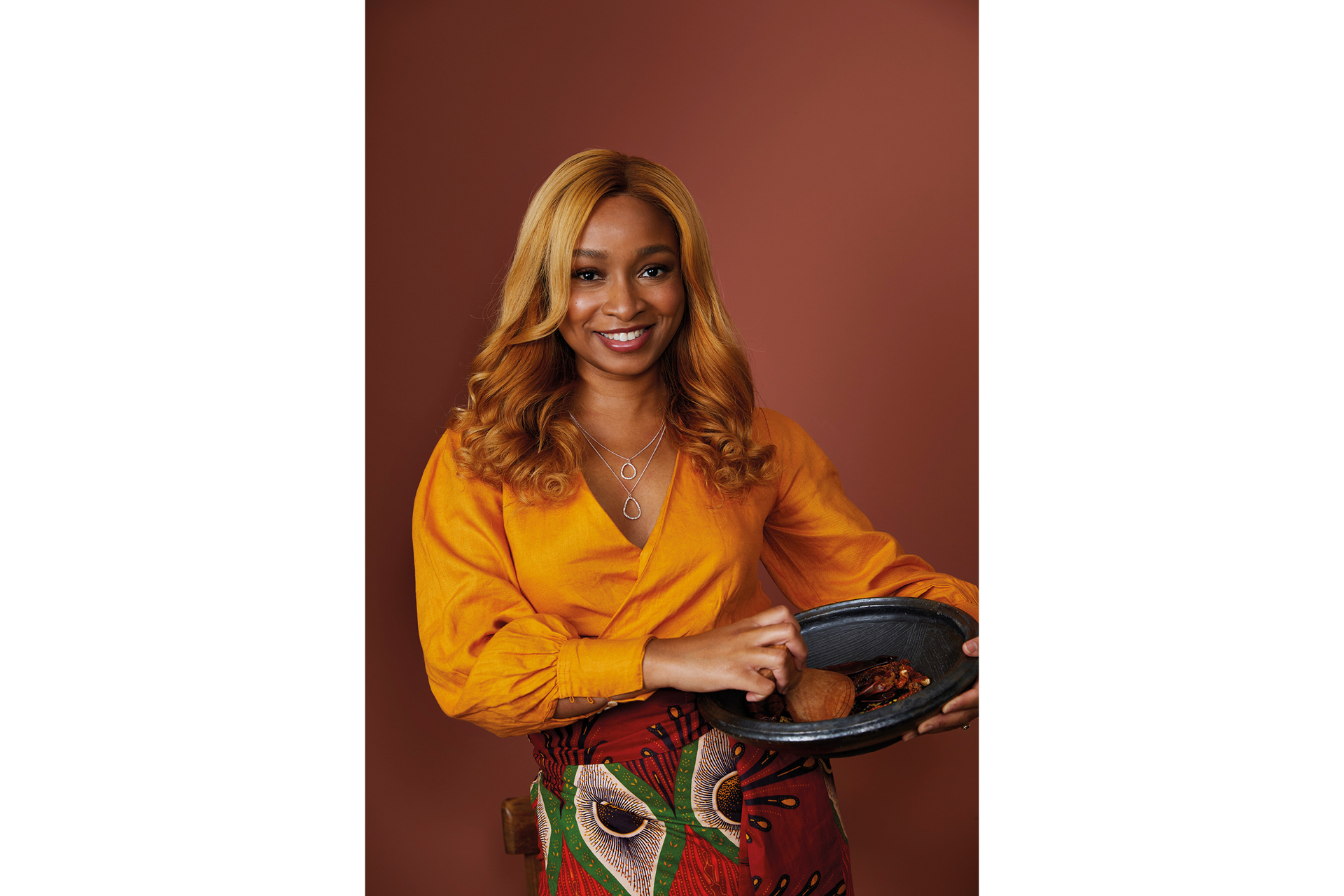 What's your food philosophy? 
I believe food is our human right, and not just any food, great food. In all that I do, I try to use food to bring people together, to break down walls, race, class or status, bringing us together as equals. 
First dish you learnt to cook? 
Egusi soup comes to mind. A rich soup made of ground melon seeds, which are rather similar to pumpkin seeds (from an African variety of gourds). My mother taught me to cook this much-loved Nigerian dish and it is a favourite winter warmer. 
Favourite in-season ingredient? 
I love it when spring greens start to rear their heads. I love cooking with purple sprouting broccoli and spring onions, flavourful greens that are great for quick, healthy and nourishing meals. 
Biggest food mistake? 
Among my closest friends I am known to burn water. Although I have a kettle I can be very old-fashioned and prefer to boil water in a saucepan for tea. Quite often, in the past I must confess to boiling water and not paying attention, until there is nothing else left to boil.
Most memorable meal?
A feast at a restaurant in Ghana called The Buka. I visited twice in a week to eat the jollof, moin moin, and beef stew with refreshing glasses of Chapman, a cocktail made from orange and lime based fizz, grenadine and bitters. There is something about feasting on African soil under that warm glowing sunshine that creates the most memorable mood. 
When you're not in the kitchen, where are you? 
I am in my home office writing recipes and stories or daydreaming. I get lost in my thoughts, planning creative projects, recipes or holidays. 
Do you have any unique cooking rituals? 
I enjoy listening to music and dancing away while I cook. I created a range of playlists, including an Africana playlist, and dance while I chop, stir and cook away. 
What's in your fridge? 
My fridge is packed at the moment with wine, halloumi, butter, cream cheese, jars of homemade harissa and the smoky tomato and date jam from my cookbook. 
Dream dinner date? 
Either in the Serengeti on the vast plain, with the animals strolling by, or overlooking the turquoise sea, perhaps on an east African island or archipelago.
Recipe: Lerato Umah-Shaylor's Plantain Shakshuka
Ingredients:
Serves 4 – 6 
1 large plantain, peeled and cut into 2cm chunks

2¼ tsp paprika

4 tbsp olive oil

1 white onion, peeled and roughly chopped

2 bell peppers (red and yellow), stemmed, deseeded and cut into 1 cm slices

4 garlic cloves, peeled and crushed

2 tbsp red harissa

1 tbsp tomato puree

3 tsp cumin seeds, toasted and crushed

1½ tsp ground cumin

2 tsp paprika 

½ tsp ground turmeric

½ tsp chilli flakes (optional)

800g vine-ripened tomatoes

2 x 400g cans plum tomatoes

8 medium free-range eggs, 2 beaten

1 small bunch of fresh coriander, torn
Method:
Heat 2cm of oil in a shallow frying pan to 190˚C. Cook the plantain in batches for a few minutes, turning frequently to ensure browning on all sides. Remove and drain on kitchen paper. Sprinkle with a pinch of fine sea salt and a ¼ tsp paprika and toss. 

To prepare the shakshuka, pour the olive oil into a 26cm sauté pan, for which you have a lid, and set over a medium heat. Add the onion and peppers, season with the salt and cook for five minutes until softened. 

Add the garlic, red harissa and tomato puree and cook for three minutes, stirring frequently, then stir in the dry spices, and the chilli flakes. Tip in the tomatoes, cover and simmer for 15–20 minutes, until thickened and sweetened. 

Scoop half of the sauce into a bowl then spread the remaining sauce out evenly in the pan. Scatter half of the plantain chunks over the top, then pour the two beaten eggs over the top to cover the plantain and sauce. Cover and cook for two minutes. 

Pour the reserved sauce over the layer of eggs and gently spread out evenly. Scatter over the remaining plantain. Use the back of the spoon to make six 'wells' in the sauce. Pour an egg in each one, cover the pan and cook for a final ten minutes over a medium low heat, or until the eggs are cooked as you like them. Scatter over the chopped coriander and serve with red harissa and toasted baguette.
Africana (Harper Collins) is out now