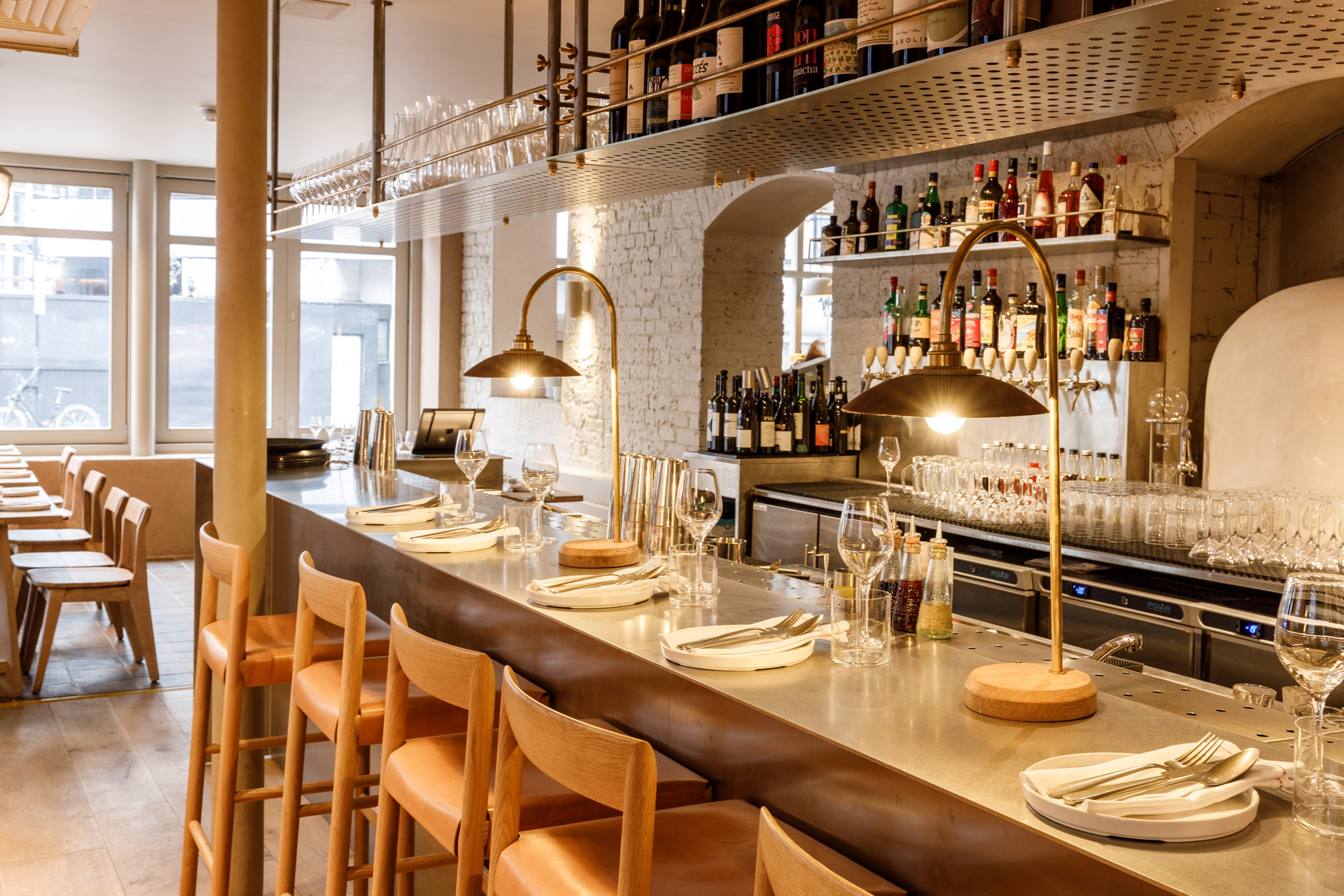 Manteca, Shoreditch: What To Expect
---
Everything you need to know about the much-loved East London gem
London is inundated with Italian restaurants – but only a select few garner a cult following. One of those is Manteca, the Shoreditch hotspot founded by chefs Chris Leach and David Carter. It began as a pop-up in Heddon Street, ahead of a stint in Soho, going on to settle in a permanent home in East London in November 2021. So what's behind the hype?
Manteca, Shoreditch: What To Expect
What's The Concept?
First of all: a bit of background on the founders – both of whom have an impressive culinary CV. Leach has worked at top restaurants like Petersham Nurseries, Kitty Fisher's and Pitt Cue, while Carter is the name behind barbecue joint Smokestak, also in Shoreditch. 
Following a run of pop-ups, the pair joined forces to create their first bricks-and-mortar site in a former Pizza Express on Curtain Road. The restaurant was an instant success, being awarded with a Bib Gourmand just three months after opening – and in the most recent National Restaurant Awards, it came in at number 11.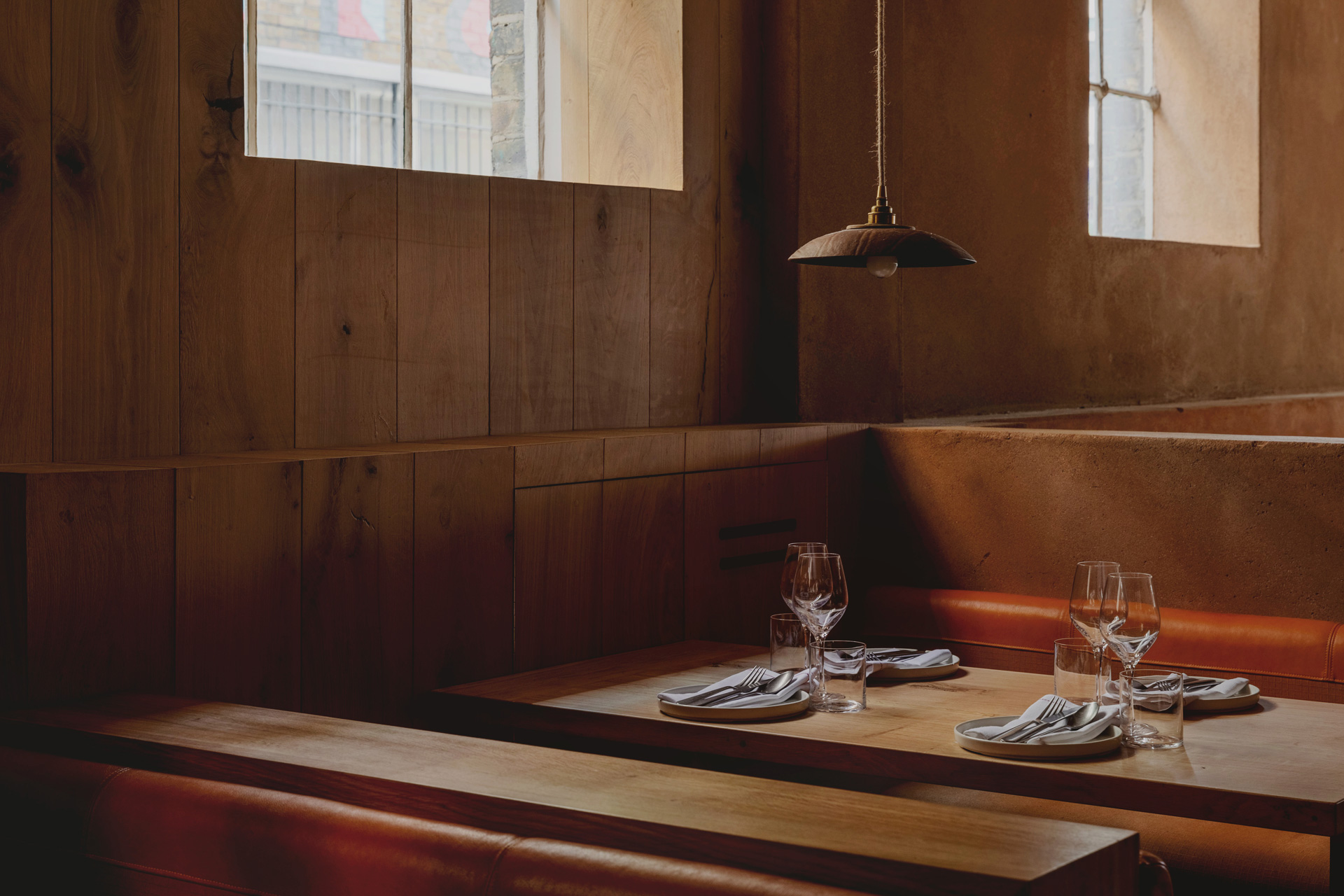 Nose-to-tail cooking is the focus, with an Italian-inspired menu which champions low waste and whole animal butchery – signified by the sculpted pig's head that hangs above the entrance, and, indeed, the name, which translates as 'pork fat' in Spanish.
When creating Manteca, the duo were inspired by the buzzy restaurants of LA and New York – as Leach said in an interview with The Modern House, 'the dining experience is all about the vibe'. Interiors-wise, the space is minimalist, with muted tones of white and beige and an open kitchen in the middle of the restaurant, placing the food centre stage.
What's On The Menu?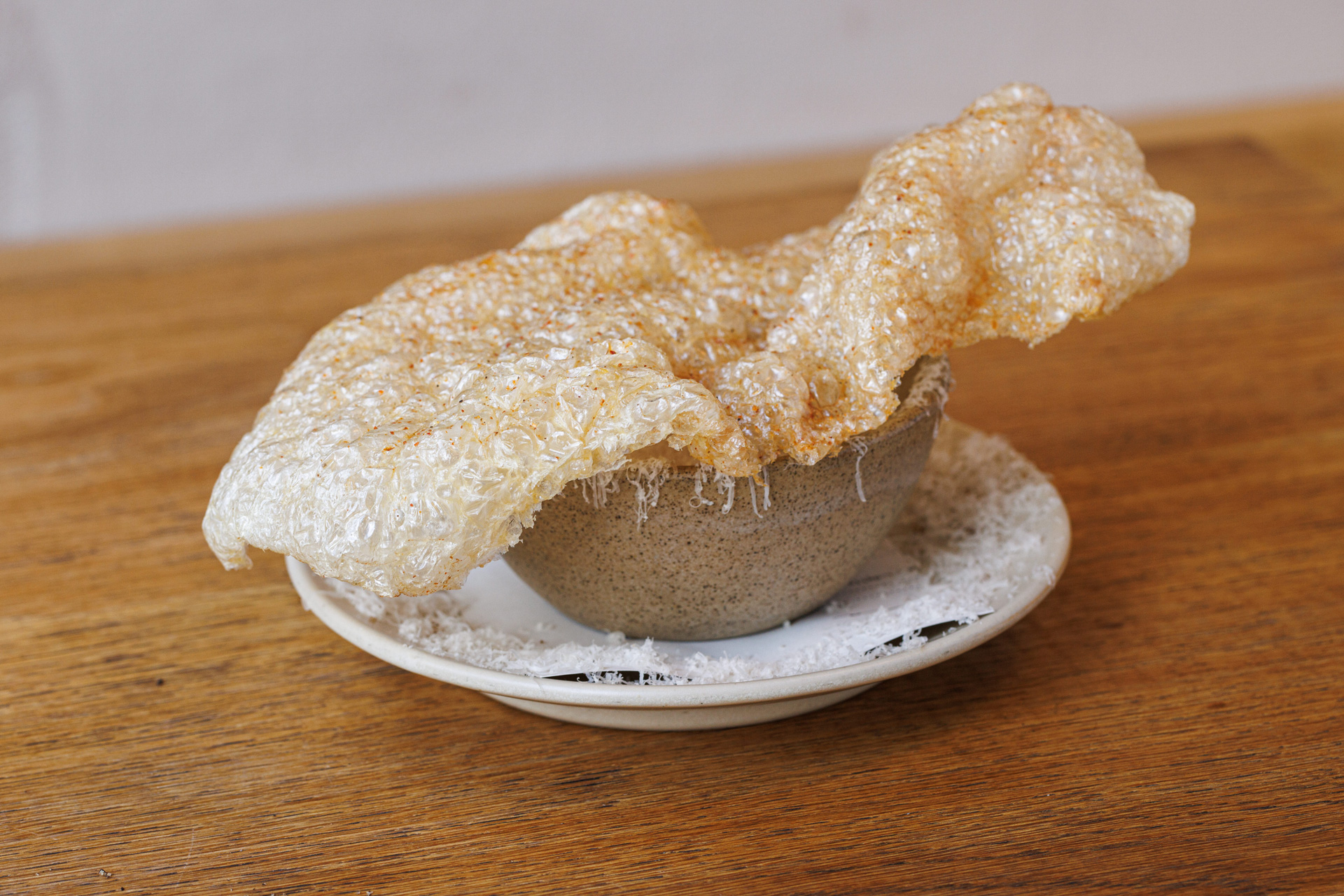 Easily the most famous dish here is the pig skin ragu, which blew up on Instagram shortly after Manteca opened. Epitomising Manteca's ethos, it's a creative way of using all of the animal and minimising waste. The recipe involves boiling pork skins until soft, removing the fat, dehydrating the skins until they're hard and crisp, and deep frying them. These crispy nuggets – similar in texture to a prawn cracker – are then served alongside a rich pork skin ragu made with onion, carrot and garlic, and topped with parmesan cheese. Be sure to give it a try, but don't overlook other starters, like the 'nduja steamed mussels, and the pork sausage with preserved fennel.
Hand-rolled pasta is also pivotal to the menu. Favourites include the fazzoletti with duck ragu, brown crab cacio e pepe, and Casoncelli alla Bergamasca (stuffed pasta) with pancetta and sage – but you really can't go wrong here: Manteca is often crowned with serving the best pasta in London.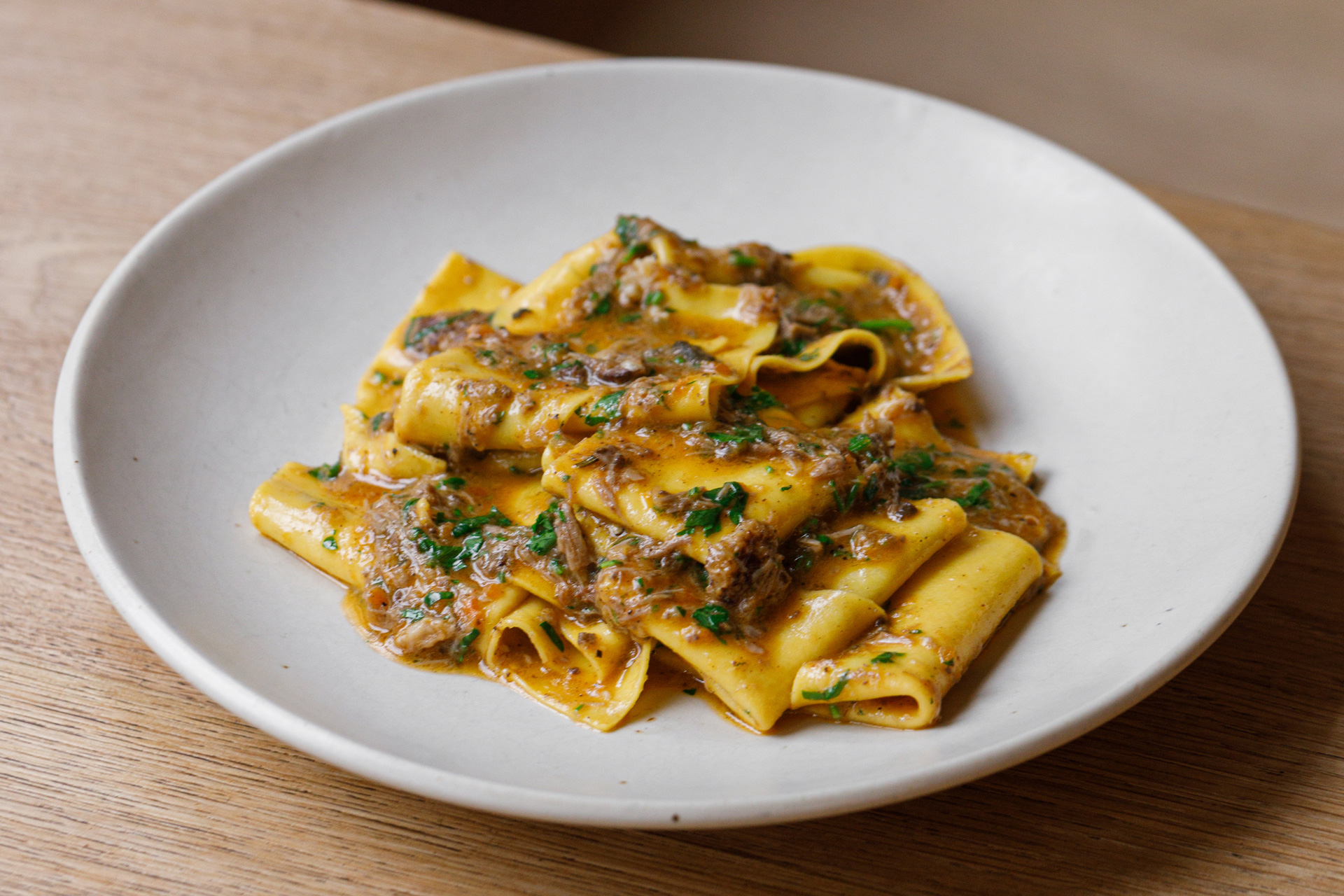 Carter's Smokestak background is visible in the fire-grilled meat and fish mains. Think grilled duck breast with sausage and quince mostarda; whole wood roasted line-caught bream; and pork chop with kalibos cabbage. There are some great veggie dishes, like a wild mushroom ragu, and bitter leaf salad and gorgonzola dolce starter, but ultimately it's probably not the best spot for plant-based diners.
Dessert-wise, order the chocolate tart: another crafty low-waste recipe made with the whey leftover from the house ricotta.
On the drinks front, there's a selection of interesting, unique cocktails like the Calabrian Buck: amaro del capo, cognac, lemon and chilli. An extensive wine list, meanwhile, is helpfully separated into 'classic choices' and 'down the rabbit hole' options for wackier picks.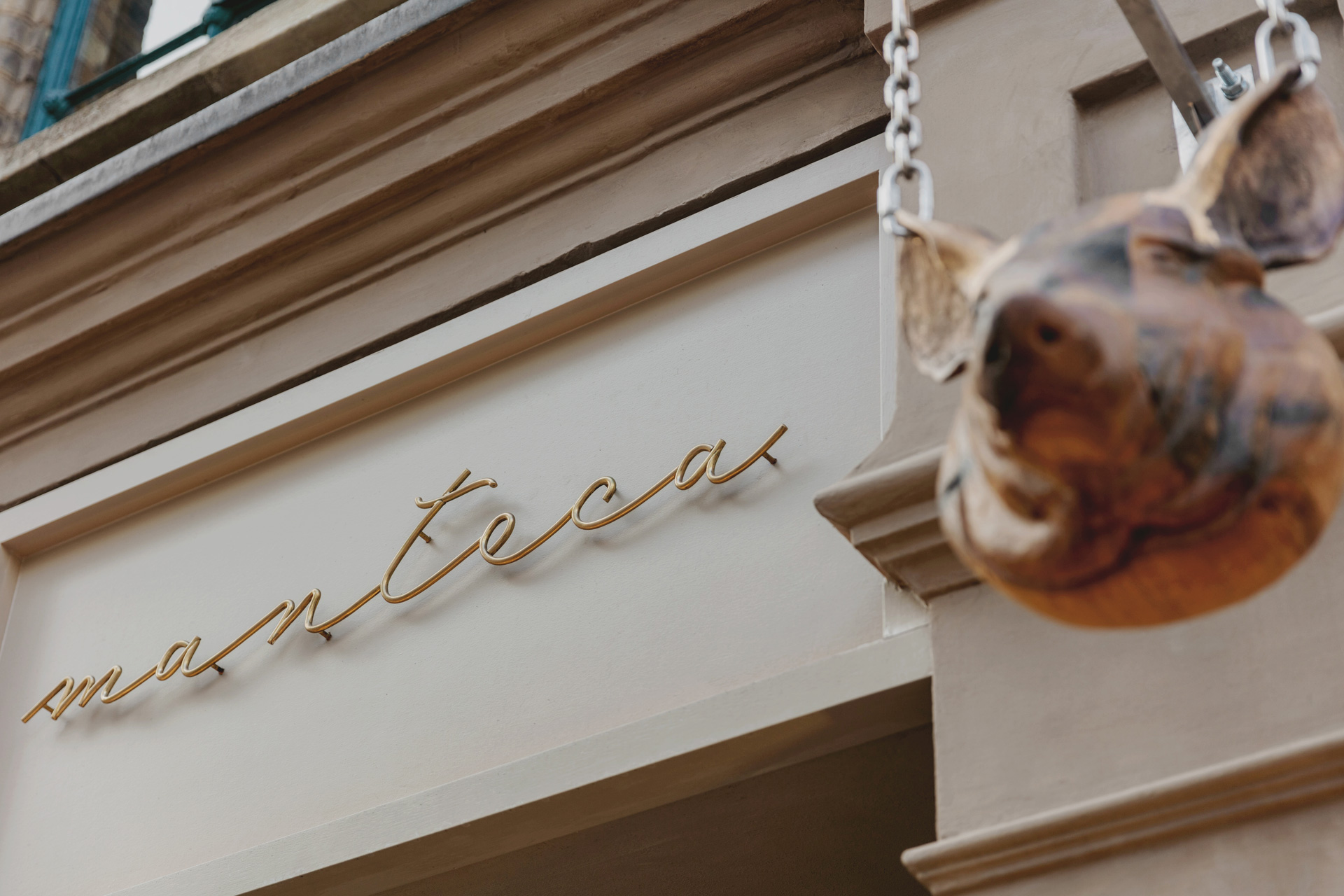 Is It A Green Option?
In short, yes. Nose-to-tail butchery is inherently sustainable, and Manteca sources its ingredients from small independent farms and producers – with pastas and breads made with flour from regenerative agriculture pioneer Wildfarmed. The restaurant is also working towards completely eliminating single-use plastic.
How Much Are We Talking?
Pretty reasonable – small plates from £7, pastas from £10.
BOOK IT:
49-51 Curtain Rd, London EC2A 3PT, mantecarestaurant.co.uk