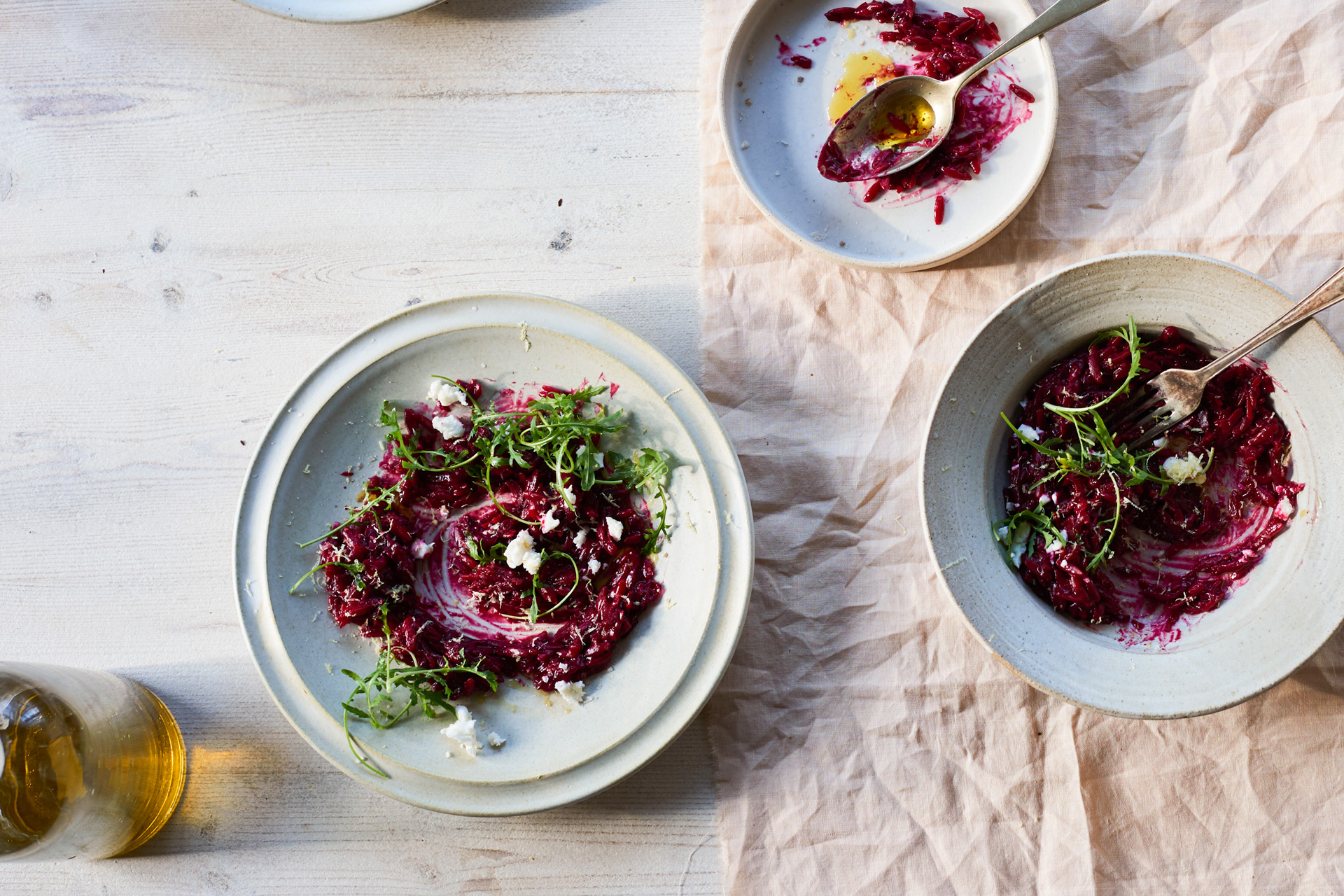 Recipe: Anna Jones' One-Pot Orzo With Beetroot, Thyme & Orange
---
Plus a Q&A with the award-winning cook and food writer
This orzo cooks all in one pan to a satisfying deep purple with the spoonable feeling of a risotto.
Recipe: Anna Jones' One-Pot Orzo With Beetroot, Thyme & Orange
You can use any colour of beetroot you like here; I love the deep magenta of the red ones but yellow and pink work well too. I make this orzo with different vegetables as the seasons change. I've added a couple of my favourite variations below.
Serves 4
Ingredients
a bunch of beetroot (around 65 0g), pee led and grated
300g orzo pasta
a small bunch of thyme, leaves picked
3-4 cloves of garlic, finely chopped
1 tablespoon balsa mic vinegar 2 tablespoons good olive oil,
plus more for finishing
½ vegetable stock cube or
2 teaspoons stock powder
To Serve
zest of a small unwaxed orange or clementine
4 handfuls of rocket
100g feta or vegan feta -sty le cheese, crumbled (optional)
a few handfuls of toasted chopped nuts (walnuts,
almonds or hazelnuts will all work well)
a drizzle of olive oil
Method
Put the grated beetroot, pasta, thyme leaves, garlic and vinegar into a medium lidded pan with 1 teaspoon of sea salt, the 2 tablespoons of oil and 850ml water. Crumble in the stock cube or add the powder. Place the pan over a high heat, cover with a lid and bring to the boil, then simmer for 10 minutes until the pasta is cooked and all the water has been absorbed.
Stir it every minute or so to make sure that the pasta doesn't catch on the bottom of the pan. If the orzo looks a little thick (you want it to be the consistency of risotto) add a little more hot water. Spoon onto warm plates and finish with some orange zest, peppery leaves, a crumbling of feta (if using), some toasted nuts and a good drizzle of oil.
Variations  
Squash/lemon/sage – swap in the same amount of grated squash for the beetroot, use lemon in place of the orange, and top with crispy sage leaves
Broccoli/chilli/oregano – swap out the beetroot for 850g of roughly chopped broccoli and use lemon in place of the orange, oregano instead of thyme, and finish with chopped red chilli and lemon zest
Extract taken from One: Pot, Pan, Planet by Anna Jones (Fourth  Estate, now £21.99, waterstones.com)
Foodie Tales: Q&A with Anna Jones
Food philosophy?
I am led by the joy and connection of food and I believe food is powerful vehicle for change. It is agreed that the single most impactful thing we can do for the planet is to eat a plant-based diet.
Most vivid childhood food memory?
My sister and I used to watch films about food and eat the sweets they were eating on screen – a favourite would be The Lion, the Witch and the Wardrobe. We'd cycle to the local farm shop to buy Turkish Delight and then eat it in sync with the White Witch.
Favourite in-season ingredient?
I love the neon pink of forced rhubarb: its cheering colour is just what we need after winter. I make crumbles with brown sugar and oat tops, plus moreish white chocolate and rhubarb cookies, and I bake rhubarb with potatoes, feta and herbs.
Biggest mistake?
I once did a live radio broadcast with some of the most respected names in the food world. I left my pie in the oven too long while we were setting up to record. It ended up badly burnt but because of the dark colour of the seeded pastry I couldn't tell.
I only realised as I took a bite, at which point all the other chefsI respected so much were doing the same.
Most memorable meal?
I was working in a restaurant just outside Siena in Italy. On one of my days off
I took the bus to Siena and came across a small trattoria serving fried porcini. They were perfectly in season, simply floured and fried in good olive oil. They tasted like salty delicious clouds – I had two plates.
When you're not in the kitchen, where are you?
This year I've spent most of my time out walking with my son and husband. I hope next year we'll do more of the same, but in more diverse locations. I love to be in Cornwall by the sea.
MORE RECIPES:
Recipe: Robin Gill's Pasta Nerano / Recipe: Masaki Sugisaki's Grilled Lobster with Spiced Miso / Recipe: Jason Atherton's Spanish Chicken Casserole