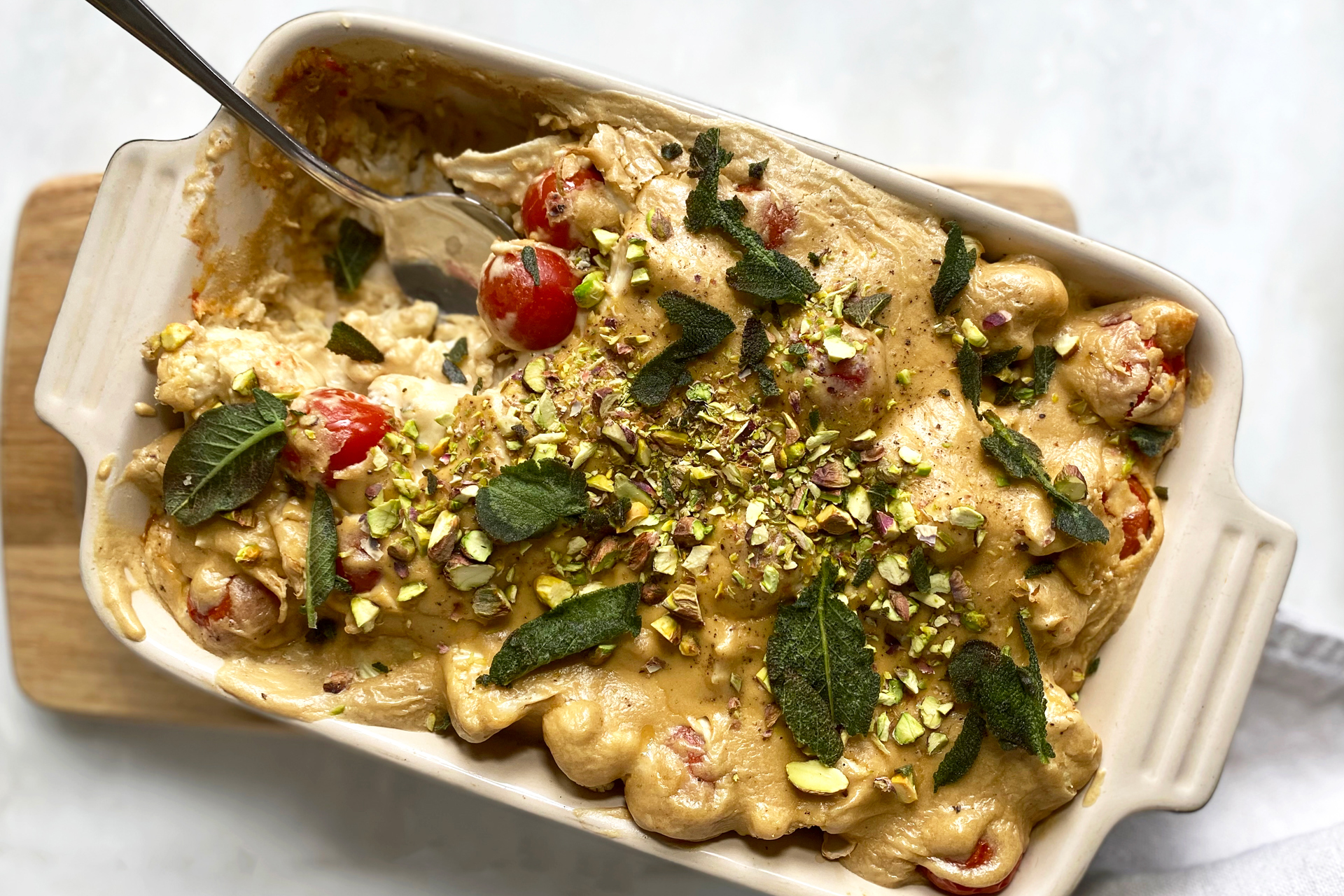 Recipe: Vegan Cashew, Cauliflower and Tomato Cheese
---
The ultimate comfort food dish gets a plant-based makeover
Ursula Lake is an expert in all things vegan food. She worked as a fashion editor before training as a chef at the London College of Naturopathic Medicine, going on to write a book, The Vegan Lockdown Larder, and launch a catering company called RetreatEat. Each month, she'll be sharing her expertise with C&TH, offering a plant-based twist on a classic recipe – up first is cauliflower cheese.
Recipe: Vegan Cashew, Cauliflower and Tomato Cheese
This is comfort food at its very best, perfect on a cold or rainy day when it's miserable outside and you need something delicious and warming. It also works well as a side dish, a vegan nut roast maybe or even a stew. You can also feel smugly satisfied swapping to a vegan version of this classic dish as it comes with so many health benefits.
The use of cashews in this recipe is primarily to re-create the traditional creamy, thick white sauce, but it's also a great hit of protein. Cashews too are a good source of fibre, antioxidants, copper, magnesium and manganese. The real star of this culinary show is the often underrated cauliflower. This simple, low-cost vegetable is one that deserves to be celebrated more: it's rich in fibre and antioxidants and contains pretty much every vitamin and mineral you need. It is particularly high in choline (an essential nutrient that we are often deficient in) which is essential for healthy cell production, supporting your metabolism and your brain function.  
As if it wasn't enough that it is totally delicious, this dish is also great for your heart, your metabolism, your gut, brain and bone health, as well as supporting your immune system. Really, what more can you ask for? 
Recipe: Vegan Cashew, Cauliflower and Tomato Cheese
Serves 4 as a main meal or 6 as a side dish 
Ingredients:
250g cashew nuts, soaked overnight

1 cauliflower, cut into small florets, include the stalk chopping it up into small cubes

100ml boiling water 

150ml oat milk 

1 tbsp olive oil 

½ tsp sea salt 

1 tsp vegemite or marmite 

3 tbsp of nutritional yeast flakes (I love the Marigold brand ones)  

1 cauliflower, cut into small florets 

200g of cherry tomatoes 

30g pistachios, chopped 

25g of sage leaves 
Method:
Preheat your oven to 180º'F, 350ºC or Gas Mark 4.  

Place the prepared cauliflower florets and stalk in a steamer and steam for about five  minutes or until the florets are slightly soft and place in an oven proof dish.  3. Place the pre-soaked cashews in a high-speed blender (like a Vitamix or Nutri Ninja). If you have suddenly realised you forgot to soak the nuts, don't worry! Boil a kettle  and soak the cashews for as long as you can in the boiled water rather than the  overnight soak. An hour of soaking will do, less than that and it will be difficult to achieve a really creamy smooth sauce.  

Add the water, oat milk, olive oil, nutritional yeast, salt and vegemite and blitz until it becomes a completely smooth sauce. You want something very similar to a white sauce so if it is too firm add in a little more oat milk. 

Add the cherry tomatoes to the cauliflower in the overproof dish and pour over the  sauce so that they are completely covered. Sprinkle with the pistachios and cook in the  oven for about thirty minutes until it becomes golden on top. 

While cooking, pan fry the sage leaves for a couple of minutes in olive oil until crispy and leave to drain and dry on some paper towel.  

To serve, scatter the crispy sage leaves over the top and serve with a fresh green salad.  
Tip: Use the sauce for a vegan macaroni cheese replacing the cauliflower for pre-cooked pasta and cook for twenty minutes. Or maybe create a vegetable gratin using the same sauce that you use to coat some pre-steamed broccoli and leeks and top with some breadcrumbs mixed with finely chopped almonds and herbs.  
Recipe by Ursula Lake, retreateat.com