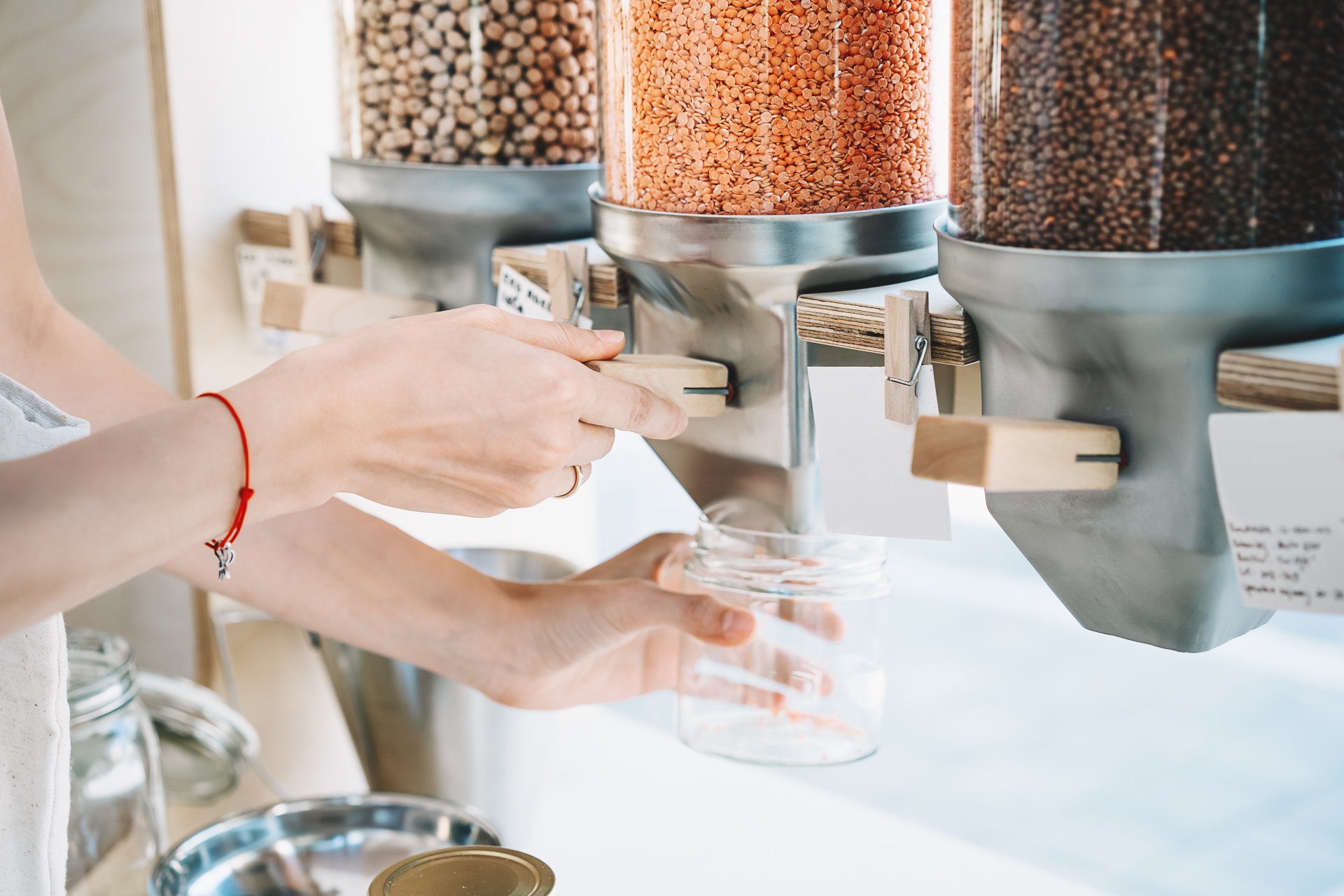 A Guide to Refill Stores
The future of packaging-less shopping
With conscious thinking now on the minds of many, the world as we know it is bound for a greener change. The next stop? Refill stores, which cut packaging waste by allowing people to bring their own containers. Read on for everything you need to know.
A Guide to Refill Stores
How do they work?
Refill stores, otherwise known as zero waste shops, aim to cut out any unnecessary or wasteful packaging by storing products in large containers from which shoppers can fill up their own bags, boxes, bottles and jars. You simply weigh your empty container in store, fill it up with your product of choice, re-weigh the container and then pay for what you've taken.
Many of these shops will also stock products from brands which are taking steps to be more ethical in practice, and are just as committed to being zero waste and plastic free.
Do they help the environment?
There are many pros to the argument for refill stores, the most persuasive being the promise that we can collectively cut down on single-use packaging. Other bonuses for the environment include the reuse of sturdy containers (such as shampoo and soap bottles), a crack down on food waste as consumers are encouraged to only buy what they need and the opportunity to find a local community of people with the same green goals.
The issues surrounding recycling have been a hot topic as of late, with many arguing that rather than feed into the recycling process, we should be replacing single-use containers with reusable ones.
According to Greenpeace, less than 10 per cent of everyday plastic is actually recycled in the UK – and it's not necessarily a case of us not recycling enough, but rather that there is still far too much throwaway plastic being produced. Only 12 million of the 26 million tonnes of waste we produce in the UK are recycled, with 14 million tonnes sent to landfill sites.
It's also difficult to know where exactly the things we toss in the recycling bin go, especially as National Geographic has estimated that a whopping 91 per cent of plastic doesn't actually get recycled.
Reusing containers over and over again reduces the need for new containers, reducing the demand for virgin materials as well as the energy used to make them in their hundreds and thousands. In theory, it should also prevent many containers from ending up in landfills and the ocean, as they have an extended life in our homes.
The one major flaw of refill stores, however, is their reliance on customers following procedures correctly. Reusable containers are typically made of much stronger materials than single-use ones, and often end up using a lot more energy when being made because of it. As we discovered with tote bags, every reusable item has a payback period; a number of times it must be reused before it becomes better for the environment than the single-use alternative. This means, if more durable containers aren't reused – either because someone threw it in the bin too early or just kept buying more – they may end up having an even bigger impact on the environment than their single-use counterparts in terms of energy use and waste.
So, when they work they work well, but refill stores will always require a greater effort on our part to keep reusing what we have to truly make a difference.
Where can I find one?
Small-scale, independent refill shops continue to be reasonably popular around the world, but it's only recently that large chain stores have taken notice of the trend.
Big names in beauty and skincare like Lush, The Body Shop and L'Occitane, for example, are in the process of rolling out stores that incorporate zero waste practices. In these stores, eco-activism takes centre stage, with customers encouraged to reuse bottles and refill them at specialised stations, hand in the ones they no longer need to be recycled in store (as part of a 'take-back' programme) and join the store for green workshops and projects hosted with local environmental charities.
In the UK, supermarket giant ASDA has begun a rollout of refill stores. Starting with the opening a Leeds branch in 2020, the chain gone on to launch refill sites in Glasgow and York, with others on the cards this year. The loose-format shopping model is part of ASDA's goal to remove three billion pieces of single-use plastic from its business by 2025, and allows shoppers to purchase their favourite household brands while ditching plastic packaging. The rollout was largely made possible due to a collaboration with FMCG giants like Unilever, Kellogg's, Nestlé and P&G. And to make the swap even sweeter, customers can get a £2 voucher for each shower, hair and soap bottle and £3 for each Persil container returned, which Unilever has promised it will clean and reuse.
There are now hundreds of zero waste shops in the UK, all looking to help the British consumer shop with the planet in mind. London itself is home to many refill stores, with the likes of Planet Organic, Get Loose, The Refill Larder and so many more making a name for themselves as impactful green alternatives to the traditional supermarket.
With all of these fantastic options on our doorstep, there's no better time to make the swap to refill stores – just remember, it's BYOB (Bring Your Own Bottle).
Featured image: Getty Images