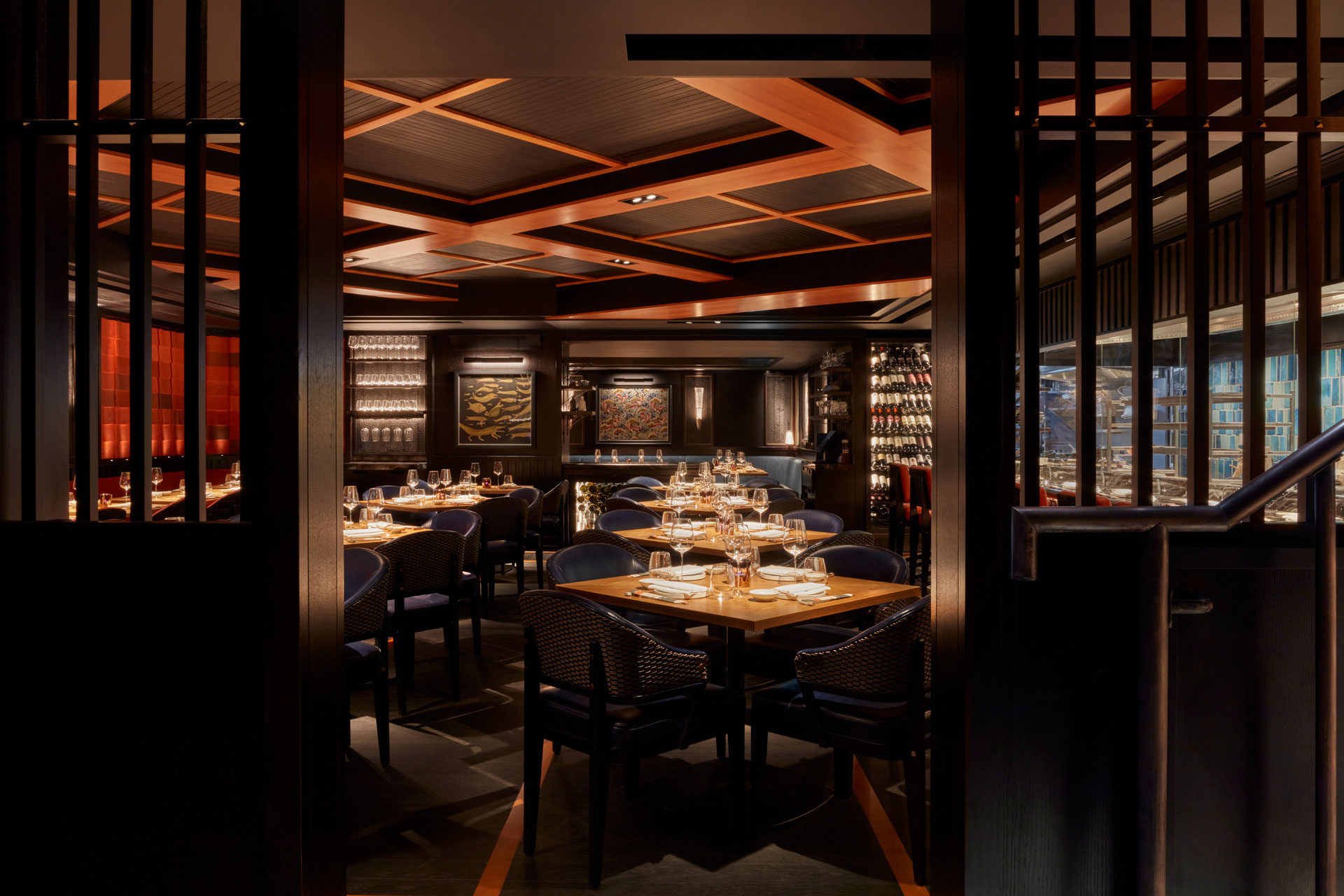 Restaurant of the Week: KOYN is Mayfair's Hottest New Restaurant
---
Our restaurant of the week is KOYN, an upmarket take on izakaya near London's Grosvenor Square
Samyukta Nair is a key player on the Mayfair restaurant scene, having created some of the neighbourhood's most popular hotspots – from Jamavar to MiMi Mei Fair. But her latest opening is arguably the best yet. Launched this September on Grosvenor St is KOYN, a Japanese restaurant with chic interiors and a stellar food and drink offering spearheaded by ex-Nobu chef Rhys Cattermoul.
Restaurant Review: KOYN, Mayfair
The concept for KOYN was inspired by Mount Fuji, and its dual nature – both its calm slopes and its fiery centre. Housed in the former US embassy, the restaurant is split into two distinct areas. Upstairs there's MIDORI, a calm space which channels Japanese zen gardens with iridescent oyster shell walls and blue banquette seating, plus a marble sushi bar. Head down the staircase for a mood change at MAGMA, a subterranean space reflecting the volcanic insides of Mount Fuji, complete with a fiery robata grill, black oak ceilings, terracotta walls and burnt orange leather stools.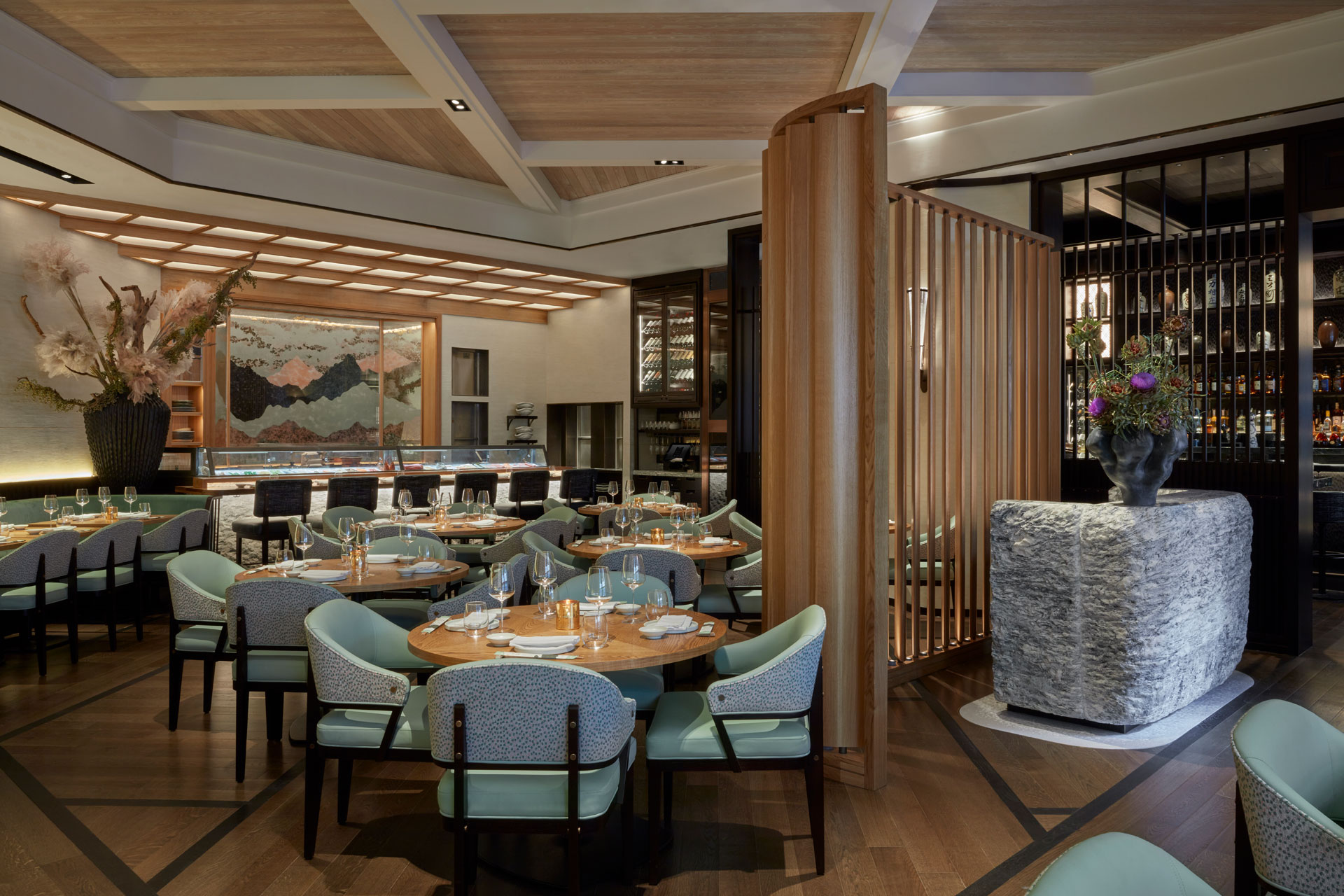 It's undeniably glamorous, but friendly too (an accolade not all Mayfair restaurants share) – expect to arrive to a friendly chorus of 'Irasshaimase!', a traditional Japanese welcome. The two areas have different atmospheres – choose MIDORI if you're after a quieter, more relaxed dining experience, or MAGMA if you fancy something a little livelier (a DJ kicks things up a notch).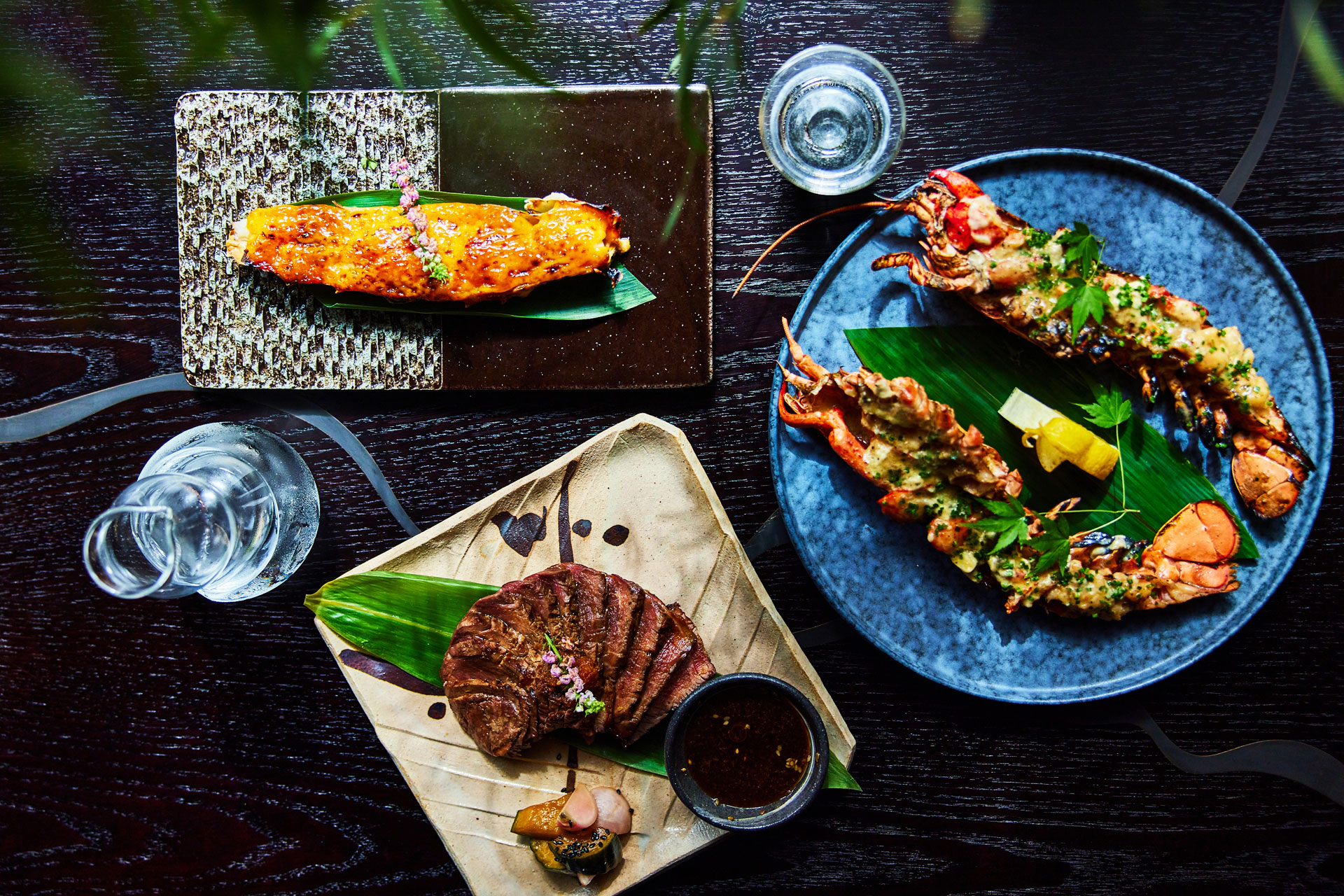 The menu, on the other hand, is the same across both, designed to showcase a wide spectrum of Japanese cuisine, with sharing-style dishes. Begin with some starter plates: the wagyu gyoza is a must – best paired with a lighter dish from the 'cold' section, like the sliced yellowtail or salmon tataki. This is your chance to sneak in a tempura or two as well (we'd recommend the red mullet).
From the robata section, the Chilean sea bass is a definite highlight, grilled and cooked with an apple and wasabi sauce. Pair with a plate of the scallops, which are delightfully juicy, or the black miso cod, another signature dish which is executed to perfection: buttery fish cooked in a simultaneously sweet and savoury glaze. All these work well with a couple of vegetable dishes, like the crispy hispi cabbage, or the chargrilled corn, which is cooked in a moreish soy garlic butter. 
Sushi-wise, you can't go wrong with the spicy tuna rolls, drizzled with a chilli aioli – or, if you're feeling particularly indulgent, treat yourself to the Japanese wagyu variety (though be warned, these luxurious bites will set you back a casual £58). A plate of the Chu-toro, semi-fatty tuna served as a nigiri, wouldn't go amiss either.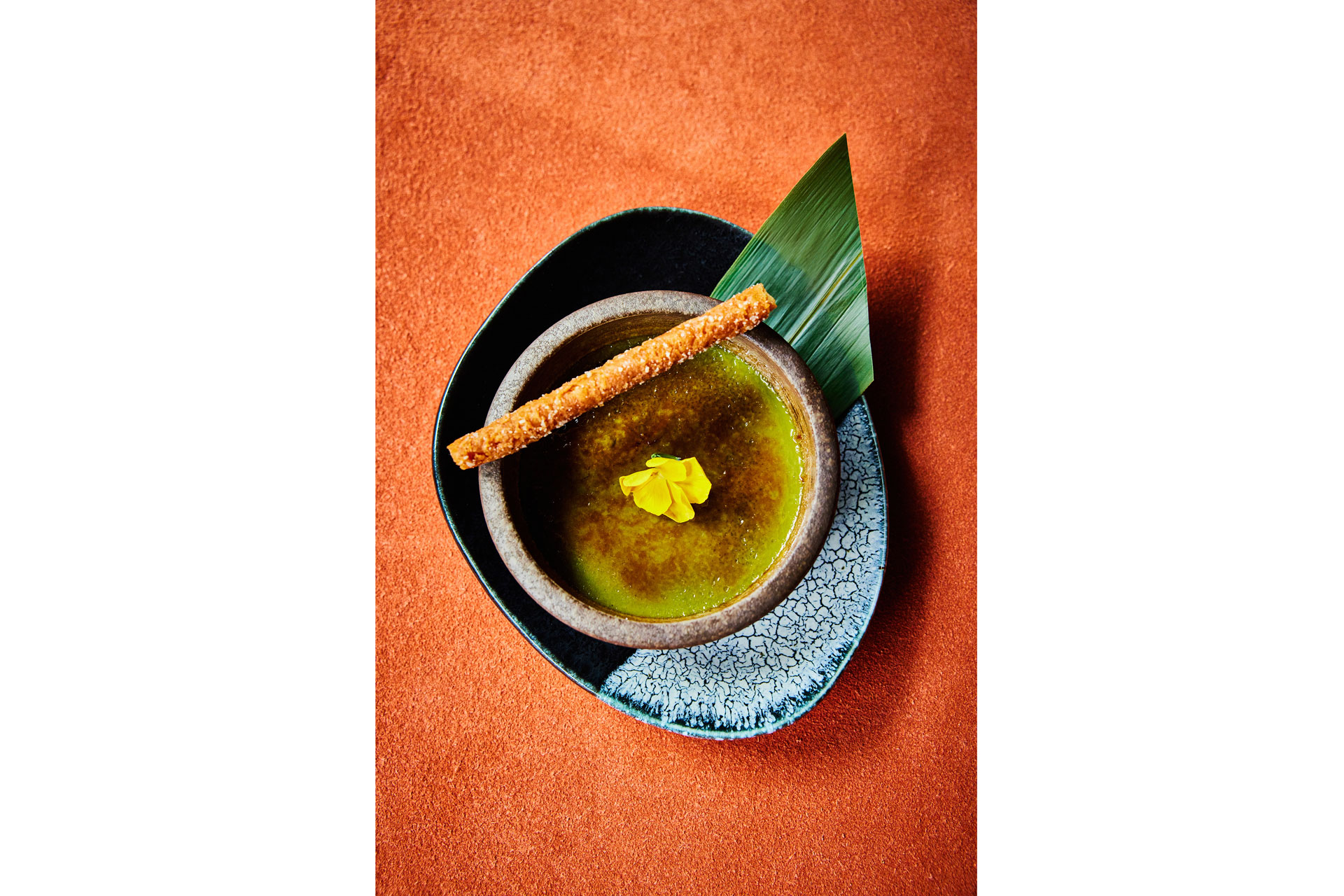 End things on a sweet note with the unique matcha brûlée, a light twist on the French classic topped with an almond 'chopstick', or keep it simple with a plate of mochi.
Last but certainly not least: the drinks. An extensive and interesting menu offers a wide range of cocktails, sakes and wines – plus a big focus on whisky, with a dedicated selection of Highballs and the option to have a whisky flight with your meal. Cocktails are creative and beautifully presented, with the menu offering a helpful summary of the taste of each. Fancy something foamy, sour and refreshing? Go for the Myazaki, a pretty green tipple mixed with vodka, lemon, grapefruit, and topped with a sparkling sake foam. More of a fruity, sweet and fizzy kind of drinker? The Kokyo Royale is made with Xanté, yuzu sake, umeshu honey and champagne.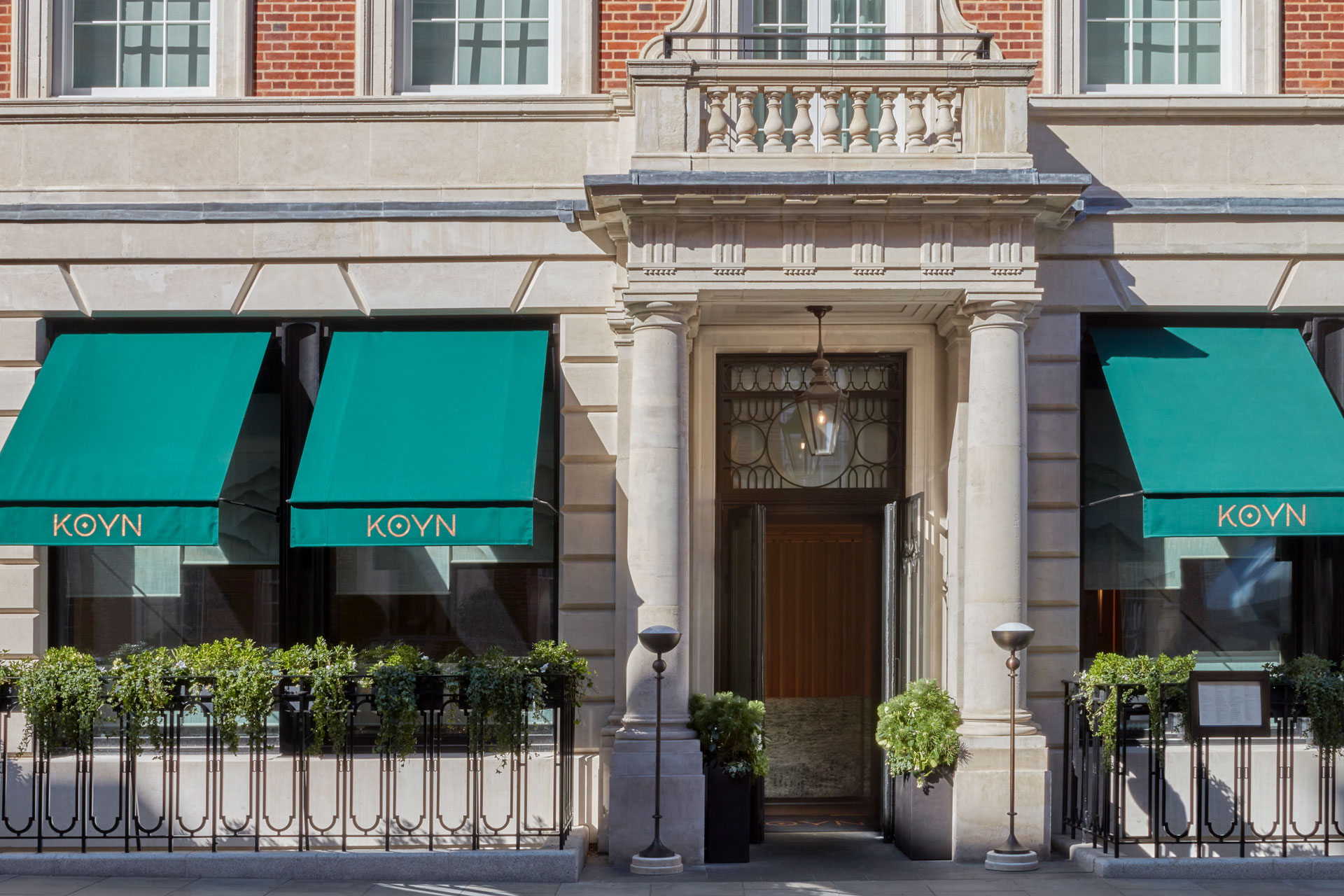 THE FINAL WORD
Naturally, there's a high bar for swanky restaurants in Mayfair – and with new restaurants popping up left right and centre, competition is rife. But there are some eateries which just have that extra pizzaz. KOYN is one of these, offering the perfect package of excellent food, jazzy interiors and a buzzing atmosphere. As expected of its postcode, it's a pricey affair, but for a special occasion this is well worth spending your cash on.
BOOK IT
38 Grosvenor St, London W1K 4QA; koynrestaurants.com