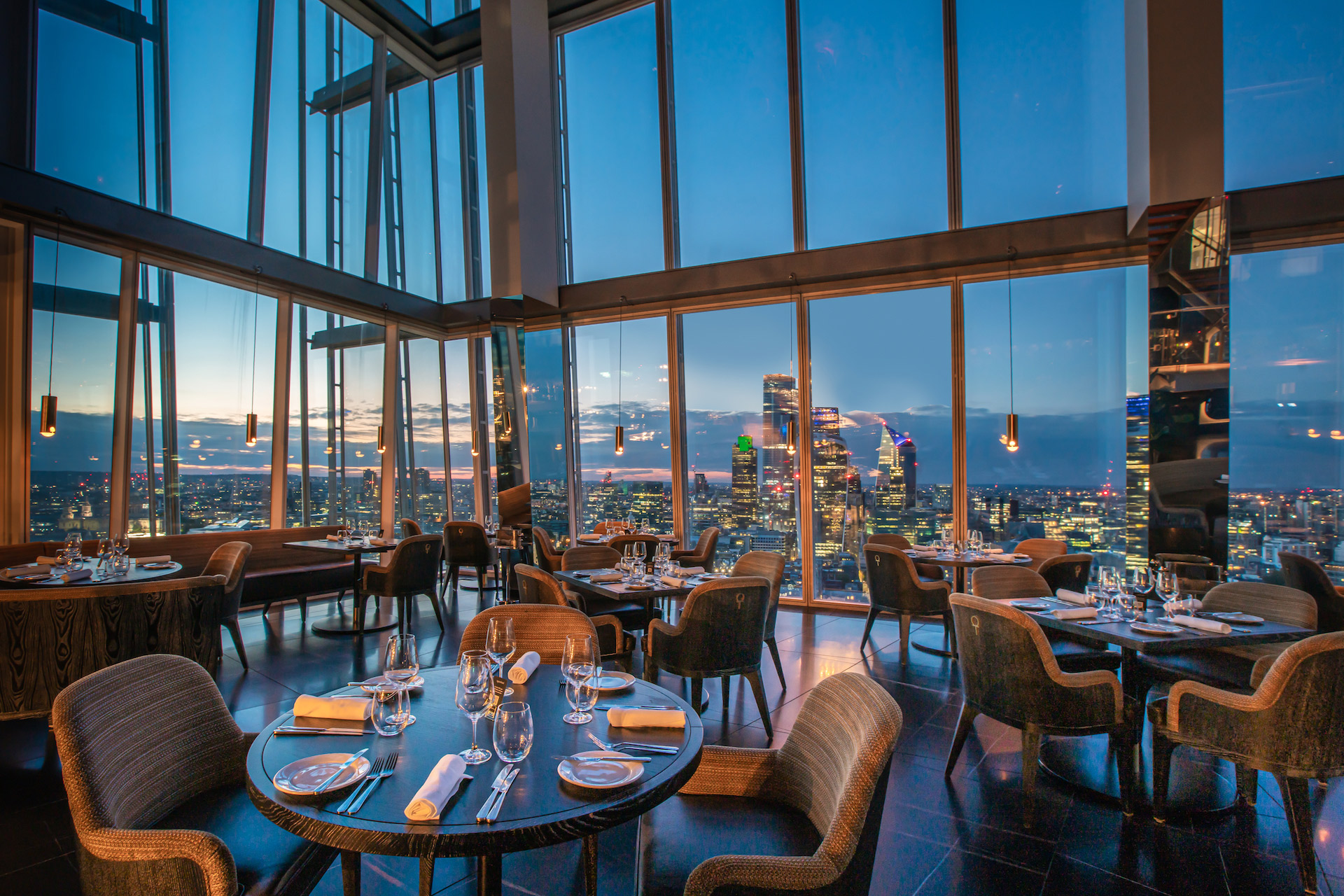 Restaurant Review: Aqua Shard
---
C&TH headed to Aqua Shard to try its new Forgotten British Dishes menu
Great views and food that ticks all the right boxes: even after lockdown and with Covid-19 precautions in place, Aqua Shard still manages to impress
Forgotten British Dishes at Aqua Shard
You never have to drag me to Aqua Shard. Situated as it is 31 storeys up, with arguably the best – and most panoramic – views over London, elegant, understated décor and friendly staff, it's always a treat to visit. Which is why it was rather an easy decision to make it the first restaurant I visited after lockdown ended.
With my mask firmly in place and my fingers pruned up with liquid hand sanitiser, I was ushered through the Shard's usual security – no queue this time, though – and shown the (empty) elevator to the 31st floor. The reassuring sense of normality continued into Aqua Shard restaurant, where one of the only visible new adjustments was the masked-up servers – although I'm sure there have been plenty behind the scenes. It also felt like Aqua Shard has got the balance just right between cautious and convivial: on this Thursday evening the tables were bustling with enough people to create an atmosphere, but without the space feeling overcrowded.
Another new addition is the lack of physical menus; instead, you scan a QR code with the camera on your phone, taking you to an online version. I chose to try the brand new Forgotten British Dishes menu, a collaboration between veteran food journalist Matthew Fort, and Anthony Garlando, Aqua Shard's Executive Chef. Fort spent months researching forgotten British culinary masterpieces, decoding handwritten collections he stumbled across or inherited from relatives and friends. Garlando and his talented team then took these fascinating historic recipes, reinterpreting them with a contemporary twist.
The result is an intriguing menu of dishes like venison hash, adapted from The London Art of Cookery by John Farley (1753) and Cornish saffron bread and butter pudding, from The Cooks and Confectioners Dictionary; or The Accomplish'd Housewives Companion by John Nott (1723). It all comes accompanied by English wines expertly paired by Aqua Shard's chief sommelier.
To start, there was salt duck, taken from The First Principles of Good Cookery by Lady Llanover (1867), in which Garlando explores salting as a traditional means of preserving and cooking meat. Succulent and tender, it melted in the mouth and was accompanied by a twang of Herefordshire goat's curd. Next came the indulgent, buttery lobster with Yorkshire mustard, based on a recipe from Fort's own mother. Garlando in turn lightened the dish by introducing lemon to the sauce and cooking the lobster in Earl Grey tea. Finally, there was a Windermere tart, a dessert that originated in Mrs Squarey's Cookbook (1886) – the author was a distant relative of Fort's. The revisited version is a mix of tart berries and crisp pastry, accompanied by palate-cleansing coconut ice-cream.
All in all, Aqua Shard's Forgotten British Dishes menu is a triumph of both skill and curiosity, and a fascinating deep dive into an almost-forgotten culinary history. Combined with Aqua Shard's care and attention in the face of a very modern adversity, and those amazing views – it was the best sunset I've seen all summer – and you've got yourself a winner.
How To Support Your Local Restaurant During Covid-19 / London's Fine Dining Delivery Options: Which Restaurants Deliver?