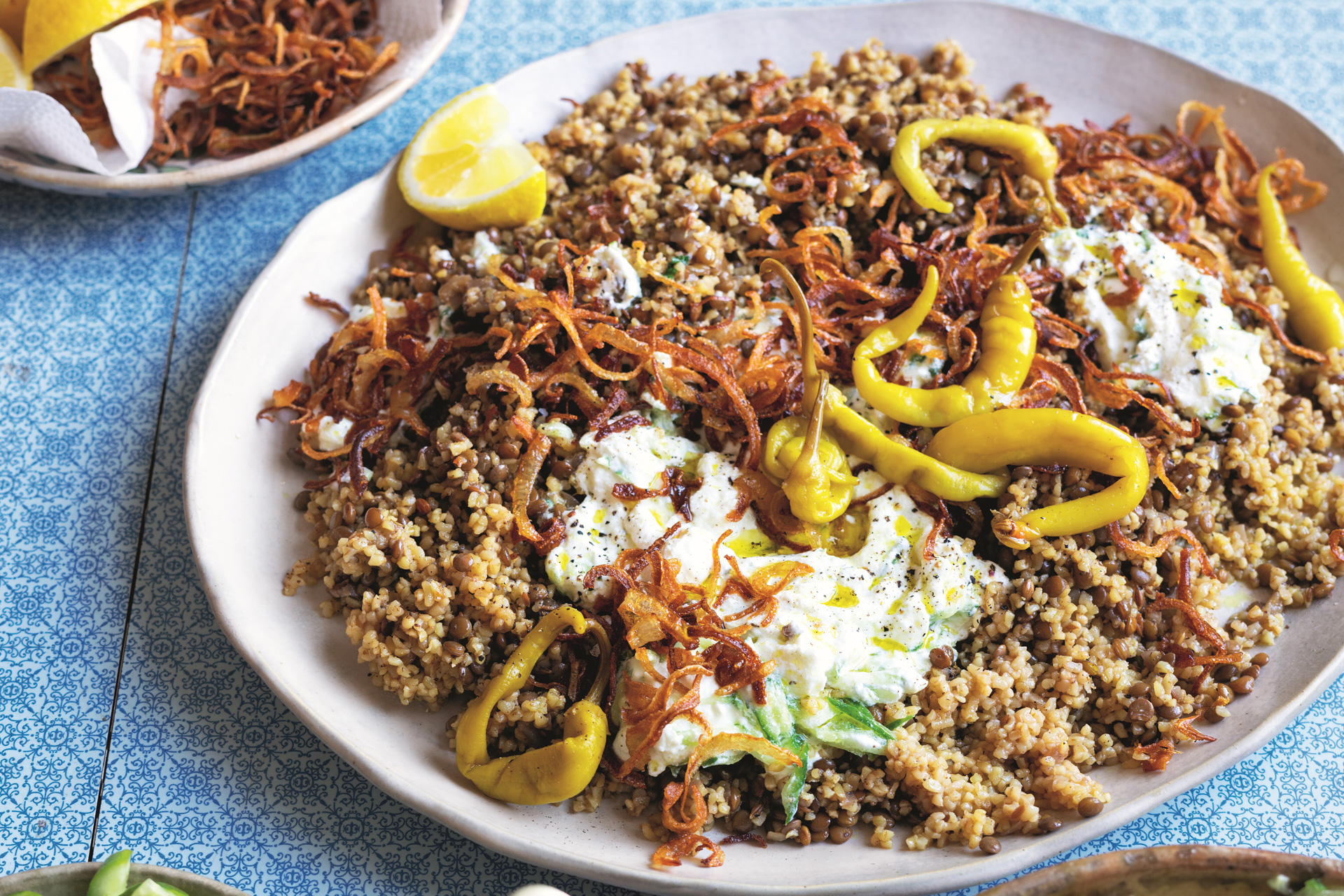 3 Syrian Recipes From Imad Alarnab
This new cookbook is a 'celebration of how food has the power to bring people together'
After being forced to flee his country in search of safety, Syrian chef Imad Alarnab travelled through Europe cooking for other refugees. In 2015 he settled in London, and began organising charity supper clubs, which quickly grew in popularity. And last year, he found a permanent home for his cooking in Soho's Kingly Court, Imad's Syrian Kitchen. Now, Imad Alarnab is sharing some of his recipes with us in a new cookbook, Imad's Syrian Kitchen – here are three of our favourites below.
3 Syrian Recipes From Imad Alarnab
Dukkah Salad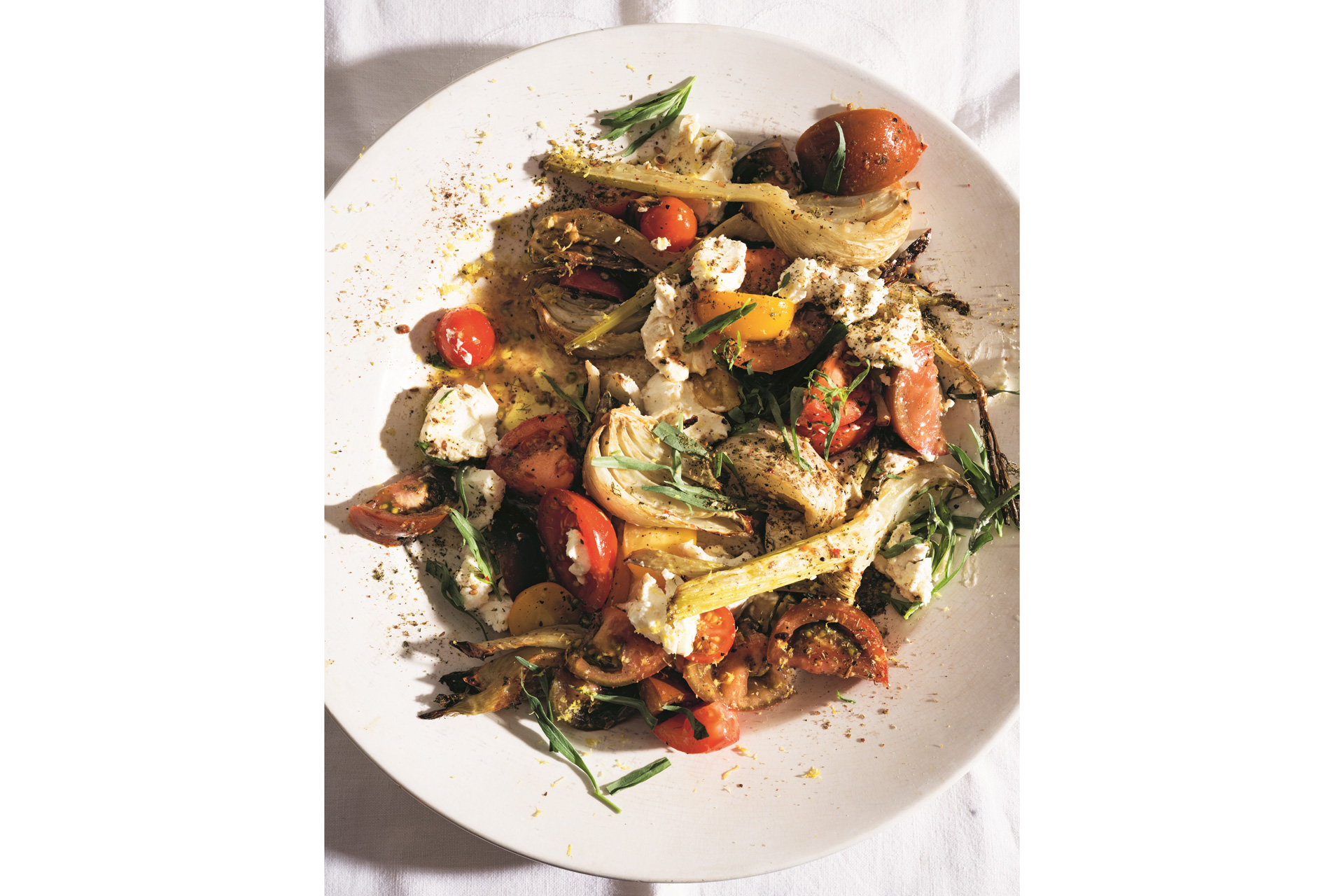 Make this in summer when the tomatoes are at their best. The better the tomato, the better this will taste, so splash out and get the good ones. 
Serves 2 as a main or 4 as a side
Ingredients:
1 fennel bulb  

2 tablespoons olive oil  

1 teaspoon za'atar  

300g assorted heritage tomatoes, cut into chunks  

2 tablespoons good-quality extra virgin olive oil  

Grated zest and juice of ½ lemon  

2 tablespoons dukkah (page 29)  

150g soft goat's cheese  

Small handful of fresh tarragon leaves  

Salt 
Method:
Preheat the oven to 200°C/Fan 180°C/gas 6.  

Cut the fennel bulb into 6–8 wedges, depending on how large your fennel is. Toss in the olive oil, za'atar and salt to  taste, place on an oven tray and roast for 25–30 minutes until soft, slightly crisp and golden. Set aside to cool slightly.  

Toss the tomatoes in a little salt and the extra virgin olive oil, lemon zest and juice and dukkah. Roughly crumble the  cheese and place on a large serving plate, followed by the roasted fennel and then the tomatoes. Finish with the tarragon leaves.
Hummus Bil Zayt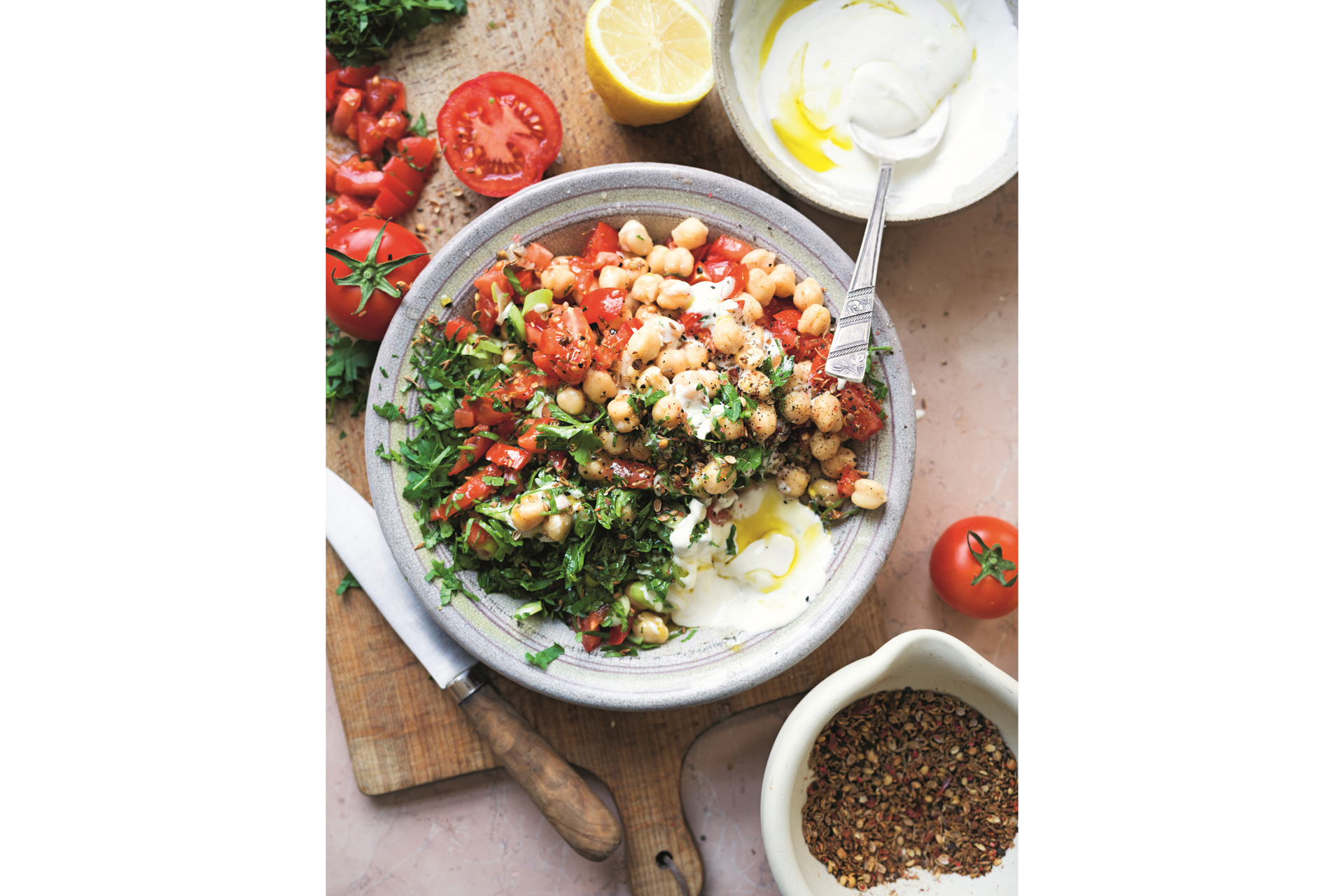 If you don't have time to soak and boil your own chickpeas for this, you can use 500g drained jarred ones, which are a lot softer than tinned ones. Simply reheat them in some boiling water for a few minutes. Use tomatoes that are seasonal – cherry tomatoes, beef tomatoes, whatever is tasty at the time. Vine tomatoes are great. 
Serves 4 
Ingredients:
250g dried chickpeas  

Juice of 1 lemon  

2 garlic cloves, smashed to a pulp or grated  

1 teaspoon salt  

1 tablespoon dukkah (page 29)  

Bunch of parsley, chopped  

2 spring onions, chopped  

2 medium tomatoes, diced  

100ml confit garlic oil (ideally; page 53) or extra virgin olive oil 
Method:
Cook the chickpeas as directed on page 68.  

In a small bowl, mix together the lemon juice, garlic, salt and dukkah.  

Put the drained chickpeas in a bowl while they are still hot, and toss through the lemon and garlic  mixture. Top with the parsley, spring onions and tomatoes, and drizzle over the oil.  

This also makes a really nice topping for hummus, if you have any left over. 
Variation: Hummus Baleval (chickpeas with yogurt)
This is how my wife likes it. Mix together the lemon juice, garlic, salt and dukkah as above. Then mix 3 tablespoons of Greek yogurt with 50g tahini, and add this to the chickpeas. Top with the parsley, spring onions, tomatoes and drizzle of oil.
Mujadara (
Bulgur wheat with brown lentils)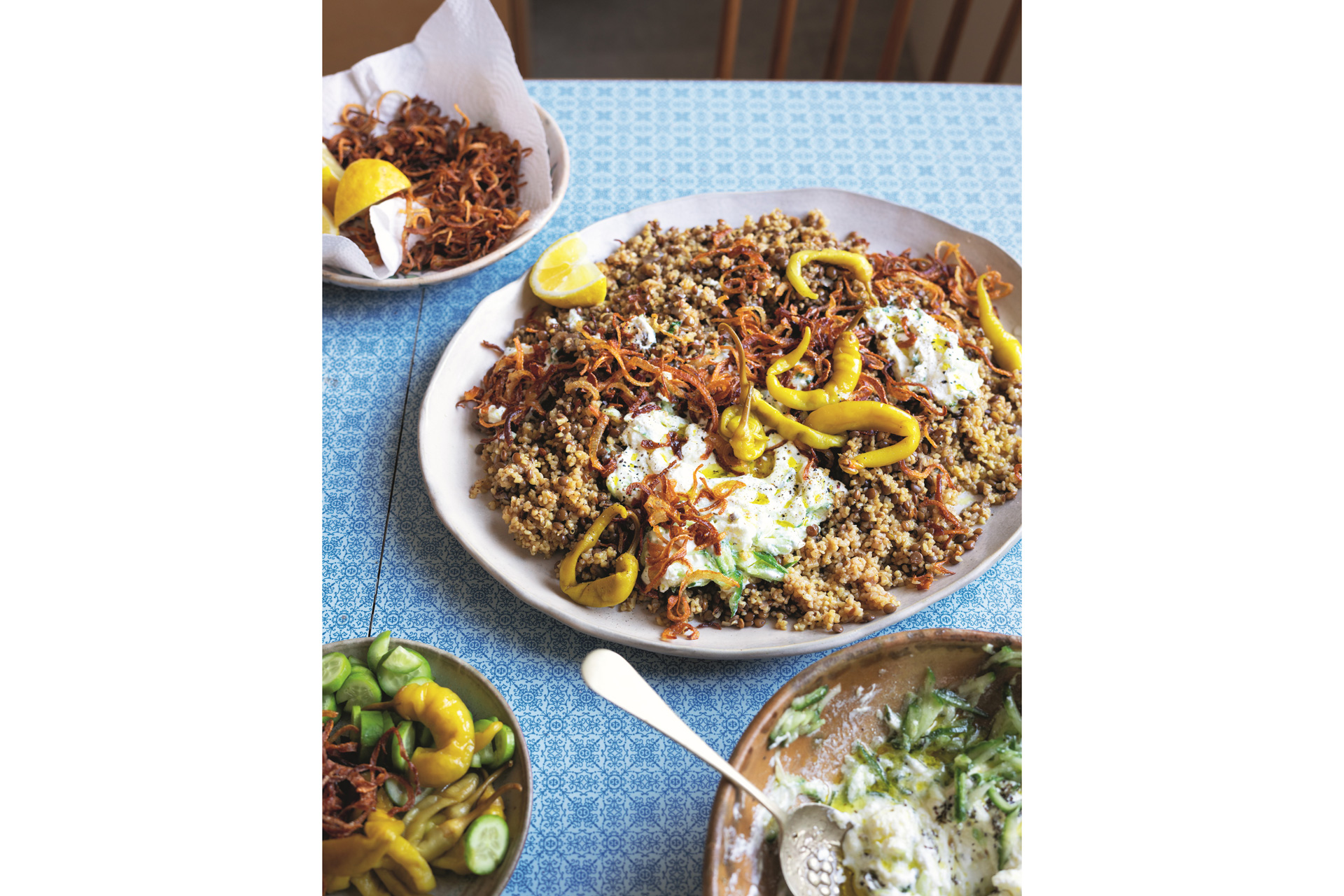 This is nice either hot or cold, so it's great to make extra and eat the next day as a salad. Use the best extra virgin olive oil you have, as your whole dish will taste of it. 
Serves 4 – 6
Ingredients:
200g dried brown lentils  

100ml extra virgin olive oil  

1 tablespoon cumin seeds  

1 large onion, finely chopped  

1 teaspoon ground black pepper  

1 teaspoon baharat (page 32)  

1 teaspoon mild Madras curry powder  

200g coarse bulgur wheat  

Salt 
Method:
Wash the lentils in a sieve until the water runs clear.  

Add 75ml of the olive oil to a medium saucepan with the cumin seeds over a medium-high heat and toast for a minute, then turn down the heat a little, add the onion and cook for 8–10 minutes until soft and slightly caramelised.  

Tip in the lentils with 1 teaspoon of salt, then add the spices and stir to toast and coat the lentils with the oil. Add water to come about 3cm above the lentils, then cover with a lid and bring to the boil. Lower to a bubbling simmer for 20 minutes until almost cooked; you want the lentils to still be a little firm.  

Now stir in the bulgur wheat plus the remaining olive oil. Top up the water if necessary so it is still 3cm above the lentils and bulgur, using boiling water. Cover and turn up the heat to a boil for 3–5 minutes, then take off the heat. Cover the whole pot with a clean tea towel and set aside for 30 – 45 minutes. 

Remove the tea towel and lid then break up the grains with a fork and taste for seasoning. Serve topped with crispy onions and your favourite sides.
To serve
Crispy onions 

Green plate 

Pickled cucumbers 

Turkish pickled peppers  

Laban bikhiar
Recipes by Imad Alarnab from Imad's Syrian Kitchen (HQ)