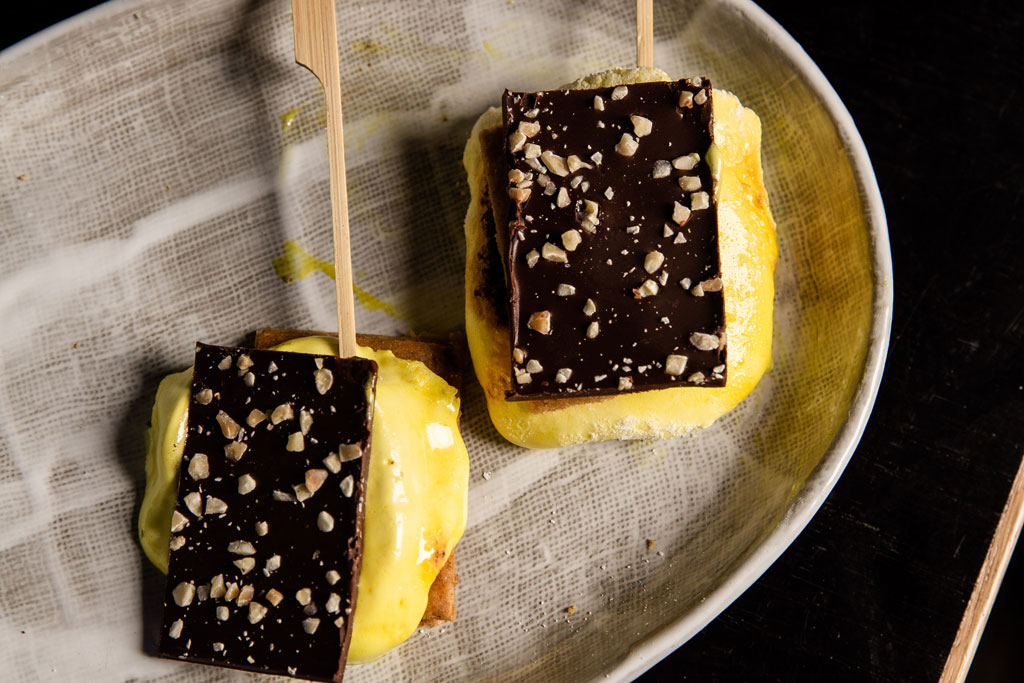 The Best Comfort Food in London
Food for the soul
It's cold and dark and you've been relying on the little light inside your oven to brighten up your evenings. Yes, homemade comfort food deserves all the hype, BUT (no offence) these London restaurants can do it better than your family recipe. 
Spend your money on these warming delights instead of the heating. Let rich pastas and decadent Chinese food work their magic. We bring you the best comfort food in the capital…
Recipe: Amy Lanza's Butternut Squash Mac & Cheese
The Best Comfort Food in London
'Great steak for everyone' is Flat Iron's motto and, boy, does it deliver. The crowd-pleasing restaurant has no less than nine locations across London, each offering up Flat Iron's well-priced signature steaks, mac 'n' cheese sides and crisp beef dripping chips.
And if you don't fancy a steak, then the new Flat Iron Herd Burger is also an excellent choice. Launched to celebrate 10 years of the restaurant's very own beef herd in Thirsk, Yorkshire (with rare and traditional breeds that live a longer, stress-free life), the burger was created by the business's Head of Beef, Fred Smith.
It features a double beef patty made from a variety of cuts including short rib, skirt and bavette, encased in a buttery brioche bun. This is then layered with Ogleshield cheese, known as Britain's answer to raclette for its punchy flavour and ability to melt, plus Natoora's Iberiko winter tomatoes, characterised by their umami sweetness, chopped gherkins and white onions, finished with fresh chervil and tarragon.
Some days you just really need a burger, and Flat Iron's Herd burger was made to scratch that itch.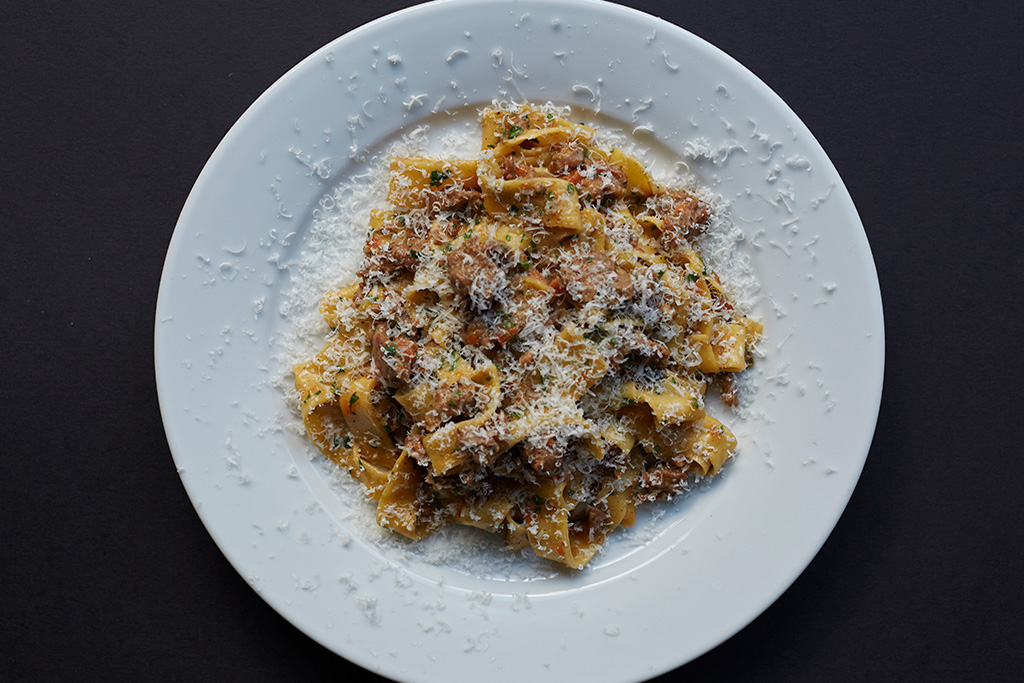 No roundup of comfort food can begin without Italian, and in this case we call in the big guns: the legendary Padella, known for its standout homemade pasta dishes, tiny prices and gigantic queues. The menu features a handful of simple antipasti and eight pasta dishes, with everything from the simple-but-perfect tagliarini with dry chilli, garlic and pangrattato to a more experimental stracci with sweet onion, thyme and gorgonzola fonduta. The ingredients, flavours and flair are undoubtedly Italian, but with a smattering of the best of British (it is around the corner from Borough Market, after all) – Cobble Lane Cured 'nduja and salami are made in London, and ravioli are stuffed with Neal's Yard ricotta. 6 Southwark St, London SE1 1TQ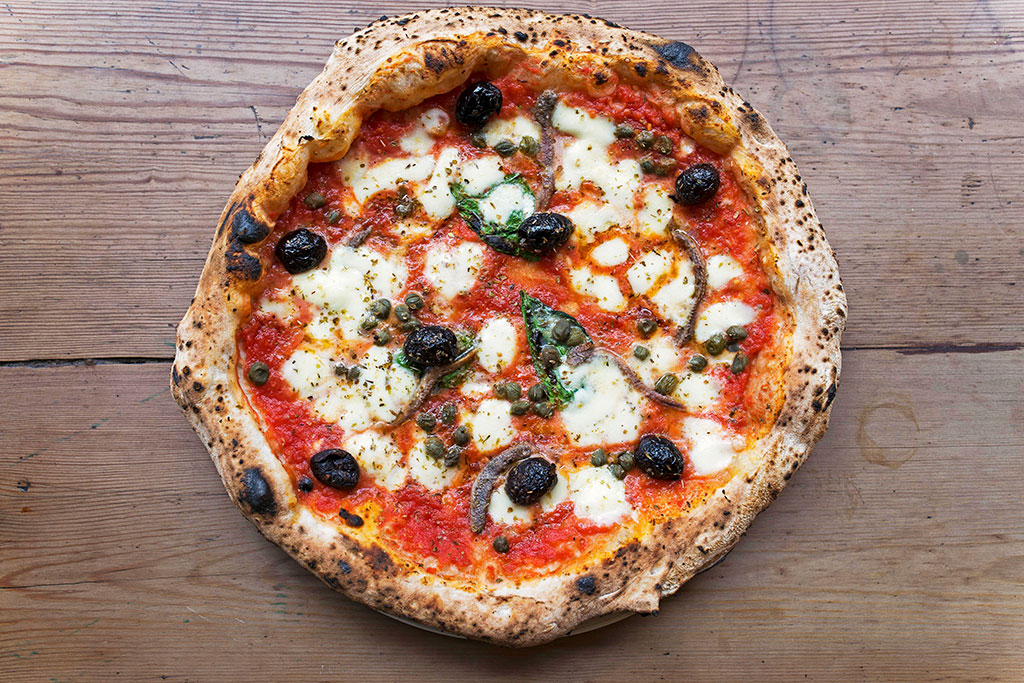 A telltale sign of great food is somewhere that starts trading from a food truck and gains such notoriety that it almost immediately opens its first bricks-and-mortar site. This is the story behind Pizza Pilgrims, which has gone from one 'Ape' to seven London restaurants. Head to the Shoreditch site if you want to BYOB, or the Carnaby Street restaurant for delectable fried bites from their on-site 'friggitoria'. Well worth the pilgrimage for the Calzone Ripieno, filled with salami, ricotta and mushrooms, too. Carnaby, Covent Garden, Shoreditch and more….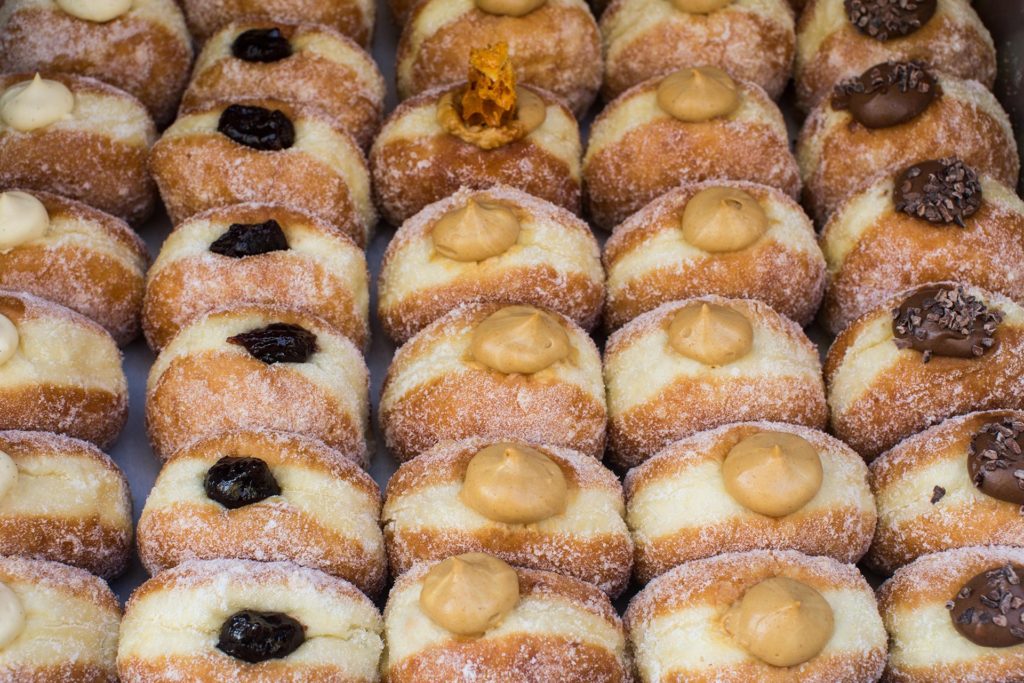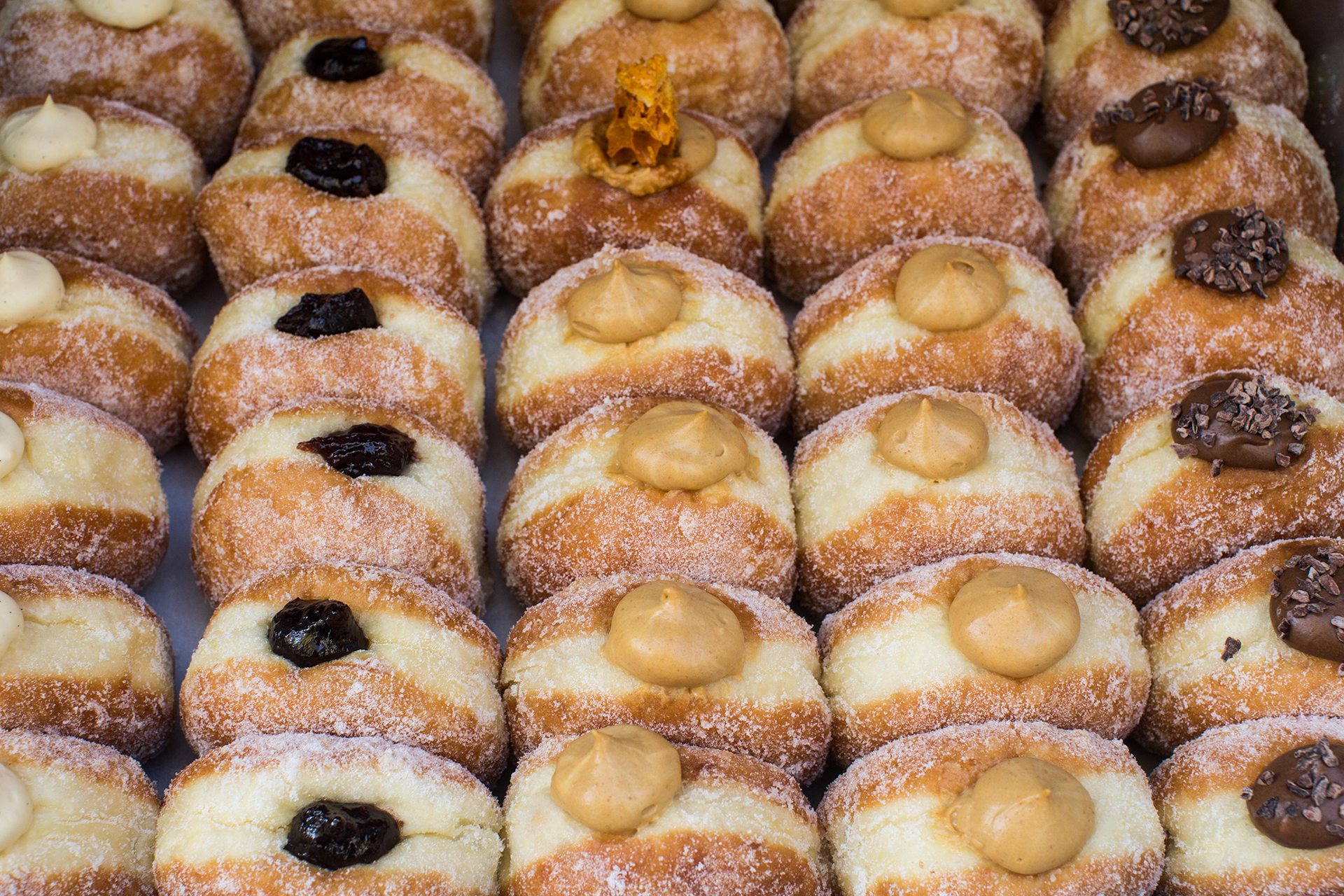 This bakery's filled doughnuts are the stuff of legend. Piped with vanilla, chocolate, jam or honeycomb custard and sprinkled with sugar – every bite is a hug. We've nabbed their famous recipe so you can try and make them at home, too…. Borough Market, 249 Pavilion Rd, Chelsea, London SW1X0BP and 21 Beak Street, London W1F 9RR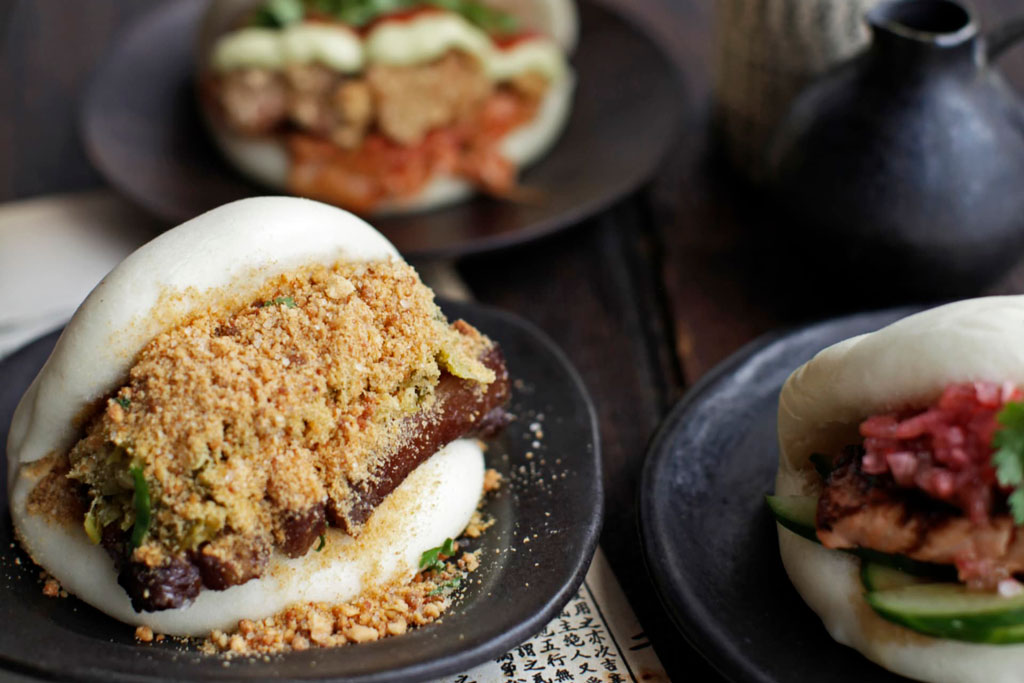 This steamed-bun-paradise is better than a puffer jacket. The ever so light and fluffy buns come with fillings that range from slow braised Flock & Herd pork, pickles and peanut powder to beer marinated prawns, pickled mooli and spiced spring onion. The restaurant also touts the most delicious home-made kimchi. 113 Mitcham Rd, London SW17 9PE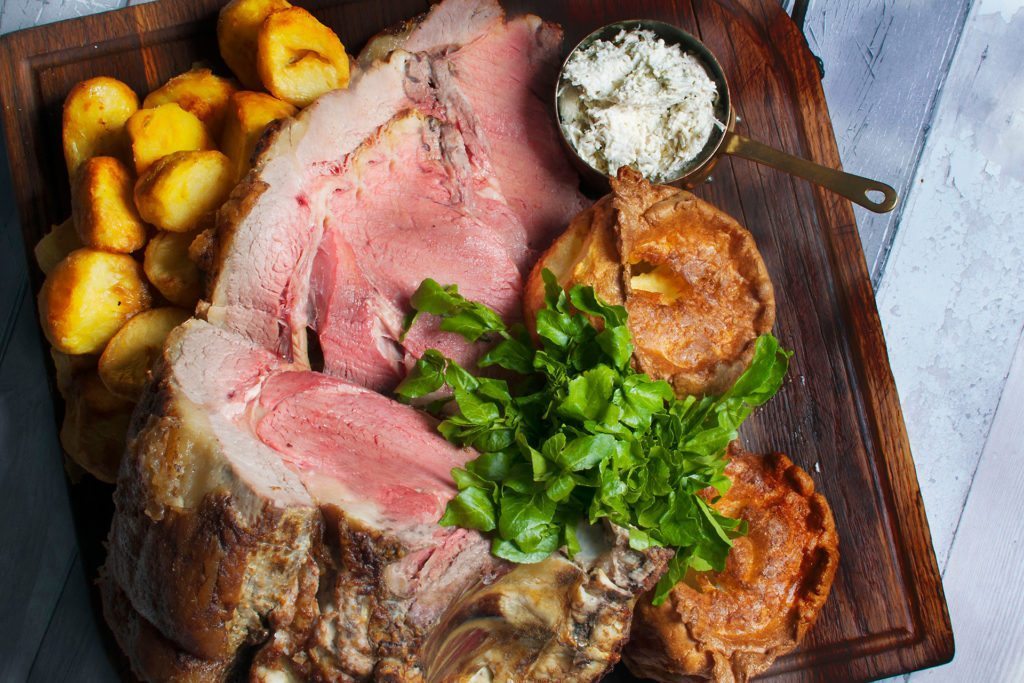 This restaurant overlooking Borough Market is named after what it does best, a good old-fashioned roast with top-notch ingredients. This is the place to go if you don't want to wait until Sunday – they have different roast meat and fish specials every day to keep things interesting. But the Sunday menu still reigns, including some of the best beef and Yorkshire puddings we've had. The potatoes are perfectly cooked every time – try the cheese and truffle fries for a treat. The Floral Hall, Stoney Street, London SE1 1TL

When the going gets tough, the tough require lots and lots of Pisco Sours. And a menu packed to the brim with fabulous Peruvian/Japanese dishes. The combination is an instant pick-me-up and it's exactly what you'll find at Flesh & Buns in Fitzrovia. What is more comforting than handy 'press for piscos' buttons on each table, fast service and plates of Nikkei fusion deliciousness? The sharing concept is also comforting, no FOMO on any dishes – there's everything from chicken yakitori and Korean fried chicken wings (messy but worth it), to sushi, ceviche, tiraditos, and finally, the pièce de résistance, tender meats from the smoker served alongside fluffy Bao buns. If you prefer to keep things simple, the Rabbit Katsu is a no-brainer and will warm you right up, while desserts including doughnuts, rice pudding and s'mores are indulgently nostalgic. Go hungry. 32 Berners Street, W1T 3LR and 1 Earlham St, London WC2H 9LX
This exciting venture from Albert Adrià supplies the two most important ingredients to high-end comfort, just like it says on the tin, Cakes & Bubbles. The restaurant offers the perfect blend of tradition and modernity – with the whimsy and playfulness that has come to define Adrià's work – serving a parade of exceptional desserts. His renowned cheesecake, a delicately made and exquisite dessert with notes of hazelnut and complete with a non-traditional rind of white chocolate takes the cakes. Other 'classics' such as egg flan with dark caramel sit alongside a selection of specials, from baklava pistachio pillows to an 'after eight' strawberry and chocolate marshmallow. A wide selection of Champagnes and sparkling wines by the glass and by the bottle are also available, well priced for accessibility and to allow for exploration of the varied producers on offer. 68 Regent St, Soho, London W1B 4DY
For serious Jewish soul food made with love, here's the ticket. One of the only places in Britain to make its own salt beef and pastrami, Monty's keeps its recipe a secret a la the school of Katz's in New York, and Langer's in LA. Also known as 'Jewish Penecillan', these fist-sized dumplings (kneidlach) in broth runneth over in hearty bowls. 227-229 Hoxton St, London N1 5LG
READ MORE: Best Italian Restaurants in London / The Best Dog Friendly Restaurants in London / Where To Get Your Sweet Fix in London