8 TV Restaurants You Can Visit In Real Life
Dine in the footsteps of your favourite characters
From the legendary coffee house in Friends to McLaren's Pub in How I Met Your Mother, many TV shows are centred around eateries. But which ones can you visit in real life? Live out your biggest fan dreams with our round-up of on-screen TV restaurants which actually exist. Book a romantic dinner at the First Dates restaurant, pick up a Carrie cupcake in New York, have a pint in the footsteps of Ted Lasso and more with our guide to the best real-life TV restaurants.
8 TV Restaurants You Can Visit In Real Life
Central Perk – Friends
View this post on Instagram
Replicas of the Friends gang's favourite hangout Central Perk have been popping up for years, but now a permanent coffee shop inspired by the show has arrived in Boston. Created by Warner Bros with the help of chef Tom Colicchio, the new cafe features an orange sofa like the one in the show, sitting under a neon sign that reads 'The One With…' – but it's not designed as a direct copy of Central Perk. Instead, it's a modern interpretation of what it might look like in 2024. Fans can expect plenty of Friends references throughout though, with dishes on offer including Rachel Green's Side Salad and Ross Geller's Moist Maker Sandwich. The cafe's launch is particularly poignant following the devastating death of one of the show's stars, Matthew Perry, and the launch included a tribute, with coffee sleeves featuring the iconic Chandler Bing quote, 'Can I Interest You In A Sarcastic Comment'?
205 Newbury Street, Boston, MA 02116, centralperk.com
Paternoster Chop House – First Dates
It's been going for over 10 years now, but First Dates remains popular as ever. Led by everyone's favourite maître d' Fred Siriex, it allows us to spy on couples' blind dates, and makes for sometimes heart-warming, sometimes ultra-awkward, sometimes laugh-out-loud viewing. Fancy giving the restaurant a whirl yourself? The series has been filmed at a couple of different places over the years, with the majority of episodes taking place in Paternoster Chop House in London, one of the capital's most famous TV restaurants located near St Paul's Cathedral. As the name suggests, it's all about quality cuts of meat, alongside day-boat fish and seasonal veggies. Next date spot, perhaps?
35 Old Bailey, London EC4M 7AU, paternosterchophouse.co.uk
The Crown and Anchor – Ted Lasso
One of Apple TV's biggest hits, Ted Lasso tells the story of an American football coach who is brought in to train the fictional AFC Richmond. Ted (Jason Sudeikis) and the team, plus the Richmond fans, spend a lot of time hanging out in a pub called The Crown and Anchor, which is just down the road from Ted's house. While the interior scenes were filmed in a studio, the exterior is a real-life pub called The Prince's Head in Richmond, which is decked out with paraphernalia from the show. It's a lovely spot for a Sunday roasts, overlooking Richmond Green and with some outdoor tables.
28 The Green, Richmond TW9 1LX, princeshead.co.uk
View this post on Instagram
MacLaren's Pub – How I Met Your Mother
Some of the most significant moments in cult sitcom How I Met Your Mother take place in MacLaren's. Located at the base of Ted and Marshall's building, it was where Ted (Josh Radnor) met Robin (Cobie Smulders) – and eventually married Tracy (Cristin Milioti), the 'mother' from the show's title. While the bar itself was fictional, MacLaren's was based on a pub in New York called McGee's, which has striking interior similarities to the on-screen location. The Irish-style pub is found just round the corner from Central Park, spread across three floors (unlike the cosy MacLarens), and is a popular spot for sports viewing.
240 W 55th St, New York, NY 10019, United States, mcgeespubny.com
Les Deux Compères – Emily In Paris
Netflix's Emily In Paris is an ode to the French capital, filmed across beautiful cafes and world-famous landmarks – many of which you can visit. One of the spots which features throughout the series is Les Deux Compères, the restaurant where Emily's love interest Gabriel works, and later takes over. It has been the setting for some of the show's key moments – and you can visit. In real life, it's a small Italian restaurant called Terra Nera where you can enjoy dishes like linguine alle vongole and torta della nonna, a traditional Tuscan dessert. 
18 Rue des Fossés Saint-Jacques, 75005 Paris, France, terranera.fr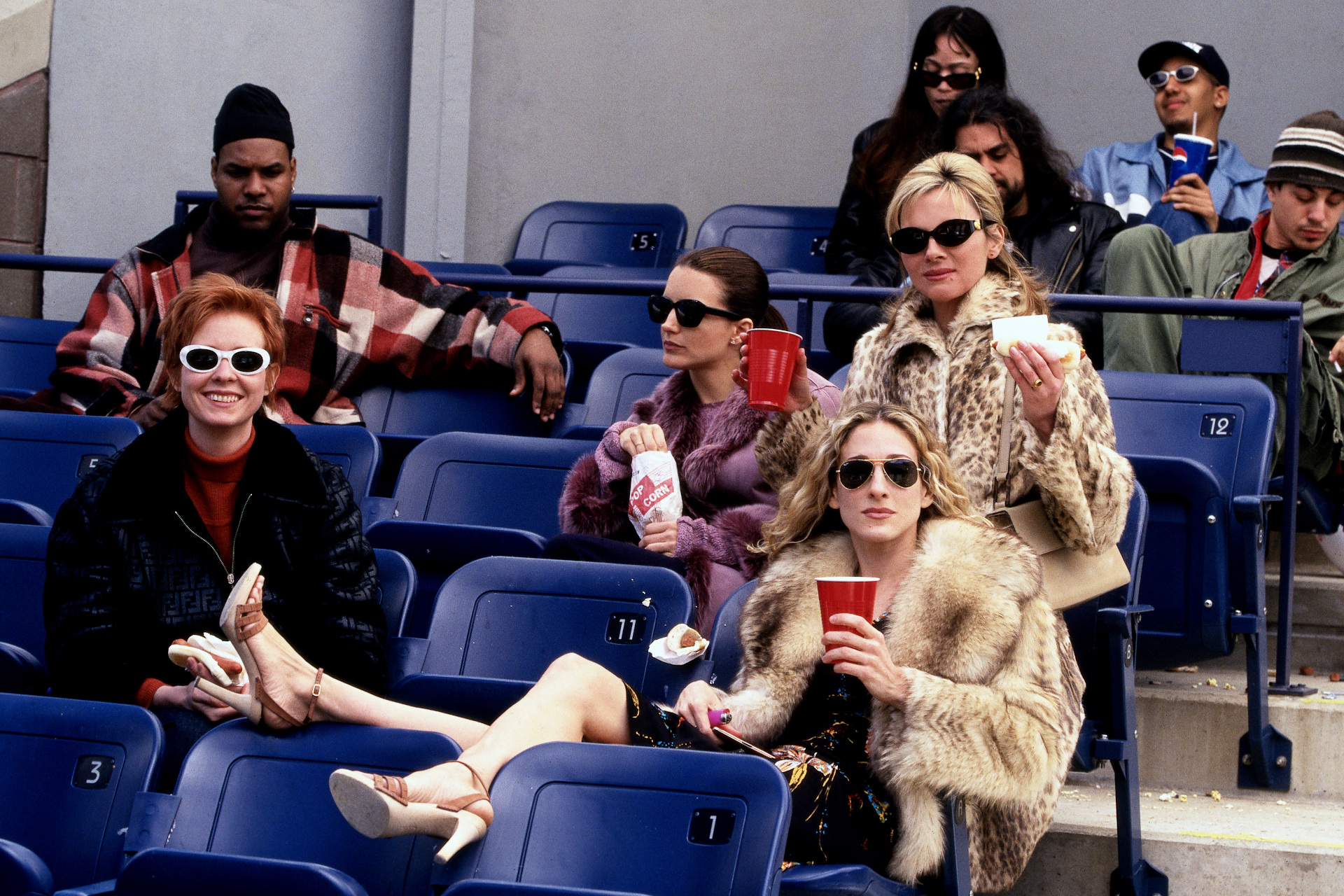 Magnolia Bakery – Sex and the City
There are now branches of Magnolia Bakery dotted around the world, but the original is found on the corner of Bleecker Street in New York. It rose to fame after featuring in Sex and the City, first seen in an early episode when we see Carrie and Miranda tucking into a pink cupcake outside the bakery as they chat about Aiden. It quickly became synonymous with the show, so much so that in 2007 a special Carrie cupcake was introduced – which you can still try today, alongside the famous banana pudding.
401 Bleecker St, New York, NY 10014, United States, magnoliabakery.com
View this post on Instagram
Double R Diner – Twin Peaks
The Double R Diner was a key location in David Lynch's American crime drama Twin Peaks, where FBI agent Cooper was often seen enjoying a slice of cherry pie. In reality, this TV restaurant is Twede's Cafe in North Bend, a family-run spot where you can enjoy a cup of 'damn fine coffee' just like Cooper, alongside diner-style breakfasts, burgers, milkshakes and pies. Despite being damaged in a fire in 2000 (from suspected arson!), fans were pleased to see the cafe rebuilt as the Double R Diner in 2015 for Twin Peaks: The Return.
137 W North Bend Way, North Bend, WA 98045, United States, twedescafe.com
The Bluebird Cafe – Nashville
Everyone from Taylor Swift to Faith Hill has performed at The Bluebird Cafe in Nashville, a spot renowned for being a place where songwriters perform their original songs. It became even more famous, though, after appearing on ABC drama Nashville, a series starring Hayden Panettiere and Connie Britton which follows the lives of country music stars living in the titular Tennessee city. Pay a visit to enjoy a sandwich or burger and shop some music merch.
4104 Hillsboro Pike, Nashville, TN 37215, United States, bluebirdcafe.com